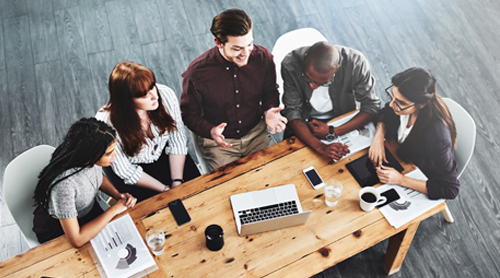 There is a massive evolution unfolding in the financial services industry, encompassed in a single abbreviated term:
Fintech.
Fintech is a broad term that has become associated with the application of technological innovation in the financial services industry.1 While the march of technology has always had an impact on the financial services – as it has on every industry – fintech is forcing a rapid evolution in the sector, as disruptive innovations like blockchain have forged new paths, changing the future of finance seemingly overnight.
It's worth casting the eye forward to see what the future might hold for fintech and the financial industry…
Things are changing quickly, so much so that it's worth casting the eye forward to see what the future might hold for fintech and the financial industry, in order to better prepare for the future. In particular, two technologies that are grabbing the attention of both the business world and the public at large are artificial intelligence, and blockchain:
Artificial Intelligence
Commonly known as AI, artificial intelligence refers to the "ability of a digital computer or computer-controlled robot to perform tasks commonly associated with intelligent beings."2 AI can already be found in a host of everyday applications:3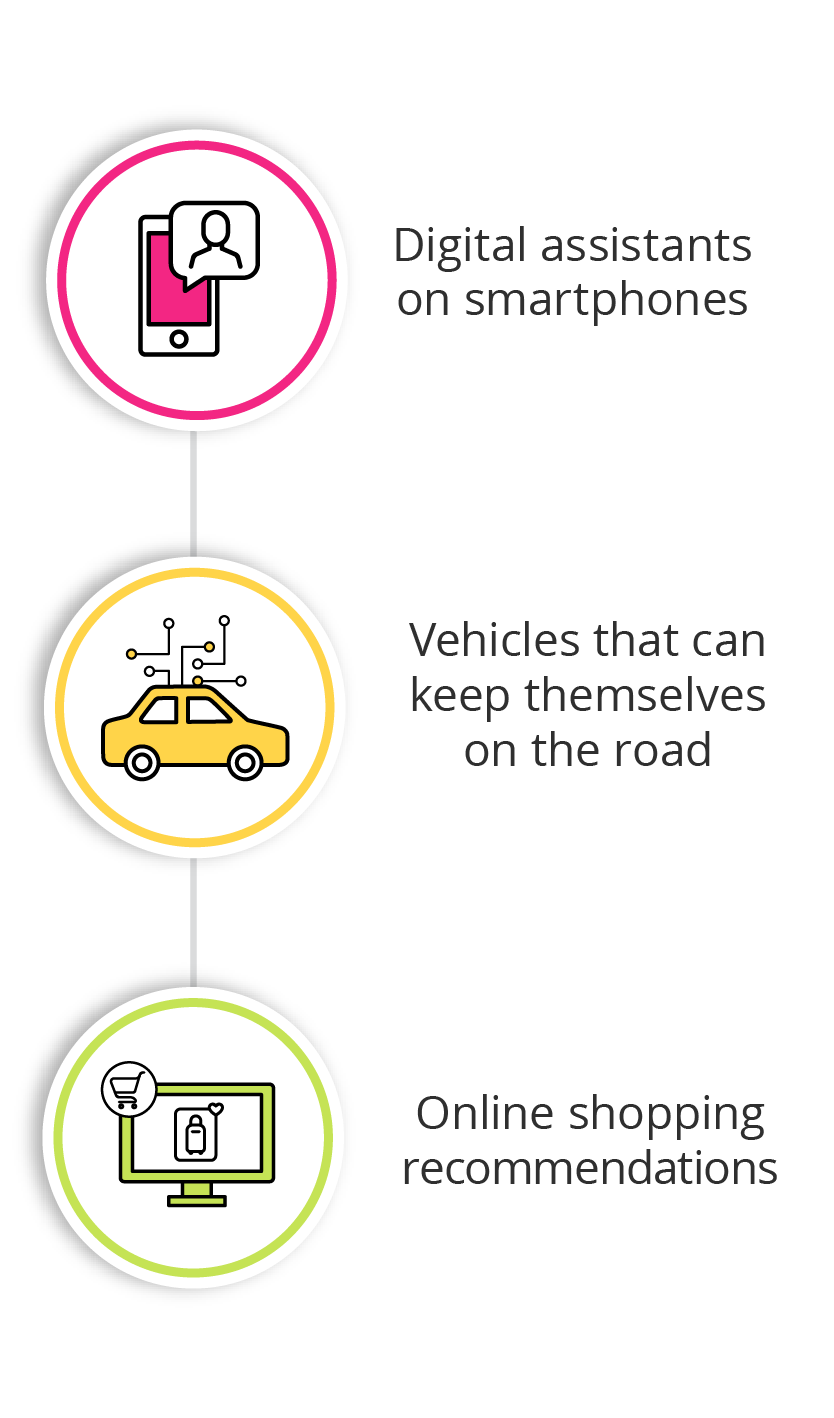 In terms of the future of finance and financial innovation, AI is establishing its utility in two key areas: customer service, and process automation.
Customer service
The traditional idea of standing in line at a brick and mortar bank is fading – quickly. In a report by the United Kingdom's Office for National Statistics, it was found that online banking penetration was at an all-time high of 69% by 2018, from only 35% in 2008.4
Fintech companies have developed sophisticated methods of interacting with their customers, without the need for direct human intervention…
In response to this trend, fintech companies have developed sophisticated methods of interacting with their customers, without the need for direct human intervention: chatbots. These programs replace the traditional customer service role with a combination of specialised AI applications, called machine learning (ML), and natural language processing (NLP); the latter allows the program to understand human language, while the former allows it to better respond to queries over time.5
Chatbots are cheaper to build and maintain than specialist staff, offering a degree of conversational engagement that users appreciate, while allowing them to easily complete complex queries regarding their finances.
This is only one usage of AI in finance, however. The other is a bit more tucked away.
Process automation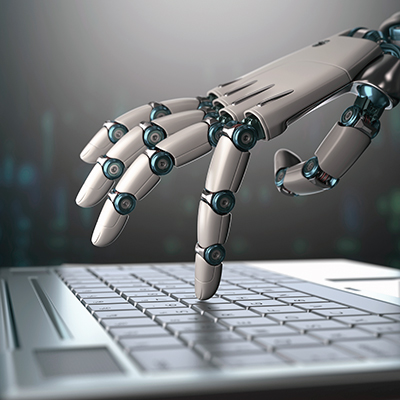 A frankly enormous amount of the operation time of a finance company is spent recording things, very often manually – according to a report by software and analytics company Adaptive Insights, up to 80% of a typical financial planning and analytics team's time is taken up with these sorts of activities.6
Automating these processes offers the potential for a more efficient, and profitable, use of these specialised roles, which is why companies are embracing robotic process automation (RPA).
The robot, in this case, is not a physical being in the science fiction sense. Rather, RPA refers to software that can quickly and efficiently perform a specific task within given parameters, and at a very high volume.7 This makes RPA ideal for a variety of traditionally manpower heavy tasks, including:8
Data entry and extraction
Performing rules-based tasks
Creating, copying or merging databases
Managing approvals and checks
RPA solutions, it should be noted, share many characteristics with automated systems that have been in existence for some time. Where it stands out, however, is how it does its job.
Most process automation systems are built with an approach that relies on integrating with the system through application program interfaces (APIs). APIs essentially act as a middleman between the various systems – which, unfortunately can quickly make life difficult when you're potentially dealing with multiple systems across an enterprise.9
RPAs, by contrast, are 'system agnostic'; they merely replicate the actions of a user in the interface, and can do so on any system. By sitting above the programme, at the interface level, RPAs can be more easily integrated into systems as needed: they're basically programs pretending to be people.10
AI-based systems like RPA and chatbots certainly make the day-to-day operation of financial enterprises more efficient, but there is another commonly discussed financial innovation which is likely to have broad ramifications for the industry – the blockchain.
Blockchain in finance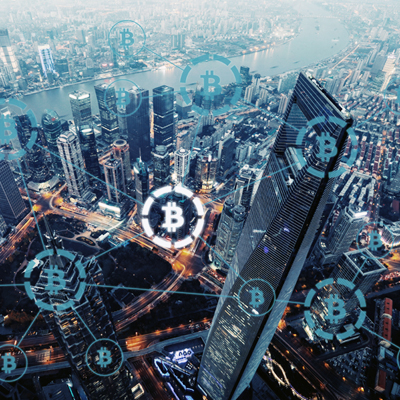 Since its notable hand in the rise of cryptocurrencies (through the creation of Bitcoin),11 the immutable ledger known as blockchain has come under scrutiny from a business world keen to exploit the potential it seems to offer.
The fascination with blockchain comes down to several key characteristics of the technology:12 It functions as a continuous, cryptographic ledger, in which new information can be added, but old information can not be changed in any way. Blockchain is also a consensus-driven technology, where adding to the network requires the solution of a mathematical proof that is verified but every other computer, or node, on the network
These two factors have a lot of important implications for the use of blockchain. The cryptographic nature of the technology gives it an inherent security, and because previous entries can't be edited without invalidating the entire data set, it's able to operate with the need for trust; this is further backed up by the consensus-driven nature of the blockchain. It's also decentralised, adding yet another layer of security.13
The cryptographic nature of the technology gives it an inherent security…
There is one final wrinkle: blockchains are public by nature, open to view for, at the least, any participant in the system. This adds to the "trustless" nature of blockchain; since all transaction on the ledger can be viewed by everyone, the very need for trust is removed entirely.14
The properties of blockchain, therefore, lends itself to several useful applications in the world of finance:
Investing
As a result of its ability to act as an immutable, inherently trustworthy ledger of accounts and transactions, blockchain has the potential to have a large impact on the ways in which investments are undertaken:15
Blockchain is able to reduce the costs of investing by limiting the need for post-trade intermediaries, while improving the efficiency of trading through the use of public blockchains.
The ability to append blockchain ledgers while maintaining a clear record of past transactions means that blockchain can eliminate the traditional hours of operation of exchanges, allowing for 24 hour trading.
The inherent transparency of the blockchain ledger means that opportunities for fraud are massively reduced, especially once regulatory frameworks are put in place to reinforce the protections offered by blockchain.
Contracts
A smart contract can be created out of simple statements that are coded into a blockchain…
Complex transactions in the modern world often require equally complex contracts and intermediaries in the process, which can easily become unwieldy. Blockchain offers the chance to simplify this process, with smart contracts.16
Smart contracts are "lines of code that are stored on a blockchain and automatically execute when predetermined terms and conditions are met".17 Essentially, this allows companies to efficiently streamline the creation and fulfilment of contracts.
A smart contract can be created out of simple statements that are coded into a blockchain – these are the terms of the contract. Once these terms have been fulfilled, the blockchain is updated with the completed transaction. The beauty of this system is that parties can create as complex terms in the smart contract that can be automatically carried out upon fulfillment.18
Smart contracts come with several other useful benefits:19
Their digital, automated nature means that they can be made more exact, with less of the errors often found in manually written contracts, and the time spent processing paperwork is essentially eliminated.
Smart contracts inherit the same properties that eliminate trust from blockchain, since the records are immutable, with all previous additions to the blockchain recorded, and visible to all parties.

Blockhain's encrypted nature makes these contract incredibly secure, and the way information is recorded makes it extremely difficult to change the previous or subsequent records on a ledger.

Due to the trustworthy nature of blockchain, there is no need for a verifying intermediary – the blockchain itself fulfils this function.
While these applications offer the potential for greater efficiency in the marketplace, there is still a long way to go before they become truly ubiquitous, and there will be challenges along the way.
The future of financial innovation
Predicting the future is no simple task, but the current state of development in the financial services and fintech industries, looked at carefully, casts a shadow from which we might glean some answers. Obviously, the first requirement of any business is to generate revenue, and to increase the amount of revenue being created over time. But there are deeper conclusions to be drawn from what technologies these companies are choosing to use, and how they're using it.
The applications being found for AI and its offspring – chatbots and RPA – show that companies are concerned both with providing their customers with greater convenience,20 as well as efficiency and accuracy.21
Blockchain presents a potentially trickier path forward, as the attributes that make it secure also present certain drawbacks: the fact that the entire database is housed on many nodes means it can quickly grow unwieldy and slow.22 The future of blockchain therefore lies in the ability of business to overcome this challenge – and there are organisations that are already looking for solutions.
The German non-profit IOTA Foundation, for instance, makes use of a 'tangle', which replaces blockchain's method of verification with a slimmed down version based on a mathematical concept called a directed acyclic graph.23 The concept has seen enough success to build a partnership with Danish state-owned energy company Energinet, as it looks to prove its ability to operate more quickly and efficiently than the traditional blockchain concept.24
However, as the financial and fintech industries move forward, there are other difficulties facing the rise of technologies like AI and blockchain, which must be tackled for the combined success of the organisations which operate in these spheres:
The need for collaboration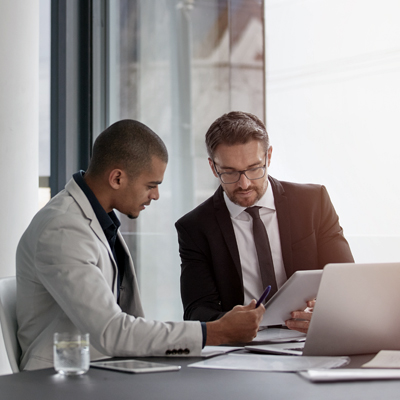 Largely, the rise of AI and blockchain in the financial sector has been pioneered by fintech companies, which often resemble technology companies more than financial institutions of old.
These small, innovative start-ups are developing the technology which will drive the next evolution of the financial industry – but their small size makes scaling effectively a difficult prospect. By contrast, traditional finance companies, such as banks, are well poised to deliver the latest financial services innovations on a large scale, thanks to decades of carefully developed relationships with customers and stakeholders. However, the institutional inertia of such large organisations can dampen the flexibility needed to effectively develop and implement these solutions.25
By collaborating, however, companies at either end of the scale can offset their respective weaknesses: smaller fintech companies can gain access to resources otherwise out of their reach, while larger institutions get the benefit of a nimble partner able to quickly develop a working product, and for an often lower cost.26
Navigating legislation
The same technologies that are driving financial services innovation, are offering solutions for companies trying to keep up to date.
Bitcoin, the cryptocurrency which brought blockchain to the forefront of public consciousness, has long been associated with libertarian ideals. The reason, ultimately, is down to the fact that bitcoin (and most cryptocurrencies) are decentralised currencies that exist outside the purview of governments and central banks.27
Since those early days of bitcoin's meteoric rise, governments have begun considering how the technology can be regulated within their borders. Which illustrates one of the challenges of fintech innovation: the need to be compliant in cases and countries where regulation can be inconsistent, unclear, or even non-existent. This can make the implementation of new technologies – like blockchain and AI – incredibly complicated, not only internationally, but in some cases within a country's borders.28
Part of the reasons for this is that regulations of fintech innovations is largely reactionary: existing frameworks are designed to regulate traditional financial services, not the likes of AI and blockchain. The challenge, for lawmakers, is to provide regulatory protections for the economy, in order to maintain stability, while avoiding stifling innovation.29
Luckily, the same technologies that are driving financial services innovation, are offering solutions for companies trying to keep up to date. By applying technologies like AI and blockchain for oversight and monitoring, finance companies have created something new: regtech, digital frameworks that allow companies to remain compliant and transparent within diverse regulatory frameworks.30
Paired with regtech is suptech, or supervisory technology, which is being embraced by regulators in order to gather and parse data from financial services organisations and fintech companies. Together, these two technologies have the potential to drastically streamline the regulatory process, representing something of a win-win for business and government alike.31
The future of finance looks promising: the rise of new technologies such as AI and blockchain is enabling a greater scope to serve customers efficiently and accurately. While this hasn't happened without some turmoil, a glance forward in time shows the possibilities of technology to bring new security to consumers, and greater profitability to business – so long as the hard lessons of the recent past are taken into account.