5 Steps to Building a Project Management Timeline

In 2017, the Project Management Institute (PMI) conducted its 9th Global Management Survey to determine why some projects fail. The results revealed the number one reason to be a lack of clear goals.1
The ability to plan and focus on business results, while continually ensuring all project goals align with the company's strategic mission, is essentially what it means to be a Strategic Project Manager.2 Instead of solely focusing on short-term results, Strategic Project Managers also have a long-term perspective.3
Project planning is directly associated with project success. According to a study presented at the PMI Global Congress of 2012, which researched the correlation between planning and project closure: "Overall, the literature points to a strong link between planning and project success. A summary of the available studies shows unexpectedly consistent empirical results for the correlation of planning and success."4
The project management timeline serves as a visual overview of the project, and it can be presented in a number of ways. In order to create the most efficient project management timeline, it's important to remember to align team and stakeholder (these are all the members of your project team, executives, managers, sponsors, customers, and users) goals before planning, be realistic – ensure you're allotting accurate costs and time deliverables to each task or milestone, and consider referring to previous successful project plans as templates for your current project timeline.5
The ability to plan and focus on business results, while continually ensuring all project goals align with the company's strategic mission, is essentially what it means to be a Strategic Project Manager.
Whether you've never built a project management timeline before, or you're experienced in this domain, the below five steps will ensure you're creating the most effective and sufficiently-detailed project map, before beginning your journey. Every project takes careful planning and attention to the right detail to succeed.6
1) Create your scope statement
The scope of your project is one of the most critical parts of your plan. It determines what needs to be done to obtain or deliver the desired final result, and includes listing the project goals, activities, deadlines and costs.7 The scope statement is usually the first step to be taken when planning a project.8
2) Establish your work breakdown structure (WBS)
The WBS leads from the scope statement, and is used to break the work that needs to be done into manageable chunks. Creation of the WBS makes it easier for the Project Manager to estimate the costs, establish which tasks are dependent upon one another, assign responsibilities, and identify risk.9
To create a WBS you'll have to complete these four steps:
Step 1: Determine the major products or deliverables that need to be produced.
Step 2: Divide the determined deliverables into its component deliverables.
Step 3: Divide these workpieces further into component parts. Continue to subdivide all components until each component has enough detail for the purpose of planning and management.
Step 4: Group each work package required to create a sub-deliverable together. This will look almost like a task list (the activities that need to be completed by a specific time, using a certain level of effort).10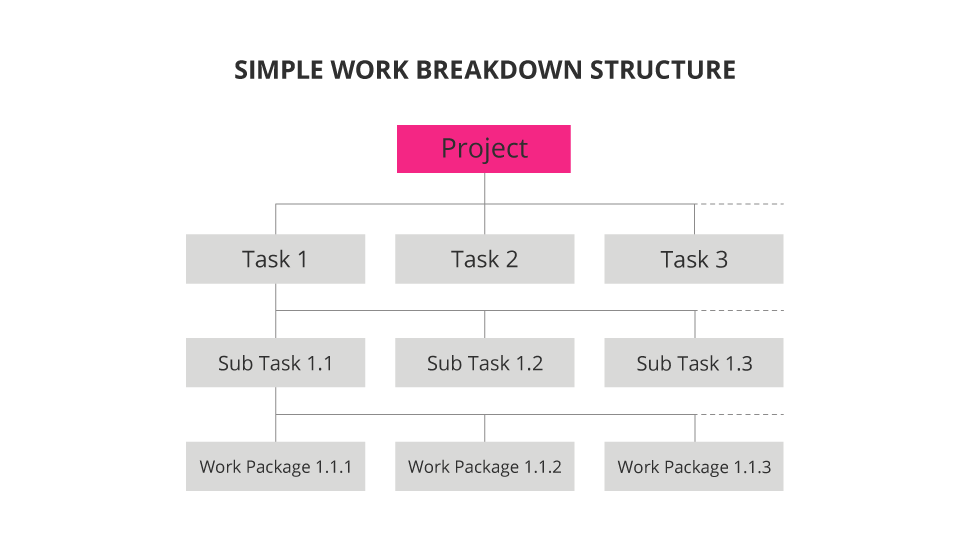 3) Create your to-do lists
A to-do list can be created for each work package by establishing everything that needs to be done to get from the starting point to the finish. During this process, determine which tasks are dependent upon one another (in other words, activity B cannot begin until activity A is complete) and which tasks can run concurrently.
Consider the length of each task and whether certain task due dates can have a float. Float, or slack, is the amount of time an activity can be delayed without affecting the project completion date.11
4) Determine resources, timeframes and milestones
Decipher how long a task will take and what is needed to ensure it is completed by the allocated time. In order to determine whether the project is progressing at a sufficient speed, it's important to determine milestones to be included in the project management timeline. Project milestones are used to delineate a point within the project timeline. Milestones are a great management tool to highlight the start or finish of any task. By noting the completed milestones, it's possible to measure the distance from the finish line of your project.12
Show your milestones to your stakeholders to ensure they can take comfort in knowing you're on track, and in line with schedule.
Float, or slack, is the amount of time an activity can be delayed without affecting the project completion date.
5) Choose your visuals and build your timeline
Build your project management timeline. There are a number of ways to represent the data in a visually appealing and organised way. Many project managers use software to build their timeline, or build a Gantt chart using Excel.13
A Gantt chart is a bar chart which effectively represents the dependency relationships between tasks, as well as the status of the schedule. To build a successful Gantt chart, be sure to include:
The project start date
All project tasks
Who will be working on each task
Task start and finish dates
Task durations
How tasks group together, overlap and are dependent upon one another
The project finish date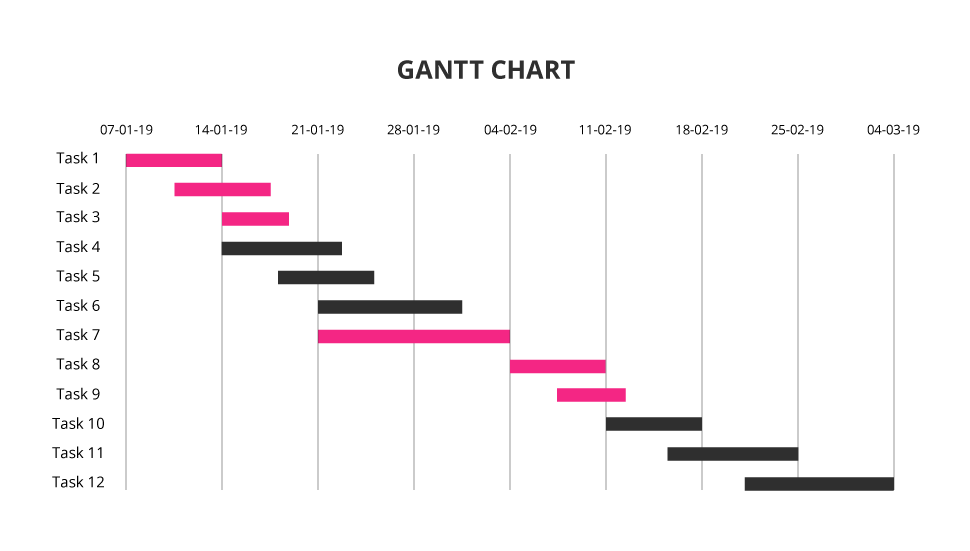 While there are a number of ways to build a project management timeline, the most important element is not necessarily the visuals, but rather the ability to stick to it, or to adjust tasks without affecting the entire project.
Learn how to approach and execute projects more effectively and efficiently with the UCT Project Management Foundations online short course.