Start Your Business: 7 Reasons To Work For Yourself
Small businesses account for 99.7% of all business in the United States.1
Starting a business may be a daunting thought, but if you take account of the successful 28.8 million small businesses in the US alone, you'll find learning how to start a business is a lot easier than it used to be.2
The interconnected world has not only opened up millions of new niches for entrepreneurs to start their small businesses but also hosts countless sources of advice on the web – allowing you to connect with other small business owners, learn from their mistakes and use their successful decisions as a guide for your own path as an entrepreneur.
If working 9-5 isn't suited to you, perhaps it's time to climb your own ladder where you set the pace and make your mark on the world. If you have a bright idea or a burning interest, here are seven reasons for why you should start your business today.
1. Be your own boss
Instead of bashing your head against a wall every time your boss makes a mistake, be the one making decisions – and hold yourself accountable to them.
It's human nature to want to avoid risks, but in the words of Nora Denzel, once the CEO of American company Outerwall, "If you don't take risks, you'll always work for someone who does."3
If that thought alone scares you, it's time you begin planning your journey in becoming an entrepreneur.
Here are a few of the benefits of becoming your own boss:
Greater control: You decide where finances go, what kind of company culture you want and the quality of work that should be expected
Flexible hours: You choose your working hours, meaning you have full control over when you work and when you don't
Diverse learning: You receive a crash course in every aspect of starting a business – from financial management to health and safety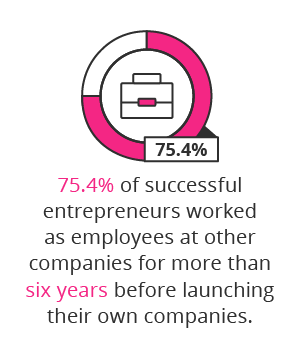 2. Defy your job description
If you consider yourself to be talented across a range of key skills, entrepreneurship is a way to utilise your proficiencies to their full potential.
As an entrepreneur you'll fill many roles in your small business, especially when starting out, which is why you cannot be afraid to do some of the dirty work. Many days you'll find yourself in the position of anything from leader to marketer to therapist to receptionist.
Here are key characteristics of the ultimate entrepreneur: 
Strong under pressure: You run towards obstacles, embrace every challenge, and refuse to give up
Adaptable and agile: You thrive in an environment that's always changing and respond quickly to threats and opportunities
Self-confident: You believe in your ability, you're good with people, and not afraid to stand your ground
Ambitious: You set high targets and try to stretch yourself every single day
Always-learning mindset: You see learning as a lifelong journey, taking every opportunity you can to acquire new skills
3. Turn your passion into profit
From choosing an area of business to building your own professional network and crafting a unique workplace culture – it's all up to you. But, it's important to remember the reason for why you are doing this when the going gets tough.
Statistics show roughly two-thirds of small businesses survive two years in business with half of all businesses surviving five years, and one-third surviving 10.
It's clear those first few years of starting a business are the toughest, which is why, if passion is lacking from the get-go, it's unlikely to sustain you in the long run.
Try to keep these benefits, of having something that's completely your own, in mind during times of doubt:
It's personal: You get to invest your time and energy into something you love
Self-actualisation: You get to build your own vision instead of someone else's
Watch it grow: You get to see your creation grow from an idea into an empire
4. Increase your earning potential
Perhaps your current job doesn't pay what you'd like, or maybe you've got a sideline passion project that has the potential to become a lucrative full-time career.
US entrepreneur, Lori Greiner says, "Entrepreneurs are willing to work 80 hours a week to avoid working 40 hours a week." But does it pay to be an entrepreneur?
Starting a business is hard work and you may struggle with finances in the beginning, but draw your motivation from these famous entrepreneurs who started out with pennies and turned them into billions:
Jan Koum, CEO and Co-Founder of WhatsApp: Went from food stamps to a net worth of $6.8 billion
Do Wan Chang, Founder of Forever 21: Went from working as a janitor to a net worth of $5 billion
Shahid Khan, Owner of Fulham Football Club: Went from dish washing to a net worth of $3.8 billion
5. Create jobs for others
Over the past 20 years, small businesses have generated over 65% of the net new jobs.4
Starting a new business means you have the opportunity to hire and train those who may not have had the opportunity for work in the past. It also means you get to make a meaningful impact on society.
Below are three entrepreneurs who have used their entrepreneurial prowess to do something good in the world:
Jimmy Wales, Co-Founder of Wikipedia: Created the world's biggest non-profit encyclopedia
Bridget Hilton, Founder of Jack's Soap: Fights against disease by giving one free soap to the poor for every five sold
Rachel Cohen, Founder of Hand2Paw Foundation: Created an organisation that empowers homeless teens to volunteer in animal shelters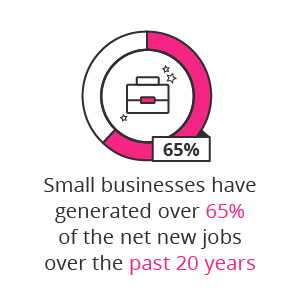 6. Learn to fail and learn from your failures
The number one reason for failure? Making a product nobody wants.5
Even Sam Paddock, Co-Founder of GetSmarter, is quick to admit many startups fail, before one eventually takes off.
"We've had some ideas that have completely tanked, even though we still can't figure out why they didn't work. We spent so much time and effort on an idea that just wouldn't take off. It wasn't for lack of trying, but people weren't interested, and we couldn't change that. If you want to really build something amazing, focus on what you know, and do that really, really well."
How can you make sure you learn from your mistakes and be part of the 78% of entrepreneurs who rate learning from previous failures as vital to their success?6
Accept responsibility: Don't blame the mistake on something else – take ownership of it
Respond accordingly: Understand why you made the mistake and how you can avoid it in the future
Do the humour test: Can you laugh at the last mistake you made? If so, chances are you've processed it and moved on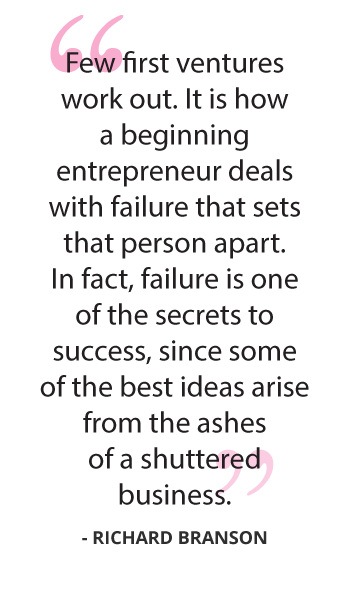 7. Become an expert
Instead of waiting for someone to give you a chance to be the best at something you're passionate about, create your own opportunity.  
As the saying goes, "Do one thing and do it well", rather than trying to spread your time and money on many ideas that carry little weight.
Follow the words of Steve Jobs: "Your time is limited, so don't waste it living someone else's life. Don't be trapped by dogma – which is living with the results of other people's thinking. Don't let the noise of others' opinions drown out your own inner voice. And most important, have the courage to follow your heart and intuition".
Become an expert in one thing by:
Identifying your passion: Find something you're passionate about – this means you won't mind pursuing it after hours
Making time for it: The best way to become an expert is to practice, practice, and practice some more, whether this is through experience or gathering knowledge by taking online business courses
Taking every opportunity: Whether it's paid or unpaid, big or small – accept anything that challenges you
---
Convinced yet?
Take the leap and gather the knowledge and skills you need to embrace entrepreneurship by taking the UCT Start and Manage a Small Business online short course.
---
Print out this handy infographic for seven reasons to build an organisation right now, and start creating your business plan today.

1Source: SmallBusinessAdvocate
2Source:Fundera
3Source: BeLeaderly
4Source: Fundera
5Source: Fortune
6Source: Grace Lever
---
Want access to more career-boosting guidance?
Have a look through our collection of entrepreneurship advice.