A Guide to Building a Better Business Strategy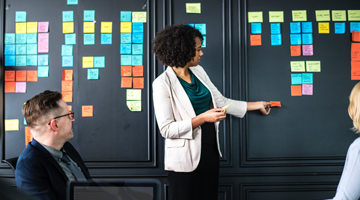 Whether your company is just starting out or you have big aspirations for future growth, every business needs a strategic business plan to guide them in the right direction. Having clear goals matters. Without them, you run the risk of steering your company off track, which could cost you a lot in both time and money.
A strategic business plan is a document that lays out your company's goals and points the way forward for your business. This could range from developing new products and targeting new market segments, to solving underlying organisational problems. Writing a business strategy also helps uncover ways to improve your current performance, whether it's changing processes or restructuring departments.1
With this in mind, we've created a step-by-step guide to better business planning below.
What questions to ask?
Creating a good business plan starts with asking the right questions. These will help you analyse where your company stands currently, where you want it to go, and how you can get there. It also helps you explore current trends in the market, and understand where your business fits in.
Before you start building a business strategy, make sure to ask yourself:2
Where are you now? Take stock of how your business is currently performing.
How did you get to this point? Explore what tactics and strategies have resulted in your current success or failure.
Where do you want to go from here? Decide what goals you want to accomplish in the next year, five years, or 10 years.
How do you get to where you want to be? What steps do you need to take to reach your goal, and how do you go about taking these steps?
What obstacles will you have to overcome? Uncover what problems you will have to solve to reach your goal and what your biggest roadblocks will be.
How are your customers changing? Has your target market changed how they use your product or service, or are their priorities and values changing?
How is your industry changing? Are there disruptive players or technologies that are influencing your place in the market?
What should the company stop and start doing? Analyse the way your company is currently running and get input from your team on what they think is working and what needs to change.3
How do we best serve our stakeholders? Think about your team, your investors, and your customers, and make sure that your business strategy aims to benefit everyone, not just one group.
What skills or resources do you need to achieve your goals? Your team may need to be upskilled, or you may need to outsource additional support to reach your strategic objectives.
What tools and frameworks to use?
There are a number of frameworks you can use to create a good business strategy that assists in the future growth of your company.
Which tools you use is completely up to you. Different tools work better for different plans, so make sure you use one that works with your goals in mind, instead of trying to fit your company into all of these moulds.
Below are four of the most common frameworks and tools used for building a strategic business plan.
SWOT Analysis
SWOT is an internal analysis tool used in business strategy to identify and highlight your company's strengths, weaknesses, opportunities and threats. Team members have a brainstorming session where each member creates a list for each of these aspects, based on their research and experience. Once created, they then rank these factors in terms of importance and use them as a basis for creating their development objectives, tactics, and strategy.4
Porter's Five Forces Model
This analysis looks at what's going on outside of your business and the critical forces that are impacting it. This includes the threat of emerging technology, new disruptors in the market, existing competition, bargaining power of suppliers, and more. Using this tool helps you understand the balance of power and identify potential areas of growth and change.5
Balanced Scorecard
Balanced Scorecard is a fundamental tool in business planning and execution that allows you to set, achieve, and measure your objectives and strategies. It was originally created because many companies had the habit of basing their strategic objectives on their financial performance alone, instead of factoring in a number of different key performance indicators. It looks at four main aspects when creating a business strategy:
Financial: Are you meeting your targets financially?
Customers: Are your customers still enjoying your product?
Internal business process: Is your company working efficiently?
Learning and growth: Are you providing a space for development?6
VMOST
Standing for Vision, Mission, Objectives, Strategy, and Tactical, this tool ensures that all the activities in your business are aligned with its vision and purpose. While your company may be hitting all your targets, if those outcomes aren't aligned with your future plans, then you might be wasting both time and resources as you're not focusing on getting the right things done. It helps you decide: where you want your company to be, how you intend to achieve this, what your targets are, and what needs to be done – and by whom – to reach them.7
How to create a strategic plan?
Now that you've identified internal and external factors influencing your organisation and have decided on a clear objective, it's time to actually create your strategic business plan.
There are six main steps you need to take when developing your document:
1. Analyse where you stand
Using the questions and frameworks above, review your past and current performance and identify opportunities for growth. Be honest about where you stand in your market. Conduct internal and external audits to fully understand the marketplace, competitive environment, and your place in it.8
2. Create a vision statement
This should outline the future direction of the business, and the purpose and values it hopes to fulfil. Develop a list of goals you want to achieve over the medium and long-term.9 This could range from product development to becoming a disruptor in your industry.
3. Develop a mission statement
This focuses on your strategy's primary objectives and what needs to be done in the short term to realise the long-term goals laid out in your vision statement. For the mission statement, ask questions like:
What do we do?
How do we do it?
Who do we do it for?
What value do we bring?10
4. Highlight strategic objectives
Set high-level objectives and priorities for all areas of the business that will help you reach your vision. Make sure that each objective is SMART (Specific, Measurable, Achievable, Realistic and Time-related) and includes factors such as budget requirements, KPIs, and resource allocation.11
5. Make tactical plans
Translate your strategic objectives into more detailed short-term action plans for each department in your business. This will help you focus on more measurable results that will aid in fulfilling your strategy.12
6. Review and measure
It's extremely important to review your strategic business plan from time to time to ensure your tactics are still relevant, and that you're still on track to reaching your goal.13 Make sure that those in charge are measuring the success of every tactic their teams use to make sure you're moving in the right direction.
Making a good business plan takes many hours of analysis and groundwork that shouldn't be overlooked. To help you out, we've created a downloadable basic business strategy template for you to fill in, in order to set your company off in the right direction.
[DOWNLOAD BUSINESS STRATEGY TEMPLATE]