Balancing Your Work Week and Studies: The Inside Perspective From a GetSmarter Student
"I know I need new skills to broaden my career prospects, but I can't just stop working and go back to studying."
Does this voice of doubt sound familiar? If you find yourself excited about learning new things, but limited by a full-time work schedule and other life commitments, you're not alone.
Meet Ruben de Villiers, a Marketing Developer at GetSmarter's Observatory campus, and a student on the University of Cape Town User Experience Design online short course.
"I help develop and maintain websites and landing pages to meet the strategic needs of our marketing department," says Ruben of his full-time role. It's a varied and demanding job, and his work in the dynamic GetSmarter team requires him to be adaptable and ready to respond to new challenges and strategies.
What made Ruben decide to add an online learning experience to his already jam-packed, work-life balance?
"I enjoy learning something new, and I wanted to understand how the different people I work with think, and what their reasoning is behind the strategies they propose. I thought it was valuable to have insight to the importance of user experience design, especially with us moving to a world where technology changes constantly; if you don't develop new skills, you'll become obsolete."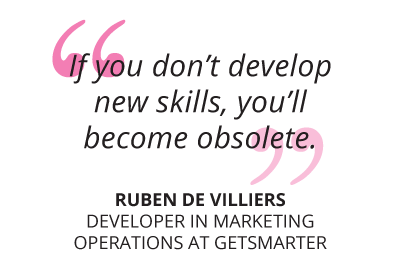 The Key to Online Study Success
Ruben credits time management as a key factor in getting the most out of his online short course.
"I try to get in two hours of study time a day, depending on what's happening in my workday. It can be difficult to manage, but you always have support from your Student Success manager to help you manage your time better." Ruben spent time reading about time management strategies before starting his course, and he says thinking of time management like budget management has helped him succeed in his studies.
Ruben suggests using Google Calendar to plan your week in advance since time is a resource. He also advocates keeping focused on the end goal – the benefits of the certification – even if that means studying instead of socialising with friends until your course is complete.
Content that Counts
When comparing his university studies with an online learning experience, Ruben highlights the importance of on-demand access to information. "Sitting at the airport or waiting for a bus, I can open up my course content and go through it while I wait. On-demand access to information has been useful."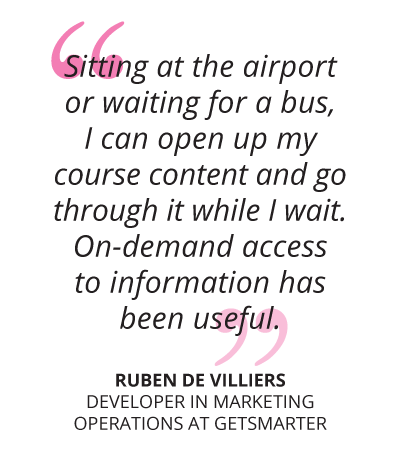 He also finds the Online Campus more organised than his university studies, making it easier for him to fit his studies into his schedule when he has a free hour, or over his lunch break. With new modules released weekly, and a systematic assignment schedule, it's easy to plan ahead around the weekly demands of the course.
"Sometimes it's difficult to meet deadlines if you don't make time for it and prioritise getting assignments done on time, so I try to intersperse my studies with my work day where possible."
Investing in Your Career
Ruben enjoys learning and reading about new things, and he allocates his time carefully to properly study the course content. "I already had a broad understanding, now deepening that and realising 'oh that's how that works!' is very rewarding."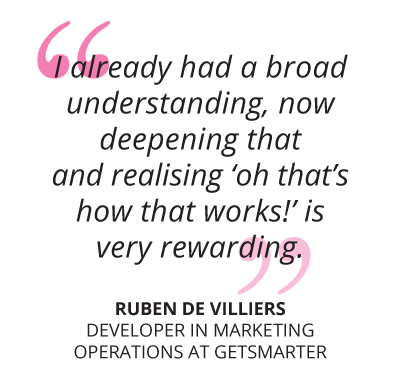 He is quick to point out, however, that just because you study, doesn't mean it will automatically help you. It's important to start your online learning journey with some introspection and strategy. "I always think what, why, and how, I will manage the course when I sign up for it. How will it benefit me in the future?"
Maintaining a good work-life balance can be a challenge when you add an online short course to a busy work week. To Ruben, however, "it's a case of what is more important – I approach it as an investment in my career."