Almost everything we do in the workplace is dependent on technology and connectedness. With the importance this places on technological systems, organisations are desperate for employees who possess the right know-how.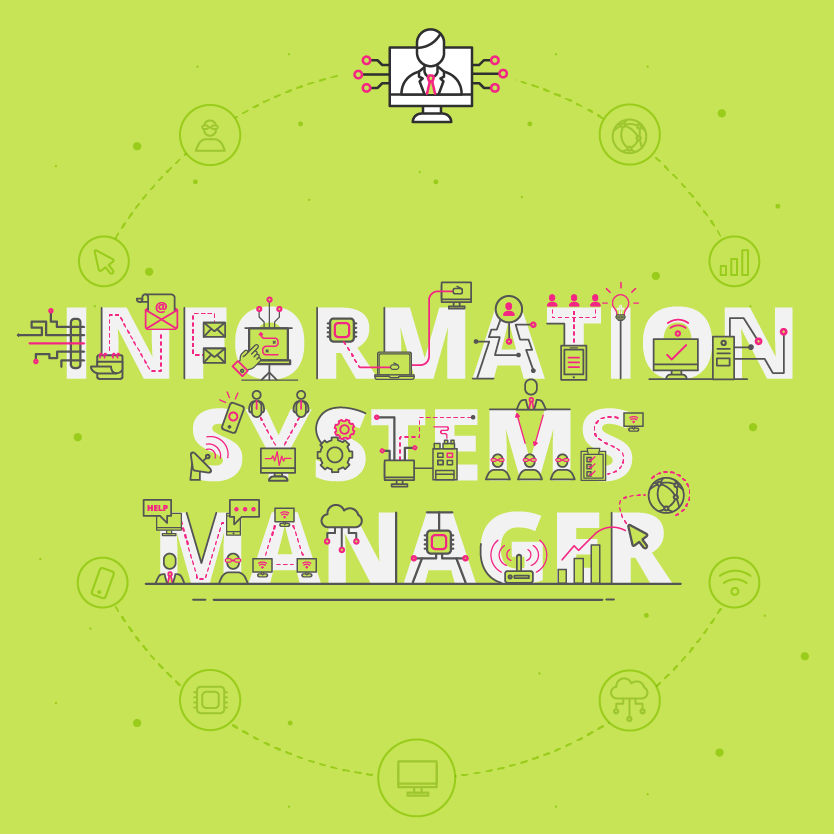 By gaining the expertise to navigate digital systems and use them to analyse company needs, you make yourself invaluable to any organisation.
The demand for Information Systems Managers is so high, the job market is expected to grow by 15% year-on-year until 2024 – more than double the average for all occupations over that period.1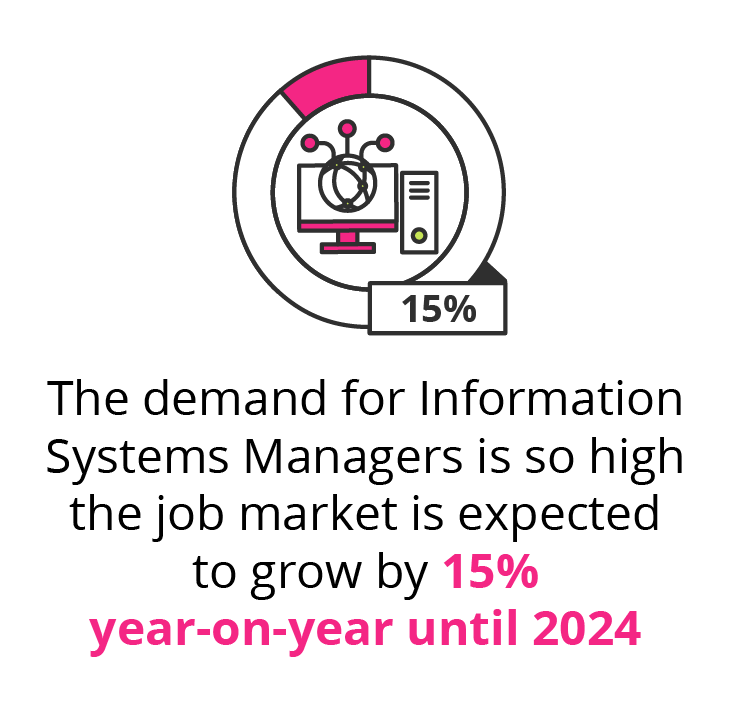 Information Systems Managers are often confused with Information Technology Managers. While the roles are related, they serve markedly different functions.
To be an effective Information Systems Manager, you need to be:
Strategic and analytical
A clear communicator
Thoroughly organised
Business-minded
A strong leader
---
Related content: Information Technology vs Information Systems

---
What are the key responsibilities of an Information Systems Manager?
The main objective of an Information Systems Manager is to bridge the gap between business and technology. As an Information Systems Manager, you're responsible for developing an information systems strategy that aligns with broader business objectives and supports business functions.
More specifically, the daily responsibilities of an Information Systems Manager will include effective performance in the following key areas:
Information Systems Management

Recommending IS governance and ethics principles
Developing an IS strategy that informs regular optimisations of systems
Applying knowledge of telecommunications, IoT, networks and datatbases into daily tasks

Information Technology Management 

Designing solutions for business problems and processes using an IT strategy
Investigating the relationship between the information systems and the managerial end user
Analysing high volumes of information to assist business in gaining a competitive edge

IoT Technology

Demonstrating the importance of leadership when preparing for the integration of IoT technologies
Exploring the ways you can use IoT technologies on an organisational level to improve productivity
Creating strategies for your unique business situation to support the application of IoT technologies
What is the career path of an Information Systems Manager?
40% of Information Systems Managers move into the position of IT Director with their next big promotion, with 1 in 10 jumping straight to the role of CIO.2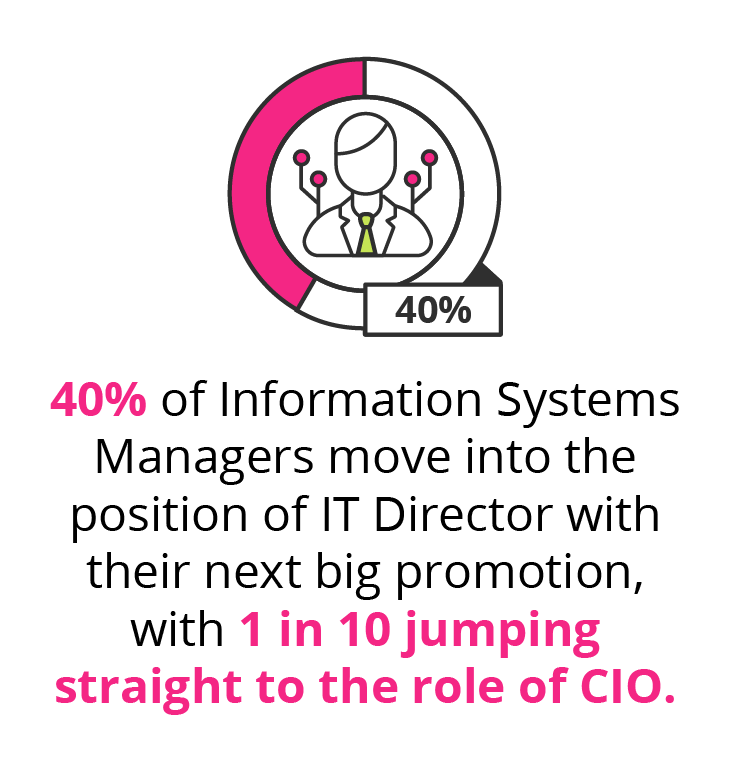 Informations Systems Managers usually require experience in related IT roles before moving up to management positions. To become a lower level IS Manager you may only require a few years of experience as an IT Specialist, Computer Systems Analyst or related role.
Before moving up to the more senior roles of IT Director or Chief Information Officer (CIO), 5-10 years of managerial working experience is recommended.
Information Technology Director: The most common career advancement path for IS Managers is that of moving into the role of IT Director. As an IT Director, your responsibilities include reviewing performance of current IT systems and recommending improvements, benchmarking costs and productivity levels, and managing enterprise information security.
Chief Information Officer (CIO): Becoming the CIO of an organisation is the end-goal for many IS Managers. The role includes establishing, coordinating and evaluating IT strategies for key products and services; providing technical expertise and industry knowledge to support sales and marketing efforts; and overseeing management of IT teams.
Chief Technology Officer (CTO): A companion role to the CIO, Chief Technological Officers are responsible for leading technology teams in day-to-day operations, supervising heads of department, and setting performance goals for IT teams. As a CTO, your role focuses more on hardware and software, rather than systems, and management of all hardware, software, databases and licenses falls at your feet.
---
Related content: How Artificial Intelligence Is Defining The Future Of Work

---
What is the potential salary for an Information Systems Manager?
The skills that play the largest role in determining your earning potential as an Information Systems Manager are those of project management and enterprise resource planning (ERP). Experience has a moderate effect on your earning potential, with most IS Managers moving onto other roles before accruing 20 years on the job.3
Click on a country to see what you can expect to get paid as an Information Systems Manager in either South Africa, the United Kingdom or the United States of America:
What are the education and training requirements for an Information Systems Manager?
Seeing as Information Systems Managers require technical expertise in and knowledge of computer-related fields, the bare minimum you'd need to begin your career path is a related Bachelor's degree.
Some employers prefer to hire IS Managers with proven business management skills, so a graduate degree such as a Master's in Business Administration (MBA) makes you more desirable.
Bachelor's degree: Informations Systems Managers are required to have at least a Bachelor's degree in a related technical discipline. Courses in computer programming, software development and mathematics are a must. Management Information Systems (MIS) programmes include business-related classes as well as the necessary computer-based courses.
Master's degree: Because of the business management element of your role as an Information Systems Manager, many organisations require a graduate degree in the form of an MBA. Many people take these classes while working, allowing them to enter the workplace to build experience while gaining the necessary qualifications.
---
Which skills do you need next?  
Download a course prospectus to find out how one of these online short courses can help you become an Informations Systems Manager.