Career Path: Artificial Intelligence and Robotics
When it comes to anxiety around automation and the future of humans in the workforce, a recent study by the OECD has dispelled Oxford's earlier, somewhat alarming forecast of 47% job takeover by automation. According to the OECD report, although the impact of automation1 is still significant – one in two jobs in the 32 countries included in the study is predicted to be affected – the biggest impact would be in low-skilled or less-experienced job roles, with very little impact foreseen to more senior, highly-skilled roles.2
McKinsey's analysis of more than 2,000 activities across more than 800 occupations similarly shows around 50% of these roles are highly susceptible to being replaced with artificial intelligence (AI) and robotics. The activities most at risk are physical activities that occur in highly predictable and structured environments. Similarly, functions such as data collection and data processing are likely to be replaced with AI. However, more complex activities, such as managers providing expertise, and interfacing with stakeholders, are less at risk.3
Where some businesses might fear automation and its related technologies as a threat to the working world, others have chosen to view AI and automation as a useful augmentation, rather than a potential hindrance.4 This differentiation makes a lot of sense because something very different is developing; instead of replacing humans, AI is increasing human capabilities, creating a new scope for innovation, and making new career opportunities available.5 The demand for AI-related skills and machine learning is set to increase, and will continue to grow from $1.41 billion in 2017 to $8.81 billion by 2022, at a Compound Annual Growth Rate (CAGR) of 44.1%.6
The World Economic Forum's 2018 report on the future of jobs showed that, among the roles included in the 15 million workers represented, established roles such as data analysts and scientists, software and applications developers, and e-commerce and social media specialists, will experience increasing demand from now up to 2022, and that entirely new roles will emerge, such as AI and machine learning specialists, big data specialists, process automation experts, information security analysts, user experience and human-machine interaction designers, robotics engineers, and blockchain specialists.7
The graph below shows the projected strategies companies will use to meet the shift in skills requirements: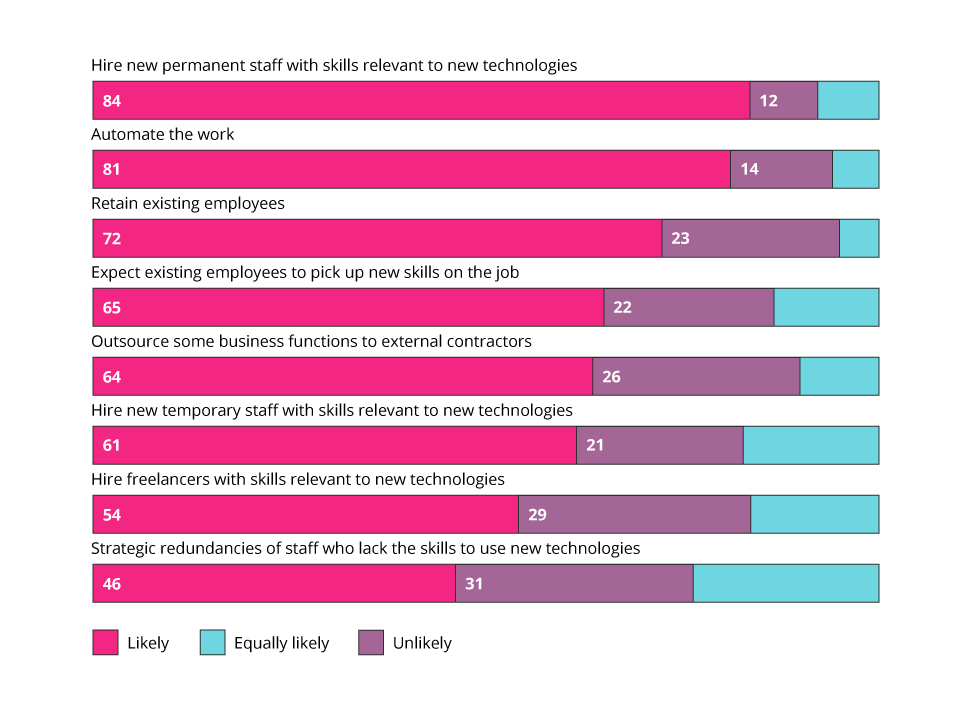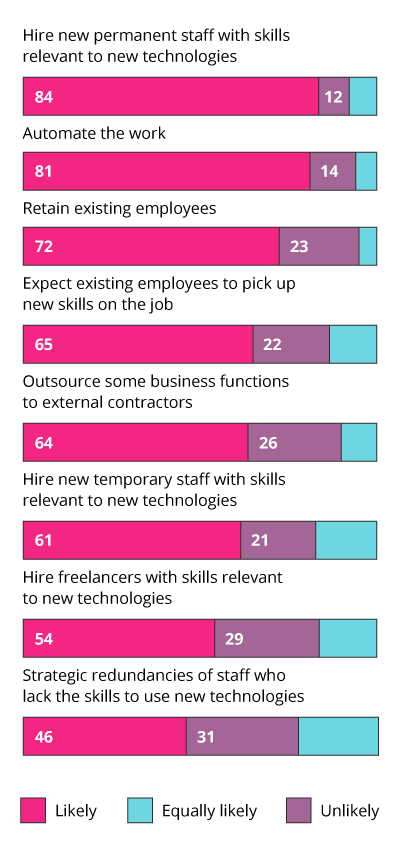 The top jobs to look out for in AI and robotics
Machine learning engineer
A highly coveted career, machine learning engineers are computer programmers with strong software skills who can apply complex predictive models, process large sets of data, and use natural language processing to programme machines to perform specific tasks that support a business's goals. 8
For a career as a machine learning engineer, a background in applied research and data science is beneficial, along with an in-depth understanding of programming languages such as Java, Python, and Scala.9 Previous exposure to an agile development environment will be useful, along with a master's or doctoral degree in mathematics or computer science, and working knowledge of development tools like Eclipse and IntelliJ.10
Data scientist
Data science is the heart of AI, automation, and machine learning.11 Data scientist roles have grown by 8% in 2018 but are projected to grow by 33% in the IT sector by 2022, with consistent demand for this role across almost all sectors.12
A data scientist's primary role is to analyse, visualise, and model large volumes of data to build and implement new machine learning models to support sound business decisions.13
If you want to get started in data science, you need to be highly experienced in statistical computing languages and programming languages such as Perl, Python, SQL, and Scala.14 You should be familiar with big data platforms and tools, such as Hive, Hadoop, MapReduce, Pig, and Spark.15
Business intelligence developer
Business Intelligence (BI) developers research and plan solutions for problems within a business and increase profitability by analysing complex data.16 They design, model, test and maintain cloud-based data storage systems and then analyse the data for trends in the market and business, thus improving the business's overall profitability.17 A degree in computer science and engineering, with experience in data warehouse design, data mining, SQL queries and SQL Server Integration Services are necessary.18
Software developer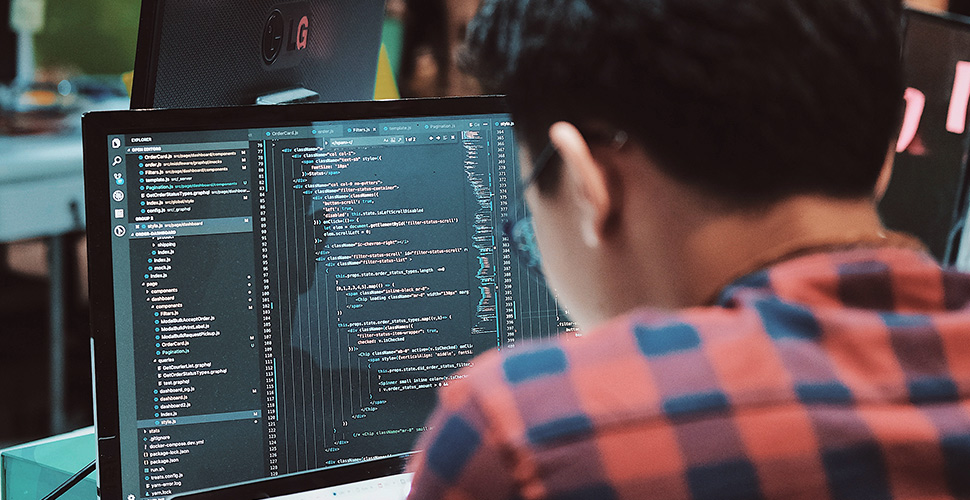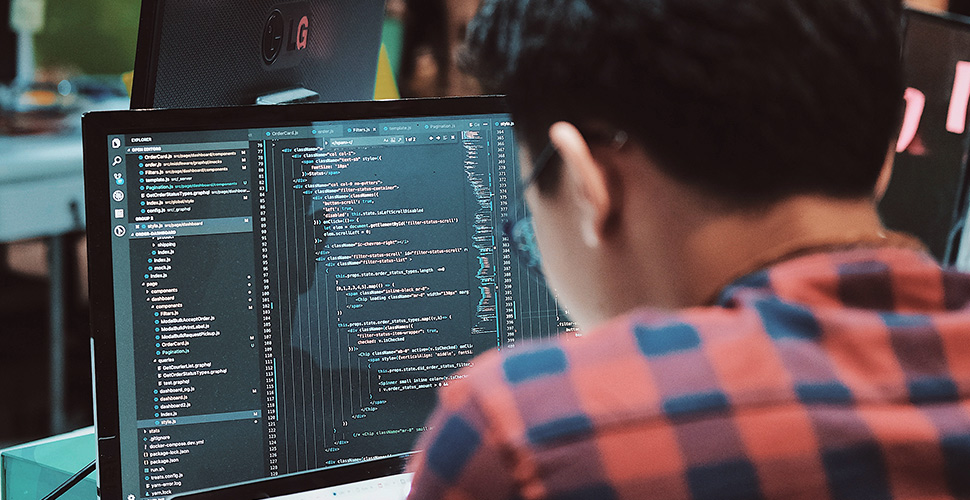 The rapid increase in the number of computer systems and mobile apps that use software has resulted in software developers being in high demand with an estimated 302,500 new jobs forecast before 2026.19 A software developer oversees the entire development process of computer programs for a business and provides the best-suited software for the business.20 Software developers who focus on AI and machine learning should be adept at writing code, and in building and optimising large, complex systems.21
Robotics scientist
Robotics and AI are quite different from each other, with artificially intelligent robots – robots that are controlled by artificial intelligence programmes – bridging robotics and AI.22 However, not all robots are artificially intelligent and non-intelligent robots are restricted in their functionality to perform a repetitive series of movements. AI algorithms are often necessary to allow the robot to perform more complex tasks.23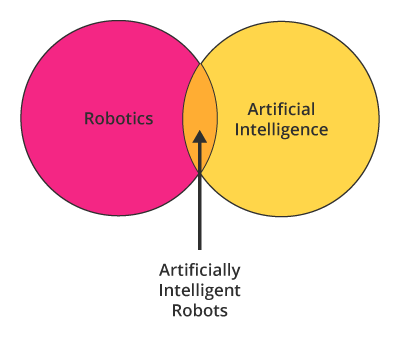 A robotics scientist's main role is to build and maintain the robots that carry out the tasks in an organisation that still require human input by varying degrees. These are typically in sectors such as manufacturing, security, space and aerospace, and healthcare.24
Robotic scientists should have experience in robotic or mechanical engineering, with a background in advanced mathematics, physical science, and computer-aided design. The ability to create and edit computer programs, as well as work with specialists and subject-matter experts to develop prototypes is also an advantage.25
AI research scientist
An artificial intelligence research scientist should be operating at an expert-level in several AI disciplines, including machine learning, deep learning, computer perception, applied maths, and computational statistics.26 AI research scientists are predicted to have a great future, as they will be at the developmental cusp of artificial learning and machine learning applications for many years to come.27
Toby Walsh, an artificial intelligence professor at the University of New South Wales, says "I always joke that the safest job on the planet is AI researcher. When we've automated AI researchers, the machines will literally be able to do everything else by definition."28
Most employees want their research scientists to possess an advanced master's or doctoral degree in computer science or a related technical field with relevant experience. An in-depth understanding of benchmarking, parallel computing, distributed computing, machine learning, and artificial intelligence is also important.29
How to start a career in AI and robotics
Aside from the specified educational and skills required, consider these additional steps to learn more about the high-demand industry:
Upskill online – As with most tech-based fields, there are a selection of online courses available for artificial intelligence and robotics, either to learn more about an overall field, or to become more specialised in one specific topic.30
Read and absorb – Since this is an ever-evolving field, constantly keeping yourself informed of changes and research is vital. Subscribe to scientific journals and explore as many opportunities for learning as possible.31
Embrace creative problem solving – Knowing how to use Python, or R, is one thing, but understanding how to apply Artificial Intelligence to solve a given problem will be what determines your success. Code alone can't solve problems – be an imaginative thinker and craftsman.32
When it comes to a career in AI, the development of AI-related tech is not the only consideration. MIT Sloan's research of over 3,000 executives, managers, and analysts across industries shows that almost 85% believe that AI will give their businesses a competitive advantage, but only around 20% have started to implement tech in their own businesses.33 It seems that society at large will need some time to adjust to the significant changes brought about by AI and robotics in the workplace.34 Thankfully, the landscape for a career in AI is wide and varied, with each role requiring different levels of mathematics, computer science, robotics, software development engineering and analytical science theory. Plus, according to the World Economic Forum's report, they forecast that robots and AI in the workplace will create 58 million net new jobs in the next few years.35 Expect a major shift in the quality, quantity, location and permanency for artificial intelligence specialists roles.