What Is Collective Intelligence And Why Should You Use It?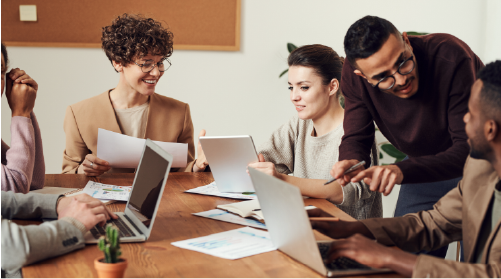 Collective intelligence is not a niche phenomenon – it's crucial in defining the success of any group endeavor, and is a daily factor of any business. Professor Thomas Malone, the Patrick J McGovern (1959) Professor of Management at MIT Sloan School of Management, and founding director of the MIT Center for Collective Intelligence, defines collective intelligence as the "single statistical factor for a group that predicts how well the group will perform on a wide range of very different tasks". Essentially, in the same way IQ describes individual intelligence, collective intelligence performs the function on a broader scale. It's also proven to be a dynamic concept, subject to new evolutions spurred on by the increasing sophistication of artificial intelligence (AI) technologies.
Under this new paradigm, collective intelligence is enabled and enhanced through human-machine partnerships, allowing AI technologies to join the group mind, and augment it. Organizations able to capitalize on these possibilities are likely to find a strategic advantage in doing so. But what exactly does this new vision of collective intelligence look like?
Collective intelligence today
The first step in understanding how AI is influencing collective intelligence in business is understanding the different types of intelligence. Broadly speaking, intelligence can be specialized (able to perform tasks related to a single narro w area of focus) or general (able to complete tasks across a broad focus area). AI technologies fall into the category of specialized intelligence; excellent at a single task, or type of task, but unable to perform very well beyond that. For example, a machine learning algorithm can be designed to recognize pictures of dogs, but you wouldn't want the same AI doing your taxes. By contrast, humans possess general intelligence – we're able to carry out a wide range of tasks successfully, although we may not be as good at certain tasks as specialized AI.
However, by pairing AI with humans in human-machine partnerships, it's possible to overcome the drawbacks of each, as a human partner adds versatility, and AI pure computing power. Human-computer partnerships can take many forms, and in his work, Malone provides a useful framework for understanding these interactions: AI can act as your tool, assistant, peer, or manager in business.
The roles of AI
The ways that humans and AI can act in partnership are varied, but according to Malone, they can be broken down into four primary categories.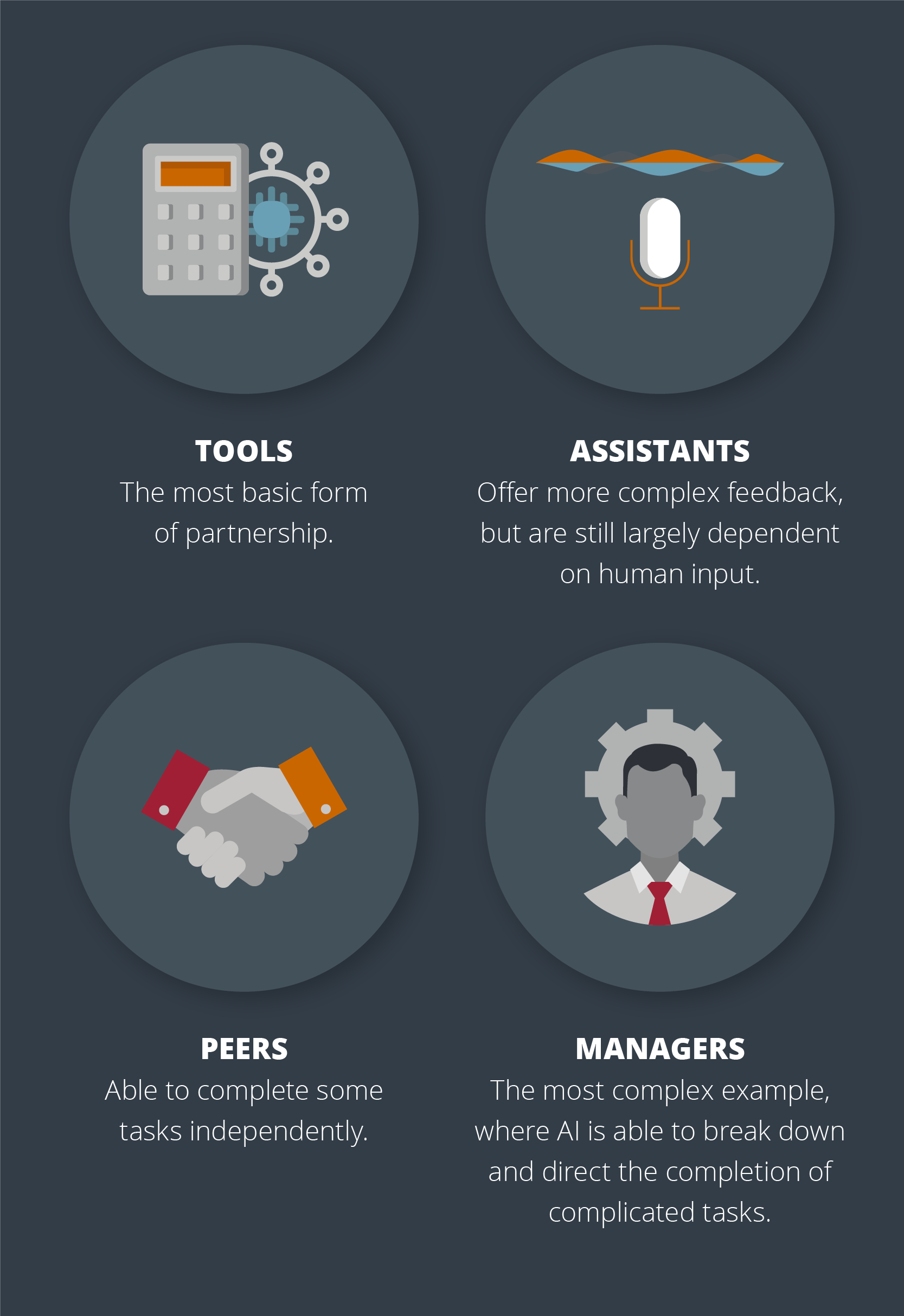 Each of these categories has its own pros and cons, and is able to bolster collective intelligence in specific ways.


Much as a hammer is a highly specialized tool for hitting a nail, the simplest expression of the human-machine partnership is occupied by AI's ability to undertake specific, basic tasks, with human input. These tasks must be monitored throughout the process.
Examples of tools include word processors with autocomplete functions based on machine learning algorithms, as well as email, or even the chat clients used in office settings. These tools allow humans to more efficiently manipulate and communicate information, and leverage collaboration on a larger scale. Malone calls this large-scale collaboration "hyperconnectivity". As he explains in the course: "This may well be the most important way that information technology helps create more intelligent organizations."


The next step on the ladder, assistants are able to operate with a slightly greater degree of independence. A powerful example of this application of AI is one that takes its description very seriously: AI assistants.
Best known for their ubiquity in smartphones (such as Google's Assistant, and Apple's Siri), AI assistants are also making important in-roads in business settings, where they're being used across a broad range of industries to augment human skills. For instance, Microsoft's business-focused Cortana assistant uses natural language processing to understand verbal commands.2 It's able to provide contextually appropriate information, send files, and even schedule and confirm appointments, allowing professionals who use it to focus on business-critical tasks.


The third rung of human-computer interaction places AI in the role of a peer. As the term suggests, this means that humans and AI perform the same or similar tasks. Machines are often able to perform these tasks much quicker than humans, but humans are able to solve problems that fall outside the scope of AI programming. Therefore, peer interactions often see a human partner overseeing and checking the operation of an AI, doing only the work that is necessary.
Robotics provides an excellent example of human-computer interaction at the peer level. In many modern warehouses, autonomous robots are used to bring goods to a worker, cutting down on time spent walking the floor and searching for products. Of course, the human end of this interaction is still necessary to make sure the correct product has been retrieved.3
In another application, the predictions of AI and humans were combined to forecast the next play in a game of football.4 The combined predictions proved to be more accurate and robust in protecting against errors, showing AI's potential in contexts such as forecasting cybercrime or market conditions.


The concept of AI managers may be a frightening one to many, but it's a reality we already experience on a day-to-day basis, as seen in systems that control traffic lights.
The role of AI as managers can include a simple division of labor – breaking tasks in smaller subtasks and assigning them to human workers best suited to them. The machine in this case essentially acts as a coordinator, using given data to ensure a task is performed as efficiently and effectively as possible. Although these systems rely on sophisticated machine learning algorithms, when used correctly, they can lead to vastly improved operational performance – all thanks to an augmented collective intelligence.
The human future of collective intelligence
Collective intelligence is on display in virtually every business, every day, although few may be aware of it. AI represents the opportunity for business to augment collective intelligence in very real ways, improving their operations and strategic performance. But the human element remains vital – while many fear that AI will replace humans, the more likely future will see humans and computers interact in complex ways to improve the performance of both. As augmented intelligence advances, business will evolve with it – and for those who stand at the leading edge of this process, the rewards will be rich.
---
Featured faculty

THOMAS W. MALONE
Patrick J McGovern (1959) Professor of Management, and Founding Director of the MIT Center for Collective Intelligence
Malone is a Professor of Information Technology and of Organizational Studies at the MIT Sloan School of Management, and his research focuses on how new organizations can be designed to take advantage of the possibilities provided by information technology.
His groundbreaking research has been published in the book The Future of Work and in over 100 articles, research papers, and book chapters. He holds 11 patents, has co-founded three software companies, and is quoted in numerous publications such as Fortune, the New York Times, and Wired.
Malone is also Co-Faculty Director of the MIT Artificial Intelligence: Implications for Business Strategy online short course, where he guides the program design, and shares his experience and in-depth subject knowledge through the course material.
---
Browse the full range of innovative online programs from MIT. Experience the Massachusetts Institute of Technology from anywhere in the world.
---