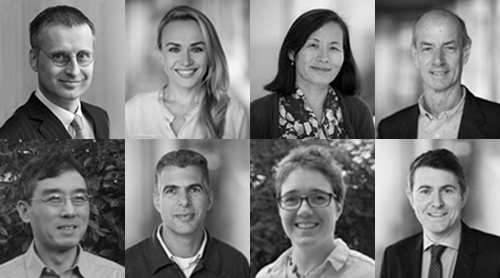 Artificial intelligence (AI) is a pervasive, future-focused technology that has ignited many disruptive innovations across industries.
The Oxford Artificial Intelligence Programme provides you with diverse insights into the ethical, legal, and social considerations around AI. On completion of this programme you'll have an informed understanding of the possibilities and implications of this transformative technology in business.
During the programme, you'll have the chance to expand your professional network as you study alongside a global cohort of like-minded professionals, while learning from accomplished professionals and leaders in their respective industries.
Who you'll learn from
You'll study under the guidance of Programme Convenor Matthias Holweg, professor of operations management at Saïd Business School, University of Oxford, as well as an esteemed assemblage of guest experts. Meet them here:

Andrew Stephen
Associate Dean of Research at L'Oréal, Professor of Marketing at Saïd Business School, University of Oxford
Andrew is a leading academic expert in data-driven, analytics-focused approaches to marketing. His research has made significant contributions to understanding digital marketing and advertising, specifically regarding the future of marketing. Andrew has won numerous awards for research excellence and was recently recognised by the American Marketing Association as the number one marketing academic in the UK.

Carl Benedikt Frey
Programme Director at Oxford Martin School, University of Oxford
Carl has served as an advisor and consultant to a number of international organisations, including the European Commission, the United Nations, and several Fortune 500 companies. In 2013, Carl co-authored a study The Future of Employment: How Susceptible Are Jobs to Computerization, which has since been used as a risk-prediction tool by the BBC.

Charlotte Deane
Head of the Statistics Department at the University of Oxford
Charlotte is the first female head of department since the Statistics Department was created in 1988. As a professor of Structural Bioinformatics, Charlotte's research interests include protein structures, immunoinformatics, biological networks and small molecules. Charlotte is a part of the Oxford Protein Informatics Group, whose research covers several areas in protein structure and interaction networks.

Kenneth Cukier
Senior Editor, Digital Products at The Economist
Kenneth oversees data analytics, and manages digital product development. He is a New York Times bestselling author on technology and business and has co-authored two books with fellow guest expert, Viktor Mayer-Schoenberger, Big Data: A Revolution that Will Transform How We Work, Live and Think and Learning with Big Data: The Future of Education.

Luciano Floridi
Professor of Philosophy and Ethics of Information at the University of Oxford
As the director of the Oxford Internet Institute Digital Ethics Lab, Luciano's research predominantly targets digital ethics, focusing on the socio-ethical implications of digital technologies and their applications. He has published over 150 papers in his field of expertise, many of them in anthologies and peer-reviewed journals.

Mari Sako
Professor of Management Studies at the University of Oxford
Mari is a member of the UK Legal Services Board Research Strategy Group, a position that was a direct result of her research on the globalisation of legal services and the impact it has on business. Mari's expertise includes global strategy, comparative business systems, institutional analysis, globalisation of professional services firms, outsourcing and offshoring, and the legal services market. Her research has been published in five books and a multitude of journals.

Michael Osborne
Dyson Associate Professor in Machine Learning at the University of Oxford
Within the field of machine learning, Michael has particular interest and expertise in Gaussian processes, active learning, Bayesian optimisation and Bayesian quadrature. Michael has successfully applied his work in machine learning to diverse contexts, from the detection of distant planets in solar systems to self-driving cars with the ability to determine when a map has changed.

Michael Wooldridge
Professor of Computer Science at the University of Oxford
Michael's research primarily focuses on building computers that embody the same social abilities that humans do, allowing them to cooperate, coordinate, and negotiate with each other. Michael's expertise includes information systems, logic, computational complexity, game theory, theory and practice of autonomous agents, and multi-agent systems.

Min Chen
Professor of Scientific Visualization at the University of Oxford
As an internationally established scientist in the field of visualisation, Min has made significant contributions to volume graphics, video visualisation and the theory of visualisation. Min has a number of research projects in motion, including a function on text corpora visualisation. Min hopes to develop a smart visualisation technique that will enable the user to gain complex temporal data insights without using traditional animation techniques.

Natalia Efremova
Fellow in Marketing and AI at the University of Oxford
Over the past ten years, Natalia has gained recognition for her work in deep learning for image and video processing, centred in the domains of biometrics and emotion recognition. Natalia has an MBA from the University of Oxford and a PhD in Computer Science from the University of Kyoto. She is recognised for both her academia and industry research, much of which has been published in top machine learning conferences.

Nir Vulkan
Associate Professor of Economics at Saïd Business School, University of Oxford
Nir is an e-commerce and market design expert, and the author of The Economics of E-Commerce: A Strategic Guide to Understanding and Designing the Online Marketplace. The book investigates online trading mechanisms and the impact that web-based technologies have on both consumers and retailers. Nir's latest research and expertise lies in markets – both virtual and those confined to particular geographical locations.

Paul Newman
BP Professor of Information Engineering at the University of Oxford, Co-Founder and CTO of Oxbotica
As the director of the Oxford Robotics Institute, Paul continues to extend the reach and endurance of mobile robotics. With over 200 papers contributing to the advancement of robotics, Paul has worked on algorithms and software for the robust autonomous navigation of both land and sub-sea agents. He co-founded the company, Oxbotica, which supplies autonomy software to vehicle manufactures around the world.

Sally Maitlis
Professor of Organisational Behaviour and Leadership at the University of Oxford
As a specialist in qualitative research, Sally is able to closely observe individual, team and organisational processes as they unfold in real time, and analyse these processes through talk and text. Sally's research focuses on sensemaking, emotions, adversity, and growth.

Stephen Roberts
Professor of Machine Learning at the University of Oxford, Co-Founder and Scientific Advisor at Mind Foundry.
Stephen's interests and expertise lie in intelligent data analysis and methods for solving complex problems in analysis, especially those in which noise and uncertainty abound. Currently, Stephen is researching ways in which the application of intelligent data analysis can be applied to astronomy, biodiversity monitoring, smart networks, sensor networks, and finance.

Teppo Felin
Professor of Strategy at the University of Oxford
As the academic director of the Diploma in Strategy and Innovation at Saïd Business School, Teppo's areas of expertise include strategy, entrepreneurship and innovation, complex systems, and competitive advantage. Teppo is also engaged with business and the wider academic community and is seen as a highly acclaimed, award-winning researcher, with his work published in a large number of top journals.

Tim Morris
Professor of Management Studies at the University of Oxford
Tim is widely acknowledged as a leading international expert in the field of professional service firms (PSFs). Tim's other area of research, conducted with colleagues at Saïd Business School, focuses on the role and development of CEOs in large corporations. As an expert in his field, Tim teaches on a wide range of programmes that are customised to help firms and executives grapple with the complex and pressing organisational and leadership challenges they face.

Viktor Mayer-Schoenberger
Professor of Internet Governance and Regulation at the University of Oxford
In addition to his role as a professor, Viktor is also an author with 11 published books, including the international bestseller, Big Data. His research focuses predominantly on the role of information in a networked economy. Viktor is sought-after in print and broadcast media worldwide with his work featured in publications such as the New York Times, Wall Street Journal, Financial Times, The Economist, and many more.
---
Study artificial intelligence with Oxford Saïd
In order to understand AI and its true potential, you must first understand its evolution and functionality, as well as the challenges within its applications.
Register now to gain a holistic view of AI with global perspectives and insights from a panel of experts, and discover how to strategically integrate artificial intelligence into your business.