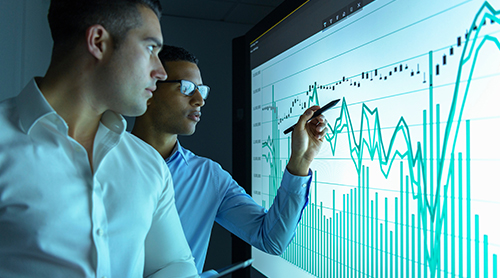 Data-driven decision-making has become an essential aspect of business success across industries. However, it's the sports industry that has been pioneering performance analytics.
Analytics in professional sport has been around since the 1970s, but in 2003 it received worldwide attention thanks to Michael Lewis's best-selling book Moneyball, where the statistical analysis of baseball records, also known as sabermetrics,1 was used to make decisions about player performance and to discover the secret to success in baseball player evaluation.2 Today, sports analytics has gone beyond just tracking data on paper: the market is expected to reach almost $4 billion by 2022, and most major professional sports teams have analytics experts on staff to interpret every aspect affecting player performance.3
How data analytics is used in sport
The National Football League (NFL) understands the importance of being able to track individual player performance through sports analytics and data, and has done so successfully for the last few seasons. The NFL do so by placing small sensors in each player's shoulder pads, which track their game performances throughout the season. They've even taken it a step further, and shared their players' tracking information with all the clubs.4 The goal? To provide clubs with the data to understand and analyse their competitors' (as well as their own) strengths and weaknesses, and to adapt strategies accordingly.
Wimbledon has similarly been tracking individual tennis player performances for years. The player reports – consisting of text as well as video footage – helps tennis players identify their strengths and weaknesses, and can be used as a coaching aid after the game.5 "We have over 150 staff on the premises and we capture over 3.2 million data points throughout the course of the Championships," says IBM Wimbledon client executive Sam Seddon. "The data entry team is made up of around 48 people – all of them tennis players – and most of them are courtside. They capture the speed, serve location, and rally count. On bigger courts, one person calls the match like a radio commentary and the other person is inputting the data into the systems."6 This information is not only stored for the benefit of the players, but is also shared online and on spectator screens.
In basketball, some teams use 3D trackers to track and analyse every shot, and gain insight into shooting accuracy and patterns.7 This way, coaches get a full understanding of player position, performance, and accuracy on the court.
Sports data analytics is not solely used in ball sports. Ducati uses data gathered from sensors on their motorbikes, which informs what changes should be made to the configuration of the bike.8 By running various racing scenarios, including track and weather conditions, machine learning techniques are used to inform the bike engineers on modifications needed to achieve faster lap times.
Few sports use data analytics like Formula 1 (F1). The modern F1 car is an intelligent and connected data system, monitored by hundreds of sensors that measure lap times, G-force, tyre and brake temperatures, air flow, engine performance, and driver biometrics, just to name a few.9 In Formula 1, perhaps more than anywhere else, big data drives big decisions.
When it comes to winning, the entire race is not left up to the driver. F1 racers have a well-trained crew trackside, as well as a host of engineers, mechanics, and analysts offsite, making decisions based on the incoming data. Events such as pitstops can impact a driver winning or losing a race. In 2016, the Willams team connected four pit crew workers with biometric sensors to measure heart-rate variability, recovery times, breathing rate, and estimated core temperature. This data allowed the team to analyse and optimise the crew's fitness training, with the aim of improving performance in a role where every second counts.10
The vast amount of data collected during a race is also used afterwards in simulations to improve the car's systems for the next event. According to Chris Dyer, head of vehicle performance for the Renault Sport F1 team, simulators provide an ideal opportunity to check for engineering faults, and to test alternative engineering scenarios. "There's a lot of stuff we can do here, better than we can do at the track, faster. Is it an aerodynamic problem, is it a tire modelling problem, is it a suspension modelling problem? That will focus us, and we'll review it through the year."11
As the application of data analytics continues to be adopted in many sectors of industry around the world, F1 is likely to take further advantage of the benefits of the tech industry for the world of sport, using cloud computing, predictive analytics, predictive intelligence, machine learning, and prescriptive intelligence.12
How sports analytics can be applied to business
Innovation in a business should be seen as a team sport. Having the right team of talent working on a project will have a higher likelihood of success.13 However, the ability to identify and combine those specific individual talents of your team members can be a challenge.
Tracking and measuring the individual's performance over time may help strategise for the team's ongoing and future success.14 Those who embrace data analysis early on could enjoy a competitive advantage, and can adapt their tactics accordingly. "The real thing that will happen is that, while there will be an impact in year one, the teams who start adapting early will have like 10 times more value in year three and four than other people who are slower," explains Rajiv Maheswaran, CEO of machine-learning company Second Spectrum, an ESPN partner that processes individual performance tracking data.15
Here's what businesses can learn from sports data analysis for team performance:
Preparation through simulating various scenarios ensures a more favourable outcome16
Real-time data streams allow for quick decision-making across multi-teams17
Post-performance analysis tightens up the team for the next project18
Cloud computing allows remote access to off-site teams, so that the whole team is not required on-site, but all role players remain connected and up to date19
Data is used to optimise support teams to improve speed, teamwork, and delivery20
Data can be used to re-engineer the product or service for constant improvement21
To gain the benefits of individual performance tracking, you'll need:
A willingness from executive management to embrace data and invest in technology22
An investment in team and trained personnel who can capture, process, and interpret the data – preferably those with industry experience23
A third-party company may help to process the data and turn it into a useable format for decision-making by leadership24
To identify – favourable and less desirable – patterns to apply appropriate coaching strategies25
What businesses can learn from fan engagement and sports data analytics
When it comes to understanding sports fans, and what they want, the sports industry aggressively uses data analytics to do so. Sports organisations gain insight into what fans are watching, and what time they are watching it, thanks to digital engagement data and data patterns from online sports viewing, app logins, and online video views.26
Data-driven campaigns are proving highly successful when it comes to marketing ticket sales to millennials over social media channels.27 Data analytics can also be applied to social media streams to understand fan sentiment, and to positively engage those fans via social channels. "Our content team puts a lot of resources into providing fans with unique experiences on game day through live social content," says Eric Long, director of production with the Philadelphia Eagles. "Showcasing that work to more than 65,000 people in the stadium is a great opportunity to continue to grow our audience and provide value."28
Data from customer engagement can even be used within the stadium to understand fan movements through electronic tickets and fingerprint or retinal scans. In 2016, the New England Patriots started using data to track fan movement, tracking what fans buy at the pro shop to when exactly they buy tickets.29 By analysing this data, organisations can predict everything from ticket pricing to adequate staffing on game day.
Sports organisations use software providers to analyse data that can potentially help them sell more hotdogs and beer, ensure cleaner bathrooms in stadiums, and improve congestion in the parking lot – all in a bid to improve the overall experience of local sports fans and drive better revenue.30
Tactics to apply in your business:
Invest in data analysis technology to better understand how your customer feels about your brand or product31
Mine social media data to better engage with key demographics32
Plan staffing schedules and product availability based on customer data33
Schedule marketing activity effectively and reach the right audience with data-driven campaigns34
Use data analysis to lower potential customer frustration and improve customer loyalty35
Just as the volume of data increases, so will the use of data analytics in the sports industry. As data sources on and off the field continue to provide insights to key decision-makers on how to best manage their teams or individual talent, it also gives organisations insight into the hearts and minds of their fan base. Considering how deeply and effectively data is being mined in the world of sports, the potential applications, impact and scope a similar approach could have within the business world could be game-changing.