How to Become a Business Development Manager
As a Business Development Manager, you determine where, when, how and why a company will grow.
If an organisation wants to increase their profit, expand their business or cement new business relationships, you're the strategic opportunist who'll lead company growth both internally and externally.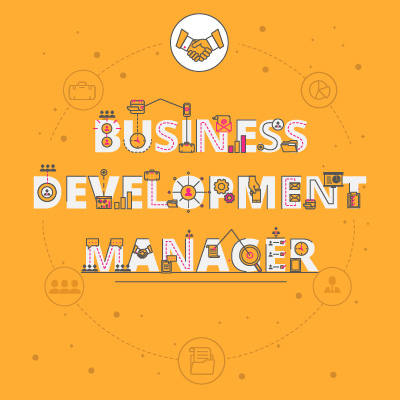 What is business development?
More than just well-timed networking, business development is the creation of long-term value for an organisation from customers, markets, and relationships.1
Demand for professionals in this role is high and if you're looking to enhance your hireability or cement your business development career path, you need to make sure you have the following skills:
Development of initiatives and strategies to serve company and client
Identification, negotiation and closing of all business deals
Communication, relationship management and product knowledge
What are the key responsibilities of a Business Development Manager?
When you work in a business development role you'll focus on a combination of three core areas:
Marketing and sales

Also known as B2B sales, when starting as an entry-level Business Development employee you'll spend time prospecting for potential partners and clients.

Key Skills: Public relations, research, presentation confidence, persuasion for convincing conversions and sales planning.

Business partnerships

Once you've secured a partnership you need to build and manage a relationship around it. You'll need to oversee the process of contract drafting, deal closing and term agreements between the client and your company.

Key Skills: Negotiation, project management, financial management, human resource duties, expectation management and client retention.

Strategic planning

Often referred to as corporate development, these are more commonly found at large companies with a main priority to diversify and grow their business and brand within a specific territory.

Key Skills: Leadership, analytical thinking and top-level strategy for acquisitions, investments, integrations and global stakeholders.
"The main goal to keep in mind as a Business Development Manager is that no matter what product you are selling, the fundamentals of doing business are always the same", says GetSmarter Past Student, Craig Cunningham. "Having a good all round understanding of business gives you the edge over any sales rep who is focusing only on a product."
Craig, who studied the University of Cape Town Basics of Financial Management online short course, currently works in the role of Business Development Manager for one of Australia's largest suppliers of industrial fabrics.  He joined them with no network and limited industry knowledge when he was new to the city. Craig now manages a customer base of over 300 customers, from manufacturers to retailers.
3 Ways you can be a better Business Development Manager:
Always sell the business and not the product as your customer deals with the whole supply chain in the company you're representing
Encourage self improvement in marketing, accounting or sales and management to gain the edge on your competition and establish an informed skill set
Adding value to your customer is ultimately the key to long-term success and loyal relationship going forward
What is the career path of a Business Development Manager?
This competitive field attracts professionals from a variety of backgrounds and few Business Development Manager career paths will be exactly the same.
Luckily for you, every large company across any industry will require BDMs who are able to analyse niche business operations and provide strategic planning and process structures. The majority of BDMs are found in the private sector, with over 50 percent in the financial, manufacturing and healthcare industries.2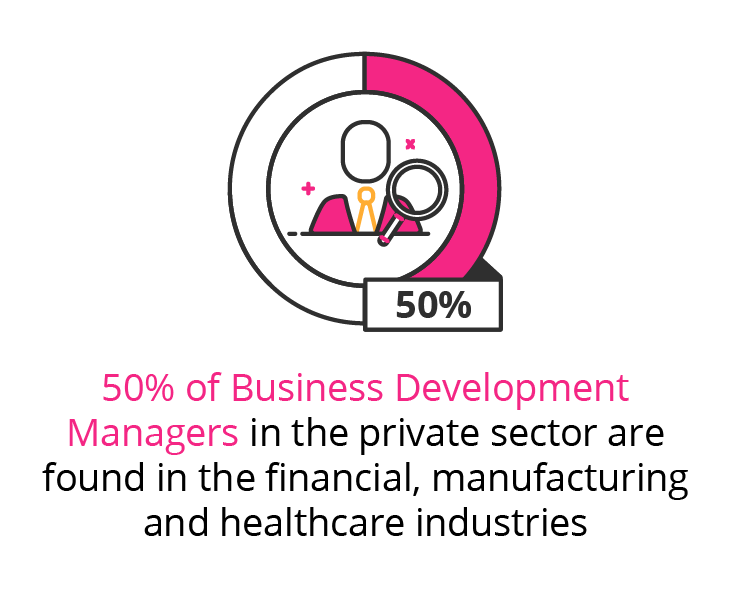 Want the competitive edge over other BDMs in your field?
You've certainly heard of disruptive tech trends such as the Internet of Things, Big Data, Cybersecurity – why not become a subject matter expert who'll be repeatedly sought after to leverage new-found skills and market knowledge?
---
Related content: 4 Ways Your Business Can Benefit From IoT

---
With the role of subject matter experts picked as one of the top 6 business development trends for 2017, you have the opportunity to bring your organisation and career into the future by gaining specialised knowledge that can grow into a marketable skill.3
You'll be able to demonstrate the importance of leadership and support your business when preparing and strategising for the opportunities you'll gain by adopting this technology.
---
Take Your Next Step in Becoming a Development Manager with a Featured Online MBA Program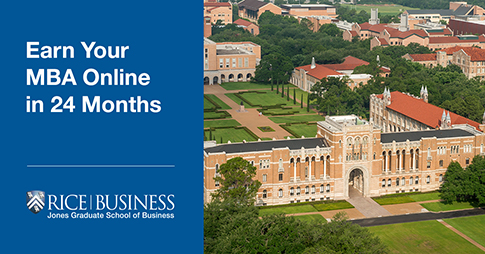 Sponsored Online MBA Program
---
What is the potential salary for a Business Development Manager?
Business Development Managers retain a high value in every company. Regardless of your industry, you'll be in line to earn an impressive income. Currently, at Google, Hewlett-Packard and Lockheed Martin, Business Development Managers typically earn around $132K, $130K, or $118K, respectively.4
The skills you'll need to increase your earning potential?
Click on a country to see what you can expect to get paid as a Business Development Manager in either South Africa, the United Kingdom or the United States of America:
RSA

| | |
| --- | --- |
| Entry-Level | R363,494 |
| Mid-Career | R493,218 |
| 15 Years Experience | R742,370 |
UK

| | |
| --- | --- |
| Entry-Level | £29,603 |
| Mid-Career | £35,973 |
| 15 Years Experience | £43,574 |
USA

| | |
| --- | --- |
| Entry-Level | $58,850 |
| Mid-Career | $73,035 |
| 15 Years Experience | $94,000 |
Source: PayScale
What are the education and training requirements for a Business Development Manager?
Business development management positions require a bachelor's degree preferably in business and management, and 3-5 years of sales or marketing experience.
Getting an MBA is recommended for BDMs if you're looking to fortify your business knowledge in the three key areas of Economics, Quantitative Methods and Managerial Accounting.
Craig Cunningham also suggests and explains why BDMs should focus on upskilling in these 4 key areas:
Accounting
Knowledge in this area gives you a great understanding of the inner workings of a business and the pathway to making profit. It'll really help in your price negotiations along with understanding your customer's financial problems and offering solutions.
Business process and practice
Make yourself an indispensable resource for future businesses by learning to develop innovative action plans for sustainable, technology-driven business practices.
---
Related content: 8 Sustainability Trends Driving Business in 2017

---
Sales or Management Courses
Gaining insight in this area will give you the strategic advantage when developing best-practice sales techniques. People management knowledge will confirm your ability to lead, organise, motivate and measure the performance of a sales team.
Marketing
A basic understanding of marketing will always add value to your relationship with your customer. Being able to offer advice to your customer on selling on your product or working with them to build their brand elevates you from being salesperson/order taker to a trusted adviser which will ultimately build a great sustainable long-term relationship with your customer. If a customer is selling on your product they are selling your brand through their eyes. The way you present your brand is the way they will sell their's.
You can also gain the tools needed for successful business development and learn how to create long-term value for your organisation with the The University of Cape Town (UCT) Business Development Management online short course.
---
Which skills do you need next?  
Download a course prospectus to find out how one of these online short courses can help you become a Business Development Manager.