The Skills Entrepreneurs Can Use To Earn More Money
Entrepreneurs – ever considered how transforming your knack into knowledge could be the final step towards getting your startup idea off the ground?
If you want to increase your entrepreneurial earning potential you need to start with what you have.
It's not about chasing after the idea of being an award-winning novelist, an expert freelance interior designer or a renowned graphic designer. You need to figure out how your interest in drawing, writing or design, could transform your idea into a resourceful and sustainable project.
[bctt tweet="By recognising the skills you already have – you'll earn more, faster. " username="getsmarter "]
For entrepreneurs, freelancers and small business owners, recognition of your social media, digital photography or copy-editing skills will ensure you're equipped with the confidence and competence to lead the creative direction and strategic communication of your brand or business. Find out which entrepreneurial and freelance skills you can start applying now to make a noticeable impact on your next big idea.
Learn how to elevate your social media intuition into a skill to build brands: 
Worldwide, there are over 1.79 billion monthly active Facebook users. That's 1.79 billion people that could contribute to a business's revenue.¹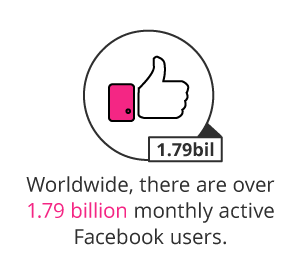 If you enjoy using your spare time to interact and engage with people online, you can become an asset to your business by becoming an expert in social media marketing. Not only will a social media marketing strategy help your entrepreneurial endeavors gain the most profitable online traction, you can also outsource yourself to companies as a freelance Social Media Specialist.  By gaining recognised skills from a social media marketing course, you'll be able to turn this passion into profit.
The skills you'll need to market yourself or your business? 
Creating content that drives engagement
Managing a social media community
Advertising on social media
Designing and executing a social media strategy
Use your writing skills to start a blog or content creation service:
Blogging and content creation is a simple and effective way to hone in on your writing skills. By mastering copy-editing, business writing or creative writing you'll be able to lead all written communication for your business or startup requiring your freelance content creation abilities.
What makes a wordsmith wealthy? The best performing bloggers, online writers, and content creators know how to build audiences for their work and attract the attention of advertisers. You can start now by applying the following principles to your portfolio:
Rank your pages on google by harnessing the power of SEO and by including keywords people frequently search for
Utilise online networks by distributing your blog links and web pages on social media
Write, create and post on a regular schedule to build a bank of revenue generating or thought-leading blog posts
Make your passion for photography pay up:
In South Africa, freelance photographers can earn anything from R5000 – R90K+ a month, depending on your experience and level of skill. This demand can be attributed to companies understanding that using high quality, original and contextually relevant images is the key to creating a powerful story for your business or brand.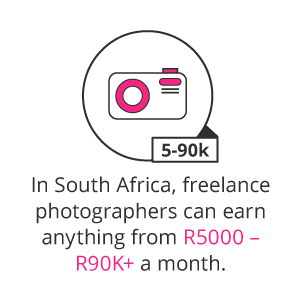 Need inspiration? Brandon Stanton, founder of the photographic blog, Human's of New York always had a love for photographing strangers on the street. After one particular encounter with an interesting, green-haired woman, Stanton realised he wanted to tell the stories of the people behind his photographs.
Something that started out as a fun side-project using a skill he already had, turned into a 16 million follower-strong blog; a bestselling book; and inspired hundreds of people to start their own "Humans of" blogs.
Increase the trajectory for your photographic career by learning the fundamental components of professional photography and gaining the following key skills:
Learn how to use light to your advantage and edit photographs like the pros
Unlock the full potential of your camera by demystifying the technicalities
Create a unique style to construct the most beautiful compositions
Capitalise on your design thinking:  
Whether you're an aspiring entrepreneur with a design-based product or a freelancer wanting to embark into a corporate consulting field – your ability to communicate creative solutions can go a long way.
Enhance your artistic skill set by turning your notebook doodles into noteworthy designs and gain confidence in the following key creative areas with a graphic design course.
---
What skills can you use to increase your entrepreneurial earning potential?
¹Source: zephoria.com