How To Start (And Fund) Property Development
If you are interested in becoming a property developer, you are entering an ever-evolving industry according to PWC's Global Emerging Trends in Real Estate 2018 report. According to a European investment manager within this report, "Real estate has always evolved. It serves a need in society for people to occupy space, and of course those needs change. In some sectors, the requirements are shrinking and in others they're growing. Anticipating those changes and staying ahead of them is really what good investors can do."1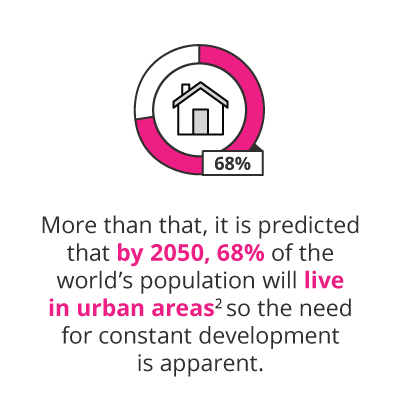 The good news is that the property development sector is wide open to new entrants to disrupt the industry and steal market share, especially those from the tech field.3
1. The property development landscape
South Africa's position as one of the most developed countries in sub-Saharan Africa4 and a member of BRICS5 (the acronym for the association of five emerging national economies: Brazil, Russia, India, China and South Africa) brings some key factors to light when considering the current landscape of property development: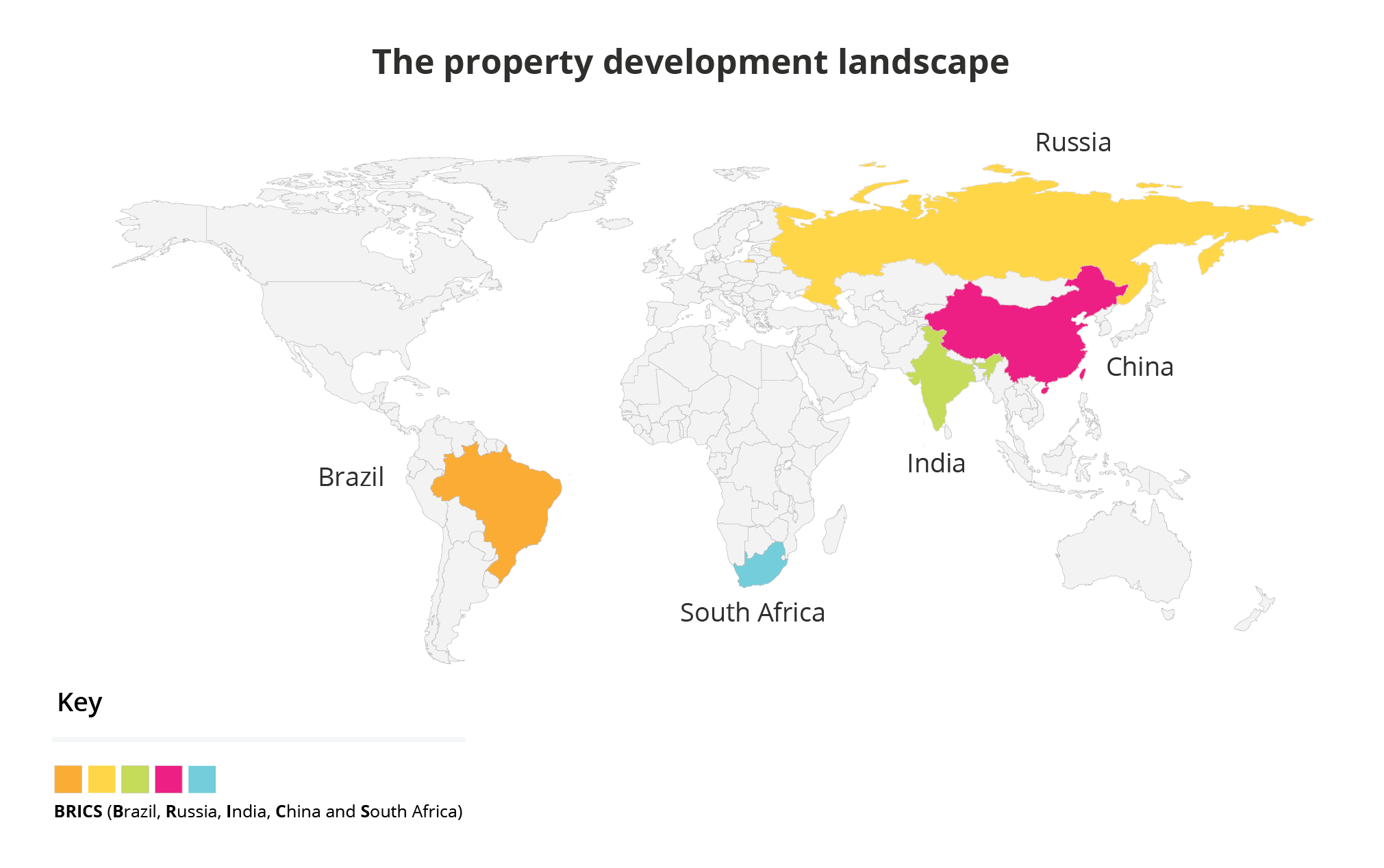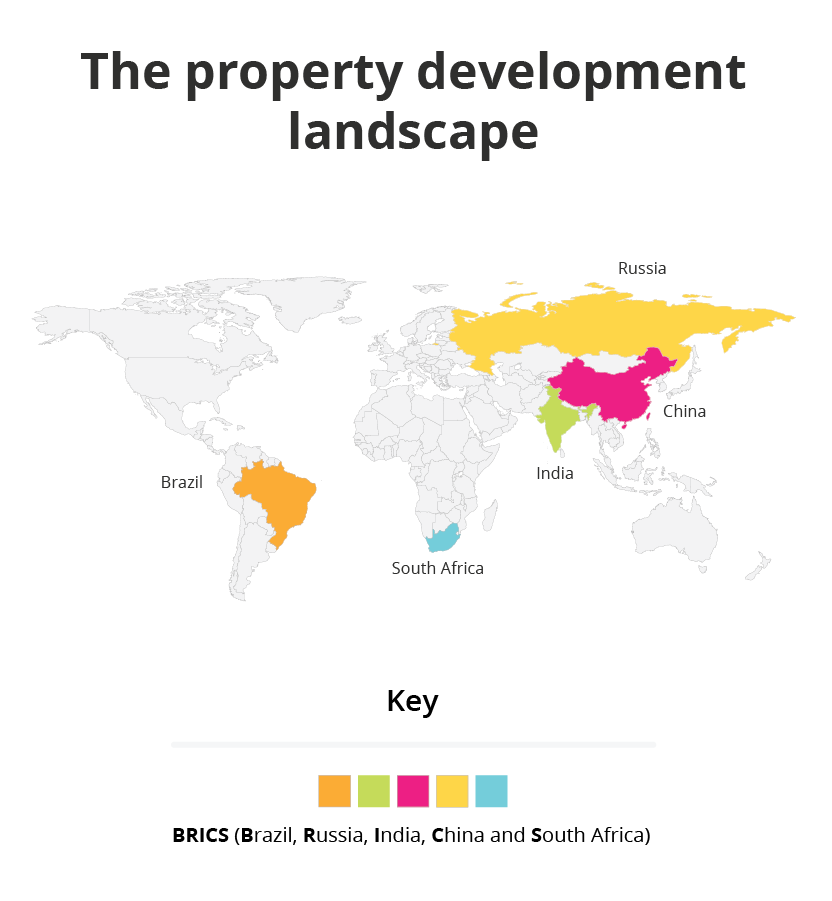 Positives – South Africa's well-developed financial, legal, communications and transport sectors, and open trade policy with a relatively stable domestic market. These factors should provide an environment conducive to growth.6 There is also a strong drive towards the repurposing of inner-city office blocks to develop institutional rental housing stock, into residential units. These range from the most basic – such as residential development in the Maboneng Precinct, to The Onyx in Cape Town – which transformed Nedbank's head office into a residential and hospitality development.7
Challenges – South Africa still has to overcome the triple challenges of poverty, unemployment and income inequality.8 In the property development market, economic downturns have resulted in a more moderate stance, as developers are more likely to invest in reinventing property, rather than building on new land.9
However, Jason McCormick, Managing Director of McCormick Property Development and CEO of Exemplar REITail, believes that it is worthwhile to focus on student accommodation and low-to-middle income housing in the residential property development market, due to massive demand in both sectors.10 As far as retail development goes, McCormick dismisses market talk that South Africa's retail landscape is saturated. Stating that it will take at least another five years before rural and peri-urban areas have adequate retail development. "It's not a cookie-cutter model. You have to understand the market and build the right size on the right site."11
2. What does a property developer do?
A property developer manages a host of activities and processes, from drawing up a business plan, to developing facilities. One definition of property development is "the continual reconfiguration of the built environment to meet society's needs".12 As a developer you invest your finances, skills, time, and talents to transform land in its current state to an improved state.
3. How to start property development
To become a successful property developer you need more than financial backing – although that helps. 13
It's highly recommended that you begin by investing in a formal education in real estate. This will help give you an understanding of the obstacles and risks.14 It's advantageous to learn about property, the markets, economics, finance, town planning, the construction processes and how to market your real estate projects.15
Here are other critical factors needed to become a successful property developer:
Build a good team. It takes more than you and your expertise to develop property. Work on your network of professionals across all relevant industries so that you can seek advice from or hire the right people when needed16
Develop a deep understanding of the market,17 and your own vision of that market
Invest time and effort in a well-thought-out business plan, so that you not only have a means of securing financing, but also the blueprint for your business18
Research your potential property thoroughly, considering legal, financial, economic and technological challenges19
Find out what zoning and title conditions of the property you wish to invest in, as they will affect how you can develop it20
Become a member of the building associations in your area for added credibility and support21
4. How to finance property development with no money
A lack of cash flow can seem like a big hindrance when you start developing property, but it doesn't have to be. There are several ways to purchase an investment property.
Take out a loan. In the absence of family or friends with extra cash, find a lender who will allow you to finance it with a low-interest rate.22 If you're new to it, here are suggestions for overcoming the difficulty for borrowing property development money and learning the basics of the development process23


Gain experience. You are more likely to get financial support if you have some building or development history. You could join one of the many non-profits devoted to affordable housing to get the experience you need.
Develop a plan. Work on the project to a point where it's attractive to investors before you knock on their door.
Private lenders and angel investors. This is the most likely place to find funding – with private lenders and "angels" – people with investment capital available who want to support property development. These loans usually come with their own set of criteria, and you may expect higher interest rates.24
Government funding. There are many different national and municipal affordable housing initiatives that may serve as funding sources for small-scale affordable housing projects.25

Your private property. Being a homeowner may give you enough leverage to break into property investment. You could take out a HELOC (home equity line of credit)26 or a second bond against your home to be used as the deposit for the property.27
Take over the existing bond. The current owner of the property might be willing to transfer their bond to you if they need to unload the property quickly.28
Rent to own. Look for sellers who will allow you to rent with the option to buy. Usually, a monthly rental amount is agreed upon in exchange for the use of the property, a portion or all of which is applied to the selling price agreed upon by both the buyer and seller.29
Partner up. It may be worthwhile to reach out to others with the same interests as you. You can pool your funds, share responsibilities, and where one is lacking, the other fills. However, everyone must bring something to the table. First discuss things such as goals, risk, roles, and return before entering into a partnership agreement.30
Offer to take on seller's debt. If the current owner needs to sell the property in order to settle some of their own debt, perhaps offer to include their debt into the purchase price instead of putting down a deposit.31
Purchase money mortgage or seller financing. Seller financing is when buyers are unable to secure a loan from a financial institution, so seek financing from the seller. This is a switch from the conventional buyer-pays-the-seller scenario, where the seller now finances the buyer, who in turn repays the seller, with agreed terms.32
5. How to invest in property development
The property development sector is ever-evolving. Here are steps to consider in your future property development investment strategy:
Consider technology and sustainability when you evaluate property. Tenants and buyers want 'green' buildings, and are willing to pay a premium for them.33 Similarly, there's an insistence on offices and homes being designed with lots of natural light and fresh air. If your prime office and residential buildings have poor sustainability and technology you may suffer a 'brown discount', and possibly a shorter operational life.34
Decide where and how to compete. With the increase in the southern hemisphere's economies comes an equal rise in competition for assets. To remain competitive, focus on the markets you deeply understand, and concentrate even more on the fundamentals of local knowledge and tenant demand. Be innovative and create projects in line with the needs of the community for faster returns and greater liquidity.35
Take a data-driven approach. A data-driven approach to your property investment can give you clarity into where and how to invest. As an example, data was used to accurately predict the three-year rent per square foot for multifamily buildings in Seattle by more than 90%. They also took into account variables linked to non-traditional data, such as proximity to popular restaurants and retail stores, which explained 60% of the changes in rent.36
In spite of the current economic downturn and the rising of interest rates,37 McCormick explains, "Property development is a long-term game — one has to be patient. Plan for the long term and try as best you can to mitigate the downside. Established developers and those with prime sites in sectors in demand will continue to roll out developments successfully."38 Property development has a bright future as increased urbanisation and development occurs, world population growth and increasing GDP per capita will help propel this expansion.39