Is Cybersecurity the Job for Me?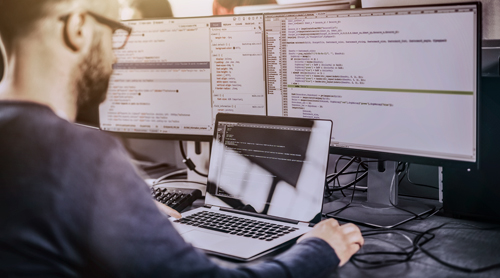 In a world increasingly defined by our reliance on digital solutions, cybersecurity has become an even more important part of the business landscape. According to a World Economic Forum report, cyber attacks were considered to be the fifth biggest risk to doing business today.1
This emphasis is reflected in the heavy investment business is putting into this part of IT infrastructure: the cybersecurity market is projected to reach 152.71 billion US dollars in 2018, and 248.26 billion by 2023.2
These facts make this an attractive career choice.3 If you're wondering whether cybersecurity might be your way forward, read on.
What is cybersecurity?
We live in an age in which mobile devices outnumber the global population.
Cybersecurity can be summed up in one line: protecting digital systems and data from attack.4 Unfortunately, this simple statement hides a wealth of complication.
We've already alluded to the modern ubiquity of the digital world in our everyday lives, but it bears repeating: we live in an age in which mobile devices outnumber the global population.5 This makes the task of safeguarding the systems and data that allows this all to work incredibly complex.
In a business, for instance, cybersecurity needs to be able to maintain the safety of multiple systems, running on a host of different devices, and being operated by personnel with varying levels of skill and savvy. To account for this, the cybersecurity specialist must take a multi-tiered approach to security – and in doing so, must display a range of hard and soft skills.
What skills do you need for a cybersecurity career?
While you may immediately start evaluating the technical skills you possess (or need to brush up on), it's important to realise that cybersecurity requires a mix of skills, in order to be effective:
Technical skills
In terms of hard skills, a professional in this field should be proficient in several aspects of computer science:
A basic understanding of common programming languages
Risk identification and mitigation
Malware analysis
Cloud security
Security analysis6
Combined, these skills help make you an effective force in the fight against cybercrime.
Soft skills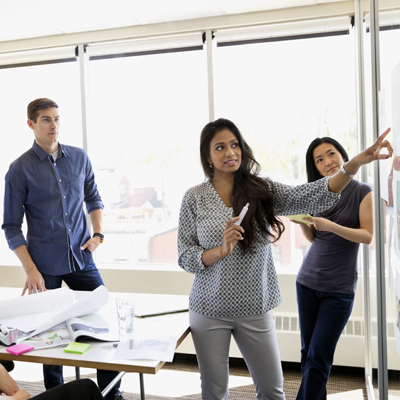 Soft skills are easy to overlook when considering your toolset, but they arguably lay the foundation for success – not only in cybersecurity, but in any field.
For cybersecurity in particular, there are several skills that will be beneficial to you.
A natural curiosity, for instance, is useful in a quickly evolving field that requires you to keep up-to-date on the latest movements. In addition, an appreciation and enjoyment of puzzles, and the process of teasing out solutions to challenges in a methodical manner is practically a requirement. Alongside these skills, an eye for detail and the ability to spot flaws and vulnerabilities will help ensure you present a rounded package.7
Equally important to these skills is the ability to communicate effectively. Communication is a vital part of any job – in the realm of cybersecurity, it means being able to accurately describe threats and solutions in such a way that stakeholders are able to act on them. Being able to explain complex problems using simple terms is always beneficial.8
Why become a cybersecurity professional
Cybersecurity offers a chance to make a very real impact
Given the skill demands of this profession, you might be wondering why anyone would want to enter the industry at all. However, there are several compelling reasons:
1. Growth
Cybersecurity offers enormous potential for growth in the field, both as a career, and for those interested in learning opportunities.
The great (and increasing) importance of the role means many companies are looking to quickly scale their cybersecurity operations, leaving plenty of space for those willing to grab on to opportunity.9
Related to growth is job security: the unemployment rate in the industry has been at effectively zero since 2016, and is expected to remain there until at least 2021.10
The pay is also good – in 2017, median pay for Information Security Analysts in the United States was $95,510 per year, according to the U.S. Department of Labor's Bureau of Labor Statistics.11
2. Variety
The increasingly connected nature of society – from cell phones, to the Internet of Things, to smart technology in cars – means cybersecurity professionals are given the opportunity to work on a dizzyingly wide variety of projects, across a broad spectrum of technology.12
3. Making an impact
Cybercrime is expected to cost roughly $6 trillion every year through 2021.13 That is a huge amount of money, but it only tells a part of the story: the impact of cybercrime goes further. The damaged reputation of businesses leads to losses beyond the initial breach, while the breaches themselves have a further impact on the ordinary people whom those businesses serve.14
In this sense, a career in cybersecurity offers a chance to make a very real impact on the business you work for, but also for the customers they service.
Is cybersecurity the right job for me?
Ultimately, whether or not you think you have the skills needed to become a cybersecurity professional, you need to decide whether you want to enter this career.
Even if your technical skills are a little behind, there are a host of resources available that will help you get up to date. And once you're ready to join the ranks of cybersecurity professionals, you'll be entering a world where your contributions can have a strong, important impact on the safety and security of organisations and people, by helping to protect them from the digital threats of the modern world.