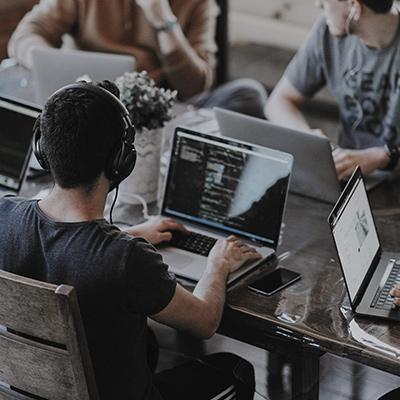 We are currently living in the Fourth Industrial Revolution meaning everything from our normalised standard of living and life expectancy, to our skillset and healthcare quality, are in a constant state of change. The future of work – your career path, what jobs will exist, and what skills or knowledge you'll need to remain relevant, is at the top of working professionals' minds, paired with feelings of anxiety and insecurity.
Working the way we always have isn't going to set us up for the future. The 8-hour work day was designed over 200 years ago. 200 YEARS AGO! It's time to change. Do you agree? #FutureOfWork pic.twitter.com/PRF1vNQ1S8

— The Hoxby Collective (@hoxbycollective) April 18, 2018
Paul Appleby, Chief Executive Officer of Kinetica recently wrote an article in Forbes, where he wrote:
In order for society to reap the benefits of the Fourth Industrial Revolution, where we are facing automation, artificial intelligence (AI), and the rise of robots, we have the opportunity, and in fact, the responsibility, to take action to ensure that a new class of workers or communities do not have to suffer the same fate.
What will be the main driving forces to shape the future of work? Looking through your Twitter feed, it's evident the #FutureOfWork will be a result of the growth and innovation of many industries and technologies. Below are just 10 of the factors to affect the future of work, according to the social media world.
Intelligent Automation
A new mindset -> #Futureofwork
The "no-collar" workforce how human
and #AI join hands 🤖📲⤵

HT @Deloitte V/@Fisher85M @helene_wpli
Cc @SpirosMargaris @guzmand @gp_pulipaka @FrankJSchwab @andi_staub @psb_dc @TopCyberNews @TamaraMcCleary @sallyeaves @JimMarous @bobehayes pic.twitter.com/EhwbiVhvot

— Prashant | AI (@Prashant_1722) April 23, 2018
Fintech 
Is your job on this list ? How #AI will affect future job roles 🤖💻⤵#futureofwork #IoT #ML #DL #jobs #DigitalTransformation #fintech #insurtech #industry40

HT @Fisher85M 🔝
Cc @sallyeaves @guzmand @mercer @psb_dc @TamaraMcCleary @PetiotEric @evankirstel @SpirosMargaris pic.twitter.com/QJWogSUUR4

— Helene Li ✨🍀 (@helene_wpli) April 17, 2018
Freelancing 
4 Predictions for the Future of Work https://t.co/utq3GOQMbj…
#Employment #future #Job #tech #technology #Jobs #futureofwork #innovation #Robotics #data @steube #collaboration @hubgets pic.twitter.com/vhEdfOyGx7

— Evan Kirstel (@evankirstel) April 15, 2018
Communications
10 #skills you'll need in the #workplace by 2020
​#AI #BigData #Robotics #ML #Cloud #IoT #IIoT #Mobile #MachineLearning #DataScience #FutureofWork #EmergingTechnologies
via @wef @MikeQuindazzi cc @eMergeAmericas @knightfdn @MiamiHerald @500LatAm pic.twitter.com/xB6ap7AIHr

— Harold Sinnott 🌐 (@HaroldSinnott) April 23, 2018
Transportation 
Here's something straight out of Star Wars #tech #news #technology #IoT #flying #drones #AI #bigdata #ML #ArtificialIntelligence #MachineLearning #DL #Robots #spdc #transport #travel #lp #seo #mpgvip #ttot #innovation #futureofwork #SmartCity #RT pic.twitter.com/ALxyoXr2i8

— Balakrishna Rao (@PBalakrishnaRao) April 19, 2018
Marketing
Best Marketing plan #strategy. Focus on #quality #qualityimprovement #SEO #DigitalMarketing #OnlineMarketing #socialmediamarketing #socialmedia #branding #TechnologyNews #startup #innovation #futureofwork #DigitalTransformation #technologies #Promote #salestips pic.twitter.com/RmYqYZh19u

— Saavyrelations (@Yogeshchauhan09) April 18, 2018
Machine Learning 
The #FutureOfWork (or even, present-day work) with #MachineLearning…#AI and #DataScience eat #BigData for lunch! pic.twitter.com/ZYl3YBw8bC

— Kirk Borne (@KirkDBorne) April 17, 2018
Robotics
See how one woman co-works with team of robots to move 1000s of boxes in Alibaba warehouse. #Robotics #Robots #tech #news #retailtech #innovation #spdc #futureofwork #hrtech #fintech #AI #IoT #ML #hrtribe #BigData #ArtificialIntelligence #ttot #seo #ceo #mpgvip #SmartCity #RT pic.twitter.com/DrkX19Ra1y

— Balakrishna Rao (@PBalakrishnaRao) April 20, 2018
The Digital Economy
The @MIT_IDE is pleased to announce that @Google @Googleorg @WalmartToday have awarded a generous Workforce Development grant to @MIT_IIC to support the global #futureofwork movement! https://t.co/p9ssDqwXDi pic.twitter.com/iLY17X0w86

— MIT IDE (@mit_ide) April 24, 2018
Human Resources
BREAKING: Be the first to see the pressing issues impacting the #FutureofWork in @Mercer's newly released 2018 Global Talent Trends study: https://t.co/HnECp6afTY #DigitalTransformation pic.twitter.com/K8qO1AsUx3

— Mercer (@mercer) April 24, 2018
---
Get ready for the future of work by preparing for career disruption
Register for an online short course to remain relevant in the changing workspace