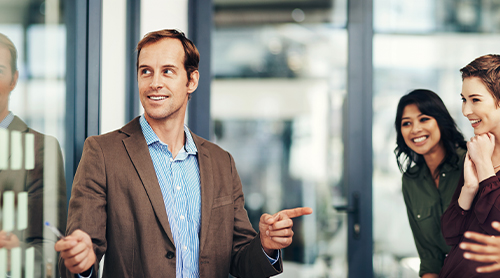 The term 'innovation' has established itself as a modern buzzword, but what does this term mean in a corporate environment? Corporate innovation refers to the continuous implementation of creative thinking and decision-making into an organisation to ensure future sustainability and growth within a competitive business landscape.1
Innovation in business allows for quicker market penetration and an opportunity to collaborate with emerging markets, which helps give corporations an advantage over their competitors.2 This makes it a key part of any organisation's success.
Why corporate innovation often fails:
It's clear that senior-level management understand the importance of innovation, so why do their efforts often result in limited success or failure?
Well-established corporations are more likely to be resistant to change, fearing that their current business model, which has been successful for years, will be derailed and result in a loss of profits.4 According to CB Insights, companies also put too much focus on looking innovative, investing in unnecessary extras that are ineffective, rather than taking on innovation proactively.5
People are key to innovation success
While there is no single solution to corporate innovation, a KPMG and Innovation Leader survey reported that the most frequently used, and most valuable innovation tactic is "crowdsourcing employee ideas and creating networks of innovation champions".6 A business's internal and external stakeholders possess a wealth of skills, knowledge, and experience. With this, they could potentially help to generate new revenue streams, by providing a fresh perspective that supports the success of a corporation's innovation process.
A separate study done by PwC, surveying 1,222 business leaders, found that: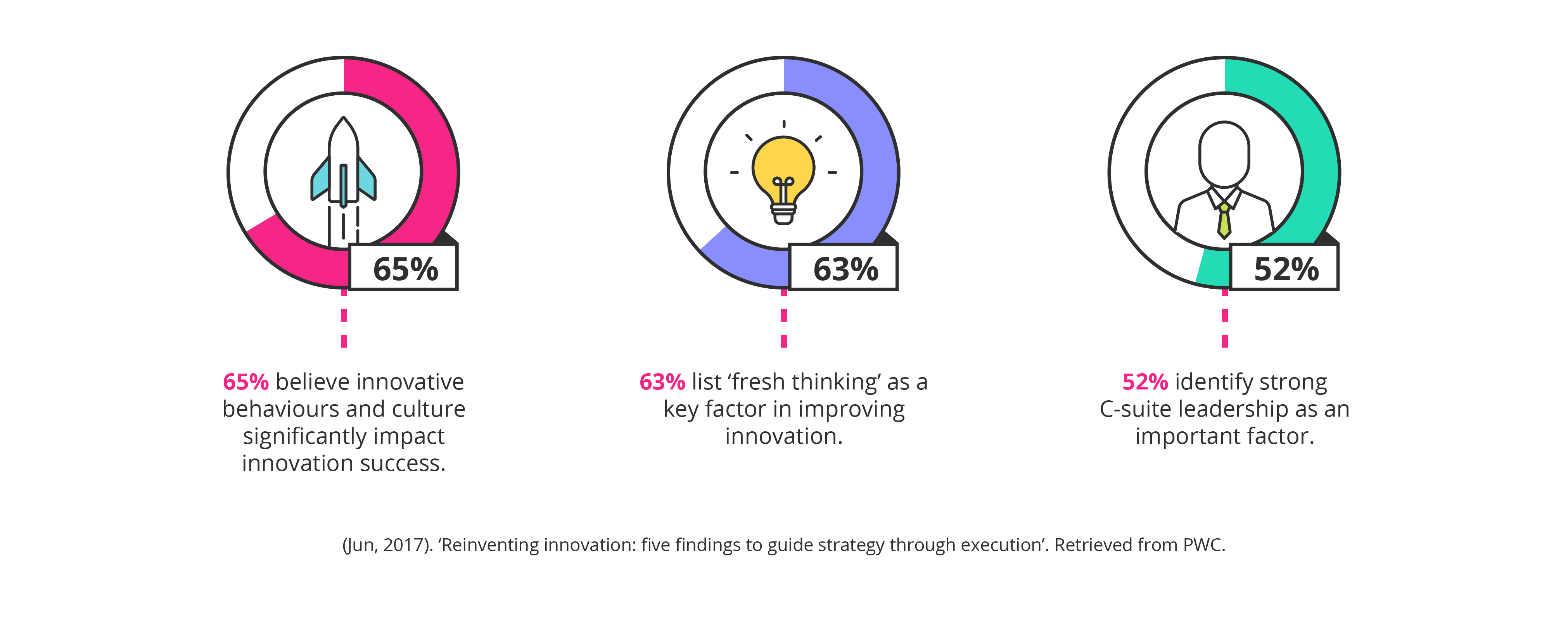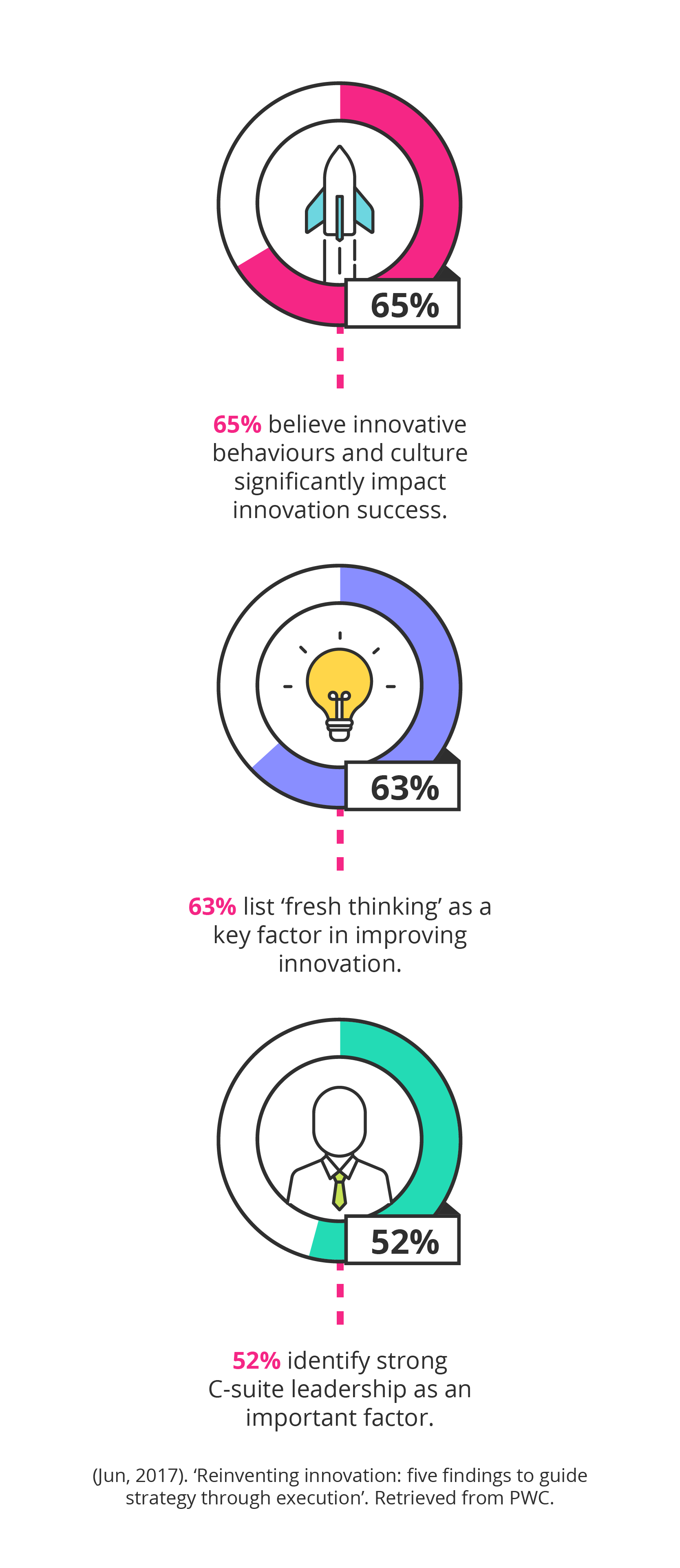 Regardless of the size of an organisation, the one constant is that people are their most valuable asset.7 With this in mind, consider these four key elements for corporate innovation: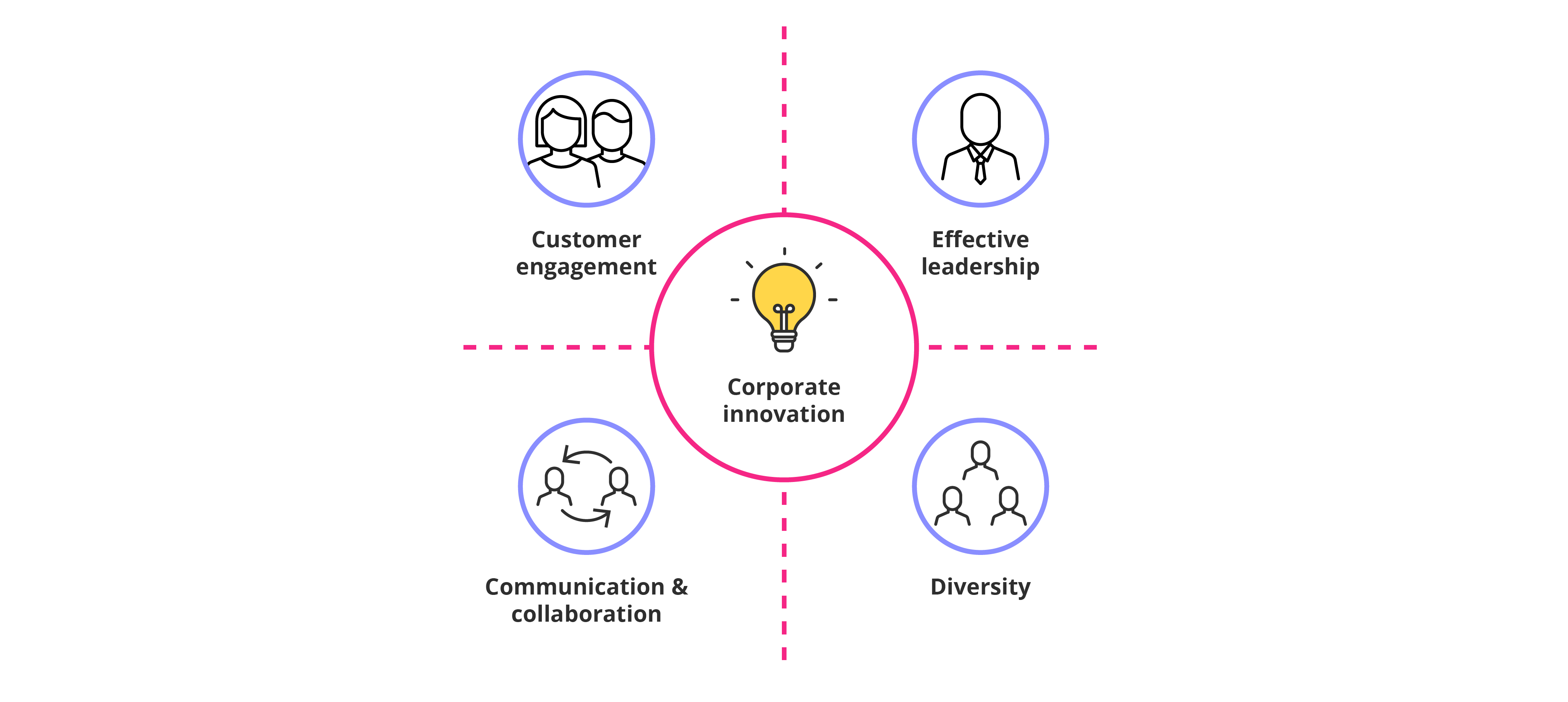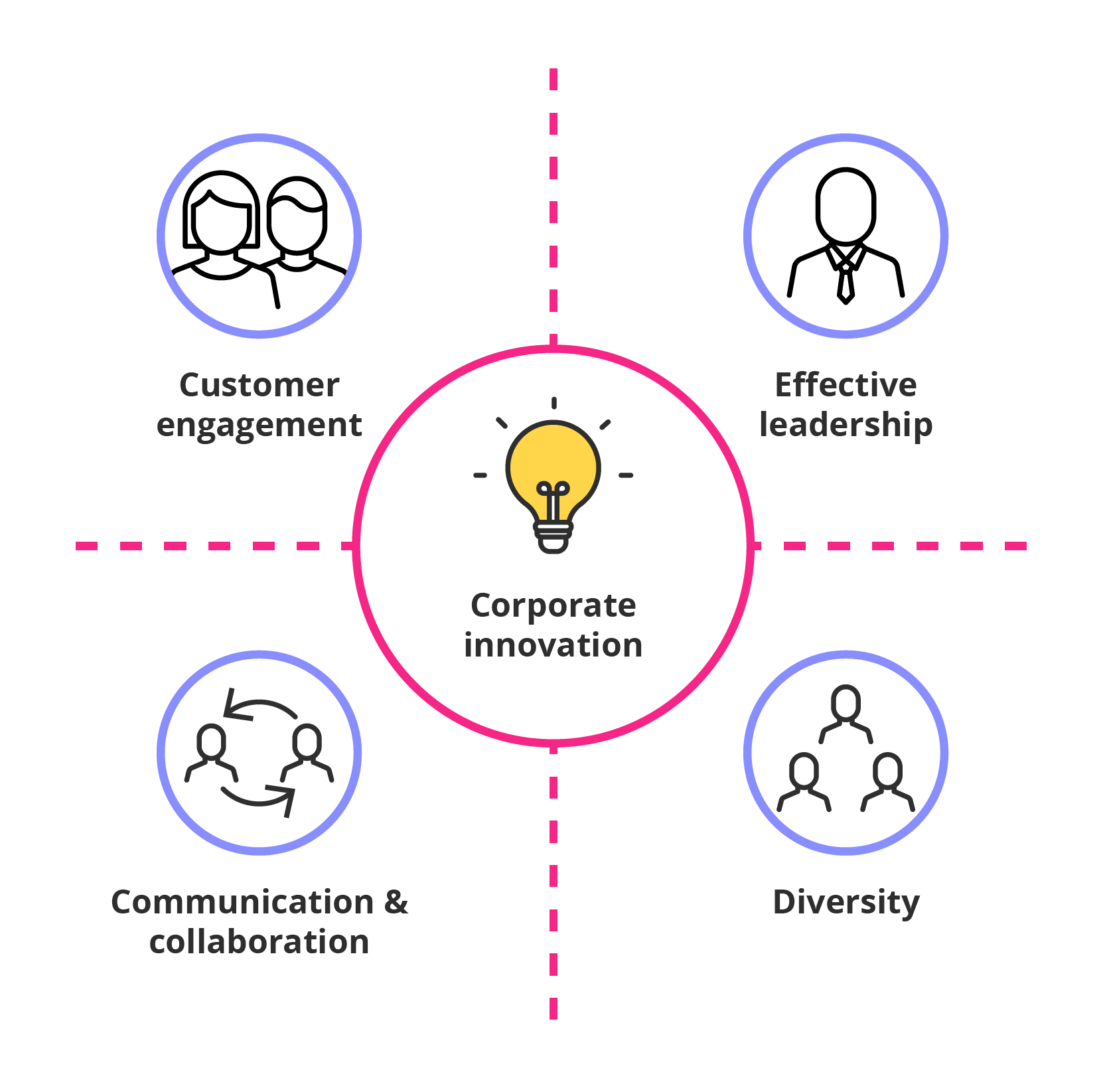 Effective leadership
A commitment to innovation, from all management levels, is the foundation of successful corporate innovation.8 Organisations need leaders that encourage teams to collaborate and think creatively, and who take charge in implementing innovative initiatives. Effective leaders should:
Understand the need to hire individuals with hybrid skills
Clearly communicate how employees fit into an organisation's objectives
Provide useful feedback9
Inspire and motivate teams
Develop a culture of trust, by being open and honest
Assist in overcoming innovation resistance10
A company culture that doesn't empower its employees is seen as one of the greatest challenges to innovation.11 It's the responsibility of the leadership team to ensure this challenge is mitigated. A culture which fosters innovation is more likely to attract talented and creative people. These individuals are needed in order to achieve growth, and to ensure corporations continue to remain competitive.12
Diversity
Diversity is a key factor for business innovation. The staff structure needs to include multi-talented individuals whose race, gender, education, culture, skillset, mentality, and socio-economic class differ, to inspire new ways of thinking and produce original ideas.13 Companies that are more diverse have a higher likelihood of attracting the talent they need, meeting customer needs, improving staff satisfaction, and making better business decisions.14
The positive correlation between diversity and financial performance
McKinsey analysed data from more than 1,000 global companies in 2017, and discovered: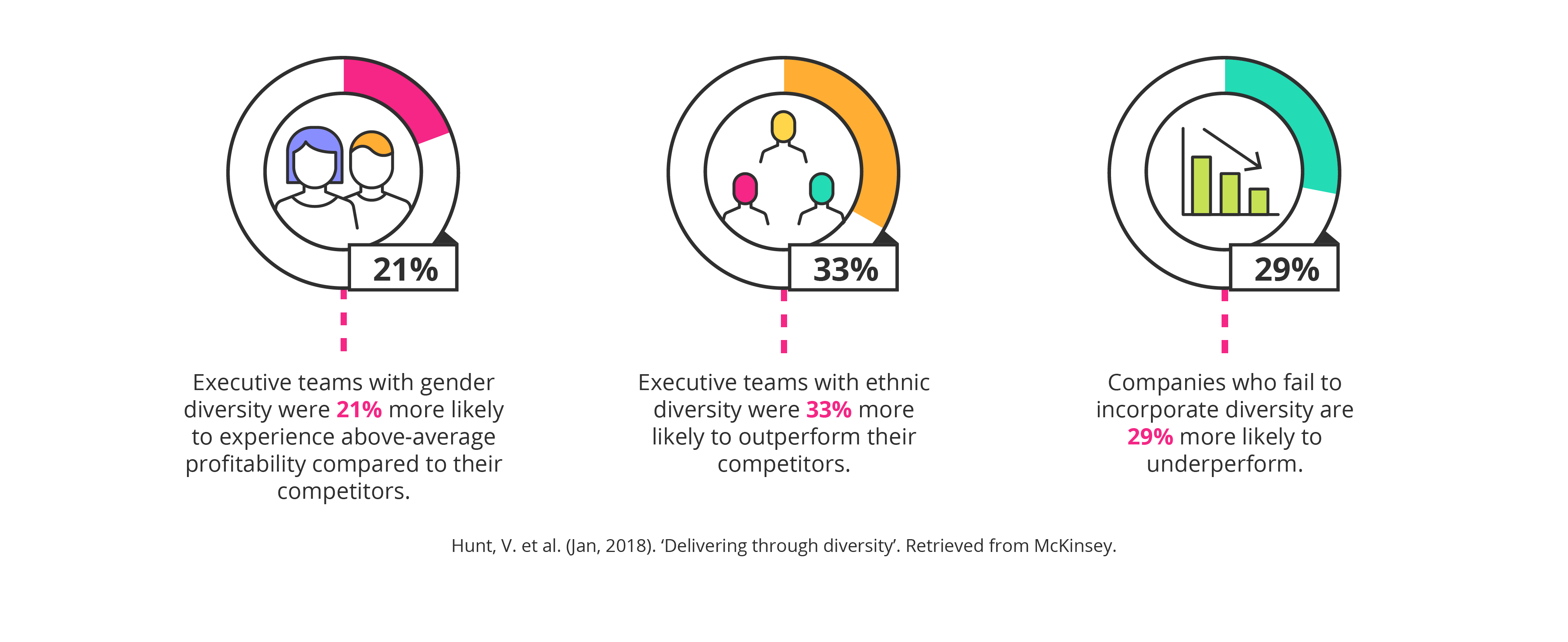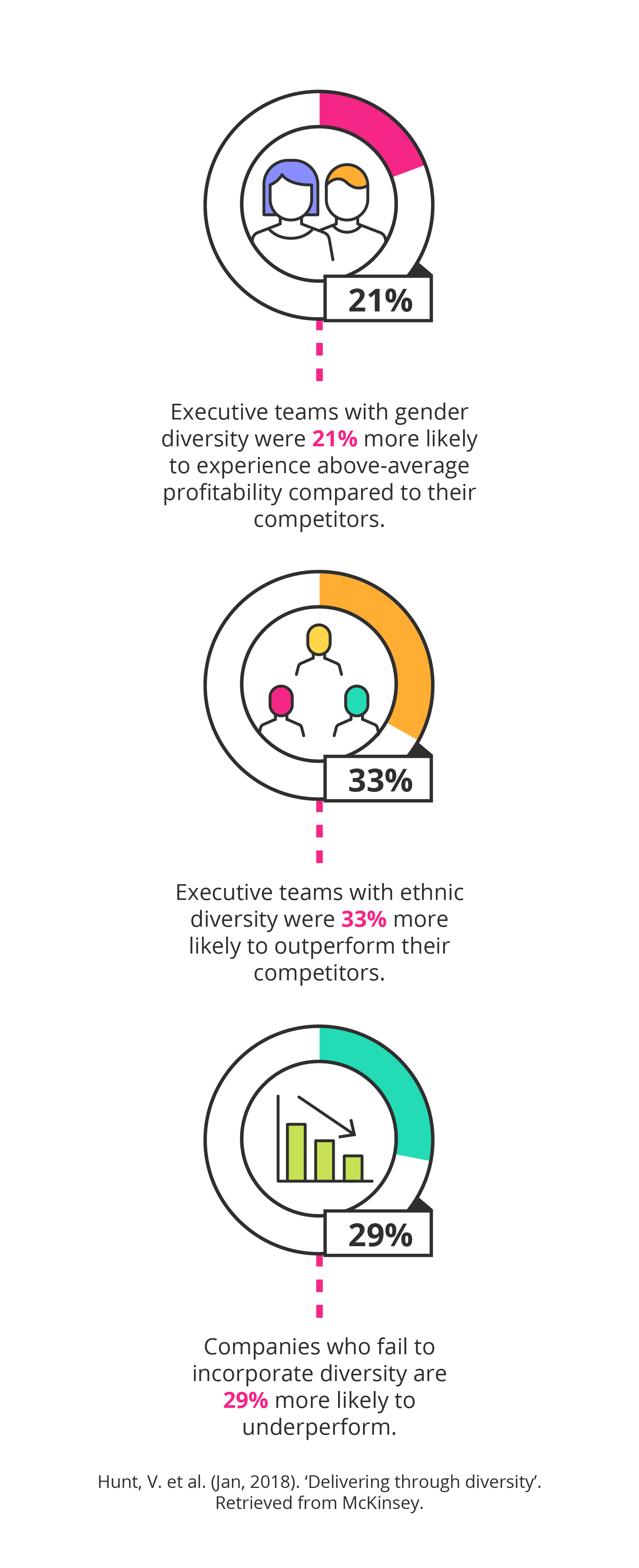 Customer engagement
Customers are important in defining and driving innovation in an organisation. According to PWC, 34% of companies believe customers are their most significant innovation partners.16 Allowing them to participate in the innovation process helps establish meaningful relationships and develop a sense of brand loyalty.17 Customer engagement provides meaningful insights into the behaviours and attitudes of a consumer, especially by using social media to gain access to real-time feedback. This allows corporations to develop products and services that are more user-focused.
Communication and collaboration
Developing an open and honest communication system builds trust within an organisation, and is a solidifying factor in fostering good business relationships. It's the first step to inspiring team collaboration, increasing productivity, and improving problem-solving techniques.18 Leaders should encourage employees to experiment, test, and learn from their ideas with the freedom to fail.19 This is essential in building an innovation-driven corporation and developing an acceptance of risk and change.
Good communication also assists corporates in developing a collaborative relationship with startups. While startups have an agile and flexible approach to development, and a strong focus on problem-solving and achieving innovation through technology, corporations have years of experience and an availability of resources.20 This makes a strong case for co-innovation.
The benefits of co-innovation for corporations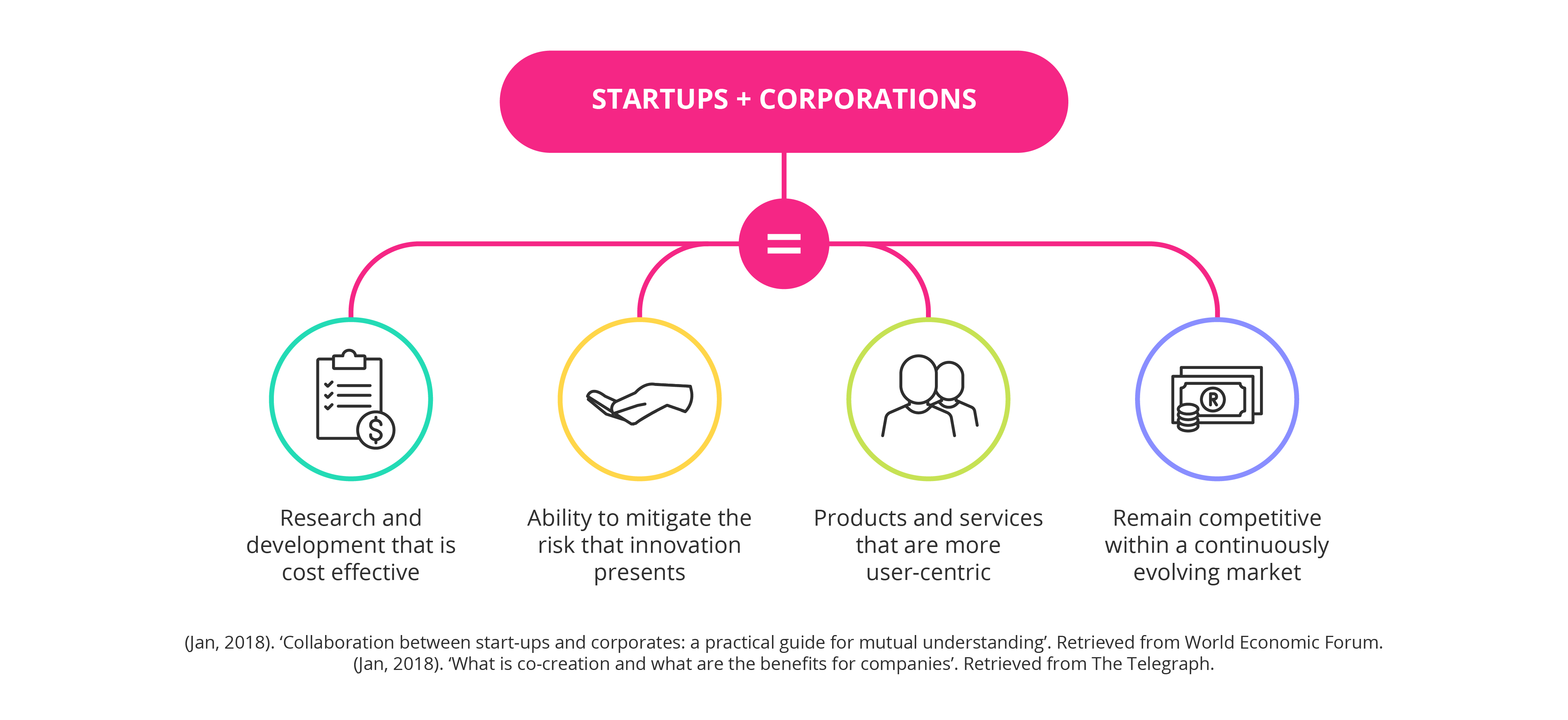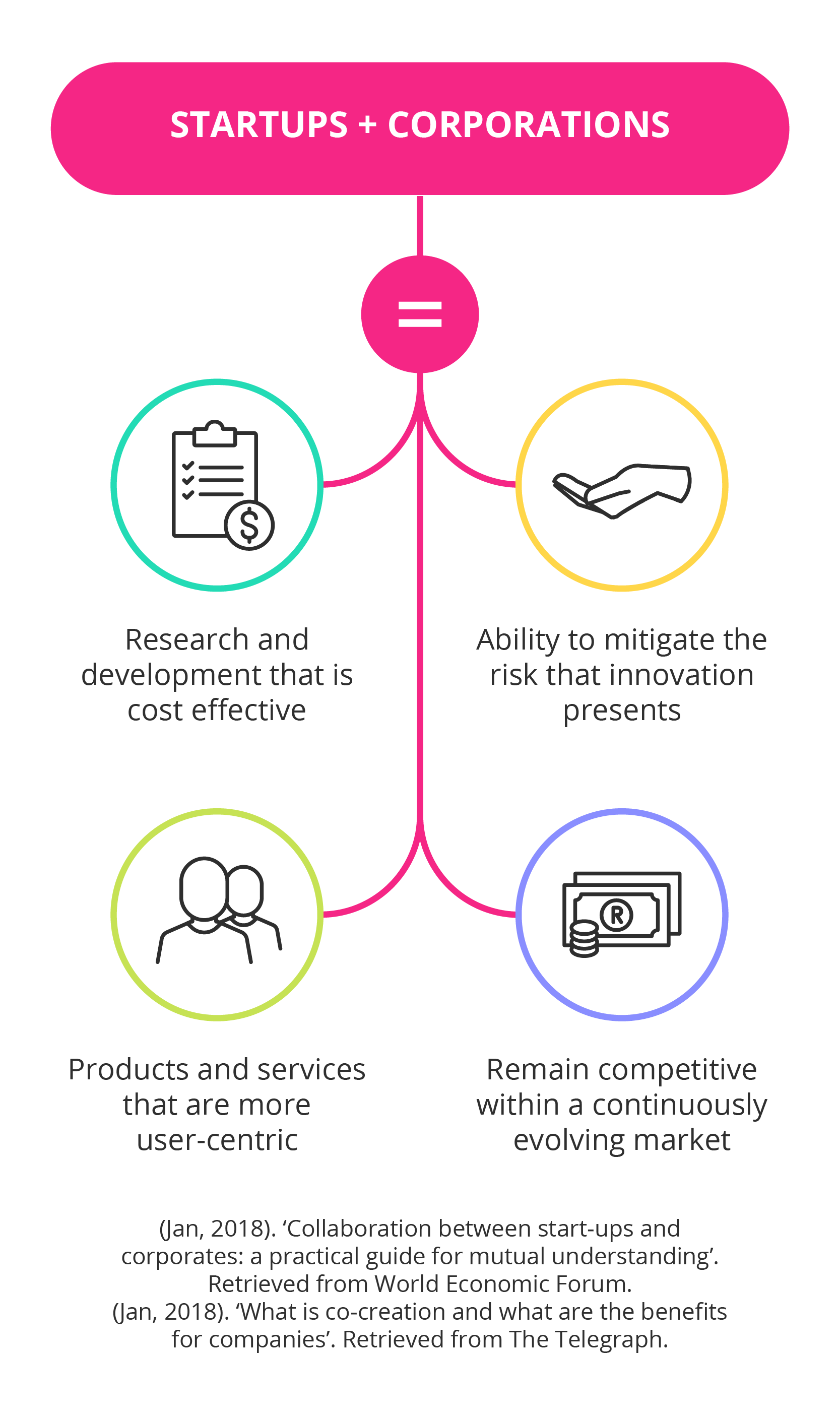 Corporate innovation relies on people – from leaders who empower their employees to stakeholders who collaborate and champion creative thinking from within. Creative problem-solving and ingenuity is also driven by diversity within talent and involving customers in business processes. Implementing these key factors supports sustained innovation and helps to ensure organisations remain relevant in a competitive landscape.
---
Learn how to leverage your organisation's ecosystem to optimise innovation.
Register now for the MIT Sloan Corporate Innovation online short course.