Key Project Management Methodologies Explained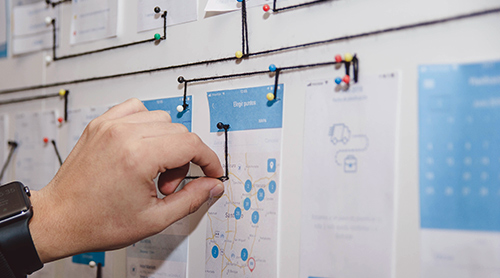 The responsibility of managing a project can be demanding, and following a tried and tested project management methodology can often take some weight off the shoulders of a project manager. While there are many systems or methods you can follow to bring a project to successful completion, there are three methodologies that have found far-reaching application and gained popularity for their reliable and consistent results in the industry.
Two of the methodologies, namely Waterfall and PRINCE2, follow a more traditional linear project trajectory, whereas the third and slightly more modern approach to project management, Agile, focuses on customer interaction, adaptation, and flexibility.1
When deciding on which methodology will work best for your project, the environment and nature of the project should be your primary concerns. While all of these methods have solid reputations, their effectiveness does rely on the needs of the project and the client. It is not simply about choosing the method you like best, but about determining which method is most appropriate for the purpose and execution of the project.
Waterfall
The traditional waterfall approach to managing projects follows a simple linear approach where each task has a waterfall effect on the other. In other words, once one task is completed, the next begins.2 This simple-to-understand and logical method is particularly popular in projects where a physical object is created or built, such as in construction or computer development.3
The power of the Waterfall methodology is that once a project has been successfully completed, it is easy to reuse the blueprint of the project plan for similar projects with the same desired end result – which makes for an efficient production system. The sequence of events in a Waterfall approach generally follow a seven-step process:4
Gather document requirement specifications.
Design.
Construction or coding.
Integration.
Testing and validation.
Fix any issues.
Deliver finished product and project maintenance.
All requirements for the project are planned, detailed, and agreed upon during the first phase of this methodology. The advantage of this is that once the requirements phase is complete, the project can move forward swiftly, with little deliberation.
However, planning the entire project during the initial requirements phase is also a potential shortfall of this methodology. Any changes or unexpected issues that arise during the project will disrupt the sequence of tasks and make it difficult to manage successfully.5
PRINCE2
Projects in Controlled Environments, more commonly known as PRINCE2, is a method of project management which divides the tasks and activities of a project between a structured project board, or the senior board members, and the project managers.6 Typically, this split of accountability means the board is responsible for supplying resources7 and establishing fundamentals such as time, cost, risk, and the scope of the project.8 The project manager then has authority over the day-to-day execution of tasks and the team's performance.9
Invented by the UK government in 1996, the PRINCE2 method is a process-oriented methodology with a highly organised structure.10 Similar to the Waterfall methodology, the project is divided into multiple stages with clearly defined plans and processes in place. With inputs and outputs defined for every stage of the project, nothing is left to chance in this thorough approach. As a result, it is a perfect framework for running large-scale, predictable projects, such as construction, architecture, and marketing.11
However, as it is designed for large operations, the processes and principles can render it laborious and unnecessary for smaller projects.12
Agile
Instead of a defined set of processes and steps to follow, Agile project management is more of a philosophical approach to running and managing a project.13 There are four core values that define this methodology:14
Individuals and interactions, not processes and tools.
Working software, not extensive documentation.
Collaboration, not contract negotiation.
Respond to change, not following a plan.
You'll notice the biggest difference between the Agile approach and the two methodologies described above is the way the Agile approach responds to change as opposed to planning every detail of the project up front. With an Agile approach, as the project unfolds tasks are created, executed, and adapted as the situation demands.15 This allows teams to respond well to change or unpredictable circumstances through a collaborative project approach.
In a project where the planning occurs throughout, ongoing communication amongst team members, managers, clients, and stakeholders is key.16 This approach to project management is ideal in dynamic environments where a culture of change and evolving ideas is thriving, hence it is often used in software or game development.17
Choosing the right methodology for your project
When you begin your project planning phase, deciding on a methodology to follow should be one of your first steps. Be guided by your environment and the purpose of the project, and when you decide on the most appropriate method, be sure to understand it thoroughly so you can use it to its full potential. Whatever the nature of the project you are planning and the methodology you implement, be sure to be organised, focussed, and goal-oriented from beginning to end of the project management process.