Who You'll Learn From on the LSE MBA Essentials Online Certificate Course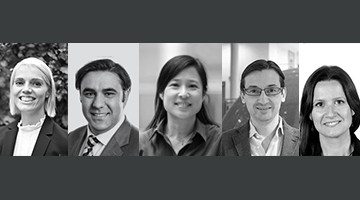 TRAINING BUSINESS LEADERS – LSE MBA ESSENTIALS
In today's dynamic business environment it is important to continually invest in updating and refreshing your management skills and capabilities. The London School of Economics and Political Science (LSE) proudly offers the MBA Essentials online certificate course.
This ten-week certificate course will equip you with the tools and expertise needed to enhance your business leadership abilities and succeed in a changing professional landscape. Elevate your managerial skill set and learn from subject matter experts from LSE on how to cultivate the hard and soft skills necessary to thrive in modern organisations.
Focus your learning on business management and leadership through three important principles:
Business strategy
Key financial knowledge
Human behavioural insights
Meet the people you'll learn from:
The Course Convenor and Co-designers are expert LSE faculty, who have designed this MBA Essentials online certificate course to provide you with an enriching, supportive, online learning experience. You'll benefit from their vast experience and knowledge in the fields of business management and leadership.
Course Convenor

DR CONNSON LOCKE
Senior Lecturer in Practice, Department of Management
Connson has over twenty-five years of experience in leadership, across five continents. She joined LSE in 2008 from the Boston Consulting Group and her areas of expertise are leadership, negotiation, decision-making and organisational behaviour. She is part of the academic leadership team for the Executive Global Master's in Management, LSE's cutting-edge alternative to an MBA, and also teaches the School's most successful executive course on campus: Achieving Leadership Excellence. Connson holds a PhD and MSc in Organisational Behaviour from the University of California, Berkeley and a BA in Sociology from Harvard University. Her research interests include gender and leadership, diversity, and organisational culture.
Course Co-designers

DR JORDI BLANES I VIDAL
Associate Professor of Managerial Economics and Strategy
Jordi has been associated with the LSE for over 17 years, having completed his Masters in Science and PhD in Philosophy in Economics at the School. In addition to being the associate professor of Managerial Economics and Strategy at LSE, he also teaches on the Executive Global Master's in Management. He is an expert in organisational economics, leadership, human resource management and the political economy. Prior to joining the LSE academic team, Jordi was a Prize Research Fellow at Nuffield College, Oxford University, and a visiting scholar at the National Bureau of Economic Research. He specialises in organisational economics, leadership, human resource management, and the political economy.

DR BARBARA FASOLO
Associate Professor of Behavioural Science
Barbara Fasolo is an associate professor of Behavioural Science at LSE and the programme director for LSE's Executive Master's in Behavioural Science. She received her Bachelor of Social Science degree in Italy with distinction, and followed this up with a Master of Science degree, again with distinction, at LSE. An expert in choice processes and choice architecture, she has multiple publications in both peer-reviewed academic journals and media outlets, such as the Harvard Business Review. Barbara is the head of the LSE Behavioural Research Lab and is a member of various behavioural science and decision-making associations.

KHAMID IRGASHEV
Accounting Department Lecturer and Chartered Accountant
Khamid Irgashev is a teacher in LSE's Accounting Department. He is an ACA and ACCA chartered qualified accountant with considerable experience in various industries, including financial services (banking and insurance), retail, manufacturing and publishing. Khamid also has a plethora of experience in coaching and leadership, and has a Postgraduate Certificate in Higher Education and is a fellow of the Higher Education Academy. In addition to his role at LSE, he is an assistant professor at Hult International Business School and a visiting lecturer at West London College. Over the last six years, he has had a leading role in teaching, coaching, and people management at LSE, Edinburgh Business School, University of London, and Hult International Business School.
Head Tutor
The Head Tutor is a subject expert who manages the course presentation. Support for your learning journey is guided and managed through the Head Tutor and group of Tutors.

Katie is an experienced business and leadership educator, with a track record in designing and delivering high-impact learning programmes. She takes an interactive, creative approach to training, lecturing and development – using coaching, facilitating, and creativity techniques to help students on their learning journeys. She has been published in top-ranking academic journals, including Organization Studies and Human Relations, and carries out consultancy and research in the fields of leadership, strategy and communication, with a particular interest in video methods and organisational space. She has worked for and with LSE since 2012 – first as a Foundation of Management Education Fellow, and now as an examiner and resource developer for LSE's involvement in the University of London international programmes. Other partners she has worked with include Cass Business School, University of Law, Kaplan, ICAEW (Institute of Chartered Accountants of England and Wales), the V&A Museum, KPMG and Lewis Silkin LLP.
As one of the world's leading research universities, LSE has 125 years of experience in providing working professionals with the skills and confidence to enhance their personal impact.1 Over that time, 16 Nobel Prize winners and 34 world leaders have taught or studied at LSE. This is your opportunity to learn from eminent thought-leaders on an LSE course, as you grow your global business network.
Are you ready to lead with influence?
Develop your business leadership and management skills.
---
1 (2019). 'QS World University Rankings'. Retrieved from Top Universities Rankings.