Meet The Doctor Who Made a Major Career Change To Motivate Others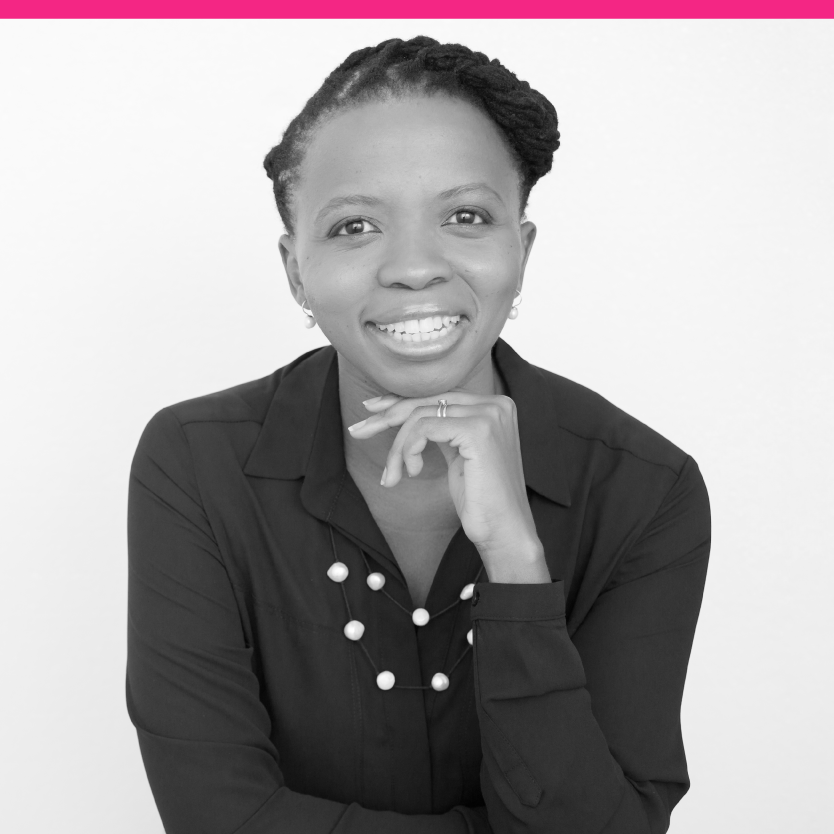 Growing up in Soweto in the 1970s, Dr Maria Phalime often found solace in the pages of a book. Against the backdrop of a country rocked by anti-apartheid riots and a tense home life with an alcoholic father, she turned to a love of reading to find inner peace in the midst of turmoil.
Dr Phalime's thirst for knowledge drove her to set her sights on becoming a doctor, a dream she realised in 1999 – completing  her MBChB in Medicine at the University of Cape Town.
"I worked really hard to get into medical school, and throughout my time there I studied hard and did well. There really is no substitute for hard work."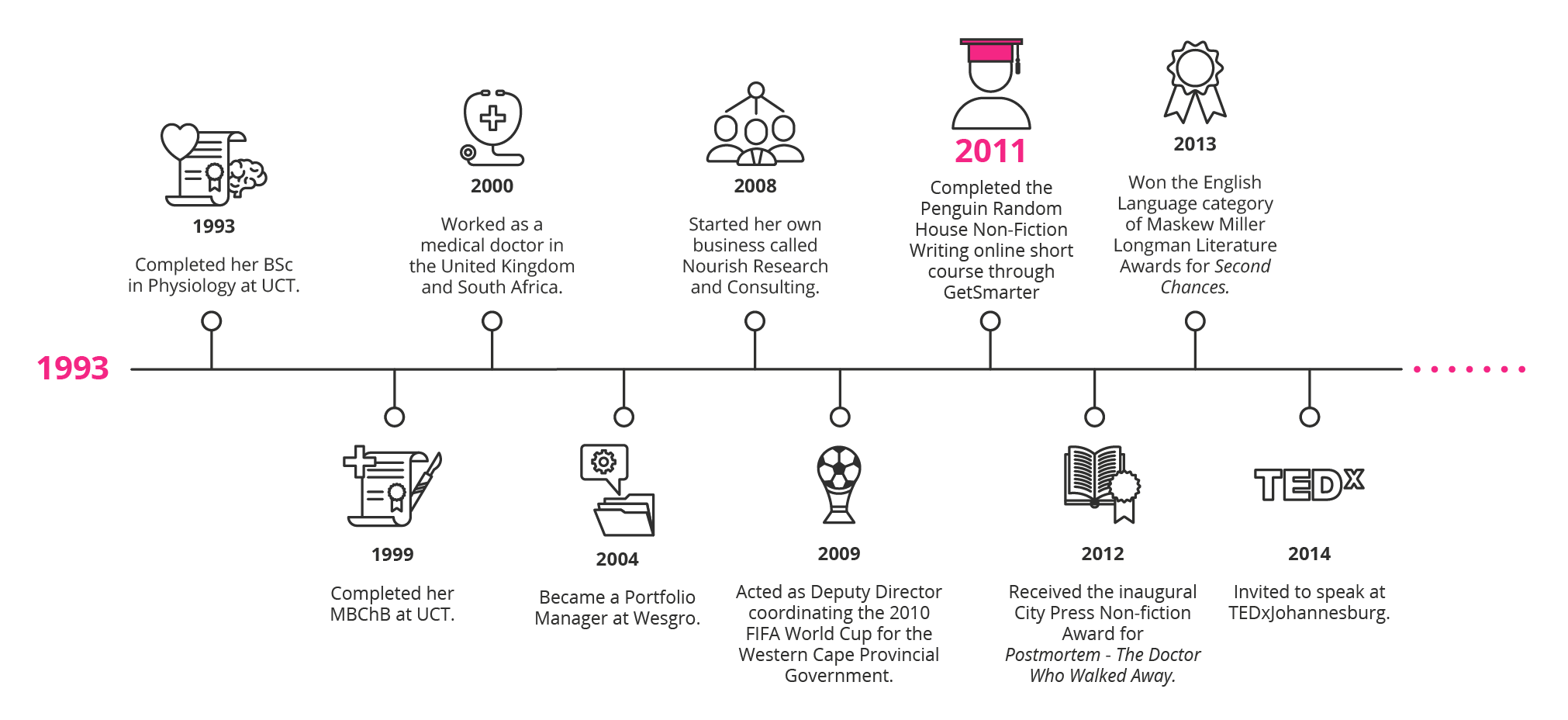 A Bold Change
For the next four years, Dr Phalime practised medicine in South Africa and the United Kingdom. But after what she describes as a "hellish" experience in the South African public healthcare system, she made a bold decision to leave medicine.
Her decision came as a surprise to many.
"People wanted to know why I left, and the voice in my own head was getting louder."
Out of this search for answers, Dr Phalime turned to her love of literature.
Telling Her Story
"I knew I had a story in me, but I didn't know how to tell it. I saw the GetSmarter Non-Fiction online short course, and I decided to enroll. At first I didn't know what I would write about, but the course helped to coax my memoir out of me"
Dr Maria Phalime shares her experience on the GetSmarter Write a Non-Fiction Story online short course
The resulting book, Postmortem: The Doctor Who Walked Away, is a personal account of the pressures and traumas that come with being a doctor in South Africa – and her decision to walk away. The memoir won the City Press Non-fiction Award in 2012, and was shortlisted for the Alan Paton Award in 2015. Her first fiction novel, Second Chances, published in 2013  received the Maskew Miller Longman Literature Award.
"I had a lot of raw material, but at first I didn't know how to turn it into a narrative. The course – and the guidance of Mike Nicol – helped me to develop a narrative that would engage readers."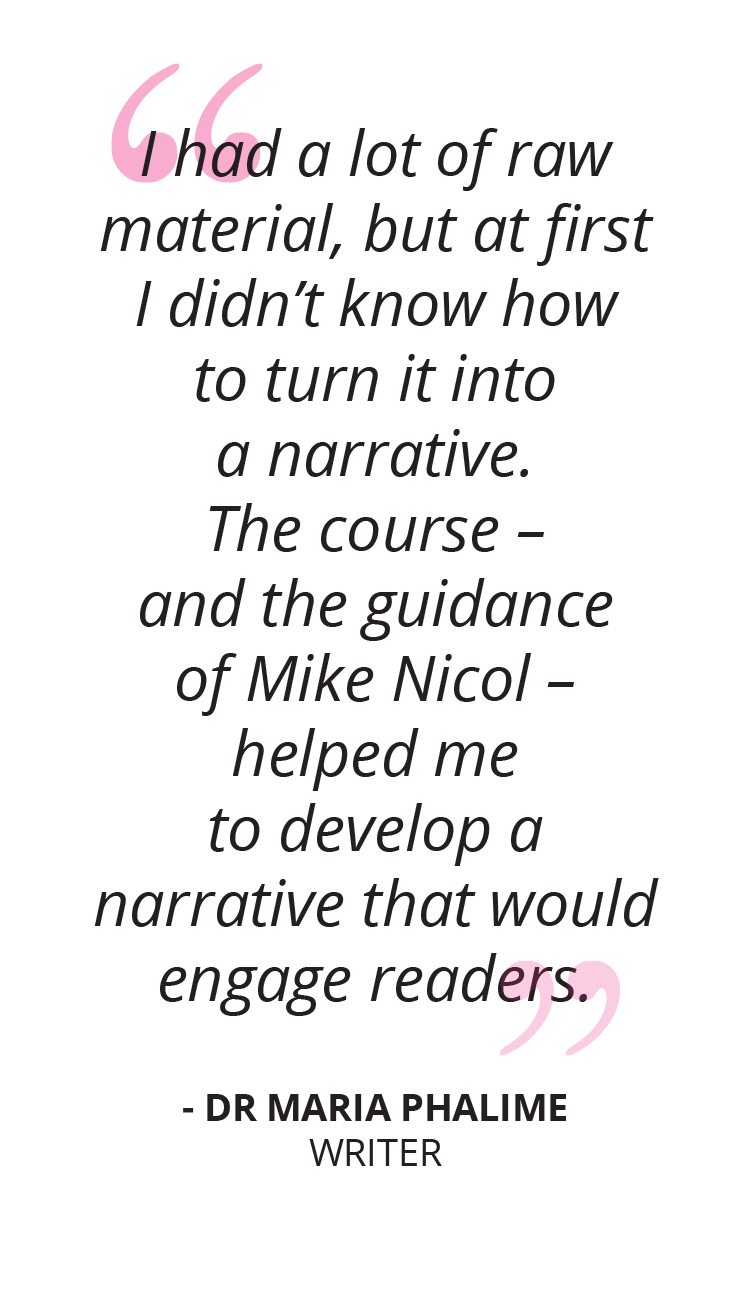 An Opportunity To Inspire Others
Following the release of her memoir, messages started rolling in from other doctors and professionals, eager to share with Dr Phalime how much her story resonated with theirs. When she was invited to share her story at TEDx in Johannesburg, "I realised that I could tell my story and the lessons I learned on multiple platforms through public speaking."
The doctor who walked away – Maria Phalime's TEDx talk
Her public speaking opportunities grew into a personal coaching business, and now she guides others through the familiar territory of reaching for their dreams, despite the odds.
"My primary quest in life is to be the very best version of myself I can be. That's part of the reason I walked away from medicine, and it is the driver of everything I do in my professional and personal life."
Dr Phalime continues to write, and she hasn't ruled out another memoir in the future. She facilitates leadership development courses with UCT, and continues to travel for speaking engagements, but she's not ready to consider her education complete.
"We are all so busy, but that shouldn't stop us from learning and growing. I think online education addresses the need for continuing professional and personal development in a world where few people have the luxury of being able to take time off work to attend lectures at university or college. The Creative Writing course is on my wish-list. I just need to find the time for it"
---
Dr. Maria Phalime made a bold choice to leave her career and pursue self-development.
What skills do you need to pursue your next big opportunity?