Meet The Entrepreneur Who Made A Business Out Of Creativity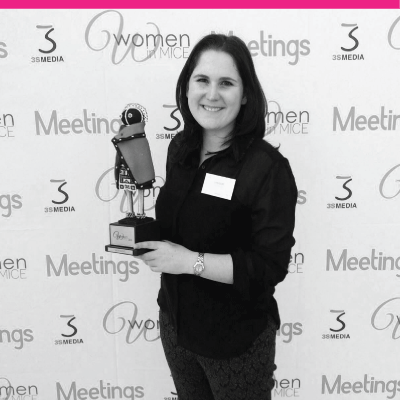 Born to a family of entrepreneurs, business has always been in Lindy Scott's blood. Her creative passion, however, is a streak she nurtured from a young age. "As a child, I was always interested in creativity and always needed stimulation and to have fun. My mom shares stories about how I would never sleep as I was too scared to be missing out on the action."
Lindy's love of creativity led her to pursue a degree in Fine Art at the University of the Witwatersrand, but her passion for business never wavered, and she poured her creativity into innovative new business strategies. "I was interested in the process of collaboration and how creativity could be used in business. I have always been fascinated and drawn towards working with people. During university, I used to run family holiday programmes for a hotel and one could say this was the foundation of my career. Creativity and fun have been key aspects of my career to date."
I was interested in the process of collaboration and how creativity can be used in business.
Lindy Scott
Designing a Business Blueprint
In 2012, Lindy Scott took up an internship in Belgium with international teambuilding company Hercules Trophy. This introduction to a creative business model – and the mentorship of founders Yves Vekemans and Inge Van Belle – sparked an idea with Lindy. Upon her return to South Africa, she founded Conceptual Eyes. Over the past five years, the business has grown to become one of the leading business management consulting agencies focusing on creative strategies for internal communication and employee engagement in corporate spaces.
"Companies spend so much money on marketing and advertising, but often forget about the workforce employed who actually have to implement what is communicated to the outside world. This is where we come in. We focus on ensuring that the entire team is aligned, ensuring that employees know what to expect or deliver. These employees then build the business outwards."
Lindy Scott's shareholders tell her she's been subconsciously building this business since she was seven years old. "I knew that I wanted to work with people, I knew that I wanted to have a creative job but during my youth I didn't know that it was possible to build a business like Conceptual Eyes."

Building the Plane
Lindy Scott had no shortage of vision for the future of Conceptual Eyes, but found herself lacking some of the practical skills needed to propel the business forward. Frustrated with her limited understanding in financial strategies and how this stunted her communications with clients, she registered for the Introduction to Financial Management online short course in 2016. "Knowing that my team were all creative and not exposed to the jargon or acronyms of the financial sector I knew it was important to upskill myself."
She followed these up with the GetSmarter Corporate Strategy and Occupational Health and Safety courses, and Lindy says each course has helped her to achieve different goals.
"Each client we work with faces different challenges, and often the scope of work we need to bring to life is niche to a specific business or industry. I have found that upskilling and constantly learning has given us an accelerated growth to be able to handle more complex and diverse projects for our clients."
I have found that upskilling and constantly learning has given us an accelerated growth to be able to handle more complex and diverse projects for our clients.
Lindy Scott
For Lindy, learning on the job is key to business success. She advises aspiring entrepreneurs to start their businesses first, then learn as they build, through on-the-ground experience, short courses, and conferences. "Studying full time has its place for some careers, but in today's fast and forever changing economy you need to keep informed and short courses was the best solution for me. The common analogy of building the plane while it's flying is something I have found to have worked well while building my business. You need to trust yourself and start."
Creativity Saves Lives
Lindy's passion for her business has paid off. She was nominated in the Sanlam Top 15 Entrepreneurs of the Year in 2017, and she has big plans for the future as Conceptual Eyes expands their footprint across Africa. "I see myself leading creative teams across the continent and having our Health and Safety Campaigns rolled out across Africa. I am passionate about 'creativity saving lives'." She highlights the GetSmarter Women in Leadership and Project Management online short courses as being next on her list.
"Studying will always open your mind so if given the opportunity to study while working, I would always suggest that you embrace the challenge."
---
What skills do you need next?
Discover your next challenge.