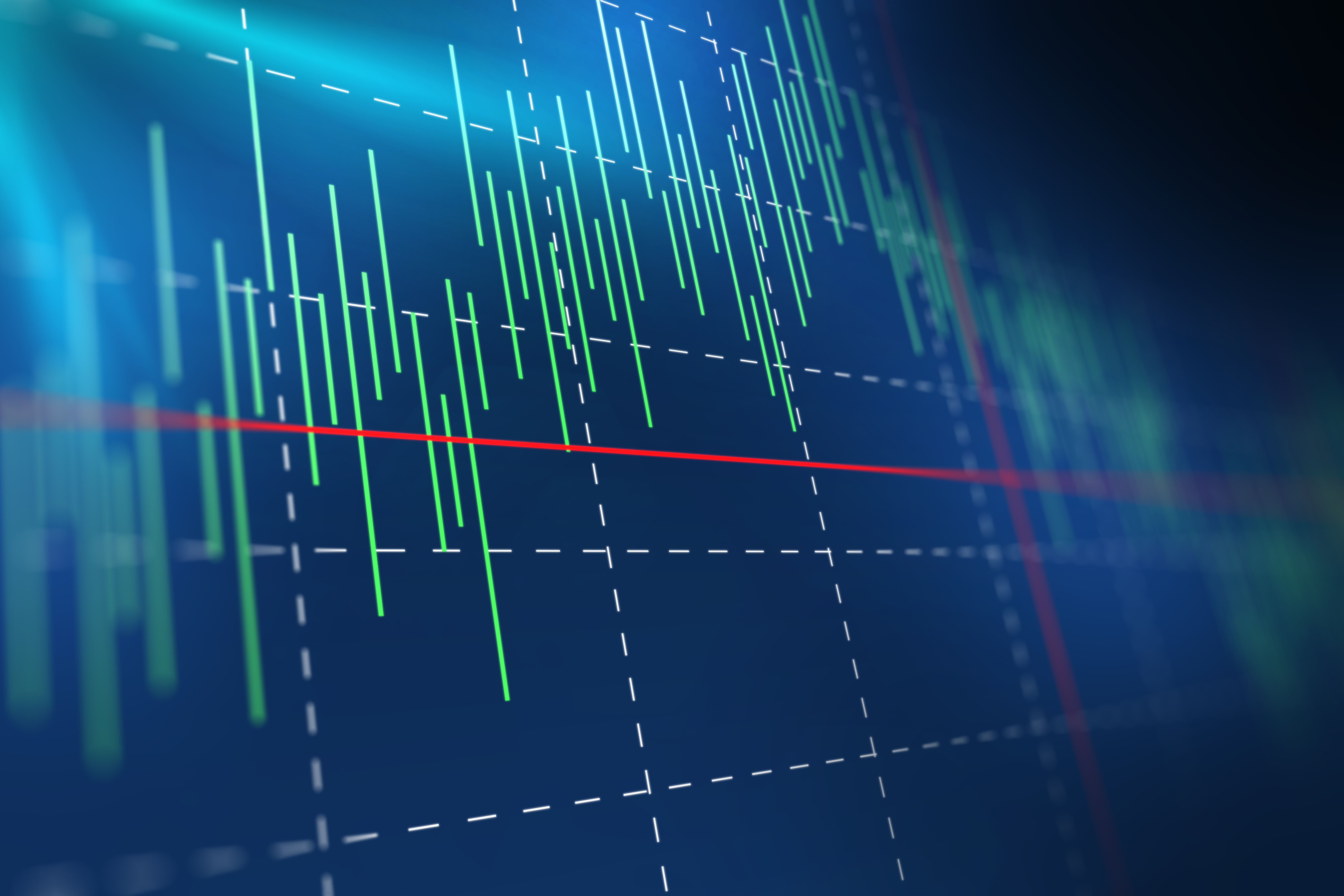 ". . . data science is no longer limited to giant tech firms and startups on the coasts, and many industries outside the typical 'digital native' profile are adding data science technologies to their repertoire".1
From predicting the movies we watch, to forecasting the path infectious diseases will take, data and the algorithms that work within this space are creating a growing demand for data scientists.

Tasked with extracting meaning from vast, messy sets of Big Data, these professional "data wranglers" must possess real-world skills in programming; statistical, predictive, and quantitative analytics; data mining, modelling, visualisation and more.
Today, over 40 universities offer rigorous master's in data science programmes to develop these highly technical skills. In this guide, we'll tell you how to choose the best online programme for you, based on your background and career goals.
Demand for Data Scientists
How will employers meet the need for top tech talent?
Online masters programmes in data science hold the key.
Online versus on-campus data science programmes
When online education programmes were in their infancy, employers may have been sceptical of an online credential. But today, as US News & World Report notes, most employers value online degrees – especially in technology industries.3
To be clear, however, there are three things employers may care about when evaluating online degrees:
Accreditation
Reputation
Existence of a traditional campus
Regional or national accreditation by the appropriate agency ensures employers that the institution meets certain standards and its graduates have the requisite professional skills. Accreditation also impacts federal financial aid eligibility and the ability to transfer credits. To ensure you're eligible for federal financial aid or corporate reimbursement, you'll want to enrol at a regionally accredited institution. (Check out the US Department of Education website for more information on accreditation or to search its database of accredited postsecondary institutions.)4
Employers also consider the reputation of the institution and the programme. Fortunately, with the nation's top universities now offering rigorous programmes online, you have many options for obtaining a highly-respected degree without relocating.
Many employers are still skeptical of institutions that are strictly "virtual" and/or for-profit. A traditional campus reassures them your alma mater is a reputable, established institution.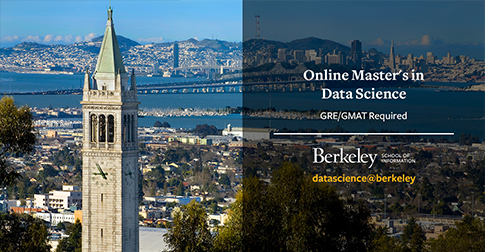 Choosing the best online master's in data science programme: A step-by-step guide
Today, top universities offer online graduate programmes in data science featuring a variety of formats, concentrations, and student experiences. Here are five essential steps to finding the programme that's right for you:
1. Data Science versus Business Analytics: Explore/Refine Your Career Goals
If you're just beginning to explore a career as a data professional, it's easy to get overwhelmed by the various options and job titles. As a starting point, let's take a look at two popular data career paths.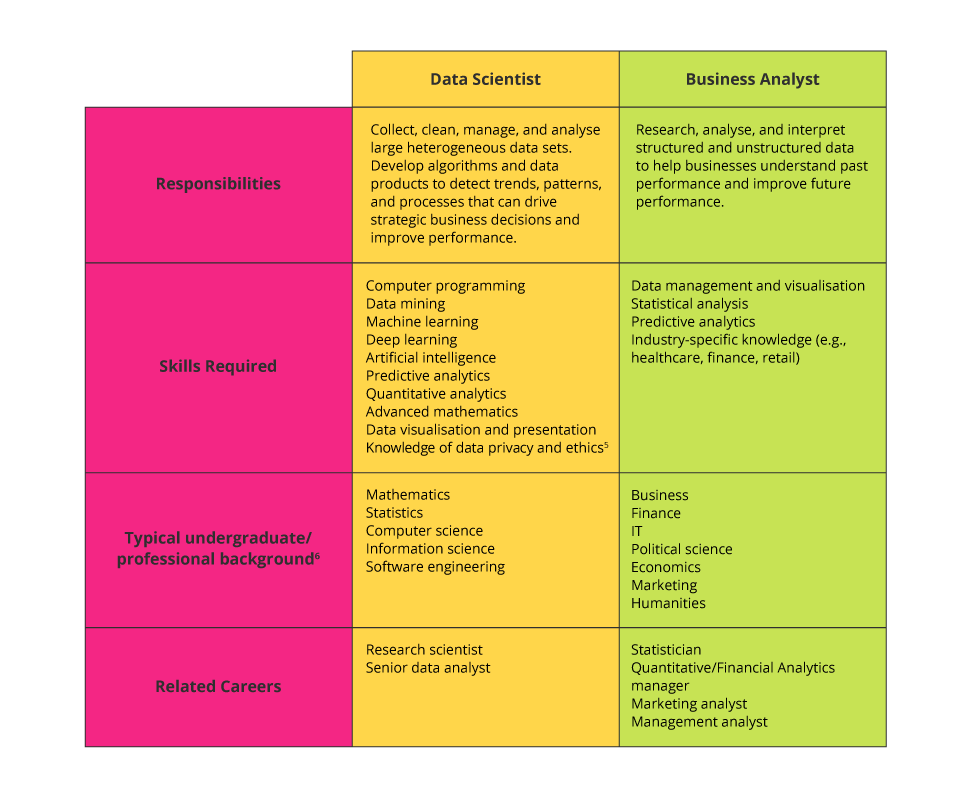 2. Find the Type of Online Data Science Programme You Need
Once you've confirmed you're on the right path, it's time to find the programme that fits your background and career needs. Are you new to the field or a seasoned professional? Do your quantitative skills need sharpening or are you ready to dive right in? Don't worry. You have options!
Foundational Course Options: Many programmes offer a curriculum that can be tailored to different levels of technical expertise. If you're already proficient in object-oriented programming, for example, one of our partner programmes (UC Berkeley's Master of Information in Data Science) allows you to move on with other courses.7 Not up on Python yet? You'll be required to take a foundational course to ensure your success in the programme. Don't yet have the necessary math skills? Programmes like Berkeley's also offer bridge courses to otherwise-qualified candidates to help get them up-to-speed.8
Accelerated Programmes: An online master's in data science typically requires 27-48 credits and takes 18-36 months to complete on a part-time basis. However, if your personal schedule permits and you have experience in the field, you can complete your degree in as little as 12 months in an accelerated program. Just make sure you have the required quantitative, analytical, and programming skills before enrolling.
Executive Certificate Programmes: Not interested in another graduate degree, but need data science skills to advance your career? Then online short courses such as Harvard's eight-week Business Analytics course or UC Berkeley's six-week Data Science for Executives might be your better choice.9 Each of these 2U partner programmes offer the skills you need to make data-driven business decisions, recruit the best data talent, and lead data science teams and projects.
Doctoral Programmes: If you're interested in conducting cutting-edge research, teaching in a university, or gaining a high-level position with a major tech company, then a PhD in Data Science might be right for you. But be prepared! These programmes can take 4-5 years to complete on a full-time basis, require a dissertation, and have more on-campus requirements than a master's.
Also, be aware that titles for data science programmes vary between institutions based on field and focus. You'll find master and doctoral data science-related programmes listed as data science, health/biomedical informatics, business analytics, business intelligence and more.
3. Check Out the Online Environment and Student Experience
To get the most out of an online degree programme, you'll want an online experience that's as robust as the subject matter. When evaluating any online graduate degree programme, look for:
Live classes led by expert faculty in a highly interactive, online classroom
Small class sizes that encourage dialogue with faculty and peers
Dynamic course work available 24/7
A mobile app that takes course work "on the road"
On-campus immersions that offer hands-on experience and networking opportunities
Multiple start dates and flexible schedules designed for working professionals
Student support services from application through graduation and beyond.
4. Ensure the Curriculum Offers Real-World Data Science Skills
Data science graduate programmes vary by institution, but a solid curriculum should prepare you to "clean", manage, and analyse large, heterogeneous data sets in order to solve problems, predict behaviours, and communicate results using sophisticated data visualisation tools.
In these programmes, you'll find courses in quantitative analytics, predictive modeling, machine learning, business intelligence and project management. You can usually expect to gain hands-on experience using in-demand tools and programming languages such as: R, Python, NoSQL Databases, Hadoop, Map Reduce, Apache Pig, Apache Spark, Cloud Computing, Github, Tableau, D3, Illustrator, R/ggplot2, Highcharts.
If concentrations or specialisations are offered, make sure to choose one aligned to your career goals. Common specialisations include:
Machine learning where you'll develop the skills to teach computer systems to make predictions based on data.
Business analytics where you'll apply statistical methods and techniques to measure the performance of projects, processes, products, or entire organisations.
Artificial intelligence where you'll learn to "teach machines to learn from experience, adjust to new inputs and perform human-like tasks".10
Data engineering where you develop the skills to find trends in data sets and develop the algorithms needed to make that raw data useful.
5. Check the Admissions Prerequisites/Requirements
Data science master's programmes are rigorous programmes requiring strong statistical and quantitative analysis skills to succeed. While many programmes do not require a specific type of undergraduate degree, they may give preference to applicants with degrees in statistics, applied mathematics, computer science or engineering.
Common admissions requirements include:
A bachelor's degree from an accredited college or university
Quantitative analysis skills as demonstrated by:

College-level coursework in statistics, calculus I and II, and/or quantitative methods
Work experience in data analytics or information management
Superior scores on the quantitative section of the GRE or GMAT

Proficiency in programming languages such as Python or Java
If you received your undergraduate degree in a country where English is not the official language, you will also need to submit official Test of English as a Foreign Language (TOEFL)®11 or International English Language Testing System (IELTS)TM scores.12
Other standard requirements include: official transcripts, letters of recommendation, interview, personal essay or statement of purpose, resume, application and application fee.
Some data science master's programmes also require a minimum undergraduate GPA so prospective students will want to check individual programme requirements carefully before applying.