Oxford Women's Leadership Development Programme Testimonials
The perception of female leadership is changing. Professional women now have the opportunity to lead in a way that suits them instead of having to emulate their male counterparts to succeed in the business world. There's a growing recognition that many traits and competencies often considered innately feminine – such as empathy, self-awareness, and supportiveness – are proving to be effective in guiding motivated teams and making smart and considered organisational decisions.
The six-week online Oxford Women's Leadership Development Programme from Saïd Business School, University of Oxford is an opportunity for current and aspiring female leaders to join a global network of peers honing their professional toolkit. Learn to leverage your personal leadership strengths with guidance from industry experts and forge ahead as a strong and confident leader, empowered to enable the next generation to succeed.
Walk away with the skills to: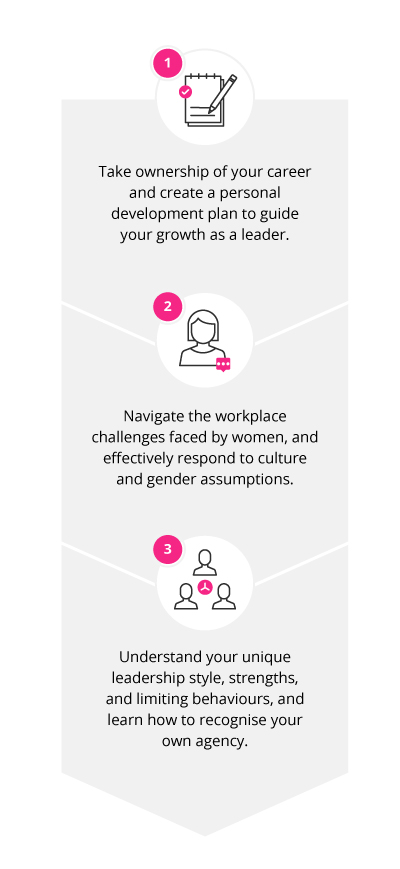 Join a network of female business leaders who have already had the opportunity to study online with Oxford Saïd. Here's what past participants thought of the programme:
Yvonne M Johnson
PhD, Former Lecturer, University of East Anglia
"This was a truly inspiring programme that allowed participants to reflect on and develop their leadership skills. The content was scholarly, thought-provoking, and delivered in myriad and engaging formats (video lectures, live conversations with the programme directors, articles, notes, interactive tools, and assessments). Participants, exchanging personal experiences and discussing module content through discussion forums, came away with many useful theoretical frameworks to help them critically analyse their own leadership styles, organisations, and the broader culture. Throughout the programme, there was a focus on the need for women to achieve better representation in leadership roles in the workplace and ways to achieve this goal at individual and societal levels. Graded assignments were varied and balanced by self-reflection in journal form, with application to future career goals. They were marked promptly with useful, constructive feedback. The help and advice from tutors and online support was immediate and seamless. This was an outstanding programme."
Vanessa Ohlenschläger
Project Lead, Volkswagen AG
"My overall impression of the content is very positive as it is professional, concise, diverse, and very helpful. I never had an online learning experience to that extent before and was positively surprised how well that works for me. What I learnt from the content, my peers, and the reflection exercises is far beyond what I expected. It is so helpful to exchange experiences and thoughts with other women facing similar situations to increase confidence and learn from each other."
Kavita Nandha
Business Analyst, Vodafone
"I got so much more out of this programme than I expected. I thought we might look at theories and analyse them, but we actually delved into the real-life experiences of women in leadership positions and gained insight and knowledge about how we can deal with problems such as equal pay. I have learned so many tactics to be a better leader, and this wasn't just 'be more like a man'. I have been taught to be more accepting of myself, be kinder to myself, and use my strengths to get further in my career."
Martina Kronawitter
PMO, Philip Morris International
"What a great programme! Do you want to know more about yourself and how you are acting as a female leader, and how you can develop yourself further? Then you should sign up for this programme. Within these six weeks, I reflected more on myself than in the past 10 years, and there were really some surprises included. Even though it was my first online learning programme, I easily adapted as the system is super easy to navigate, and the support team was always helpful if I still had a question. Thanks for this experience!"
Andreea Cotabitiu
Sales Director, Dynata
"The content of the programme is well-thought-out and structured. The mix of notes, video testimonials, online forum discussions, and written assignments is well-balanced. The online environment is very intuitive and easy to use. Even though this was an online class, I felt really connected to my teammates through the online forum, which was also a valuable information resource. The tutors and the Success Advisor were also very responsive, and I felt supported throughout the duration of the programme. This online programme has been really valuable for me, as it allowed me to reflect on my leadership skills and career path. I highly recommend it to every woman – be it an experienced leader or just a beginner."
Morlene Naicker
Technology Risk Manager, Absa Group Limited
"I found the content well-developed and comprehensive enough for leaders in any industry or sector to be able to relate to. This was my first online experience, and it was very smooth and achievable. The videos and interviews with inspirational women leaders were so insightful, and it gave me comfort in knowing that it is indeed a journey to embrace. The discussion forums were robust, and the ladies shared and offered advice to one another in an encouraging manner."
Christianne Williamson
Senior Communications Strategist, The Girl Generation
"I have really enjoyed the programme. It has been very valuable to me to have time and inspiration to reflect on who I am as a leader. The quality of the curriculum, videos, and reading was exceptional, and didn't fail to deliver at every step."
Vaishali Baxi-Varma
HR Business Partner
"I enjoyed the leadership programme, as it gave me a good understanding of the perceptions of being a woman leader and how we can improve our leadership approaches. Listening to experiences from women leaders who overcame challenges and negotiated or influenced to reach a positive outcome was very inspiring. The online programme gave me flexibility, and it was interesting to read the experiences of other classmates through the online groups."
Realise your leadership potential with Oxford Saïd
This programme is structured around three main themes: self-acceptance, self-management, and self-development. These themes will help you to critically examine your own identity as a leader and recognise your leadership potential.
Upon successful completion of this programme, you'll gain access to the official Oxford Executive Education Alumni group on LinkedIn,* and connect with global thought leaders and experts who are focused on advancing their career, much like yourself.
*Access to this group will only be granted following your successful completion and passing of the programme.
Register now and discover your authentic and most impactful leadership style with an international cohort of business professionals and expert faculty from Oxford Saïd.