Q & A With Faculty From the Oxford Climate Emergency Programme
The six-week Oxford Climate Emergency Programme, created in partnership with Oxford University's Saïd Business School and the Smith School of Enterprise and the Environment, empowers participants to reimagine business models, build resilience, and lead collective action in the face of urgent sustainability challenges.
In this Q & A, the faculty behind the programme share some of the motivations for its conception, as well as their personal journeys in understanding and combating climate risks. Charmian Love ('CL' below) is Social Entrepreneur in Residence at the Skoll Centre for Social Entrepreneurship at Oxford Saïd, and co-founder and chair of B Lab UK. Aoife Brophy ('AB' below) is a departmental research lecturer in innovation and enterprise at Oxford Saïd and the Oxford Smith School.

Charmian Love
Programme Director

Aoife Brophy
Academic Director
1. Why do you feel so passionately about the climate emergency?
CL: I grew up in Canada, swimming in clear lakes, running around barefoot in forests, and smelling pine needles. Every child should have a chance to experience nature in its purest form – feel it, touch it, hear it, see it – in order to love it. In loving it, we respect it and can learn all the incredible magic it holds to help us address the climate emergency.
AB: I've always had a deep connection to nature – particularly to the sea, having grown up in Ireland – and I'm convinced that we can provide a better future for everyone on this planet if we learn to respect nature. I think I'm most passionate about the climate emergency because it opens doors for new ways of working together – working across countries and cultures, business, and government.
2. What was the turning point when you realised you wanted to dedicate your career to fighting climate change?
CL: I've experienced the impact of climate change first-hand, having narrowly avoided a deadly mudslide. That was a real wake-up call for me, and made me realise how many people in the world face this kind of fear for their loved ones and themselves every day. Every parent loves their kids as much as I love mine, and it destroys me to think how much pain climate change is already causing.
AB: There have been many but, if I had to choose one, I think it would be when I was doing my master's in international relations and environmental policy at Johns Hopkins University. The first year of the course was in Bologna and it started just after Hurricane Katrina, back in 2005. I remember the sense of devastation and confusion from my American classmates. And although the connection to climate wasn't front and centre at the time, it felt like there was an opening to start having conversations about protecting the future, and changing the way we think about our cities.
3. Where do you go to find sources of personal resilience when facing the climate emergency? What gives you hope?
CL: My hope comes from seeing young people mobilising and finding both a collective voice. They are bringing creativity, energy, and a deep moral conviction.
AB: Spending as much time as possible outdoors, and as much time as I can near or swimming in water. I can't explain it, but I find a huge sense of peace, strength, and humility near the sea, rivers, lakes. I'm from Dublin and one of the first things I do when I go back is to visit the beach – usually Malahide or Howth.
4. Beyond your work, what are the key efforts you make in your personal life to contribute to lower carbon emissions?
CL: Getting on the streets to support the student protestors is the number one thing I've done personally, as well as giving up flying (other than when I'm seeing family in Canada).
AB: I've always tried to cycle, walk, or take public transport as a default, and have chosen where to live based on ease of getting around without a car. When possible, I take trains to travel within Europe or combinations of trains and boats to get back to Dublin. And I've been reducing meat consumption a lot lately to, on average, once a week.
5. What was your favourite part about developing the Oxford Climate Emergency Programme with GetSmarter, a 2U, Inc. brand?
CL: We had a lot of fun on our team calls and got to know each other really well over the months. We built this programme during the pandemic, so there were a lot of emotional moments while balancing homeschooling and the stress and anxiety around us, but the team really came together and supported one another. I also loved seeing the beautiful sunsets in South Africa through the windows of our colleagues!
AB: The whole team was so enthusiastic about our vision for the programme from the very beginning and I think seeing that vision come to life was hugely satisfying – especially during a time when everyone was struggling with lockdown. I was in Dublin working from a hotel lobby for a chunk of the early course development, and I think my absolute favourite memory is hearing how the team got such a kick out of hearing the music that was playing in the background every time I unmuted.
6. Who is your hero?
CL: I don't believe in heroes. The changes we're facing as a planet and society require so much more than a culture of solo heroes that swoop in and solve everything. I think everyone needs to find a way to harness their individual gifts and put them into action. When it comes to system change, we all need to be heroes.
AB: Honestly, I would have to say my parents. They are both so determined, hard-working, and supportive, and they inspire me every day. Neither of them had the chance to go to university until they were mature students, and they have given me such a deep appreciation for lifelong learning.
7. What is something new you've tried this year?
CL: I've started putting my phone away for full days on the weekend, and living in the present.
AB: Swimming in a new spot in the river close to our house. And something not exactly totally new but it feels new because I haven't done it in such a long time – I started rollerskating with my son and we've been having such a laugh together. Oh, and I started an allotment with a friend, and have been amazed at how productive it has been. We grew spinach, rocket, broccoli, beans, and chamomile.
8. What is your favourite quote?
CL: Sir David Attenborough: when it comes to climate change, we "cannot be radical enough".
AB: Cian, my son, aged five, on the first day of lockdown: "I'm happy that you had me as a baby and I'm happy I'm alive." His pure joy for life and for nature is intoxicating and gives me hope.
9. Who is your favourite artist?
CL: No question: Jackson Pollock. There are no wrong answers when it comes to appreciating a Pollock. Some people find his work angry, complex, and overwhelming; others see natural webs and light shining through trees. The point is, everyone's reaction is right because it's right for them. I love that about Pollock paintings – all the different meanings they can hold.
AB: I've always been drawn to Georges Braque's paintings – he has several that include musical instruments in different ways, including one with a clarinet. I think I enjoy cubism because of the desire to deconstruct and reconstruct objects we think we know. I'm a musician at heart, and have had a fascination with [Dmitri] Shostakovich's music for many years. He used music as a way to communicate during several periods of extreme cultural oppression in Russia, including under Stalin.
10. What do you hope you will one day be remembered for?
CL: Taking action.
AB: Helping to educate a new generation of leaders in business.
Gain climate change adaptation strategies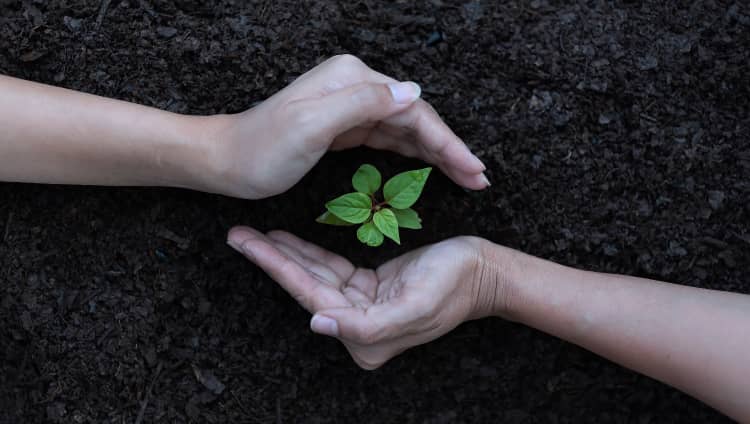 Charmian Love and Aoife Brophy are Directors on the Oxford Climate Emergency Programme. Over the course of six weeks, this programme equips you with the skills to strategically manage the business impact of global warming and climate change.
---
Gain the tools to build resilient business models and drive sustainable innovation.