Strategic vs Tactical Project Management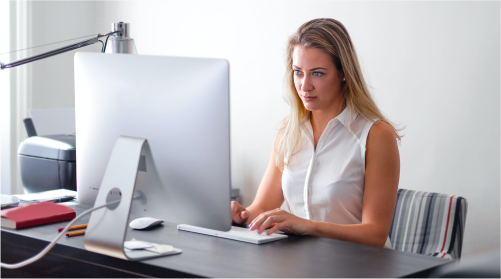 The military world understands what the business world tends to occasionally forget: a strategy is not a tactic, and a tactic is not a strategy. While the two terms are often used interchangeably, they, in fact, refer to distinct concepts with distinct definitions. Put simply, a strategy is a broad, high-level plan typically aimed at achieving a future-focused goal. Tactics, on the other hand, are specific, concrete steps and actions taken to support a strategy and realise measurable objectives.1
Three key differences between strategic and tactical planning
Some of the key distinctions between strategy and tactics – and hence, between strategic and tactical planning – relate to the following factors:
1. Long-term vs short-term
Strategy and tactics are often distinguished on the basis of timeframes. A strategy is generally tied to long-term goals and maps out a plan that might stretch over several years. In contrast, tactics are often short-range measures taken to yield immediate results.2 A strategic plan might be compiled and reviewed fairly infrequently (once a year or quarter), whereas a tactical plan may be revisited more regularly.3 Similarly, tactics are typically rooted in the present – what actions need to be taken today? – while strategy tends to focus on the future.
Of course, the timeframe distinction doesn't always hold true. A sports coach, for instance, might employ the same specific tactics to gain advantage on the field for many years (long-term). Alternatively, they may implement an overarching strategy that spans only the duration of the game (short-term), and then switch it up next time. It's true that because tactics support strategies, they often have a narrower, more short-lived focus, but it's important to remember that this isn't always the case.
2. High-level vs on-the-ground
Strategic thinking is often equated with big-picture thinking – in business, it requires high-level consideration of an organisation's vision and mission.4 Tactical planning is more concerned with day-to-day activities and the practical execution of tasks on the ground – with getting work done, essentially.5
For this reason, strategies tend to have a more abstract quality, while tactics are generally more tangible. As the eminent Chinese general and military strategist Sun Tzu famously wrote:
As a result, a strategic plan alone doesn't necessarily shed light on what needs to be done. A tactical plan, however, facilitates implementation through the use of specific actionable items that have assigned due dates and responsible parties.7
3. Proactive vs reactive
In a tactical approach, a fair amount of time is spent responding to situations as they arise by troubleshooting and problem-solving to ensure that operations run smoothly. As strategy takes a broader perspective, it's more anticipatory and oriented towards future change.8 It's not uncommon to hear leaders concerned about their inability to think strategically – and hence, proactively – because they're so preoccupied with reacting to on-the-ground happenings that belong more firmly to the tactical realm.
Examples of strategy vs tactics
The easiest way to grasp the distinction between strategy and tactics is to see examples of them in action. Below is an outline of strategy and tactics employed in projects run by two fictional companies – the first concerned with environmental sustainability and the second with entering the e-commerce space.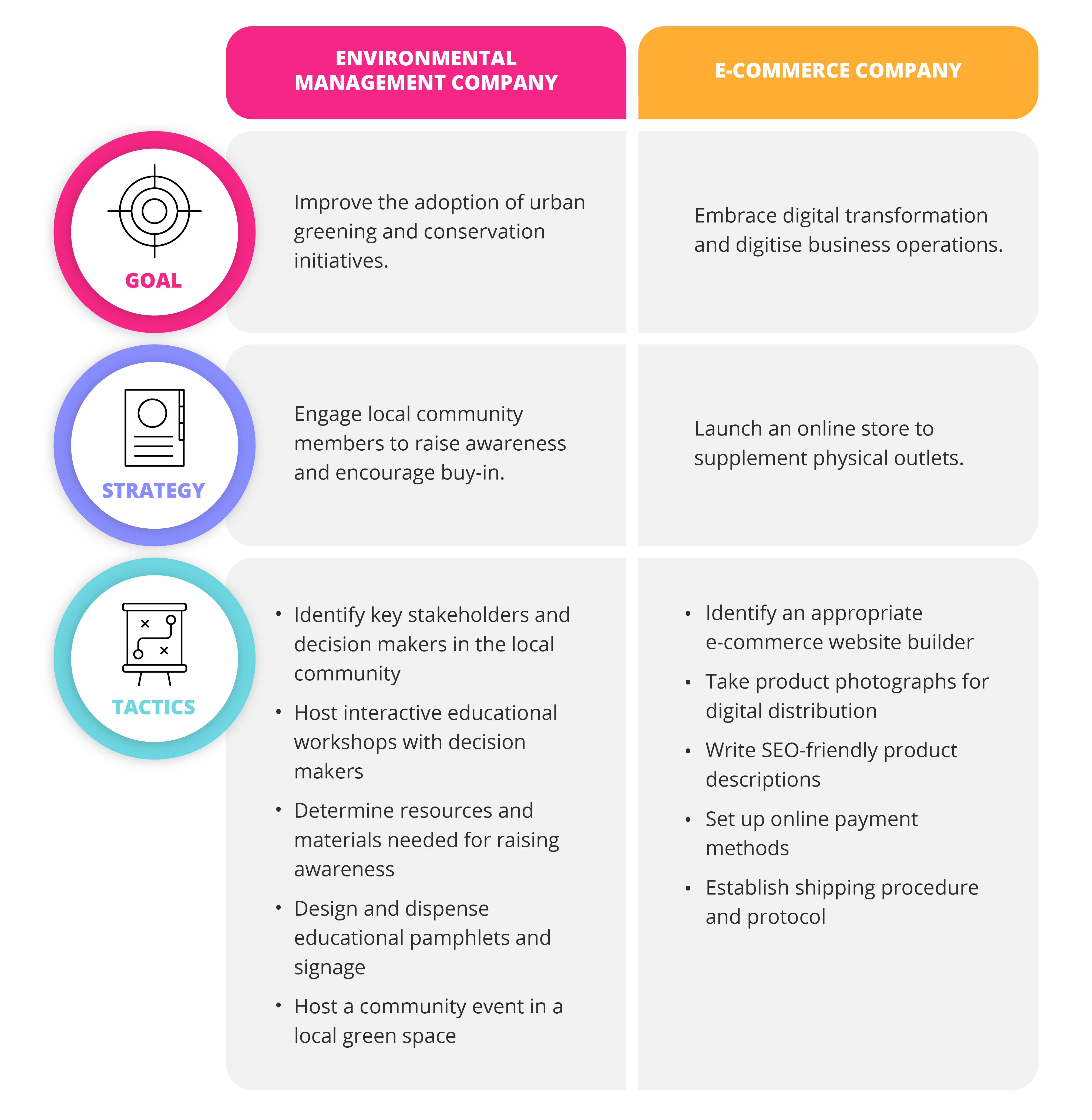 The shift from tactical project management to strategic project management
Why does this distinction matter for project managers? Because it's become clear that successful project management requires the application of both focused tactics and high-level strategy, and yet historically, emphasis has been placed on the first rather than the latter.
Traditionally, project management was predominantly a tactical tool, focused on getting work done, managing schedules, and guiding projects to completion within time and budget constraints.9 However, as organisations started to face unprecedented disruption and increased competition, more and more business leaders have come to recognise that project managers can bring much more value to companies than simply ensuring the successful coordination of activities. That is, many have realised that projects are central to organisational success, and that project managers, therefore, can and should operate on a more strategic level to help a business evolve, innovate, and thrive.10
It's this recognition that created a demand for strategic project management. A landmark conference paper from the Project Management Institute (PMI) outlines the rise of this approach, which focuses on aligning project objectives with a business's strategic goals and overarching mission.11 Strategic project management, it says, isn't simply about executing projects for the sake of continued operations; it's about carefully selecting, prioritising, and channelling resources towards the projects that will contribute most to organisational success and agility, while boosting the bottom line.
The value of adopting a strategic mindset in project management
It would seem that projects tied to business goals through strategy don't only play a role in fostering organisational growth and efficiency, but also tend to be more successful. Recent survey results show that companies that undervalue project management as a strategic tool for driving change see around 67 per cent more of their projects failing.12 It makes sense that if strategy drives tactics, and this important scaffolding is absent, the whole project can easily come tumbling down. Even if effective tactics lead to successful project completion, if the project was not founded on strategy, it may not generate any substantial wins.
Owing to the rise of a stronger focus on strategy, there's a growing demand for practitioners with developed project competencies in the strategic realm. Research indicates that 65 per cent of organisations consider it a priority for project professionals to possess leadership skills, and 58 per cent place emphasis on business skills.13 This need has laid the foundation for the launch of educational initiatives like the Rice University Strategic Project Management online short course, which aims to prepare practitioners to link projects with the attainment of business objectives.
Executives are now looking for project leaders that are strong in strategy in order to:
1. Keep the focus on value
A strategic project manager is unlikely to waste time and resources on a project that doesn't align with an organisation's goals. They'll spend time assessing the viability of a project pre-initiation, developing a sound business case for it, and conducting a cost-benefit analysis to enhance strategic decision-making and assess whether the initiative will add value to the business.14
If the focus is purely tactical, it's easy to get lost in the low-level details and lose sight of the purpose of a project. A strategic approach helps professionals keep their eyes on the overarching vision, and on customer and business priorities. Throughout the life cycle of a project, a strategic leader will make regular assessments to ensure that it continues to deliver real returns on investment. They'll consistently monitor and measure benefits, while evaluating and managing risks and costs.15 Consequently, they'll also quickly recognise when it's time to discontinue tactical work and adopt an entirely new strategy in response to change, or a crisis like a global pandemic, for instance.16
2. Encourage systems thinking
Strategic thinking relies, in part, on systems thinking, which considers not just a single entity, but all its connections within a larger system in order to solve problems.17 Strategic managers recognise that a project is part of a bigger whole, and aren't only preoccupied with scope, time, and budget, but with the many contextual factors that could impact its success – the environment, the organisational structure, and the team.18 Consequently, they invest in the bigger picture – in stakeholder engagement and participation, in leading and inspiring staff, and in improving processes and structures.
At the end of the day, both strategy and tactics are key to project success. As much as a business relies on strategy alignment to move forward, projects rely on solid tactics for effective day-to-day implementation. One simply won't work without the other. Therefore, as a project leader with sound tactical skills, it's important to also build the capacity for long-term, high-level strategic thinking. Fostering this mindset lies at the heart of the Rice University Strategic Project Management online short course, which is designed to help you transcend the tactical to drive real change and deliver real value.
---
Register Now to Explore Strategic Project Management