Starting your Own Property Development Business
The South African property market suffered a significant dip prior to mid-2017, however, it finally seems to be recovering. Since September 2017, property prices have gradually risen – reigniting the market after nearly a decade of weak performance,1 providing opportunities for emerging developers in South Africa. But, as with the founding of any business, there are far more factors to consider than only the opportunity for growth. If you are thinking of starting a property development business, here are the necessary steps to implement to get you on your way.
1. Acquire the knowledge
It's vital that educating yourself about the property market is your first step: read property development blogs, watch for property growth reports or past development statistics2 and learn to identify investment opportunities.
Before embarking on the journey of beginning your own business, make sure you're well equipped to manage and lead its development. Discover your local competition, understand legislation, property taxes, and your potential target markets. Without acquiring knowledge of the local property industry, its past and future, you will find it difficult to accurately build a business plan that is suitably aligned to your business objectives.3
2. Build a business plan
Now that you understand your local market and industry, you are in a position to develop long-term goals. It's important to consider the larger business outcomes when you create the initial foundation of the business plan.4 Perhaps you want to introduce new affordable property investment options to lower-income brackets, or your business goals aim to create entirely "green" apartment blocks for the city. Whatever your long-term objectives, your business plan should be able to support you in reaching them.5
Once you've settled on your position within the market, you can begin using market research (looking at competitors, and growth opportunities), financial projections (required budgets, cash flow projections, and available tenders) and knowledge of local property law to set your short-term goals.6 The following steps will see you hiring a team to support the different roles required (property strategists, real estate agents, financial strategists, conveyancers, contractors, engineers, etc.), settling on the nature of your first projects, and giving yourself clear return-on-investments to reach.7
Learn how to make intelligent investment decisions, conduct property management effectively, and navigate the landscape of property development and entrepreneurship with this online short course.
Entrepreneur Magazine aptly summarises it, "[w]ithout a sound business plan, you'll be unable to find funding […] it's also the blueprint of the business and the best way to test whether or not the business is feasible."8 Your business plan becomes that much more pertinent if you're relying on investors to fund the capital growth for your business in its early stages.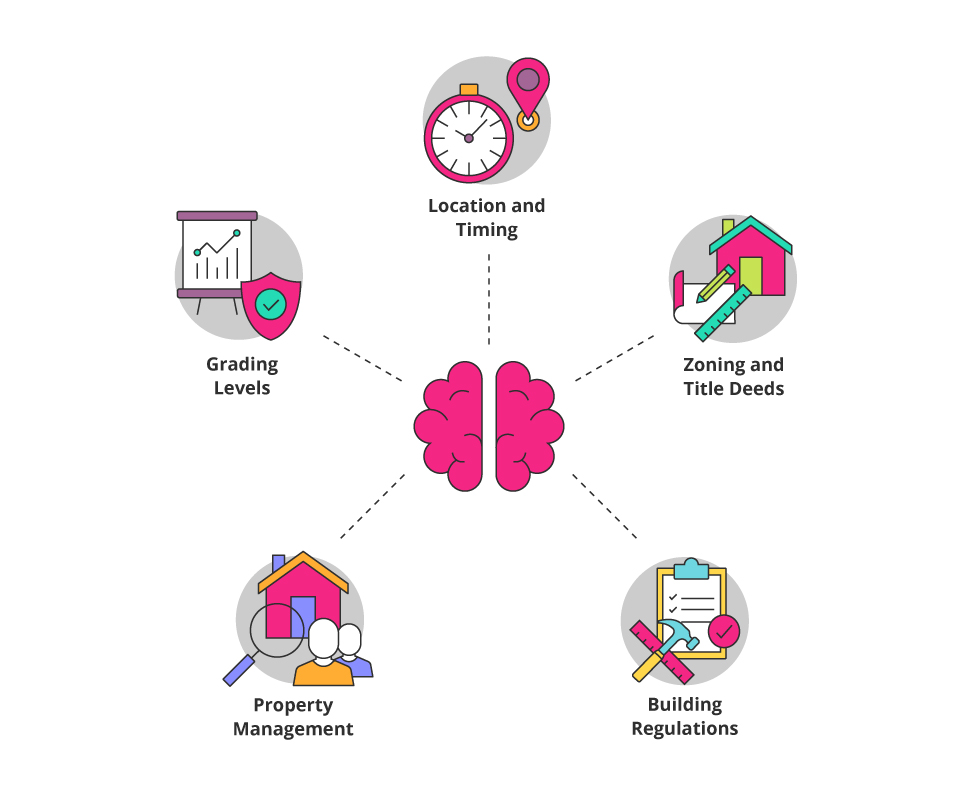 The best way to learn is experience
Starting a business is exciting, but it is always going to require that you're willing to learn and tweak your business's goals/plan as you progress. As you look at your initial developments, keep the following in mind.
Location and timing: Property prices are heavily influenced by social, economic, political, and geographic factors.9 Being aware of trends like the increased rate of commercial property developments in South African city centres will help guide you in making the right investment decisions.10
Zoning and title deeds: Every property is zoned for a particular purpose, and being aware of such will help inform your investment and development decisions.11 Property conditions differ depending on location and property type – these regulations are laid out in the title deed (which can be found in the Deed Registries Office in South Africa),12 and decide whether or not the conditions fit in with your plans.
Building regulations: Changes and updates to building regulations require property developers to keep an eye on new legislation and policies as they are introduced.13 The penalties for not following regulation can be hefty enough to sink young businesses.14
Property management: You'll need to continually reassess built environments according to new legislation, social issues (i.e. water restrictions are increasing the desire for water saving instalments in Western Cape dwellings),15 and tenants' needs.16 However, property maintenance should be focused on longevity, rather than trends or frugality.17
Grading levels: There are nine grading levels in South Africa, which limit the value of government tender (a public request for contracted services or products) that companies can apply for.18 If you plan on applying for private or government tenders, it is vital you know which grading level you fall into (which is decided on according to annual turnover, track record, capability, and capital).19
Adrien Goslett, CEO of RE/MAX, has recently stated that he anticipates "reinvestment (both local and foreign) in the country post-election if the fight against corruption continues and tough decisions are made", and went on to say with hope that "[g]reater stability should lead to consumer confidence, and with that a more buoyant real estate market".20 While our economy has been slow and volatile in past years, there is optimism for the future, which provides a good foundation of opportunity for emerging property development businesses in South Africa.