The Future of Property is Green
It's no longer enough for your business to focus solely on the bottom line. The South African government has made strides in committing itself to furthering growth in sustainability across all industries. Property is no exception and the demand for green property is higher than ever before. Understanding the notion of green property and identifying ways to approach sustainability in property are imperative to your success in the South African property market – something you'll cover in the UCT Property Development and Investment online short course.
Read on to find out more about the sustainable movement in property development or scroll down to find the infographic.
What is "green" property?
Green property, or sustainable property, refers to buildings that are healthier for their inhabitants, more durable and have a smaller carbon footprint than traditional buildings and constructions.
To be considered truly compatible with the environment, a property and its building process should be able to hit these three marks1:
Improve the quality of life of it's inhabitants while still harmonizing with the local climate and environment
Conserve energy and resources during the building's life-cycle
Use resources efficiently during construction with an active effort to recycle internal and make use of renewable energy sources
What are the benefits of investing in and developing sustainable property?
41% of the property under construction in 2015 in South Africa was considered sustainable.2
[bctt tweet="41% of the property under construction in 2015 in South Africa was considered sustainable." username="getsmarter"]
With such a high percentage going green, it's worth considering the benefits to those in the property industry, and the buyers whose purchases they'll be influencing.
The second biggest factor for potential buyers was the energy efficiency of the building3
61% of home buyers reported that they would be willing to pay between R50,000 and R100,000 more on their home purchase if it had reduced utilities costs4
For every R14 saved on utilities bills for the year, a home's value can increase by up to R2805
3 steps to ensuring you reap the benefits of green property:
1. Ensuring an efficient approach to all things energy
Heating is a major hurdle in achieving energy efficiency. Care should be taken to trade in traditional forms of heating for underfloor heating, the energy-saving alternative.
In climates like Southern Africa it is also easy to swap out over-lighting for natural light that helps combat an overuse of electricity.
2. Focus on environmentally-friendly features
A beautiful garden is a desired feature for many households but it's not always worth the impact it has on the environment. One way to combat this is to turn attention towards indigenous vegetation and away from alien plants. This ensures that the landscaping is attractive but still working towards a positive environmental impact.
Working with eco-friendly building materials like bamboo and cork, or ensuring materials are locally sourced, are other ways to shift the focus to an environmentally-friendly approach to construction.
3. Attention on creating a healthier space
Green property isn't limited to the environment. A big feature of sustainable buildings is the impact they have on the people who occupy them. Increase ventilation to improve the lifestyle of inhabitants.
There should also be a focus on the materials that make up the building and the effect they can have on those inside. Research building materials and ensure there is no risk to the health of people occupying the space.
The benefits of green property and the steps to make your property more sustainable: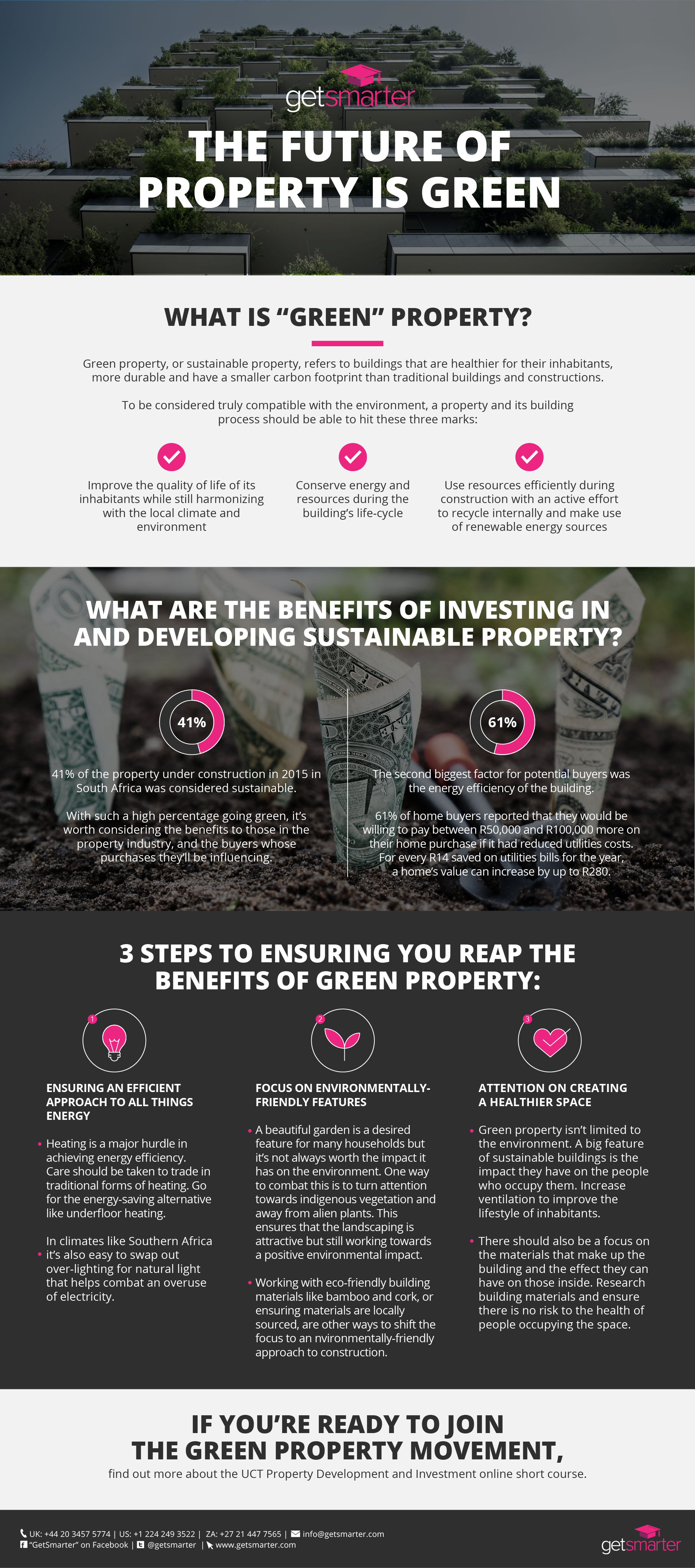 If you think you have what it takes to ensure sustainability is top of mind in the property industry, find out more about the UCT Property Development and Investment online short course.
---
1GDRC
2Private Property
3Bizcommunity
4Bizcommunity
5Home Selfe