Find answers to the most common Online Campus questions.

My online short course is starting today, how do I access the Online Campus?
You will receive an email from your Success Manager on the day of orientation with a link to your Online Campus. Click the link and login using your email address and the provided temporary password. You will need to change your password to one of your choice upon first login.
Once you have logged in and updated your password, you will be able to access your 'My Courses' page on the Online Campus where you will find a link to your online short course.
If you do not receive a welcome email by 12pm on orientation day, please send an email to help@getsmarter.com detailing your issue.
How do I check if my assignment has been submitted?
Return to the submission page in the module assignment page to view your latest submission listed under the 'Submission status' section at the bottom of the page. If it is an Online activity submission, the submission text will appear in the 'Online text' section. If it is an Activity submission, the file you have submitted will appear in the 'File submissions' section.
If there is no 'File submissions' row or no 'Online text', the submission status should state 'No attempt' meaning no assignment has been submitted. Attempt to resubmit your assignment, at this point.
How do I edit an assignment that has already been uploaded?
To edit an assignment that you've already submitted, you will need to remove your current submission and upload another one.
To do so, scroll down to the bottom of the assignment page and select 'Edit submission'. Next, select your assignment by clicking on it, then click 'Delete'. Before you delete your assignment, please make sure you have a backup copy saved on your computer.
Once you have deleted your submission you will be able to upload your newly-edited version of the assignment.
Why is my assignment mark not visible in my grade book?
If your assignment mark is not visible, your assignment results have not yet been released. You can refer to the "General course announcements" in the "Course announcements and resources" block for grade release notifications.
I am studying a GetSmarter online short course; can I get an extension for my module assignment?
You may request an assignment extension through the Online Campus. Students who wish to apply for an extension will be required to complete an Extension Request form through the Online Campus.
Assignment extensions will only be granted under extenuating circumstances, and at your Success Manager's discretion. You will not automatically be entitled to an extension. Examples of extenuating circumstances that may be accepted are: illness that precludes submitting an assignment on time (in which case, the Extension Request form must be submitted at least 48 hours before the assignment due date and a medical certificate must be provided), or an emergency or special circumstance (in which case the Extension Request form must be submitted within 48 hours after the due date).
To fill out an Extension Request form, navigate to the correct module page on the Online Campus and then to the assignment page itself. Once you are on the relevant assignment, click the 'Request a quiz extension' button found on the right-hand side of the page. Fill in all relevant details in the text field, and click submit. You will receive an email once your application has been processed and either approved or denied.
How do I get to the Support Centre on the Online Campus?
To access the Support Centre, find the Support tab on the upper right-hand side of the screen. You will see a lifebuoy icon and a book icon on the tab.
*Note: you don't need to be logged in to access the Support Centre, the buttons are available on the login screen.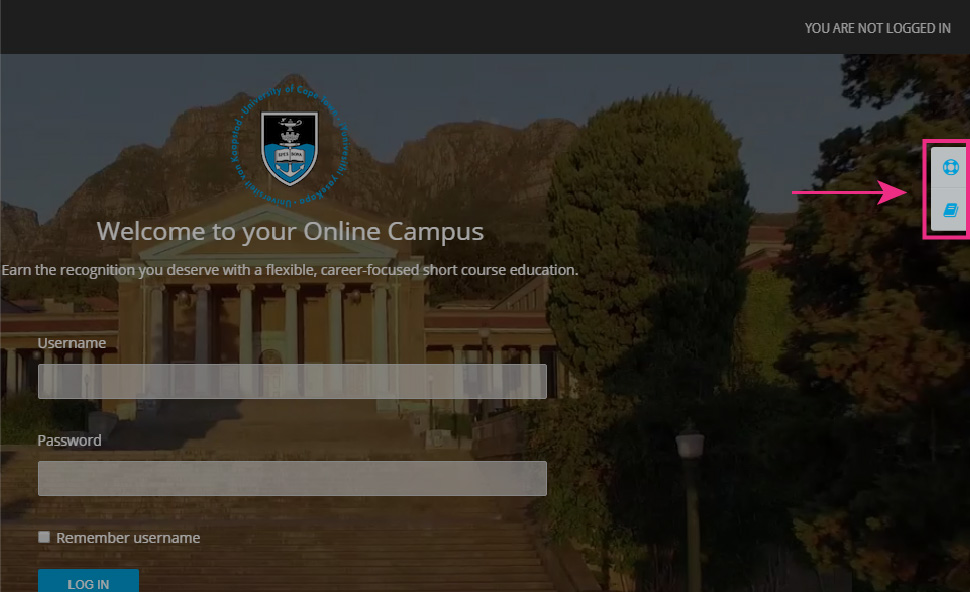 Click on the book icon to find articles that may help you find the solution to your problem. Be sure to type in keywords related to your query to find relevant articles.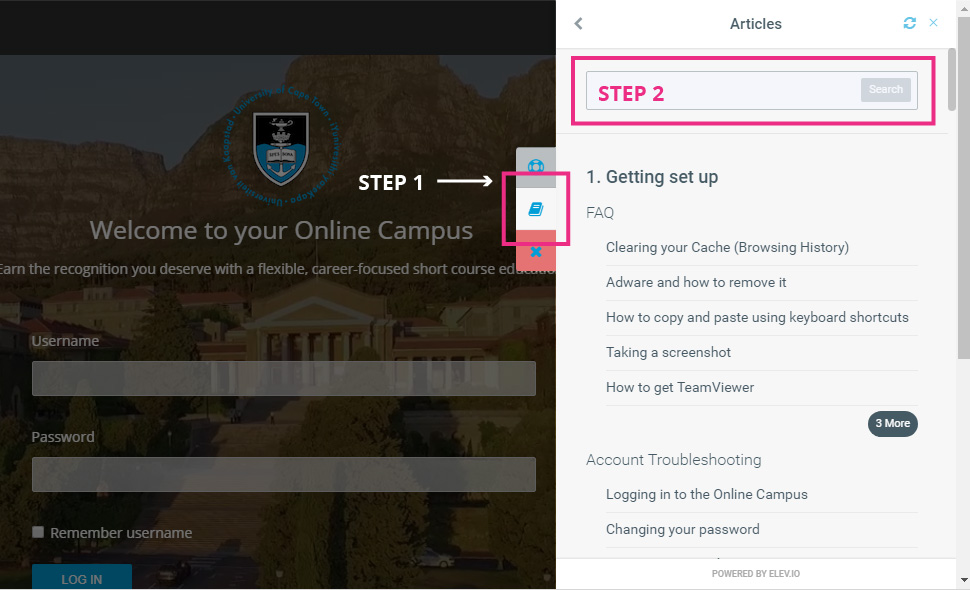 If you aren't able to find a solution in the pre-existing support material, you may need to submit a ticket. To do this, click on the lifebuoy icon, type the topic of your issue into the 'Subject' field, and provide any necessary details in the 'Message' field of the ticket. Make use of the 'Choose File' button to upload any relevant images that may aid the Support Centre in fixing the problem.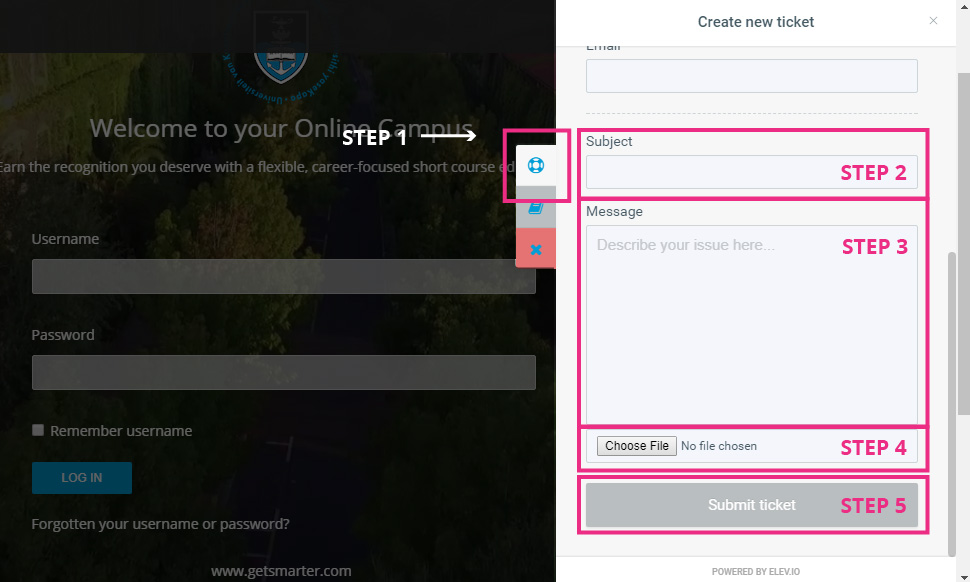 ---
Read related FAQ content:
 Got any more questions and would like to contact GetSmarter directly?
Call us on +27 21 447 7565
Course queries: admissions@getsmarter.com
Finance queries: billing@getsmarter.com