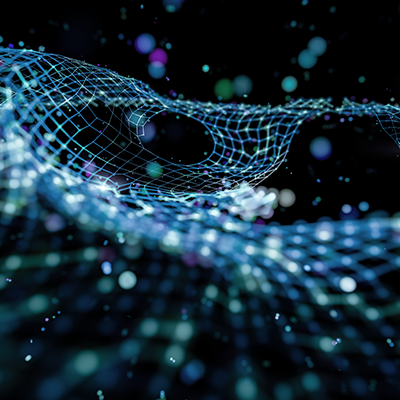 For the first time in history, the number of connected devices outnumbered the world's population – with 8.4 billion Internet of Things (IoT) devices in 2017. It's estimated this number is set to jump to more than 20 billion in 2020, with some thinking it will be as much as 100 billion.1
While IoT innovation has technological applications that facilitate operational efficiencies, communication and data collection, the IoT is not a technology – it's a leadership opportunity: the mechanism you need to transform your business and revamp traditional management approaches.
What is the Internet of Things?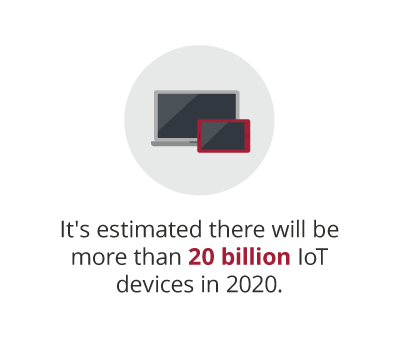 The use of IoT technologies can be defined as "connecting any device with an on and off switch to the Internet (and/or to each other)."2
This includes your cell phone, activity tracker, coffee machine, washing machine, car, computer software, and so much more. All of these things form a connected network – connecting people to people, people to things, and things to things to ultimately form the Internet of Things. Although the technologies that underpin the IoT are not new, their application as part of a unified system has huge implications for businesses.
How will IoT innovation affect management?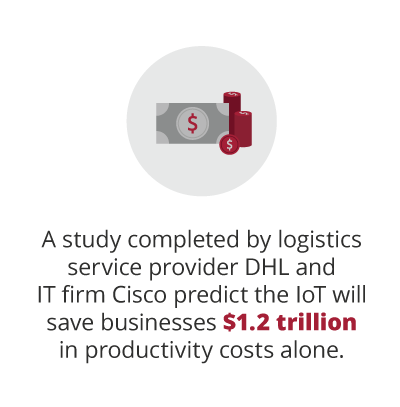 Below are three transformative consequences of the adoption of IoT technology – impacting the way you lead and manage.
Reducing time wastage
One of the greatest impacts for businesses is the ability to get more done in less time. Technological evolution will often favor productivity and efficiency, and interconnected devices include everything from traffic lights (making your commute quicker) to tracking down your lost keys or mobile phone. The IoT has the potential to impact any industry – whether it's project management, risk management, agriculture or urban planning.
For example, in the facilities management industry, the IoT builds automation systems used to coordinate maintenance, utilities, and safety features accounting for how the building is used. This ties in with machine learning which has to do with sensing and predicting – sensing things like faces or fingerprints for authorization, and predicting events such as financial fraud or future diseases achieved through data analysis.
The latest IoT technology developments will likely allow you to encourage your team to accomplish large-scale tasks faster, with greater precision, and with less supervision – maybe even with fewer full-time staff.
The creation of building-automation systems (BAS) has also allowed for the reinvention of how businesses perform inventory management. These systems optimize performance from the ground up by anticipating problems and making necessary adjustments to avoid failures, allowing managers to understand what is happening within every component of a building. This means you can focus on managing, rather than problem-solving.
Increasing team collaboration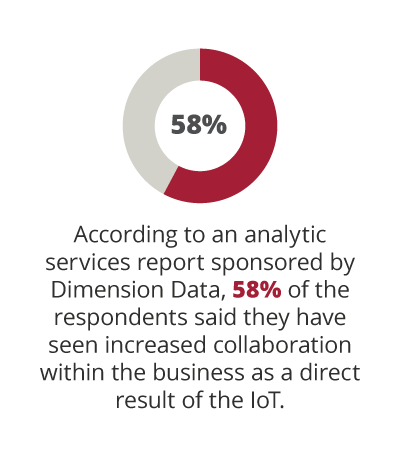 Many assume more technology means less sociability – The Globe and Mail recently published an article titled Your smartphone is making you stupid, antisocial and unhealthy.3 However, the IoT holds the potential to connect rather than isolate and to improve rather than degenerate.
Studies have shown the connectivity that comes with IoT innovation increases collaboration among the members of your team, as well as with your customer. According to an analytic services report sponsored by Dimension Data, 58% of the respondents said they have seen increased collaboration within the business as a direct result of the IoT.4
Unable to attend a meeting? That ability to call in on Skype, Google Hangouts, or other platform allows you to be virtually present. This means greater possibilities for remote working so you can remain present in teams spread across multiple locations.
Not only will the adoption of IoT technology allow for more collaboration, it will also take away menial and isolating tasks that used to take up your team's time. Computers can be programmed to complete routine tasks, freeing up time for focus time for higher-order tasks.
Reducing costs
A study completed by logistics service provider DHL and IT firm Cisco predict the IoT will save businesses $1.2 trillion in just their productivity costs.5
When machines are developed to operate in newer and smoother ways, running costs will naturally decrease. Utilising IoT integration can improve your company's bottom line in a number of ways – here are five out of the many costs likely to decrease:5
Inventory costs: inventory, even in a location far away from your business such as in a warehouse, can be monitored by means of sensors.
Compliance costs: monitor building safety by means of sensors measuring air quality, temperature, ventilation, etc.
Security costs: video surveillance has been revamped through the means of video connected to the internet. Make use of fingerprints and other types of scanners to track who is going in and out of the building.
Electricity costs: smart grid architecture and coordination – electricity networks that integrate in a cost-efficient manner – means energy is cheaper.
Labour costs: forget the call-out fee, with the IoT connectivity, data can be sent from the product directly to your company's computer, allowing you to make decisions without leaving your office.
---
Explore the opportunities for your business to adopt IoT technologies
Demystify and define the IoT to create a roadmap for its real-world application