What Do Past Participants Think of the Oxford Leading Strategic Projects Programme?
With the modern business environment continuously evolving, traditional project delivery techniques are no longer sufficient to achieve goals and objectives. To navigate the complexity and uncertainty associated with constant change, and create long-term value for an organisation, professionals need to adopt a strategic approach to project leadership.
The online Oxford Leading Strategic Projects Programme from Saïd Business School, University of Oxford provides you with the strategic skills to drive effective project delivery. Over six weeks, you'll develop the tools to redefine and achieve organisation-wide success within today's volatile, uncertain, complex, and ambiguous (VUCA) environments. Learn to assess risks, capitalise on opportunities, and respond to the challenges faced when dealing with people, power, and politics.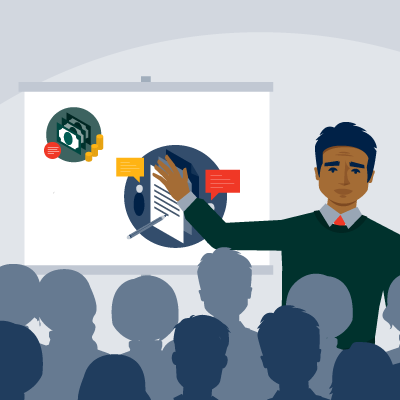 Join a network of future thinkers
Here's what past participants thought of the programme:
David Codd
Group Transformation Director, Musgrave
"This programme deals with the issues that really large projects face. It fills the big gap left by the traditional methodologies. When leading strategic projects, we find that there are moving parts, and political or organisational pressures that cannot be dealt with using a methodology. The Oxford Leading Strategic Projects Programme deals with the real world, embraces the pressures we face, and offers great insight and solutions."
Benedict Pinches
Project Lead, Rhodes Digital Transformation Project
"The Oxford Leading Strategic Projects Programme brings the latest academic thinking to complex project management and positions it within practical frameworks that can be instantly used by participants. It does an excellent job of bringing together project leaders in many different fields, from different continents, and with different levels of experience, and ensuring that there is ample opportunity for these practitioners to learn from each other and the programme. Thank you for adding to my knowledge."
Natasha Christensen
Analyst, Booz Allen Hamilton
"This programme framed the challenge of leading strategic projects in a manner that will be invaluable for me to apply to future projects. The content introduced new tools that will assist my team in developing a better understanding of the alignment of our stakeholders and key objectives to the project. The diversity of my cohort with classmates from all over the world working in various industries made the discussion forums dynamic. Taking this programme at a time of unprecedented uncertainty across industries as a result of COVID-19 has added another layer that enabled us to examine the full impact of leading strategic projects during times of uncertainty. I have a deeper and richer understanding of the complexities that frame strategic projects and the leadership models and tools to respond to them."
Osagie Ediae
Programme Delivery Manager, Bilfinger UK
"I found the content to be of a high quality and thought-provoking. The online platform is an improvement on what I've used in the past with other institutions. The programme has given me a new depth of understanding in the complexities and leadership of strategic projects. It's been great meeting and sharing knowledge with my classmates, and I have already connected with a few on LinkedIn."
Ray Mota
CEO, ACG Research
"The content is very current and impactful to my projects. [There is] so much more I want to learn. The videos with the professors and industry experts were also of value since they gave me deeper insights into strategic projects."
Shariq Jamal Siddiqui
Program Manager, Acciona, S.A.
"I was impressed by the simplicity of the delivery of complex frameworks and the overall focus of the programme encouraging participants to serve as ambassadors of large strategic projects. The programme content was good, pedagogy was effective, and the participant mix was diverse. Online support was prompt and helpful. Tutors guided the course very well. The programme had a lot of practical insights. I am very happy to have taken it."
Jean-Ellen Scheltema
Head of Marketing, Wesgro
"I was challenged by this programme and its material. My understanding of strategic projects has increased significantly and I am a better leader because of it. The online platform was easy to use, and brought together people from all over the world to share knowledge and engage meaningfully. Thank you."
Liz Kitchener
Head of Estates, Science and Technology Facilities Council
"[This was a] really worthwhile programme. I gained great insights to enable me to rethink my approach and [there were] lots of useful tools to support a new approach. The online learning experience was well-managed and easy to use. I recommend this programme to anyone involved in complex project leadership."
Charanjit Jutla
Interim Programme Manager, Aerostratplan Ltd
"The Oxford Leading Strategic Projects Programme has been a revelation for me. The programme structure, engaging content, and relevant case-study material made this a great online learning experience. Having led strategic projects myself, this programme has challenged my thinking and enhanced my knowledge on how to approach and 'tame' strategic projects in the future. The cohort was a rich mix of nationalities and backgrounds, all providing great insights and reflections from their respective professional experiences. The programme was delivered online without any technical issues whatsoever. Thank you for a great learning experience. I didn't want it to end."
Enhance your project leadership skills with Oxford Saïd
This programme goes beyond traditional project management to provide you with the skills to achieve success in leading strategic project teams. With effective project leadership tools, you'll be empowered to create a more sustainable environment for project success and lead teams through the potential challenges of scale and pace.
Saïd Business School, University of Oxford strives to educate people for successful business careers. Upon completion of this programme, you'll gain access to the official Oxford Executive Education Alumni group on LinkedIn,* and connect with global thought leaders and experts who are focused on advancing their career, much like yourself.
*Access to this group will only be granted following the participant's successful completion and passing of the programme.
---
Register now to explore the principles and practices for leading strategic projects with an international cohort of business professionals and faculty from Oxford Saïd.