Women Disrupting the South African Workplace
Gender equality and women's empowerment is a prime focus in the South African workforce, yet the gender gap is still immense. Statistics South Africa (Stats SA) estimates that in 2019 the mid-year population is at 58.78 million with approximately 51 per cent (30 million) of the population being female.1 Despite women making up just over half of the population, they remain relatively underrepresented in positions of authority and power.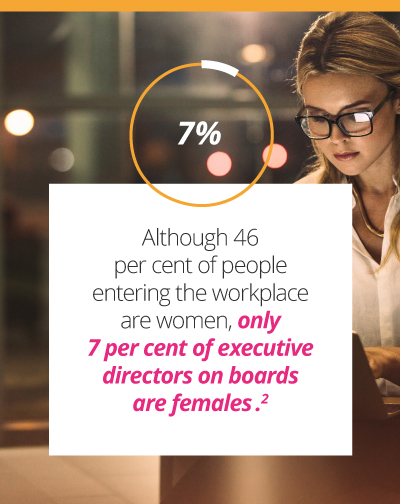 Challenges facing women in the South African workforce
The South African Constitution embodies the right to equality, equal protection and benefit before the law, and to non-discrimination.3 It's also signatory to a number of protocols that aim to address inequalities, and ultimately achieve gender equality, which the state is obliged to implement.4 Despite this, women have not advanced as rapidly in terms of socioeconomic empowerment and gender equality. The National Development Plan 2030 (NDP), a long-term effort to eliminate poverty and reduce inequality in South Africa by 2030, identifies women as the most affected by inequality, poverty, and unemployment, and strives to address this.5
On a local and global scale, the gender pay gap is arguably the biggest barrier between women and career progression. Research by Accenture found that in South Africa, for every R1 a woman earns, a man earns R1.91, equaling a 91 per cent difference in pay.6 Men and women share equal ambitions as they start their career, with roughly equal levels of achievement – though some studies suggest that women do slightly better.7 Due to the fact that women are generally paid less for similar work, or don't ascend to higher levels as quickly as their male counterparts, it's easy to lose ambition or become disillusioned by the obstacles. With this in mind, it's essential that businesses make gender equality a strategic priority at the highest level, and foster female business leaders.
In the United States, research denotes that mothers are subject to a degree of gender bias that portrays them as less competent and committed. As a result, they are placed in 'mommy-track' jobs, characterised by fewer opportunities for career advancement and financial security.8 The same is true in South Africa; in fact, the share of single mothers is on the increase.9 The challenge of being a working parent, single or supported, is often overlooked by employers: women appear to be less desirable due to increased family commitments. Working moms are expected to manage the nuances of returning to work as well as be the CEO at home. Companies that take a different approach and support parents' home lives are the ones with higher retention rates and more engagement.10
The past few years have seen a wave of advocacy for gender equality at work, and the importance of women in business and leadership roles. From media coverage of the pay gap to feminist mobilisation and multimedia solidarity campaigns, there has never been greater awareness in the corporate world of the need for – and benefits of – promoting women.11
Women in leadership positions offer a competitive advantage
McKinsey's 'Delivering Through Diversity' report reinforces the link between diversity and company financial performance, and suggests ways in which organisations can craft better inclusion strategies to gain a competitive edge. Diversity, defined as "a greater proportion of women and a more mixed ethnic and cultural composition in the leadership of large companies", correlates with profitability.12 Similarly, gender diversity is directly correlated with leadership effectiveness, productivity, and value creation.
Women bring an array of essential qualities to the workplace. As empathic listeners who value collaboration and teamwork, they're more likely to build relationships, encourage others to achieve their maximum potential, and complement the skills men bring to the workplace.13 A culture of equality, and a workplace environment that helps everyone advance to higher positions, is more likely to achieve, grow, and innovate.
Identifying that the secret to innovation is a workplace culture, Accenture found that building a culture of equality is not just an ethical imperative, but a business priority.14 Women bring new skills to the workplace and help to boost productivity, as well as the size of the workforce. If organisations want to thrive and strengthen team development, they have to 'get to equal'.15
South African women are challenging the status quo
According to UNESCO, only 23 per cent of STEM (science, technology, engineering and mathematics) talent globally is female.16 This lack of women in the industry is mirrored in South Africa. The same is true in corporate; leadership and executive positions are in desperate need of female representation. Although more women than ever before are receiving graduate business degrees, women are still struggling to be on equal footing with their male counterparts in the corporate realm. Old-fashioned stereotypes, gender bias, and underrepresentation continue to be a worldwide challenge.17
There are, however, female business leaders in South Africa who are challenging the status quo. Armed with courage, creativity and discernment, these women (and there are many) are contributing to workplace transformation. Here are just five female powerhouses changing the game in their industries.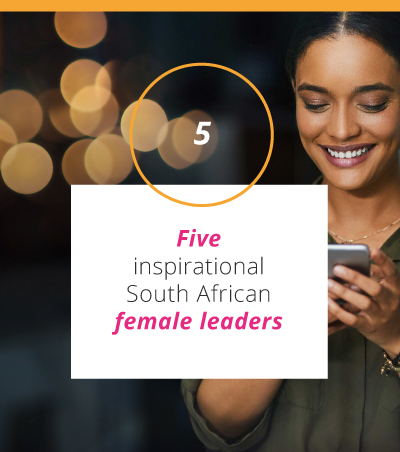 Five inspirational South African female leaders
1. Phuti Mahanyele-Dabengwa
Africa's largest public company Naspers recently appointed Phuti Mahanyele-Dabengwa as CEO of its South African business. This was ahead of an offshore listing of its valuable international assets.18 She joined Naspers after serving as executive chairperson at Sigma Capital, a privately held majority black-owned investment group.19 According to Bloomberg, Mahanyele-Dabengwa has a Bachelor's degree from Rutgers University in the United States and her Master of Business Administration is from De Montfort University in the United Kingdom.20
2. Ntombozuko "Soso" Motloung
Under the title of chief solutions engineer, Ntombozuko Motloung heads up Cisco's networking academy in South Africa, focusing on building a community of instructors who will, in turn, help train the next generation of aspiring technology workers.22 Motloung overcame abject poverty to focus on and pursue an education, followed by a career in the IT and technical management fields.
Her legacy extends to the next generation. "My 11-year-old daughter is starting her own nonprofit organisation, looking at assisting people who are less fortunate, especially the homeless, to get them into a route that is going to lead them to education or get them out of that situation," says Motloung.23
3. Aisha Pandor
Co-founder and CEO of SweepSouth, Africa's first online end-to-end platform for booking, managing and paying for home cleaning services, Aisha R Pandor is one of very few black female tech startup CEOs – both in South Africa and internationally. She launched SweepSouth in June 2014 and it has become one of the fastest-growing startups in the country. It currently operates in four South African cities, providing work opportunities for thousands of women.24
She earned a Doctorate in Human Genetics from the University of Cape Town (UCT) and she also holds a diploma in Business Management – the first person in UCT's history to graduate from two different faculties on the same day.26
4. Nonkululeko Nyembezi
Johannesburg Stock Exchange (JSE) chairperson Nonkululeko Nyembezi became the first woman to chair the board of Alexander Forbes in the firm's 82-year history.27 Nyembezi has held executive and board-level positions in the last 30 years across financial services, mining, IT and telecommunications sectors. She is chief executive officer of Ichor Coal, an international mining company operating in the thermal coal industry in South Africa.28
A trailblazer and an astute entrepreneur widely respected for her business acumen, Nyembezi holds a BSc Honours degree in electrical engineering from the University of Manchester Institute of Science and Technology, and a Master's degree in the same discipline from California Institute of Technology. She also has an MBA from the Open University in the United Kingdom.29
5. Thabiso Mahlape
Thabiso Mahlape, founder of BlackBird Books, is establishing a new and exciting framework for South African narratives.31 The imprint BlackBird Books, incubated by Jacana Media, provides a platform and a publishing home to both new voices and the existing generation of black writers and their stories.32
Mahlape is the first black woman in the country to have a publishing imprint.34
The future is female
Following changes implemented by president Cyril Ramaphosa, for the first time in South Africa's history, women now make up half of the government's cabinet. More women, along with a number of younger politicians, have been appointed which reflects "a good balance of youth, gender, geographical spread and experience".35 South Africa joins a list of 10 other countries that have achieved gender parity – or a female majority – in their cabinets.
Yet the majority of senior executives in South Africa are men. For more than 30 years, women have been earning more Bachelor's degrees than men. They're asserting themselves in the workplace, negotiating salaries, asking for promotions, and staying in the workforce at the same rate as men. But men are more likely to be successful.36 It's the role of companies to take decisive action. This starts with treating gender diversity like the business priority it is, from setting targets to holding leaders accountable for results.37
The key to successful leadership is to nurture a culture based on a strongly held and widely shared set of beliefs that are supported by strategy and structure.38 Culture is as much a product of business strategies as it is of the perceptions of those who created them. This means taking bolder steps to create a respectful and inclusive culture so all employees feel safe and supported at work.39 Addressing everyday discrimination, or microaggression, that appears in subtle ways is crucial.
On a broader level, the empowerment narrative and support of women's equality in and out of the workplace has taken hold, seeping into mainstream culture. Inspirational female leaders are pioneering the way forward for women in business, tech, mathematics, and engineering. Female-focused groups are providing women with opportunities to connect and grow their careers, and companies are navigating for a more inclusive approach to hiring and internal assessment.
As barriers to corporate success are challenged, the recurring themes of gender gaps and disparity are being confronted by high-level leadership. South Africa continues to be fortunate enough to bear witness to this, not to mention the impressive efforts and relentless passion of women leaders, entrepreneurs, and policy shifters. An exciting future is no doubt ahead for aspiring leaders in South Africa.