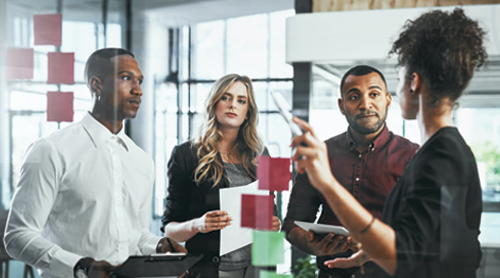 With the retirement of the baby boomer generation and an influx of job-hopping millennials into senior positions, a shocking 14% of CEOs can claim that they have the expertise to carry out their business's strategies.1 This widespread concern makes it more important than ever for businesses, young and old, to incorporate executive leadership training programmes to protect them in the future.
An executive development plan (EDP) is a strategy for short and long-term training methods to motivate and build your executive team.2 EDPs are more intensive than general leadership training, as they are more personal and specifically allow your executives to have a broader perspective within your business.3 There are two streams of EDPs that a business can consider implementing, and a number of proven methods under each.4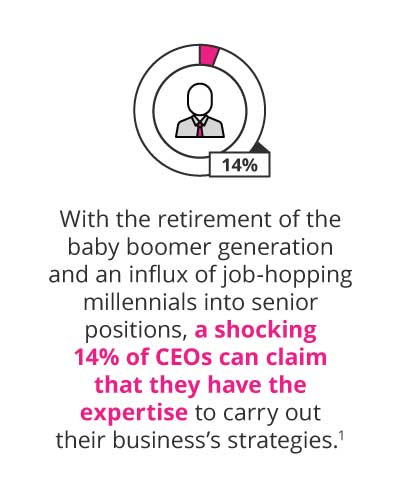 The two streams of EDP
1. Formal training
Formal training is made up of classroom-based and online courses, seminars, formal mentorship and certification programs.5 Classroom-based training includes programmes like a Master of Business Administration (MBA) and an Executive Master of Business Administration (EMBA), which are often the most well-regarded executive training options.6 However, other executive education and online courses might also be part of a formal programme, and far more cost effective. Formal mentorship is generally included alongside whichever training method is chosen, to support participants with ongoing feedback.7
2. Informal training
Informal training is made up of anything that is not covered under formal training. Some items included in this could be; rotational assignments, action learning (where a small group tackles problems together to learn as a unit),8 task forces, supplemental readings, speaker forums (and conferences), or peer coaching (as opposed to formal mentorship).9 These options can even serve as the core activities of formal training methods.10
The top four EDP methods that work
1. Face-to-face learning
The benefit of face-to-face learning is that it is facilitated by a formal mentor. This approach generally takes place in a classroom-based setting, for MBA or certification programmes, but also for informal methods like peer coaching and action learning. Face-to-face learning usually requires fixed teaching times, often based out-of-office.11
2. Online learning
Online learning (or e-learning) is beneficial because it can be flexible and slot into an executive's free time, something which many face-to-face approaches can't do. Executives can follow a self-study route, learn from or with a facilitator or peers, or take part in an online formal development programme.12 This means that online learning is perhaps best suited to maintaining efficiency and a work balance. It is also, generally, more cost-effective than face-to-face learning programmes, and quite easily allows for informal training to support its progression and goals due to its flexible nature.
3. Blended learning
This approach blends face-to-face and online learning, where one method supports the other in a holistic programme.13 Many companies might find themselves following this route, for the simple reason that it blends more traditional approaches with modern approaches . There are various ways to engage this learning method, such as incorporating a formal face-to-face mentor with an online programme, or supporting a part-time classroom-based programme with online material.14 The benefit of this approach is that executives can receive some of the benefits from both approaches, but are still able to structure a flexible programme within a business's budget.
4. Role play and "on the job"
Role play learning is not a method that is used often as the sole learning programme, but rather supports another formal method. Role play learning uses dramatisation to facilitate training and development, facilitated by professional actors and trainers.15 This technique is often used for training to develop negotiation tactics and listening skills by placing participants in "on the job" situations they might not often find themselves experienced in.16
It's important that you implement the programme that is right for your company, and your executive leadership.17 Before choosing an EDP, you should answer the following questions about your executive team:
How many executives need training?
What is our budget?
Will our budget support a formal training programme? Or do we need to plan informal activities until we have budget?
What skills and values do we want to instil and motivate in our executive leadership?
How does our executive leadership like to learn? (I.e. face-to-face, online, "on the job", or a blended approach).
While CEOs are claiming to be ill-equipped to fulfil their business's strategies, only 18% of companies are investing in analysing these kinds of shocking realities.18 These statistics highlight the necessity to build into current leaders and foster a culture of lifelong learning, where executives can lead the charge of benefitting from training and development for the teams under them.