10 Marketing Tactics Every Brand Should Use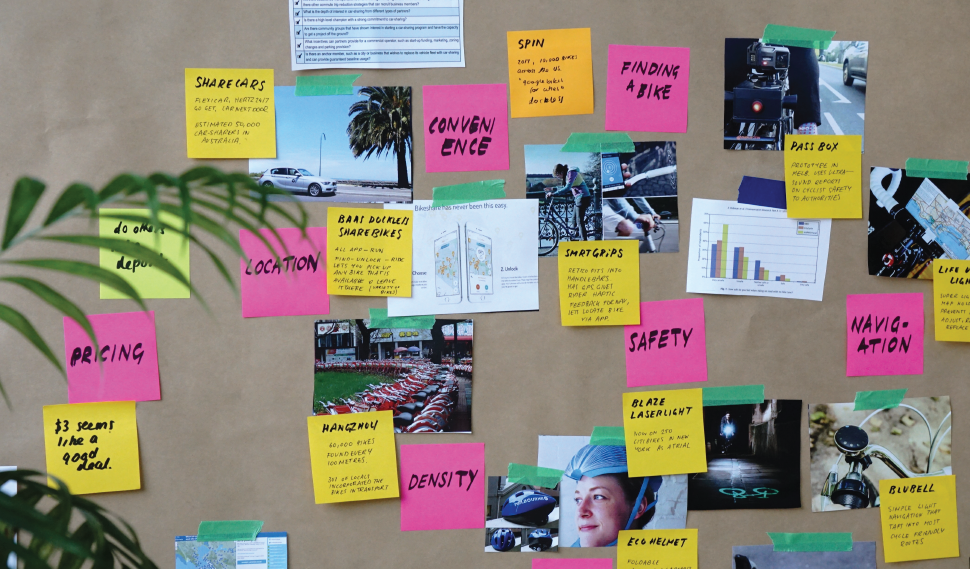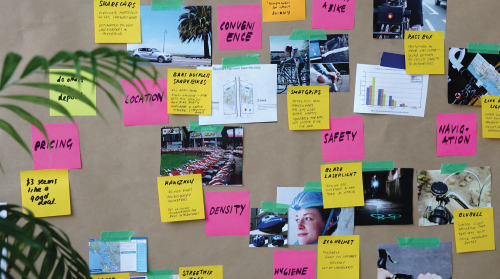 The importance of technology in your life can't be underestimated; daily life in the digital age relies heavily on technology to keep it running smoothly. Communication has become simpler and yet more complex, at the same time. With so many options available it's easy to be overwhelmed by the staggering amount of information available on brands, products, and services.
Virtual communication isn't solely restricted to conversations. Consumers' buying behaviour has shifted to focus on online products and services, the effect of which has changed modern businesses. This ever-changing perspective has also made us re-evaluate how we look at, group, and analyse data.
Marketing tactics vs marketing strategies
Marketing is the "process that drives revenue growth."1 To ensure revenue growth there are three factors that you can influence:2
Increase your customers.
Optimise your pricing.
Increase how many times your customers buy from you.
The difference between marketing strategy and marketing tactics is best explained by Ben Breen, on philosopher Sun Tzu, "Strategy without tactics is the slowest route to victory. Tactics without strategy is the noise before defeat."3 Digital marketing campaigns work by strategically selecting the right digital tools and tactics to reach and engage your audience. This knock-on effect reflects along the whole chain from consumer behaviour to marketing, sales, and customer support.
Understanding the importance of multimarket channels
Multimarket channels use a number of different digital elements, and understanding how these channels work together can help you successfully reach your marketing goals. Integration is the key to achieving a successful digital strategy. Most successful modern businesses use a range of different platforms to connect and engage with their consumers online.
Strategy without tactics is the slowest route to victory.
Tactics without strategy is the noise before defeat.

SUN TZU
A brand that has successfully built itself up with this tactic is Heineken. Through a "consistent and integrated multichannel marketing strategy"4 Heineken has enhanced their brand messaging to reach new and current customers, both on-the-ground and on social media.
Benefits of an integrated digital marketing strategy:5
Drives return on investment through an increase in sales
Improves and increases brand visibility
Increases efficiency and cost-effectiveness
Frequent and interactive engagement with an audience builds trust
Content marketing
This involves generating a database of content, whereby link building to and from videos, blogs, and infographics increases viewership and access to this content.6 The trick with content creation is that creating valuable content is hard. Consumers won't share your posts or use your content as an authoritative source unless it resonates with them.
The golden rule of writing still applies even in the wake of disruptive technology – know your audience. If you can't persuade your audience to read and engage with your content, you have failed in promoting brand awareness, growing site traffic, increasing leads, and retaining existing consumers.7
One way to ensure that your audience is receptive to your content is to do research on topics that are trending or interesting to them. A good way to do that is by searching for keywords in popular search engines, but even the way people access and search for content is changing.
Keyword searches may soon be a thing of the past if Google has its say. The 'topic clusters' model is a relatively new SEO strategy that focuses on topics rather than keywords,8 which they claim is more relevant for search results due to web crawlers being able to find and connect to this information more easily.
What is certain is, no matter how access and distribution channels evolve, content is still pivotal. According to a 2017 Content Management and Strategy Survey conducted by Content Marketing Institute on 411 marketers, "92% of content marketers surveyed say their organisation views content as a business asset (i.e., an asset or process where there is direct investment and a goal of increasing value over time), yet fewer than half (46%) have a documented strategy for managing content as a business asset."9
A company doing this well is GoPro.10 This brand has a niche target market, but most importantly allows users to generate most of its content themselves. The brand's impact ensures that its content and products are immediately recognisable, and combined, are powerful marketing assets.
92% of content marketers surveyed say their organisation views content as a business asset (i.e., an asset or process where there is direct investment and a goal of increasing value over time), yet fewer than half (46%) have a documented strategy for managing content as a business asset.
Content syndication and brand advocates
One way to boost who reads your content is by using a content syndication strategy. This is when people or companies outside of your brand reshare your content.11 Usually, the original article is credited as well as linked back to, and the fact that the content was published elsewhere is publicised. While this tactic isn't going to work for every business, it will ensure your content becomes more visible in terms of building brand awareness. If you want to become known for thought leadership, this strategy is a common tactic.
Do you want consumers to have a long-term relationship with your brand? Consider having brand advocates that represent the face of your company. Brand ambassadors are knowledgeable about your brand, and relate on a high level to its products and services.12 If your brand ambassador is selected carefully, not only will your company receive free publicity on the brand ambassador's network, it can create familiarity and interest in your company in related networks.
2U has aligned its content syndication strategies by appointing employees as brand advocates at the company's various branches. These brand advocates are influential on social media platforms, in this case, LinkedIn Elevate,13 and increase the brand's reach and engagement through their networks.14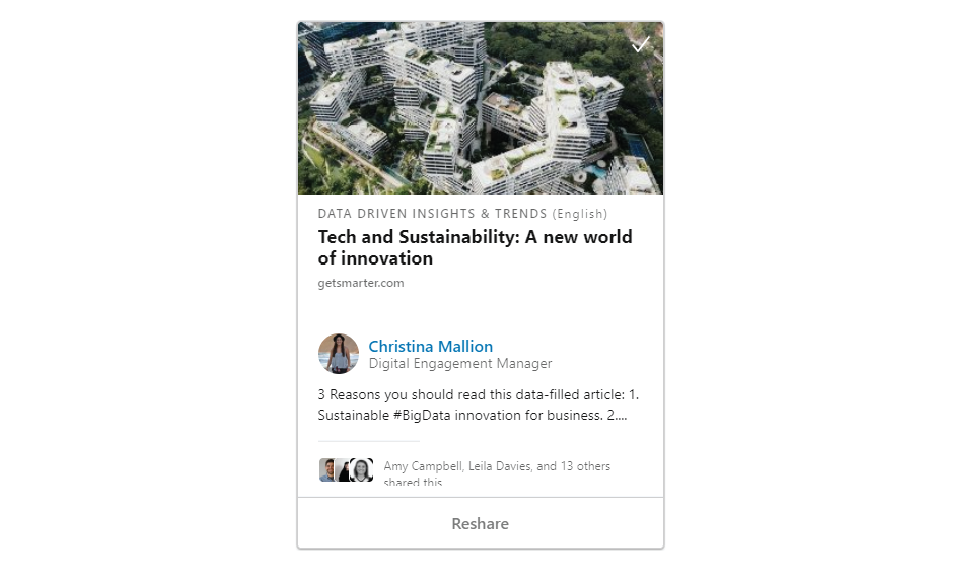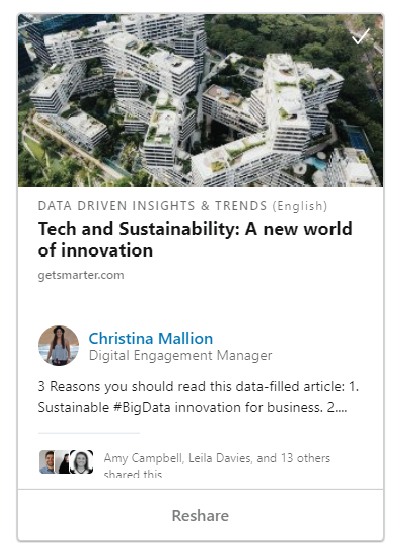 Video
The statistics for video content prove that ignoring this medium is risky as Cisco predicts, "82% of consumer traffic will be from video content this year."15 Video also allows storytelling to be effective as viewers can connect with the story emotionally and visually.16 If your brand has testimonials or a tour of its offices, it conveys the human element of your brand, making it more compelling to the viewer. For a small business, using video is a great tactic as it reaches a broader audience, and makes consumers familiar with your brand. The trick when working with this medium is to get your videos seen by the right people.
Our company, GetSmarter, a brand of 2U, Inc., likes to show prospective students testimonials from past students. This video is on GetSmarter's homepage and allows a potential student to see what they can expect from using our products.
Mobile
Mobile penetration has become the norm in markets, where even Google ranks sites based on a 'mobile-first' strategy. Google is doing a lot of research in this market and published an infographic based on How people meet their needs in I-want-to-buy moments. Based on this, at least 65% of people use their mobiles to achieve this.17 Digital marketing plans are focusing on this market even more by creating mobile responsive websites and social media applications, and focusing on search engine optimisation to improve the consumer's mobile viewing and buying experience.
GetSmarter ensures all of our platforms are built to accommodate mobile viewing, especially as they reach such a large audience. Displayed below are examples of the graphic elements we have designed for viewing on mobile and desktop devices.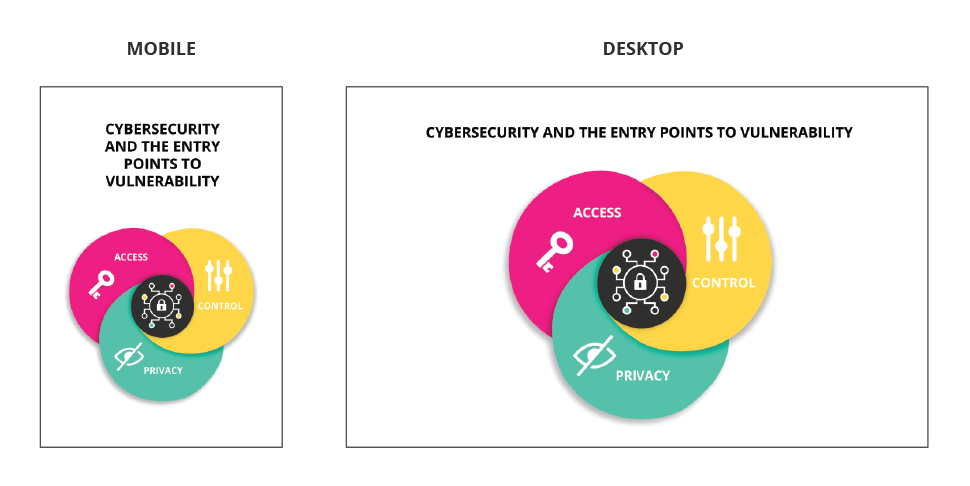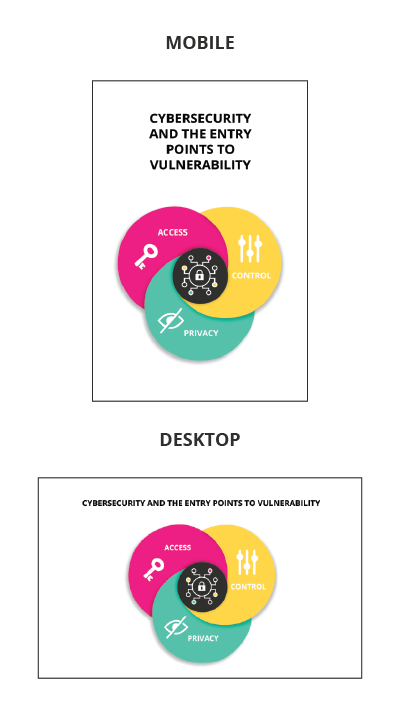 Social media
Social Media has changed the integrated marketing communication landscape by making interpersonal relationships with companies easier and more accessible to the ordinary person on the street. Social media marketing is a useful tool to increase awareness of campaigns and increase traffic to a brand's website.18
This growing network is advantageous for businesses and indeed, has become one of the fastest and largest global channels in the United States of America, with revenue in the digital media market amounting to $126,411m in 2018.19 The main difference between social media marketing and content marketing lies in social networks. Content is created and managed inside of these networks in order to extend its digital presence online to consumers worldwide. The effects of this raise brand awareness and consumer engagement, and boost leads to and from content.
Some examples of social media platforms are:
Facebook
Twitter
Instagram
LinkedIn
Google+
YouTube
Pinterest
Blogs
Content marketing is different from social media marketing as it houses its own content, whereas social media networks link back to this content (or a product or service) on the website. GetSmarter uses these social media platforms: Facebook, Twitter, Instagram and LinkedIn, to promote the online short courses that we offer and to share the content produced on our blog with our communities. Here is an example of the social card post for this article.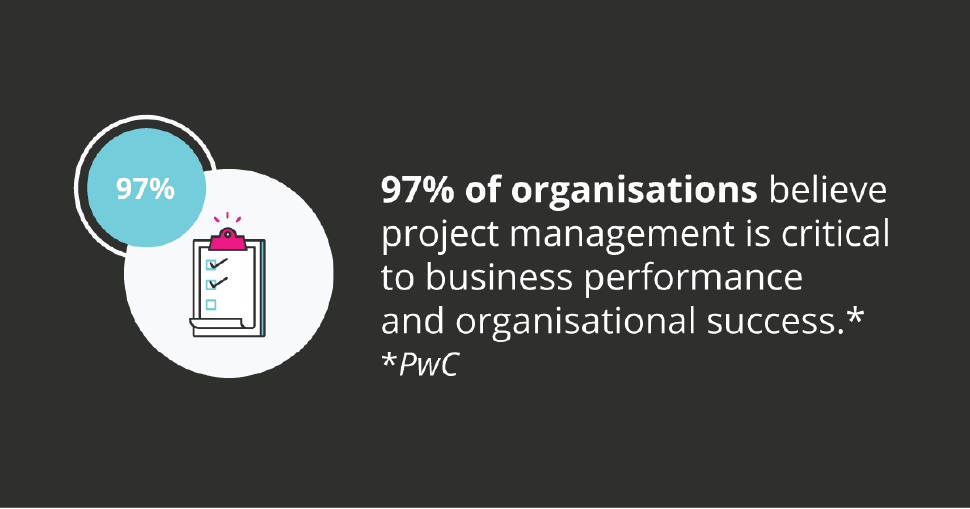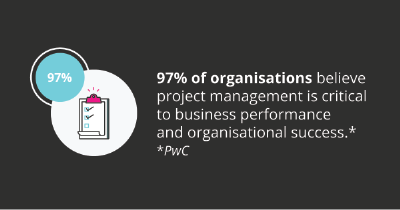 Email
Email remains a key player in initiating direct contact with consumers.20 Simple factors like using a direct subject line can persuade consumers to open marketing emails. This is important for creating a relationship with consumers.
Email also creates a way to merge marketing and sponsored promotions with the brand's content. If this is consistent, and the visual and user experience is enhanced with the latest technology, a transactional email can actually be something that people want to read as opposed to being put straight into a spam filter. Good email marketing should: balance the content and imagery, be accessible, serve the consumer rather than the company, and be readable on a host of devices.21
GetSmarter has a tactical plan for emails to ensure new and repeat customers for our products. Below is a typical email that will be sent to students who have registered for an online short course.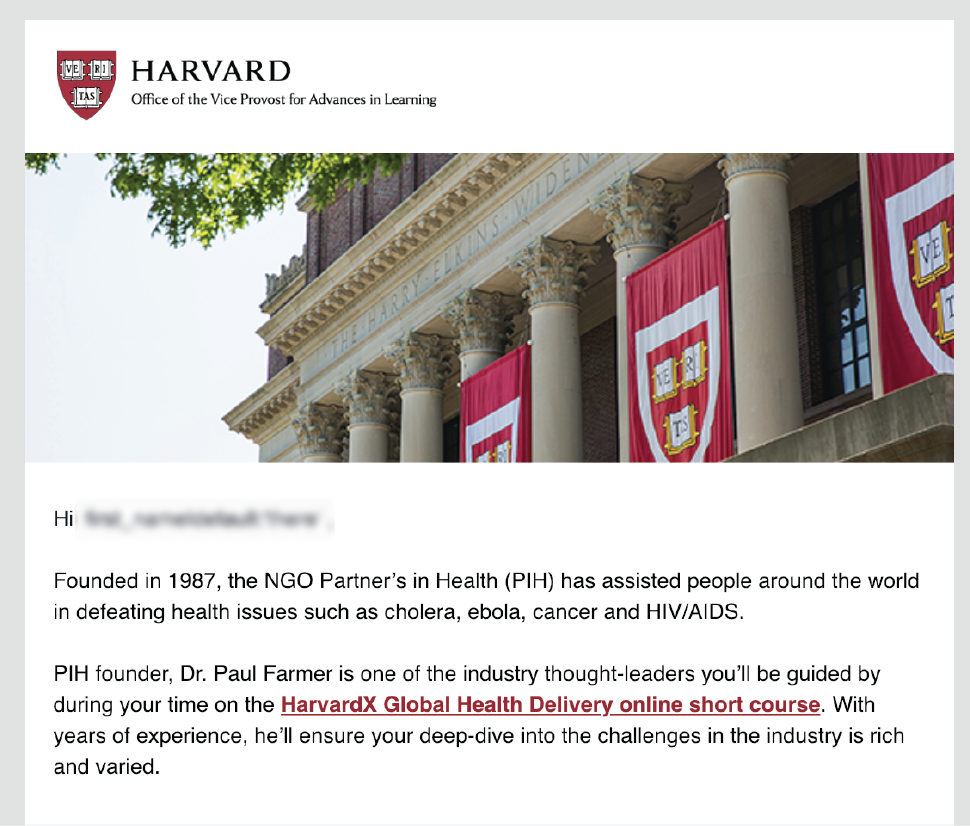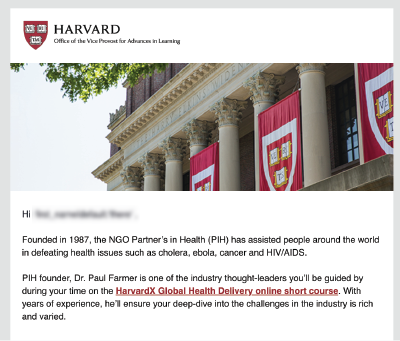 Search engine optimisation (SEO)
There are many reasons to prioritise SEO for digital marketing. SEO is a marketing tactic that improves a website's visibility on Google and other search engines, making your brand more accessible to users. The way this works is by optimising your site and making it "search engine friendly" to achieve a good ranking. By focusing on SEO best practices in your marketing strategy you will also be able to ensure your website is clear, reads well, and is easily navigable.
Below is a screenshot of the search engine results for the name, "GetSmarter".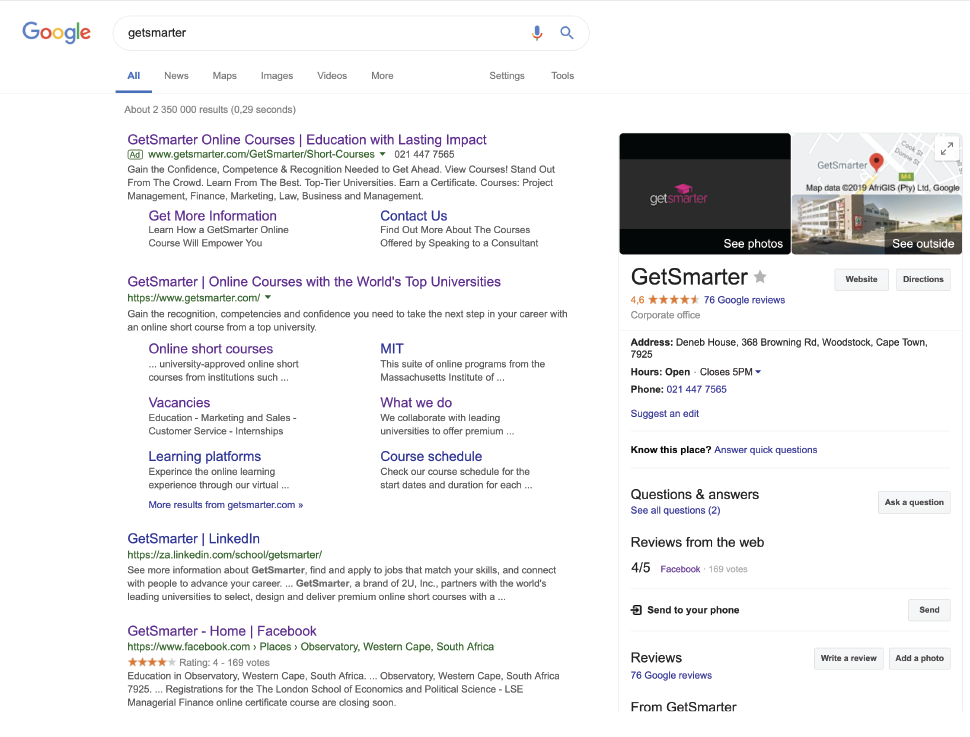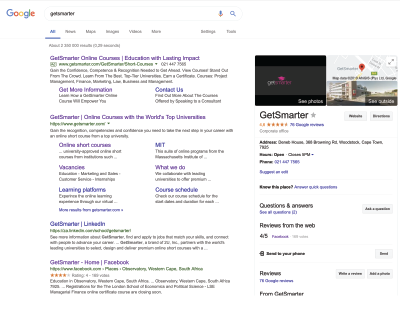 Pay-per-click (PPC) advertisements
This marketing tactic uses targeted advertisements to be displayed on websites and the search results page. The main purpose of PPC advertisements is to gain revenue from sales. Remarketing is another form of PPC. Previous visitors to your site are shown advertisements while they browse throughout your site network.22 These advertisements only cost the brand if users click on them, this pricing model is known as cost per click (CPC). This is a fixed, paid service, and can also improve the visibility of your advertisement on search engines like Google, Yahoo or Bing – but this isn't a given.23This solution is considered a faster way to improve traffic to your website if you still need to improve your SEO in terms of lead generation.
The role of PPC in integrated digital marketing plans is quite pivotal as a narrower advertisement focus will improve relevancy and better target those most interested in your brand.24 GetSmarter runs targeted PPC campaigns to help convert a person who is interested in our products into a consumer. Here are a few examples of what our PPC advertisements look like.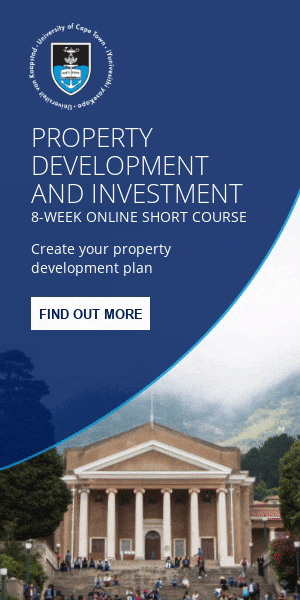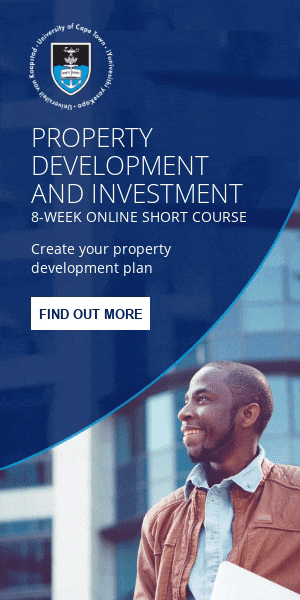 Search and display functions in PPC and how to choose the right option
Google and Bing are two of the most popular search engines, but they use different techniques to display your advertisements.
Google makes use of two main methods, the Google Search Network and The Google Display Network. The search network essentially tracks a consumer's keywords and displays advertisements on the Google results page related to it. The display network is focused primarily on visual content such as videos, blogs, or video blogs (vlogs) – a prime example is YouTube.25 A popular way to maximise the effectiveness and reach of these techniques on Google is to use both concurrently.
On the other hand, Bing uses a slightly different approach. Since it is owned by Microsoft, and Microsoft also happens to own Yahoo and AOL, Bing ensures your advertisements are shown on all of these search engines, including both text and visual advertisements.26
When deciding on the right option for your digital marketing plan, consider the pros and cons of both organisations. Bing (formed in 2009) is lesser known than Google, which has a popular market penetration having been around for longer (since 1997). That's not to say that Bing is without its advantages as Bing also has "33% market share in the United States and a large market share in countries worldwide."27
Affiliate marketing
Another form of PPC is affiliate marketing. This type of marketing involves the promotion of a particular product through an affiliate network, and commission is earned if people buy those advertised products.28 A good example of this is when organisations offer cash back rewards for buying through their stores or give voucher codes to people who have earned or bought specific rewards. This is given value by revenue sharing. One of the largest and most recognised affiliate networks is Amazon.29 The value of PPC advertisements shouldn't be ignored as they generate new, relevant leads through a targeted approach. A necessary tool to help manage this is Google Adwords.
The necessity for an integrated approach to digital marketing can't be overstated, as this complex landscape is evolving rapidly. Marketers need to gain a keen understanding of how to plan and strategise for integrated multimarket channel campaigns. Marketers need to be aware of the impact of channel usage with integrated insights. Digital advertising and branding have a much wider audience than before, with increased visibility, and organisations need to know how best to utilise this.
Learn how to develop and implement a holistic marketing strategy that incorporates industry best practice with the University of Cape Town Marketing online short course.