This is an excerpt from 2018 Business and Sustainability Trends Briefing. Have you got your free copy?
Stay ahead of the curve with the insights and expectations of over 40 University of Cambridge Institute for Sustainability Leadership (CISL) Directors, Fellows, and Senior Associates.
The following trends were identified after the completion of a survey covering the wider CISL Network. This is equivalent to a global network of 8,000 senior leaders and leading practitioners representing every industry on every continent.
CISL and GetSmarter subsequently created a trends briefing to aid business leaders in driving meaningful change. Read about four of the trends below and download a copy of your briefing for unlimited access to the rest of the trends.
Trend One: Volatility is the new normal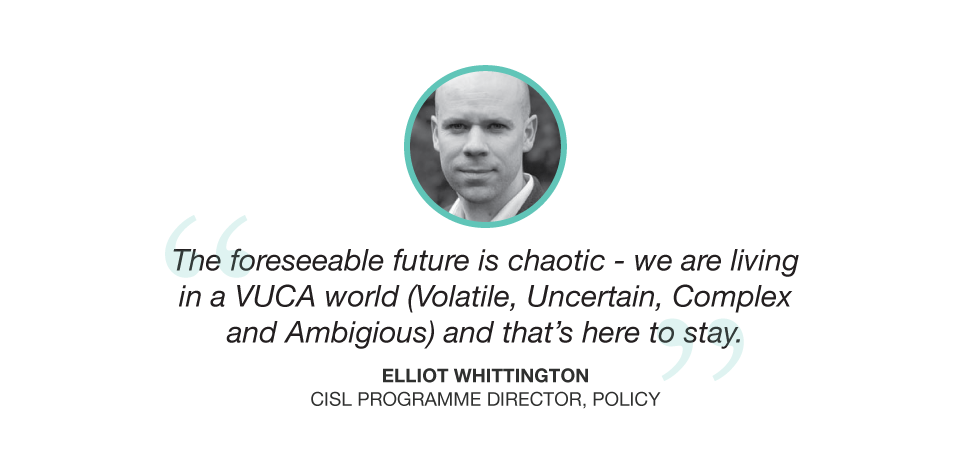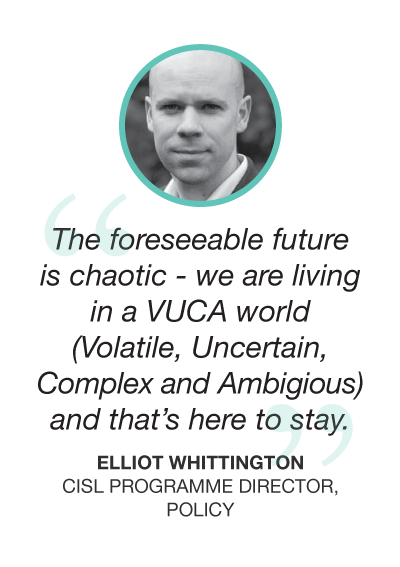 From disruptive technologies to political uncertainty, the future is chaotic and volatility is here to stay. But despite such uncertain times, there are plenty of opportunities for those who can prove themselves responsive and agile.
On the one hand, we are seeing a rise in extreme weather events, such as the devastating trio of hurricanes of 2017 (Harvey, Irma and Maria) leading to value chain disruption and exposing an enormous insurance protection gap. Hurricane Harvey in Texas alone cost $180 billion, with just $19 billion of that loss insured. At the same time, global power shifts in the US, UK and EU have also realigned international leadership when it comes to sustainability, producing new levels of uncertainty and ambiguity.
This requires the private sector to step up and proactively lead in sustainability matters. This momentum swelled at the end of 2017 with the emphasis on private sector funding for achieving targets under the Paris Agreement at the One Planet Summit, hosted by President Emmanuel Macron. In particular, the private sector is suitably placed when it comes to harnessing the potential of new technology in tackling sustainability challenges. By leading the way in investment and innovation, companies can find value in developments such as blockchain technology and fintech for greater efficiency.
Trend Two: Sustainability to shape the face of business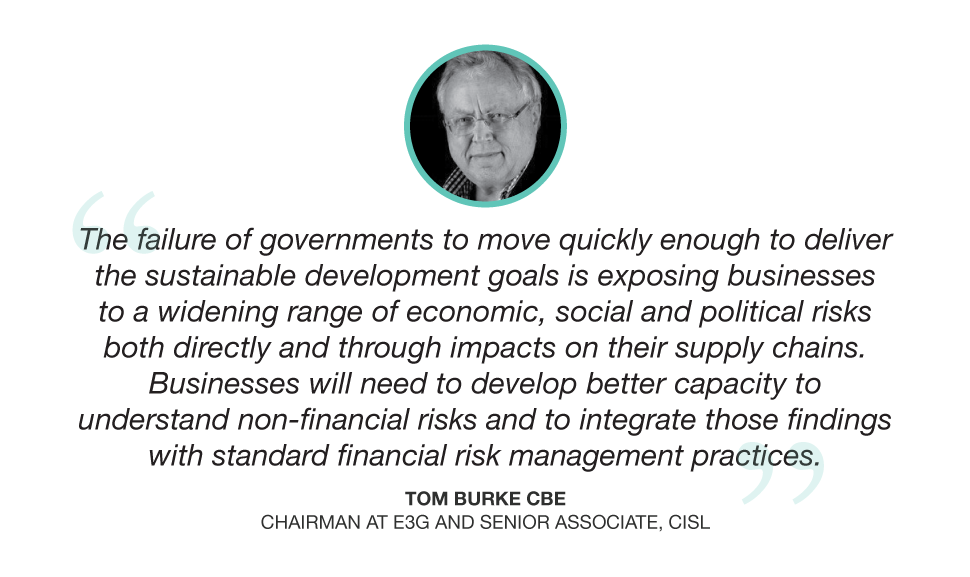 New technology, products, and processes together with global issues like climate change and wealth inequality have exposed a leadership gap within businesses for responding to the fast-moving challenges of today's economy. Companies are facing growing pressure to align their commercial interests with social and environmental challenges, as young people increasingly seek jobs with businesses that reflect their own priorities.
The role of leadership development and HR teams will be crucial to filling this gap through recruiting, training and incentivizing individuals to succeed in this context. The key to this will be the recognition by Boards and CEOs that sustainability is a leadership issue, and that the leadership gap, left by policymakers and governments, is an opportunity for the private sector.
Trend Three: Enduring loss and damage from extreme weather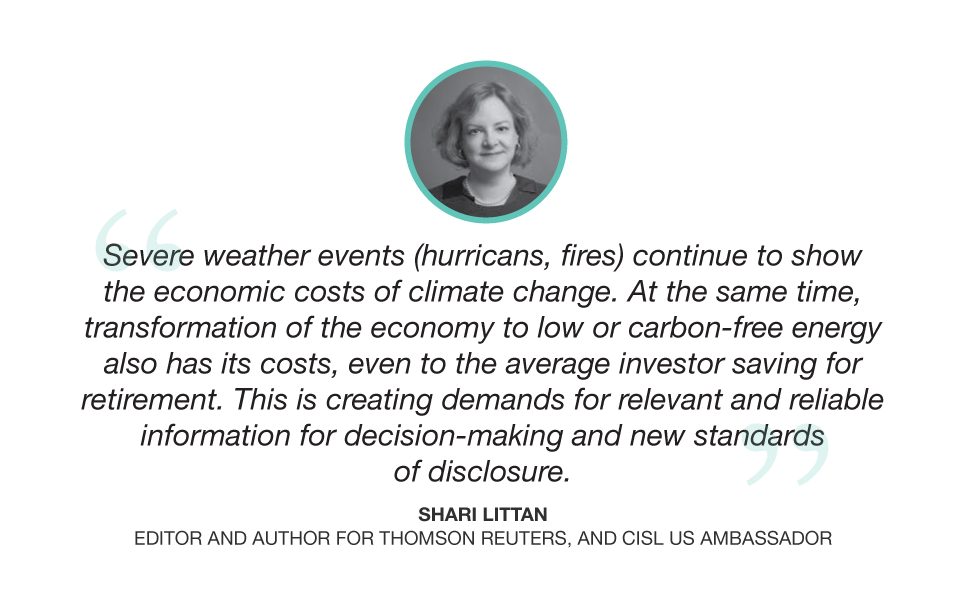 The impact of climate-related disasters in 2017 was devastating and it was no one-off.
Almost every continent suffered, from droughts across the Horn of Africa to flooding in South Asia and hurricanes in the US and Caribbean, and 2018 is likely to bring more yet. Temperature rises, severe rainfall and natural disasters are hugely disruptive, leaving people homeless, hungry and without power. When Hurricane Harvey hit Texas, one in five homeowners in Greater Houston did not have flood insurance. By the end of the year, the US endured a record winter while Australia faced historic heatwaves and Storm Eleanor caused disruption in the UK and across Europe.
These events affect industry's ability to help people recover, disrupting supply chains and adding to food insecurity. With increasingly global supply chains running across multiple borders, improving resilience to extreme weather is more important than ever. This means maximising the sustainability of supply chains – from transportation and logistics to water and energy conservation.
At the same time, there are growing examples of stranded assets, urgently requiring a long-term strategy to transition away from unsustainable business activities such as fossil fuels.
Trend Four: Human versus machine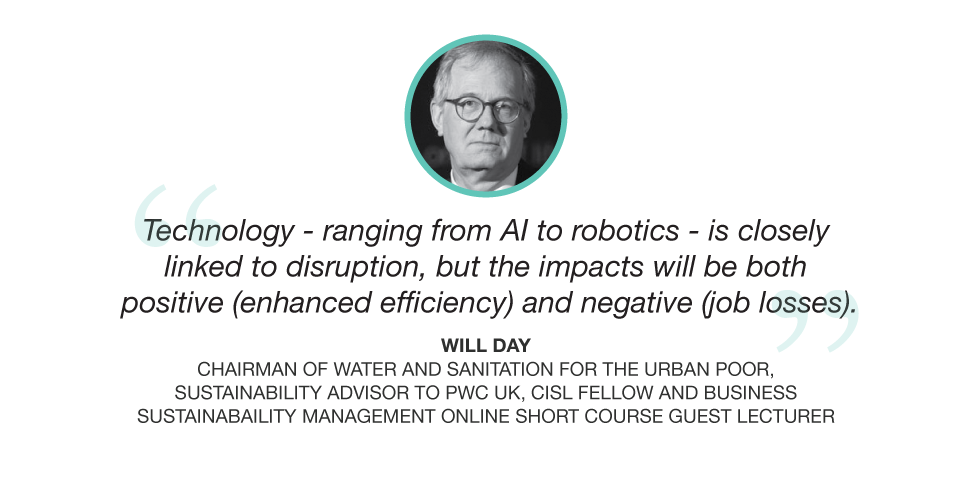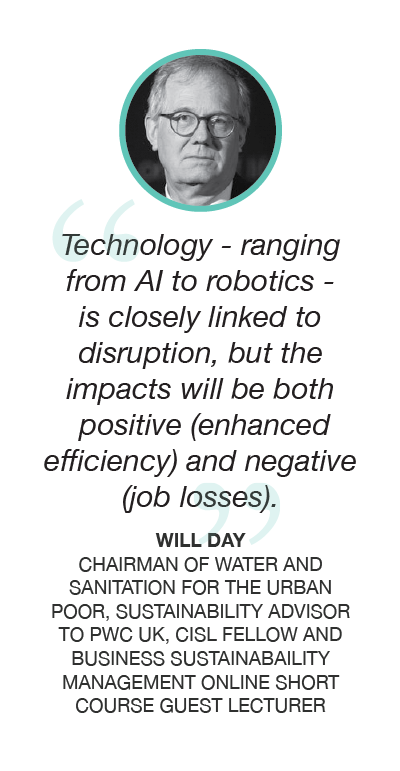 The Fourth Industrial Revolution is in full swing, with challenges and consequences for people and the planet.
Will automation really take our jobs and make industry more efficient?
What are the implications for the social contract of business?
And at what cost to society, if workers are replaced by robots?
The economic and environmental potential of new technology – from artificial intelligence to autonomous vehicles and renewable energy – is enormous. But unless it is properly managed and regulated, we also risk unintended and adverse impacts, such as unemployment and growing inequality. While the rise of the electric car has promised greener transport and better safety, the driverless car will also become the workerless car. Chevrolet's Bolt has just 24 moving parts compared to the 149 that make up a Volkswagen Golf, requiring much less assembly. According to PwC, 30 per cent of jobs in the UK, 38 per cent of jobs in the US and 21 per cent in Japan could be at high risk of automation by the early 2030s.
Yet technology can also create new opportunities with employment being redirected to areas such as research and development rather than simply substituted. However – we must prepare, especially in the northern hemisphere where the workforce is ageing and yet more people are returning to work from retirement – for a future of work that integrates both people and robots to fully benefit.
This may mean retraining existing staff to use new technology as achieved at AT&T in the US, where new skills in e-commerce are supplied by new hires, who are then able to train retained workers.
---
Are you ready to create meaningful change based on these global sustainability trends?
Find out more about the University of Cambridge Business Sustainability Management online short course