Basic Principles of Nutrition Science
The saying 'You are what you eat' is becoming a point of truth in modern society. Healthcare, agriculture, organisations, and society as a whole is grappling with food, diet, and processing production methods in an entirely new way, with newfound awareness and concern. The science of nutrition is a relatively modern study, with research on the role of nutrition in chronic disease, diabetes, obesity, and cancers only taking centre stage the last two or three decades.1
With the global rise in agribusiness and manufactured foods, nutrition science and healthcare needs to maintain a similar pace in terms of assessing the health impacts and new processing technologies. Questions regarding the long-term health consequences of modern agriculture practices – livestock feeding, breeding, milling, extraction, emulsifying, and homogenisation – are yet to be answered.2
An even greater concern, and a driving force behind nutrition science education is the lack of nutrition training within medical schools.3 Understanding how nutrition relates to the human body may be critical to finding scientific solutions for the diet and disease connection.
What you need to know about the science of nutrition
According to Medical News Today, nutrition is defined as "the study of nutrients in food, how the body uses nutrients, and the relationship between diet, health, and disease''.4 All living beings, or organisms and cells, depend on nutrition in order to stay alive. More specifically, the human body requires six classes of nutrients. These nutrients are classified as substances providing nourishment, which are essential to life, growth, and development. These include:5
Water
Carbohydrates
Proteins
Fats and fatty acids
Vitamins
Minerals
These nutrient classes can be further broken down into two categories – macronutrients and micronutrients.
Macronutrients can be consumed in large quantities. They include proteins, carbohydrates, fats and fatty acids, all of which provide us with energy.6 Contrary to this, micronutrients don't provide energy, but are still essential to body processes. These include vitamins and minerals and are consumed in smaller amounts.
Why these nutrients are important
The basic principles of nutrition need to be incorporated into our daily diets, preferably in unprocessed methods. If sugar, artificial colours or flavours have been added, and texture and/or stability has been altered, then the food is considered to be heavily processed.7 Foods that are prepackaged and processed are usually high in fat, salt, and sugar. According to the medical journal BMJ, researchers have warned that society's increasing consumption "may drive an increasing burden of cancer in the next decades".8
The study quoted by BMJ goes on to show that baked goods and snacks, fizzy drinks, cereals, ready-made meals and reconstituted meat products account for 50% of the total daily energy intake in several developed countries.9 Heavily processed foods have also been linked to higher risks of obesity, high blood pressure and cholesterol levels. The study further reveals "a 10% increase in the proportion of ultra-processed foods in the diet was associated with increases of 12% in the risk of overall cancer and 11% in the risk of breast cancer".10
Where to find these nutrients
The Dietary Guidelines for Americans, published in 1980, was the first national dietary guideline to emerge. It encouraged society to "avoid too much fat, saturated fat, and cholesterol, eat foods with adequate starch and fibre, avoid too much sugar, avoid too much sodium".11 Although we have seen numerous diets, guidelines, and myths, this approach to health has been maintained throughout the years. The food sources that supply these crucial nutrients are: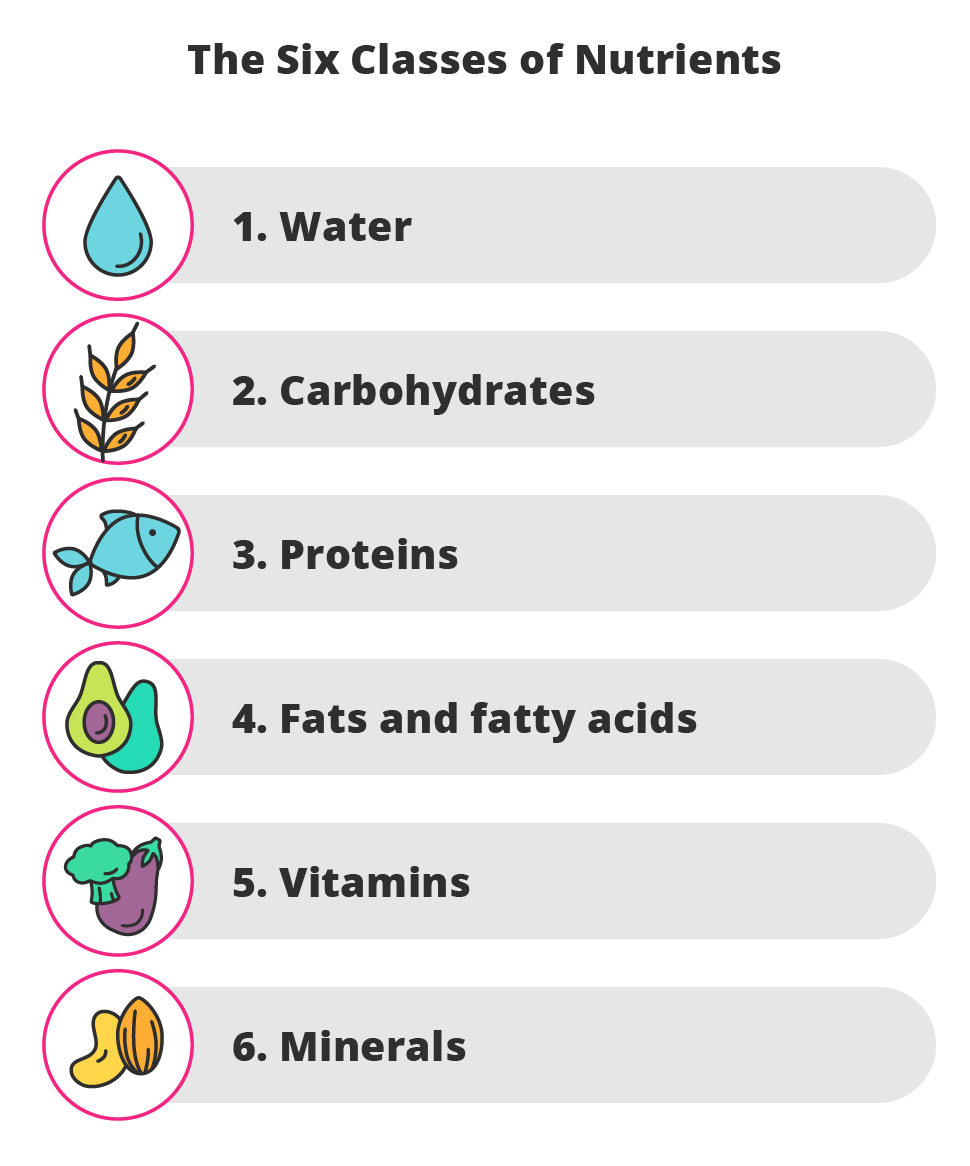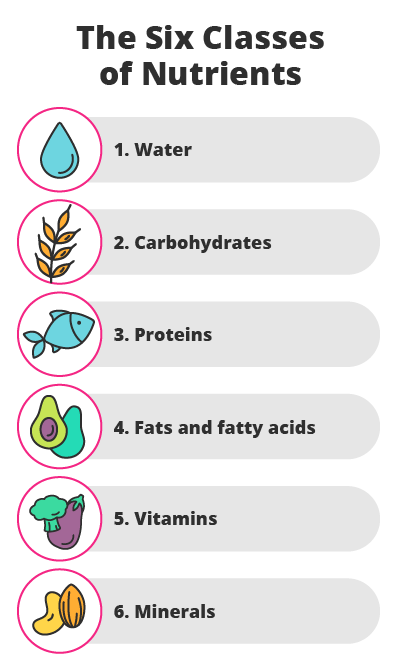 Water – A human adult body is made up of 60% water, and keeping hydrated is essential for human survival.12 Drinking water, and eating foods with high-water content will aid in critical waste removal, temperature regulation, and overall health and wellness.
Carbohydrates – These essential nutrients are often misunderstood and disregarded. However, they are critical for your body to function optimally. As a type of macronutrient, most 'carbs' are found naturally in plant-based foods, such as grains, nuts, legumes, vegetables, fruits, and milk.13 Carbs are your body's main fuel source and can protect you against disease. Evidence has revealed that wholegrain foods and dietary fibre from whole foods may reduce the risk of cardiovascular disease. Fibre may also protect against obesity and type 2 diabetes, and is essential for digestive health.14
Proteins – These nutrients are made up of small building blocks called amino acids and are critical to the creation of new enzymes, hormones, and muscle.15 Of the 20 amino acids, nine of them are essential. These are found in animal proteins and some are found in certain plant proteins.
Fats – Like carbohydrates, fats have a bad reputation. However, they help you maintain your blood-sugar level, improve your overall brain function and may lower your risk of heart disease and type 2 diabetes.16 Fats can also act as anti-inflammatories, lowering your risk of arthritis, cancer, and Alzheimer's disease.17
Vitamins – As one of our necessary micronutrients, vitamins are organic compounds that contain carbon. These are naturally sourced through a diverse and healthy diet.

The essential vitamins are:

Vitamin A – vital for skin and eyes
Vitamin C – for bone and muscle structure, as well as immune support
Vitamin D – for bone growth, cardiovascular and nervous health18
Vitamin E – for protection against cell damage19
Vitamin B – the building blocks to a healthy body. Maintains energy levels, brain function, and cell metabolism20

Of the above, E, C, A, and D vitamins are known as antioxidants. The first three are best ingested in antioxidant-rich food, while vitamin D is obtained through sun exposure

Minerals – Other than carbon, hydrogen, oxygen, and nitrogen are the other chemical elements that our bodies rely on.22 These nutrients are sufficiently found in a well-balanced diet.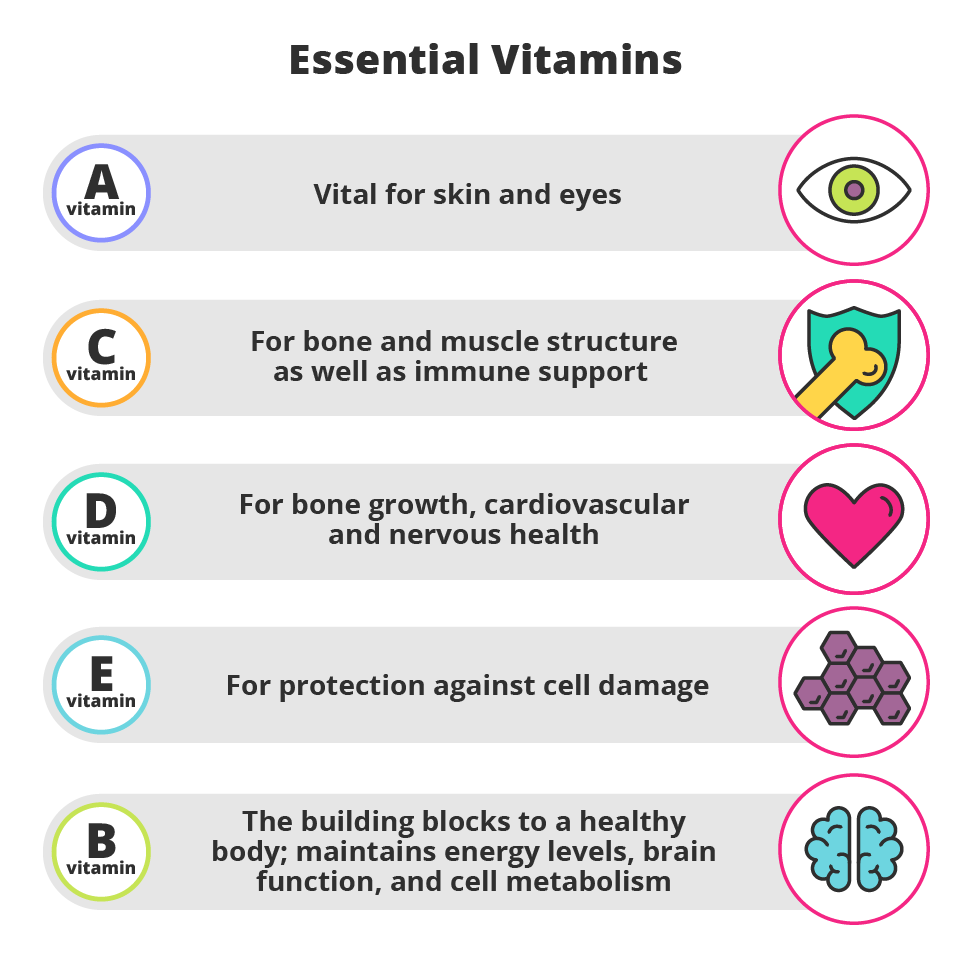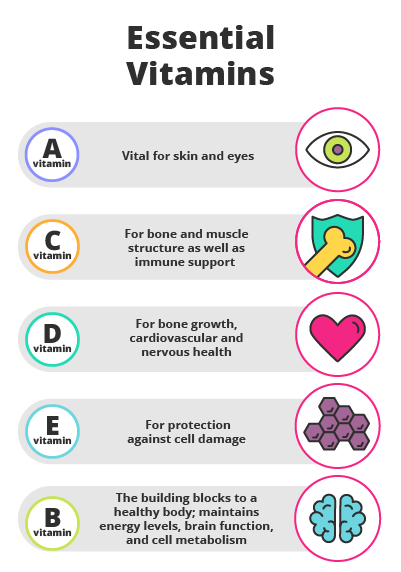 Minerals – Other than carbon, hydrogen, oxygen, and nitrogen are the other chemical elements that our bodies rely on. These nutrients are sufficiently found in a well-balanced diet.
The lack of nutrients and what it means for health
The latest edition of the Dietary Guidelines for Americans speaks of the rapidly growing culture of poor eating habits, physical inactivity, and chronic disease.23 As health risks increase, so do the costs. In 2018, The American Diabetes Association released research that estimated the total cost of diagnosed diabetes had risen from $245 billion in 2012, to $327 billion in 2017.24
Although promoting and adhering to healthy diets have become more of a priority, these guidelines aren't widely followed across societies, systems, and agricultural policies.
According to the Global Nutrition report, malnutrition continues to be a global issue and is responsible for more ill health than any other cause. It can be seen mostly in children with stunted growth development, or who are underweight or overweight. About 38.9% of adults are overweight and obese, with this figure increasing among adolescents.25 In order to drastically impact this epidemic, our global food systems need to change.
For such a health revolution to occur, and apart from food systems changing, education structures need to also mirror the reform.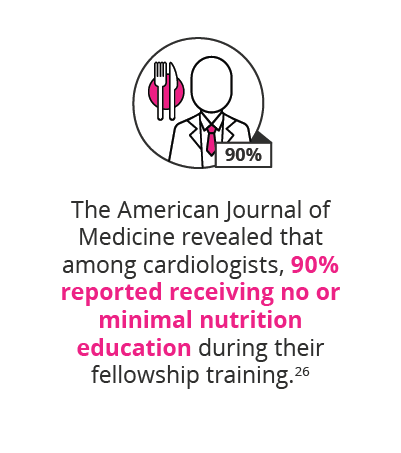 As a field of study, nutrition science is dynamic, interdisciplinary, and rapidly evolving, and requires constant supervision and research, and continuous adaptations. Education and training need to match this fluid pace and be more actively integrated into our core health approaches and systems.
Bridging the gap within nutrition education will not only benefit society's understanding and engagement with food and health, but its economic outlook too. Apart from the expense of disease and obesity, supplementing healthcare practitioners' nutritional knowledge may potentially reignite the job market. As global health awareness develops, there is a growing emphasis on diet counselling and nutritional advice.
According to the US Bureau of Labor Statistics: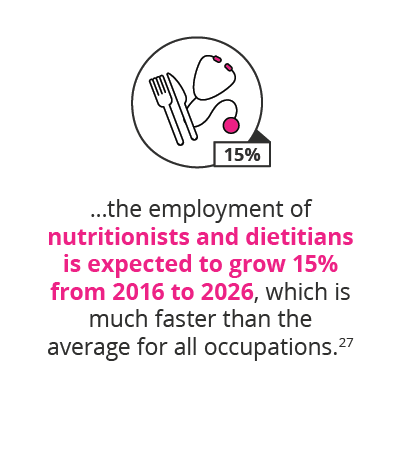 This interest in food and wellness, particularly in the space of preventative care, is facilitating an encouraging demand on health services. However, agriculture and consumerist practises will need to follow suit.
The science of nutrition will continue to exponentially expand and shed new light on food, processes, and their impact on health. Ultimately, nutrition starts with what we choose to place inside our mouths. Profound changes will be needed if we want to tackle the challenges within our food systems, consumption behaviour, and state of malnutrition. In addition to it being an investment in our collective future, a focus on nutrition is also an economic and ethical imperative. The rewards certainly have the potential to shape a better future.