Blockchain Technology's Applications in the Retail Industry
Brick-and-mortar retailers continue to lag behind when it comes to the adoption of blockchain. However, a shift in thinking has been occurring over the past few years, with a growing number of organizations recognizing the potential of this technology.1
This shift is part of the greater digital transformation taking place across the retail industry. A Deloitte study found that, in addition to e-commerce, digital interactions influence more than half of every dollar spent in brick-and-mortar stores, driving expectations of price transparency, convenience, and relevance.2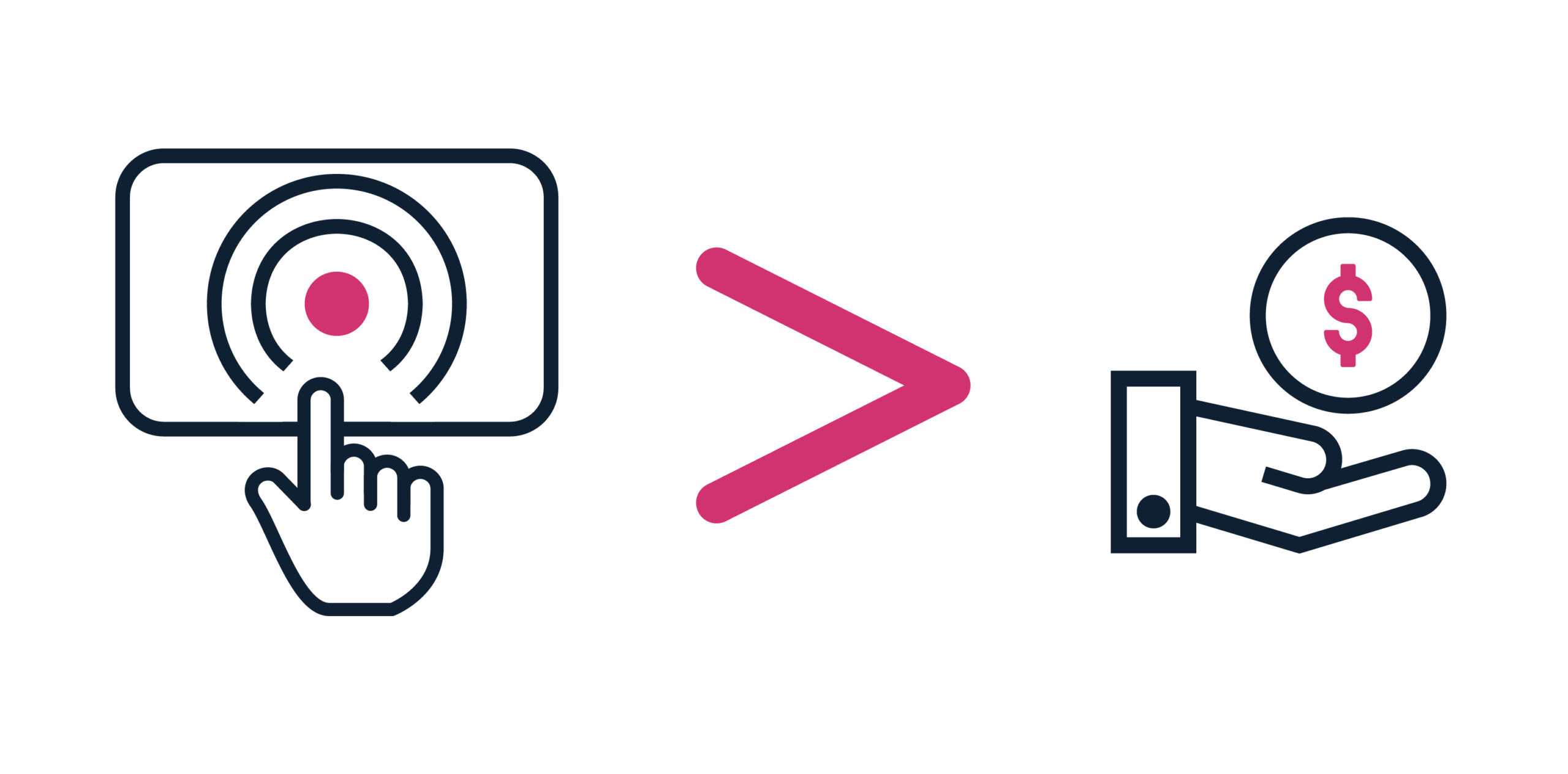 Thanks to online giants like Amazon changing the way consumers buy, along with expectations around customer experience and delivery, people have for years been predicting the death of brick-and-mortar retail.3 In truth, the online retail industry has driven substantial change, thanks to the rapid advancement of technologies such as artificial intelligence (AI), machine learning, cloud computing, and warehouse automation.4 Quietly ticking away in the background, you'll find blockchain playing a crucial role in the future of retail.
Consumer trust is critical but also easily broken in the retail industry. Blockchain can be used to increase transparency, auditability, and confidence in a range of business processes, offering a way to build trust between retailers, payment gateways, and customers.5 With an increasing number of consumer transactions being done online, greater trust can only benefit the retail industry.
Take a look at some of the ways in which blockchain technology is revolutionizing the retail industry.
Maintaining product quality
Blockchain has obvious implications for tracking where products come from, whether or not they're genuine, and in what condition they are. Perishable goods, for example, can be monitored by Internet of Things-enabled sensors to record temperature data on a secure digital ledger. Through the IBM Food Trust, IBM has partnered with Walmart on such a project.6
If a product is found to be defective, a blockchain history enables a business to track the product back through the supply chain, identifying suppliers, manufacturers, and batches that may have been compromised. Thanks to this technology, retailers can easily recall products and rectify supply chain issues.7
Tackling fraud
Fraud costs the global economy an estimated $5.38 trillion annually.8 In this context, the benefits of an incorruptible digital ledger of information are obvious. For example, to prevent procurement fraud, companies can put invoices on the blockchain to ensure they don't change between supplier and buyer. The fact that transactions have to be verified by all parties also helps to minimize fraud.9
Retailers can guarantee product authenticity for products tracked on the blockchain, as counterfeit goods would lack this verification history. Of course, for blockchain to fulfill this function, it's essential to ensure the integrity of the information entered into the ledger.10
One industry where guaranteed provenance is essential – for quality and ethical reasons – is that of diamonds. To ensure the traceability and authenticity of its diamonds, leading diamond company De Beers created Tracr. This blockchain-powered system creates a digital asset for each diamond when it's mined, which is tracked along the entire supply chain, right through to the end consumer. The system prevents the trade of conflict ('blood') diamonds and provides trust in the provenance of the company's products.11
Managing consumer data
The adoption of the General Data Protection Regulation in the E.U. and the California Privacy Rights Act in the U.S. brought the need for effective consumer data management into sharp focus. As organizations continue to collect more consumer data than ever, they're obliged to handle it responsibly.
Blockchain technology enables decentralized identity (DID), whereby individuals store their personal data outside organizational databases. Through DID, the data and any links that point to it can be stored on the blockchain, allowing for verification of user identity and data when needed. The DID is owned and stored by an individual rather than an email service provider, for example.
Using a DID rather than an email address reduces the chance of others tracking a user's web activity and forming a full picture of the individual by collecting and correlating data inputted across different sites.12
Improving loyalty programs
In today's highly competitive and increasingly customer-centric marketplace, more companies are investing in creating or improving their loyalty programs. Blockchain can help in various ways.
A fundamental driver of loyalty programs is the collection of customer data, which creates security risks. Loyalty programs can help protect customer data by exchanging digital tokens rather than data for rewards through smart contracts, which are programmed onto a blockchain and automatically triggered when certain conditions are fulfilled. Smart contracts help increase efficiency and security, cut costs through process automation, and reduce the need for centralized management of redemption processes.
The companies that run loyalty programs, in turn, create their own digital rewards currency to simplify points accrual and redemption among partner companies. Increasing flexibility and reducing typical loyalty program restrictions in this way can drive greater customer engagement.13
Tracking inventory
Effective inventory management is critical in the retail industry. Better control decreases inventory costs, improves order fulfillment and customer satisfaction, eases supply chain management, and improves forecasting and profit margins, among other benefits.14
Giving assets such as inventory units, orders, and bills of lading – along with the supply chain participants who interact with those assets – unique blockchain identifiers affords unchangeable visibility into every point of the supply chain.15
Enforcing labor rights along supply chains worldwide
According to the latest data, 24.9 million people are in forced labour.16 Blockchain has been touted as a potential solution to document and verify workforce compliance along the supply chain, offering immutable evidence that can be audited by regulators.17
However, blockchain doesn't represent a silver bullet for solving issues of forced labor. Incorrect or fraudulent information can be inputted by companies exploiting their human resources, for instance, thus creating the impression of a clean social audit. Blockchain, therefore, needs to be implemented in concert with principles that drive labor responsibility.18
Automating back-office administration
Blockchain helps to streamline administrative processes in retailers' back offices – for example, the use of 'smart contracts' enables swift payment to freelance contractors on completion of a project. In addition, repetitive data-heavy admin tasks, such as payroll administration, can be digitized and tracked in real-time, freeing staff up to focus more on creative value-added work rather than menial tasks.19
More effective payment systems
Retailers that don't accept cryptocurrencies would benefit from updating their payment systems, as these have officially been adopted by the mainstream. Some example use cases in retail include PayPal, which enables consumers to buy and make payments in a range of digital currencies, while Visa and Mastercard also make provisions for such payments through their platforms.20
However, blockchain has payment relevance outside of just cryptocurrencies. Because it removes the need for authentication overheads, it can make financial services infrastructure more cost-effective. Moreover, there's a significant range of potential applications of blockchain technology in payment systems, including the transfer of digital and physical assets, the protection of intellectual property, and automated contracts.21
Exploring blockchain applications
Whether fostering greater customer trust and loyalty, or removing labor-intensive admin, blockchain's applications in the retail industry are vast. It's enabling quicker, more trustworthy and more consistent consensus between parties. Blockchain is also finally making it possible to keep accurate records and track inventory in an industry where these steps are crucial. As the technology matures, businesses of every size can benefit from the trust, transparency, and transaction efficiency that blockchain brings to the retail industry.
If you're interested in learning more about blockchain technology to keep your skills updated in a changing industry, consider enrolling in the Blockchain and Digital Currency: The Future of Money online short course from the University of Cape Town (UCT). This six-week course explores how cryptocurrencies affect the financial industry and takes a closer look at blockchain's future applications.
The MIT Sloan School of Management, in turn, offers the Blockchain Technologies: Business Innovation and Application online short course. Over six weeks, you'll examine how blockchain is transforming the foundations of our economic and social systems and the way we do business. Click here for more on what to expect.
Exploring the technical pillars that underpin these technologies, the five-week Bitcoin and Blockchain Program from the SDA Bocconi School of Management helps professionals make informed decisions about incorporating blockchain into their organizations. Join the program and learn how to implement solutions that unlock new business opportunities.
---
Unlock the potential of blockchain with an online course