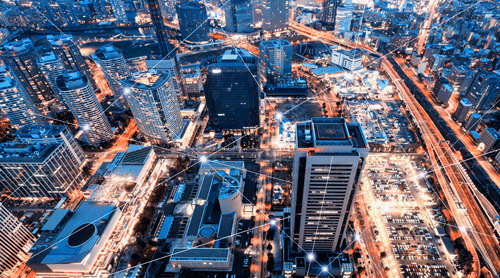 Living and working in a connected world where technology is embedded into everything we do, we are no strangers to the network of digitally connected devices – otherwise known as the Internet of Things (IoT) – neither are we unaware of the boundless business opportunities it creates.1
Leveraging the benefits of IoT in business has moved on from merely being a connectivity model and has evolved into a business transformation strategy, with proven results. A recent Forbes Insights survey of 700 executives revealed that 60% of enterprises that have IoT initiatives are expanding or introducing new lines of business; 63% are already delivering new or updated services, and 94% anticipate a profit boost of at least 5% to 15% as a result of IoT.2
As a leader in business, if you're wondering how to use IoT to lead change in your business and improve your business strategy, here's a guide on how to capitalise on future-focused technology and shift your business into an innovative era.
How to create an IOT strategy for your business
Start at the top.3 When it comes to implementing IoT in business and rethinking a monetisation strategy, a mindset change at CEO-level needs to occur, as well as a readiness to investigate alternate revenue streams and cull existing ones where necessary.
Start small.4 Focus your efforts on a limited number of business use cases; those that have a clearly defined and measurable value proposition, and avoid the temptation to target as many use cases as possible.
Choose a monetisation strategy.5 If you are considering using IoT to introduce new revenue use cases, such as software as a service (SaaS), you will need to develop new strategies around pricing models and update payment procedures.
Embrace temporary disruption.6 Using the IoT to transform your business is a company-wide endeavour which will mean temporary workarounds while new IT structures and processes are being implemented. In order to navigate the changes in thinking, as well as hardware and processes, careful change management processes are crucial to IoT's successful adoption internally.
Build a strong internal team with an agile mind-set.7 Move away from more traditional business teams where innovation may be hamstrung due to outdated processes and regulations, and focus on building smaller, more agile teams across multiple departments and functions that can reach their goals more quickly.
Boldly pursue and adopt IoT in your business.8 The world of IoT rewards aggressive players and early adopters. Business leaders who aggressively invest in IoT applications in their businesses, and adapt their business processes to these applications, will capitalise on the full potential of these applications. For your business to lead with IoT, you should intentionally seek out opportunities to use advanced IoT applications in your business.
Be practical when executing IoT in your business.9 Avoid the temptation to use IoT to radically depart from your core offering, and instead use it to augment your existing offerings in ways that add value to your customers.
How to capitalise on IOT opportunities
Data generation.10 As core business functions and customer activities rely more on always-online devices, businesses will be swamped with masses of granular data that brings insight into usage trends, consumer habits, and performance metrics.
Improved insight and control.11 The IoT brings a paradigm shift to inventory management and supply chain management. Instead of manual stock-takes and barcode tracking systems, the IoT enables an integration of all equipment, devices, and most products into the same network – offering seamless real-time visibility into the location and progress of every crucial shipment and item.
Greater working flexibility.12 Thanks to the IoT, the thought that every employee should be at the same place of work at the same time is no longer valid. Easy access to online documentation, online conferencing, shared team spaces, and cloud-based ERP for time-tracking and HR, makes the transition to remote teams all-the-more efficient.
Improved efficiency and reduced costs.13 A significant drop in IT maintenance cost and a reduction in downtime are synonymous with IoT enabled businesses.
Better customer satisfaction.14 Thanks to data streaming in from customer touchpoints, product and service preferences can now provide a previously unheard-of level of insight into their experiences and satisfaction levels. With real-time IoT data, businesses can respond quickly to customer complaints and enquiries, as they arise.
Early adopters and business leaders will reap the benefits of IoT; greater business clarity and insight, improved profit through additional channels of revenue, stronger brand reputation thanks to greater client satisfaction from real-time customer data, as well as internally with greater employee satisfaction thanks to increased work flexibility. Implementing a strategy for IoT in your business will ensure you stay ahead of the IoT adoption curve. As IoT continues to expand into more areas of our lives – and those of our consumers – businesses that want to capitalise on IoT-enabled opportunities can only be done through a whole-hearted leaning-in to this brave new world.