Four Financial Innovation Examples You Can Learn From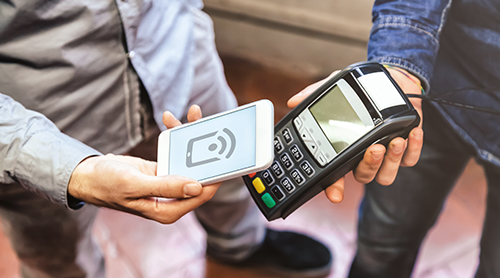 When discussing the future of financial technology (fintech), the conversation has moved over the years to focus on financial innovation examples from EFT to PayPal, and most recently, to Bitcoin. The future of fintech often moves at an intimidating rate, making it important to acknowledge which financial innovations have transformed our lives, and which have failed drastically. There are many lessons to be learned from both.
1) PayPal
PayPal is one of the world's biggest financial innovation examples and the 73rd most visited website in the world.1 In 1998, PayPal, known as Cofinity Inc at the time, was founded by Ken Howery, Luke Nosek, Max Levchin, Peter Thiel, and Elon Musk. Almost immediately, the company saw great success, growing at approximately 10% every day. By mid-year of 2000, the organisation hit five million users, and just two years later, PayPal was acquired by eBay for $1.5 billion.2 Peter Thiel commented on the acquisition, saying, "eBay and PayPal have built vibrant user networks on the Internet. The beauty of this deal is that it will allow us to offer our communities new tools and added flexibility to do more business."3
However, PayPal eventually split from eBay in 2014 – a move most were expecting since investors had been urging them for quite some time.4 Carl Icahn, American businessman and investor said of the matter, "We are happy that eBay's board and management have acted responsibly concerning the separation—perhaps a little later than they should have, but earlier than we expected."5 According to The Telegraph, two of the biggest reasons behind the break up were: it forced investors to appraise both companies separately – something that raised their combined value; and eBay and PayPal had separate strategic priorities and operated in different markets.6
Today, the company has a market cap of $61.6 billion (Feb, 2018),7 and is still growing today having acquired companies such as Braintree, Venmo, and VeriSign.8
Success or failure?
The success behind this business becoming the biggest online payment processor in the world has a lot to do with its founders meeting a gap in the market, and choosing to leave eBay at the right time. Bryan Yeager, an Analyst with eMarketer said about the move, "Having PayPal as this independent company is probably a good thing because eBay is a big online marketplace, it's a competitor to other e-commerce sites, and being tied to it could limit the opportunities that PayPal has."9
86% of PayPal customers are likely to recommend the service putting this financial innovation in high demand.
That, and sheer determination – PayPal went through six iterations before becoming the online payment giant it is known as today. Max Levchin, Co-founder describes how they had to deal with a lot of hiccups before bringing their product to an audience: "As we started getting really close to going public, all kinds of crazy stuff started happening. We would get sued by patent trolls. Every other day you would find 'We filed a lawsuit against you; you're infringing on this patent' in our fax machine over the weekend because it would get faxed-in Friday night. And Monday morning, we're like, 'One more lawsuit. Apparently, we're infringing on a telephone-network patent that was the rotary dial. How is that possible?'"10
PayPal offers dedicated customers special discounts at selected retailers, and has a reputation of being exceptionally safe, ensuring all information is encrypted.11 According to Dean Turner, PayPal's previous Director of Security Intelligence, "If you care about the product [and] you care about your customers, you care about your customers' security – this is what you have to do."12 This level of excellent customer service helps as 86% of customers are likely to recommend the service putting this financial innovation in high demand.13
2) Funding Circle
Funding Circle is a platform, connecting organisations who have available money to lend with creditworthy businesses seeking finance. Its founders, Alex Tonelli and Sam Hodges, started the platform after experiencing how difficult it was to gain funding for their small business. After opening a number of fitness centres together, the two failed to grow the business any further, because they couldn't get a loan.14 This experience sparked the idea to create Funding Circle.
Based on the peer-to-peer lending financial innovation, also known as social lending, Funding Circle is now one of many lending platforms offering this service. However, it found great success by being the first of its kind. From January to June 2018, Funding Circle made a revenue of £63 million, up from £40.9 million during the same period in 2017.15 As of September 2018, it facilitated more than £5.6 billion in loans.16 However, the company is still running at a loss of £16.3 million,17 yet in 2015 the company made a loss of £37 million, and in 2016, a loss of £36 million respectively.18
Success or failure?
With banks becoming increasingly regulated and start-up capital becoming difficult to secure, peer-to-peer lending has stepped in to meet the demand of new lenders and borrowers. In an environment where there is easy money, however, rapid credit source expansion will often lead to financial disasters like the 2006 mortgage bubble.19 This is because individual lenders don't necessarily have the know-how when assessing credit risk. Peer-to-peer lending might have its faults, but as a business, Funding Circle is now on its way to becoming London's biggest fintech IPO that could value the company at £1.65 billion.20
One of the major reasons behind its success, is measured expansion.21 The company adjusted its business model in 2016 to remain competitive, and withdrew issuing loans in Spain to focus its Continental Europe resources on the Netherlands and Germany. According to the Business Insider, these changes suggest the company is not willing to pursue growth for its own sake and be selective in its business decisions.22
3) M-Pesa
Starting out as a convenient way to send money back home, M-Pesa has since become the largest mobile network operator in Kenya and Tanzania.23 Today, this platform allows many unbanked Kenyans, who mostly live in rural areas, to deposit, transfer and withdraw money and pay for items using their mobile phone. M-Pesa is one of the examples of how financial innovation has led to financial inclusion by creating a service geared towards the unbanked and underbanked.24 This branchless banking service works by allowing users to store money in an account stored on their mobile phone and is accessed using PIN-secured text messages.25
South Africa is deemed to be the most technologically-advanced and financially liquid country in Africa, with apparently 75% of South Africans banking with traditional financial institutions as of 2014.
Success or failure?
M-Pesa was acquired by Safaricom in 2007. Brian Wamatu, Head of Department of M-PESA Product Development at Safaricom, said, "We stumbled upon M-Pesa 10 years ago, for people working elsewhere in Kenya that could send money to their families. We were looking for a platform that enabled payments and that was sustainable."26 Earlier this year, it was reported the platform processed transactions worth $1.9 billion, which generated a 19.6% increase in revenue to R2.3 billion as of May 2018.
However, while many acknowledge M-Pesa is a huge success in Kenya, there are contradictory opinions regarding the success of M-Pesa everywhere else, particularly in South Africa.27 M-Pesa was brought to South Africa in 2010, six years later, the platform only had 76,000 active users, leading to its closure the same year. According to BBC News, a large part leading to its failure was the fact that the customers it was being aimed towards already had access to a multitude of banking services and platforms.28 South Africa is deemed to be the most technologically-advanced and financially liquid country in Africa, with apparently 75% of South Africans banking with traditional financial institutions as of 2014.29
Arthur Goldstuck, Managing Director of World Wide Worx said, "Since the day of the launch in 2010 in South Africa, I've questioned the viability of it in this country because of the fact that the success factors for M-Pesa in Kenya were not present in South Africa… you could create demand but there wasn't a pressing need, in particular, the fact that we have a such a high banked population."30
4) WeChat
WeChat has become one of the world's most popular, independent mobile apps through monthly active users, which hit over one billion earlier this year.31 First coming on to the scene in 2011 by Tencent, WeChat was just a simple messaging app that eventually evolved to become an ecosystem of its own.32
Today, users can access a multitude of functions on the app including:33
Messaging, voice messaging, voice and video calls
A digital version of your government-issued ID card
Share updates, location, and photos on the Moments feed
Search for people nearby through the "Shake and Look Around" feature and message them through the "Drift Bottle" function
Read articles
Send virtual red envelopes with real money to friends
Transfer money and pay in store
Pay credit cards, pay utility bills, top up mobile phones, or buy wealth management products
With the introduction of WeChat Pay, the company officially entered the fintech realm, which allows users to access multiple payment methods, settlement across major foreign currencies, and in-app purchases on their shopping page.34 Tencent's financial innovation led to them being awarded "Best Innovation Centre by Non-Financial Institution in China" at The Asian Banker: The Leadership Achievement Awards Dinner 2017, and Vice President of Tencent and Head of Tencent Financial Technology Department, Jim Lai being awarded the "The Asian Banker Innovation Leadership Achievement for China Award".35
Lai said about the award that WeChat is a social networking app that now allows consumers "to pay with their digital wallets without the need to carry hard cash anymore. Be it in first-class cities or remote areas, digital payment can be used everywhere".
Success or failure?
WeChat has been a major success. Forbes called WeChat one of the most powerful apps36 and many have described it as China's "super app".37 Evan Spiegel, CEO of Snap said the app's success had to do with so much more than just good timing, "Tencent very early on understood the power of communication because it drives frequency. And if you can be the service that's most frequently used on someone's phone, you're able to develop a lot of other ancillary businesses around that engagement."38
However, some speculate as to whether WeChat's success is largely due to the popular messaging application, WhatsApp being banned in the country, which was the last of all Facebook-owned products available to homeland China.39 WeChat has been accused of sharing personal user's data with authorities in China, while WhatsApp offers end-to-end encryption.40 Yet, WeChat continues to offer many more features compared to WhatsApp and is said to have been ahead of the curve even before WhatsApp was banned. Already in 2013, WeChat users could send monetary gifts, pay bills, and transfer money.41
Of all Chinese users, 94% use Wechat every single day,42 spending a total of 33% of their time on their mobile, in this app. A large reason behind the company's success was capitalising on the opportunity to add new major functions, transforming the app from merely being one focused on messaging.
Ultimately, the success behind financial innovation is based on meeting the needs of people; as Forbes once said, "Inside the fintech frenzy, the customer is king. Reactive has become proactive, and values matter just as much as cents".43 WeChat and PayPal found success due to hitting the market at the right time. What can be learned from these companies is that they paid attention to their customers, and conducted thorough market research, something M-Pesa failed to do when bringing their services to South Africans who the majority of which were not unbanked.44 PayPal abandoned their relationship with eBay to seek independence, a move that allowed them to grow faster than the marketplace, and stay ahead of current trends such as Bitcoin.45 Funding Circle had the benefit of being the first of its kind, yet has remained in its position of first place when it comes to peer-to-peer lending due to its selective business strategy and focus on SMBs (small and midsize business).46