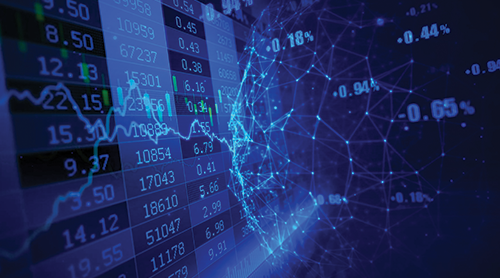 Big data is still a hugely relevant topic, although the term has become a little distorted and overused. According to Google Trends, there's an indication that interest is fading in terms of the hype.1 However, it's actually accelerating in terms of real enterprise adoption.
Big data has the potential to transform long-standing traditional organisational practices, as well as business planning. Data-driven business strategies are taking hold, and becoming an increasingly important point of competitive differentiation among companies. According to McKinsey and Company, using big data when building a business strategy involves three mutually supportive steps:2
Identifying, combining, and managing a number of sources of data.
Building data analytics models to predict outcomes.
Transforming the organisation by using big data to improve decision-making, specifically knowing which tech to use and how to use the data.
Two companies utilising big data effectively in building their business strategy plans include Spotify and Coca Cola.
Spotify
This popular music streaming service has access to over 200 million unique sources of data in the form of monthly active users from all over the globe.3 From listeners and musicians, to producers and managers, terabytes of data are produced every single day, allowing Spotify business leaders to engineer ingenious big data business strategies. With so many active users streaming songs on a daily basis, Spotify's data alchemists are able to employ big data-driven strategies to provide listeners with music they didn't even know they wanted to hear.4
In this business case, the company is using big data to provide solutions for their customers, but how are they using big data to make suggestions towards their business planning?
Eliot Van Buskirk, in-house Data Storyteller of Spotify says, "The basic idea is that the data that people view as kind of dry, is capable of producing these incredible interesting nuggets of information."5 However, to get to the point of making customised suggestions, Spotify would have to sift through a huge collection of unnecessary information to get to the usable data.
The mountains of data Spotify acquires each day helps users find content according to their tastes, but it is also used by the company to customise their marketing strategies.
Spotify's "Thanks 2016, it's been weird" advertising billboards made waves as the streaming service's largest-ever global campaign.6 By analysing collections of big data, Spotify identified some striking scenarios of listener behaviour, and created billboards all over the world using the information, together with witty copywriting. A popular example of one of the billboards, read: "Dear person who played 'Sorry' 42 times on Valentine's Day, what did you do?"7
But Spotify's approach to, and use of, big data has landed them on front pages and in hot water with users. Spotify's users lashed out in 2015 due to widespread unhappiness with large-scale updates to the service's privacy policy.8 Users became outraged by the apparent lack of regard for their privacy, and began cancelling subscriptions and taking to social media to vent their anger.
In an effort to quell the uprising and assure users their data was secure, Spotify CEO Daniel Ek posted an apology and explanation of their big data practices on the Spotify blog, which has since been removed.9
Coca-Cola
The Coca-Cola Company is the world's largest beverage producer, selling more than 1.9 billion servings of drinks from over 500 brands to consumers in over 200 countries.10 With this kind of production, distribution, sales, and consumption numbers, inordinate amounts of data is being produced every second by Coke consumers all over the globe.
The Coca-Cola Company was one of the first globally-recognised, non-IT related companies to speak about the value of using big data solutions to build business strategy when, in 2012, their Chief Big Data Insights Officer, Esat Sezer said, "Social media, mobile applications, cloud computing and e-commerce are combining to give companies like Coca-Cola an unprecedented toolset to change the way they approach IT. Behind all this, big data gives you the intelligence to cap it all off."11
When Coke first released Coca-Cola Freestyle in 2009, it was hailed as the "most advanced soda fountain ever", allowing users to mix over 100 flavours on the spot via a touchscreen and with technology originally designed for dialysis and cancer treatments.12 These machines were installed in movie theatres, shopping malls, and fast food outlets all across the US, gathering and sending consumers' flavour choices back to the head office.
The Coca-Cola Company was one of the first globally-recognised, non-IT related companies to speak about the value of using big data solutions to build business strategy
Coke then used this horde of big data when making their business plan regarding which product to bring out next. The data revealed exactly which flavour people wanted the most, and in 2017, Coke delivered the final product: Sprite Cherry. "There's proven data that people actually love it," said Bobby Oliver, Director of Sprite & Citrus Brands for Coca-Cola North America. "It's not just a survey where people say yes or no."13
In another example of Coke's application of big data to develop good business strategy, the beverage company designed a unique way to identify potential new consumers of its iced tea brand, Gold Peak. By using image recognition software to trawl and identify qualifying images posted on social media, they were able to target potential consumers with Gold Peak ads on over 40 different mobile platforms.14 The users they targeted were those who uploaded images featuring these three elements, to their Facebook, Instagram, or Twitter accounts:
Glasses or jugs of iced tea
Competitor brands like Lipton, Snapple, and Honest Tea
Displays of positive emotions
These highly-targeted adverts achieved a click-through rate of 3 to 4x Coke's own benchmark for Gold Peak ads.15
Big data trends for 2019
The Coca Cola Company and Spotify have two of the largest consumer bases in the world, giving them access to more data than most other businesses. Even though your organisation might not harvest as much user data as these two behemoths, applications of big data for your business have the potential to guide your business strategies, and better your business planning. Below are four predictions for 2019 regarding where big data will go, and where it could potentially take your company:
Predictive analytics
By harnessing the power of machine learning, predictive analytics allows companies to forecast failures and potential bottlenecks. Through data collection, organisations can make these predictions and take them into consideration when strategising, in the hope that these predictions will not come to life.16
The rise of the Data Curator
According to Tomer Shiran, CEO of data startup company, Dremio, a Data Curator understands which analysis type will need to be implemented by each group across the organisation.17 The Data Curator is knowledgeable in taking data from its raw state and transforming it into the form needed for the job a data consumer will perform. More businesses are beginning to need a specific employee to manage the organisation's metadata, and data protection and quality. The Data Curator will become a necessity for companies in 2019.18
The emergence of hybrid cloud systems
Hybrid clouds combine your company's private cloud storage with a third-party, public cloud.19 Hybrid clouds allow for the business to be more flexible or change direction easily to create competitive advantage. They also give the business more data deployment options. In 2019, there will be a significant increase in the use of hybrid clouds.20
If these trends overwhelm you, becoming equipped with the expertise to simply utilise big data in your company is the first step to joining this revolution. By choosing an analysis technique to collect and analyse big data, and finding a way to incorporate it into your strategic business plan, you'll be allowing your company to market more effectively, explore new revenue opportunities, provide better customer service, improve operational efficiency, or leverage new competitive advantages over competitors.