Out of 139 countries surveyed in the Networked Readiness Index, South Africa's digital economy is ranked 65th, making it one of ten most-improved countries of 2016.1
It's because of this potential that the Department of Telecommunications and Postal Services has called for input on the national e-strategy, e-government and ICT SMME support strategies. This is aimed at unlocking business opportunities and creating an enabling business and administrative environment for SMMEs in the ICT sector.2
Small and medium-sized ICT players can only benefit from this
Cape Town, specifically, was ranked by the Global Startup Ecosystem Report (GSER) as being the number one tech ecosystem in Africa, with the report showing the city as having the most IT-based companies on the continent – an estimated 700 to 1, 200 tech startups currently active.3
On 19 May 2017, Cape Town-based digital education company GetSmarter rang the Nasdaq Stock Market Closing Bell in New York City – a celebration of the $103 million (R1,4 billion) acquisition of their company a few weeks earlier by American edtech giant, 2U.
It was an awe-inspiring picture of South Africa's talent in digital innovation on show – and according to Chip Paucek, CEO of 2U, should be a "wake-up call to global investors about the potential of other South African tech start-ups."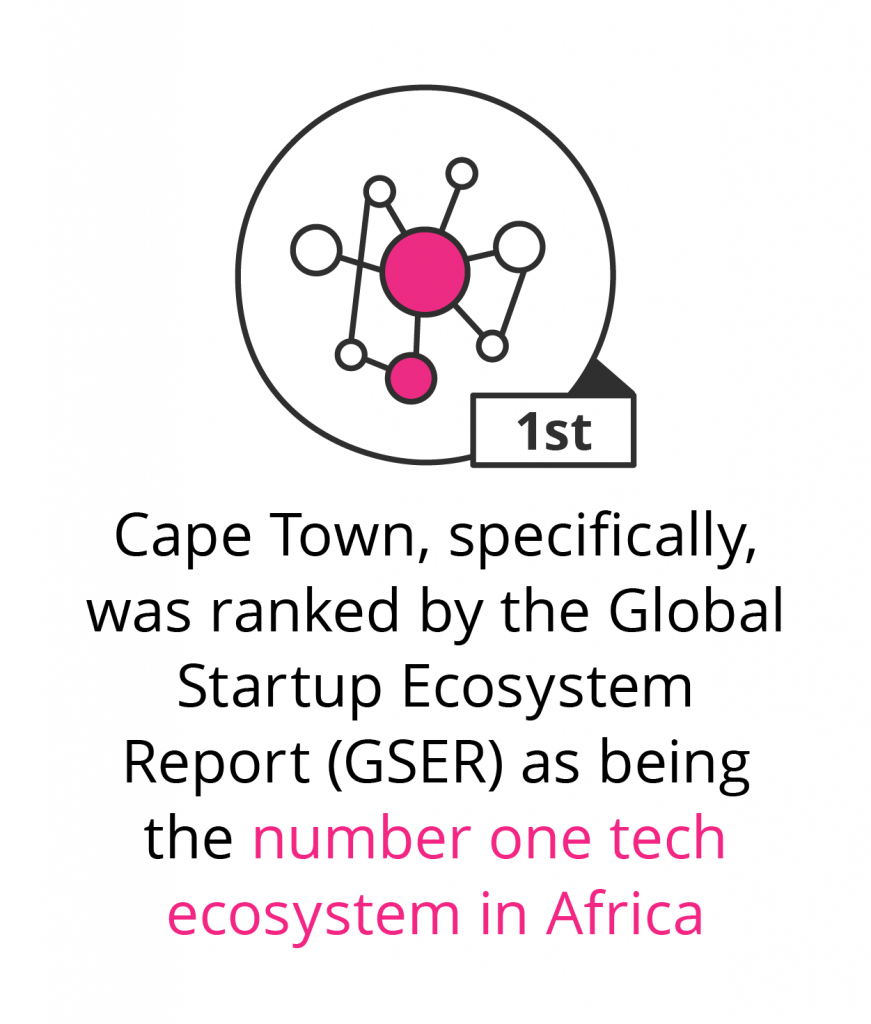 One of the world's most dynamic, emerging edtech companies
Paucek believes "as one of the world's most dynamic, emerging edtech companies, GetSmarter not only exemplifies the growing digital innovation happening in South Africa but should serve as a wake-up call to global investors about the potential of other South African tech start-ups." And many others in the tech industry agree with him.
The South African edtech sector hasn't garnered a lot of attention from investors over the past ten years, and in comparison to the American edtech industry – where companies attracted just over $1 billion in venture capital funding in 2016, with almost half of this figure going to start-ups.4 In South Africa the interest is growing slowly. On the upside, tech startups in the country attracted 16.8% more funding in 2016 than 2015.5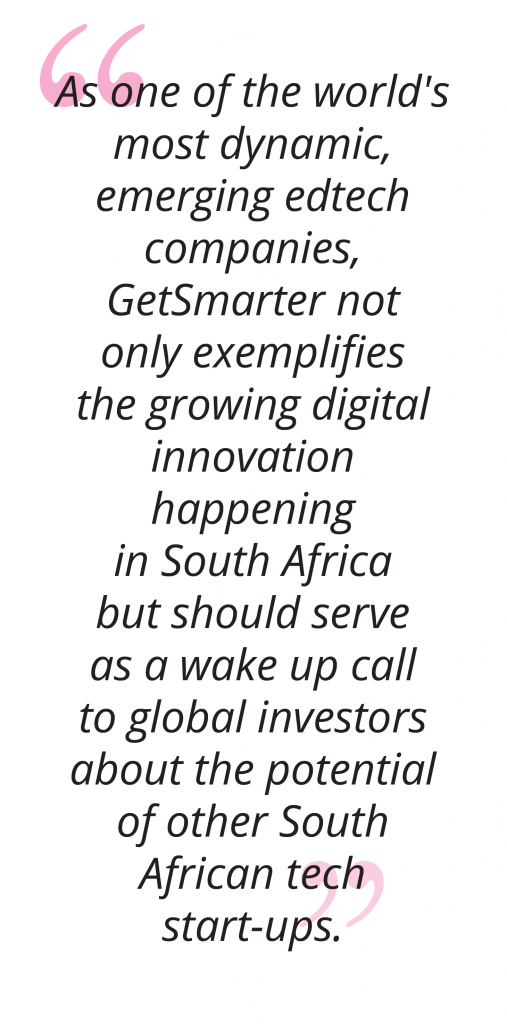 This buyout means big things for the digital economy in Cape Town
GetSmarter CEO, Sam Paddock, says, "Ecosystems often develop from these significant investments in individual companies. This was how Silicon Valley started, as well as London's 'Silicon Roundabout'. I love the idea of 'Silicon Cape', which is a term being championed by Cape Town's CiTi EdTech Accelerator.  Our expectation is that, through 2U's investment and confidence in South Africa, the broader ecosystem will also benefit."
"GetSmarter is part of this reimagining of how we combine community, curriculum, the signaling effect, and delivery to enable skills and education to be more relevant for a changing society", says Chairperson of CiTi,  Joshin Raghubar, referring to how the field of edtech will contribute significantly to the emerging digital hub of Cape Town. "With various local edtech firms tackling the extreme challenges for providing and receiving relevant and quality education in South Africa and Africa, we are also developing the competencies that give us a competitive advantage in providing compelling global solutions."
"We've seen big acquisitions from Cape Town before," says Michelle Matthews, Head of Innovation at CiTi. "But the GetSmarter model and story feels a lot more accessible, and will strengthen the broader public's perception of Cape Town as a global start-up capital."
Matthews' sentiments are echoed by Raghubar who sees the edtech industry specifically as being one of the biggest global investment areas: "It positions the Cape Town digital hub as a global leader. The global growth and recognition of GetSmarter is great testament to the growing richness of the technology, digital and innovation ecosystem in Cape Town."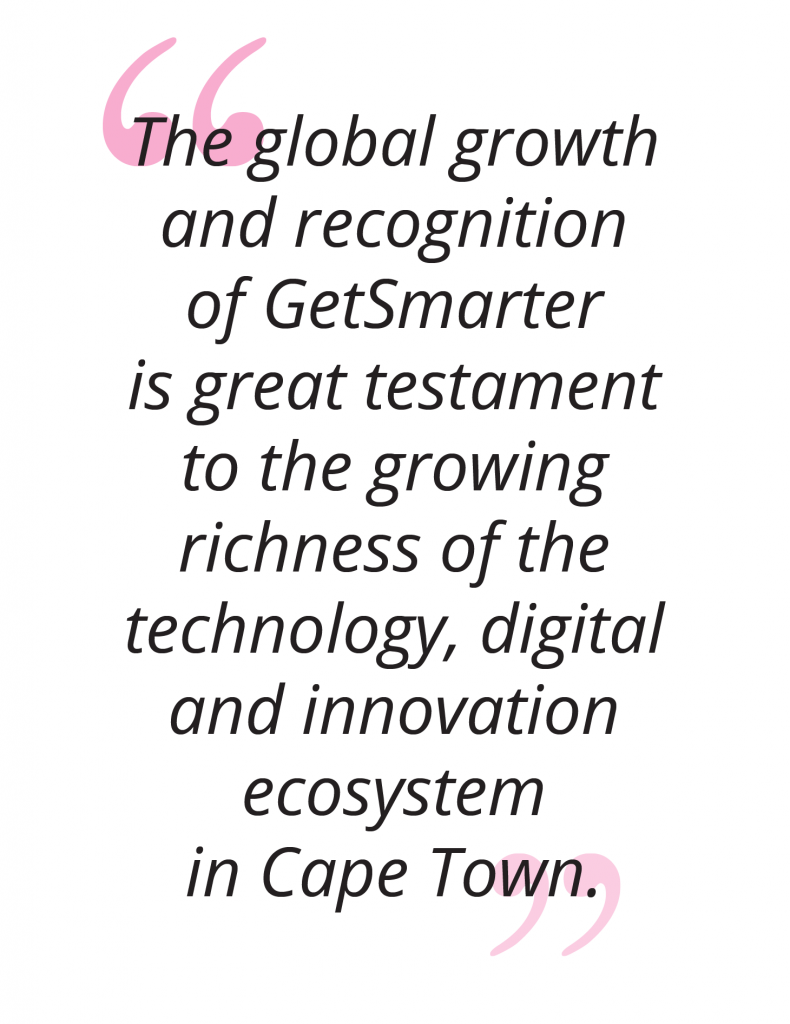 South Africa taking a front seat in edtech
Jamie Martin, Founder of Africa's first EdTech dedicated Incubator Programme and former Special Advisor to the UK Secretary of State for Education, believes that, in the edtech industry specifically, owing to the extent of the need for education, the variety of contexts and structural challenges, South Africa could be a lead innovator: "No sector in South Africa and across the continent needs innovation like education does – improving education isn't just crucial to Cape Town as a hub, it's crucial to South Africa as a country."
The GetSmarter acquisition is clear evidence for edtech investors as well as universities around the world that there are huge opportunities in South Africa – and specifically Cape Town – when it comes to innovation in this industry, and that such initiatives can bolster higher education's offering in a rapidly changing world while making quality education accessible for thousands.
"This means a lot for South Africa and for Cape Town", asserts GetSmarter CEO, Sam Paddock. "We fully believe South Africans are not only capable of playing on a world stage but can compete with the very best in the world."
Although there is still much ongoing development and potential of the region as a digital hub, the future looks bright for tech and innovation in 'Silicon Cape' with innovative and ambitious companies like GetSmarter paving the way for possibility.
---
Do you want to be a part of this movement?
Gain the skills you need from a company that is paving the way.
1World Economic Forum
2Business Live
3Silicon Cape
4Ed Surge
5Venture Burn