When it comes to blockchain technology, brick-and-mortar retailers remain behind when it comes to adoption in their organisations, although a shift in thinking is taking place.1 Recently, 4,300 business executives across 123 countries representing 28 industries were surveyed in an MIT Sloan Management Review and Deloitte's Annual Study of Digital Business, in order to map the maturity of various industries.2 According to their findings, the retail industry scored well below average for digital maturity, pegging them as a prime candidate for implementing these technologies.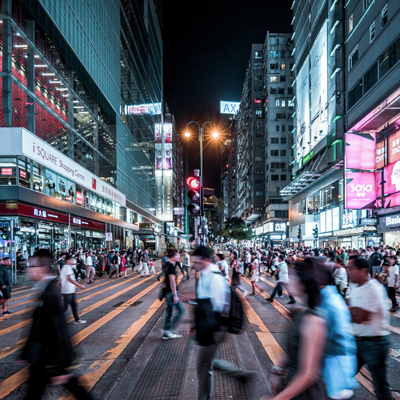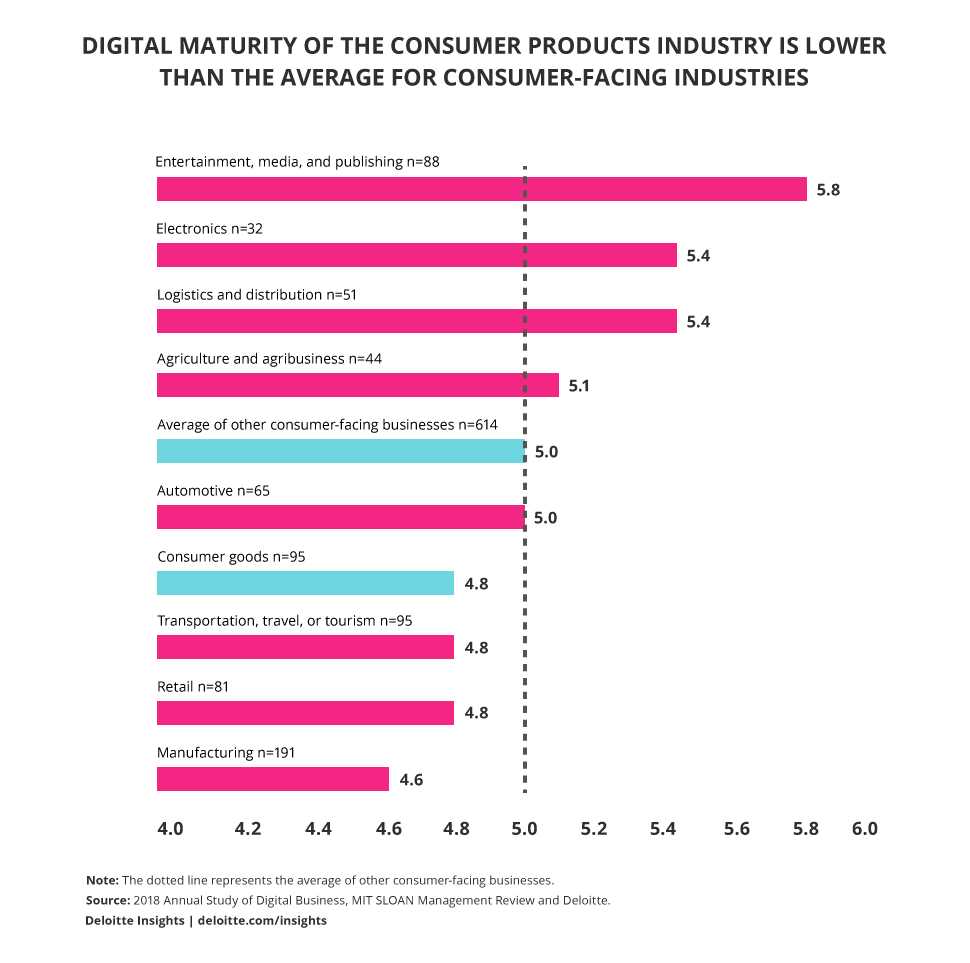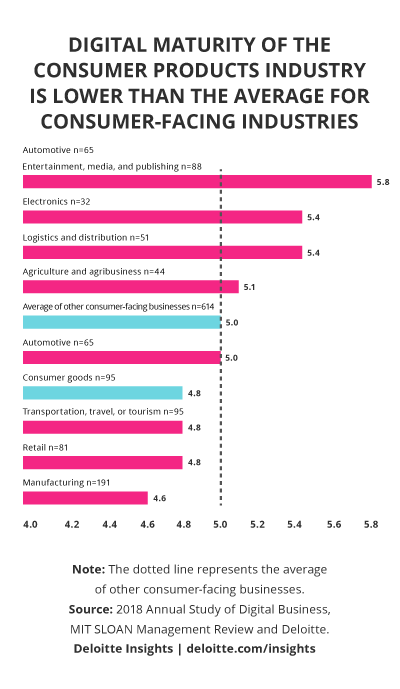 Why is retail's adoption of blockchain technology so seemingly sluggish? In this industry, consumer trust is retail nirvana, but it is also easily broken. In lieu of the fact that more and more consumer transactions are being done online, blockchain offers a way to further legitimise trust, which is good for retail.3
Perhaps a better question is why the retail industry should bother with blockchain when it seems so technically complex. The answer is simple – their customer is rapidly evolving, and so should their technology. Consumers' expectations around delivery time, sourcing, transparency, and authenticity are changing, and blockchain is likely to play an important role in helping retailers deliver on those expectations, especially when it comes to mobile payments, supply chain, and finance applications.4
How blockchain is being used in retail
Some retailers have started to explore the blockchain's potential in their business: retail giant Walmart has put it's leafy greens on the blockchain,5 while Alibaba is adopting blockchain solutions for its subsidiaries in order to effectively track its cross-border shipments.6 Here are some other ways blockchain is benefitting the retail industry.
Product provenance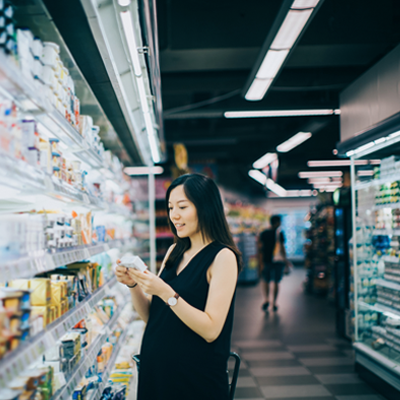 Likely to become the industry standard in the long run, and currently providing a competitive advantage to early adopters, the blockchain's ability to provide end-to-end transparency on the source of origin for ingredients and products provides better product and financial loss prevention.7
Consider the financial and ethical importance of being able to trace back to source, especially in the food and beverage sector. Recall the UK's BSE crisis of the 1990s, better known as Mad Cow disease,8 China's infant milk scandal in 2008,9 and the 2006 E. coli outbreak in America that saw one batch of spinach from one farm shut down a nation's spinach farmers for weeks while officials tracked down the source.10 Blockchain technology can reduce these scenarios from occurring by creating a massive database of the provenance of food, improving food safety, increasing profit, and reducing waste.11
Fraud prevention
Blockchain was originally created to prevent fraudulent transactions in digital currency exchanges, and retail leaders are now using blockchain technology to prevent counterfeit items from reaching consumers.12 The De Beers Group uses blockchain to track their gems from mine to retail, and records every time they exchange hands, reducing the risk of fraud, and giving consumers greater visibility into the industry.13
Management of loyalty points
Blockchain could be a solution to the low-redemption challenge most loyalty programmes face by allowing customers to store all their points, rewards, and coupons in a single digital wallet, rather than trying to manage multiple programmes. On top of that, blockchain offers real-time allocation and redemption of rewards to consumers, making loyalty programmes between consumers and across retailers, brands and stores more flexible.14
Compliant consumer data
Blockchain allows retailers to manage their consumer's digital identity and information in one central database, which is pivotal when dealing with the General Data Protection Regulation (GDPR)15 and the California Consumer Privacy Act of 2018.16 Blockchain could assist in the management of retailers' consumer data privacy compliance through the use of smart contracts; an agreement between two parties in the form of computer code that runs on the blockchain and is stored on a public database and cannot be changed. This could be used to oversee permissions and access to consumer data.17
Accepting payments with cryptocurrencies
Blockchain allows for the use of cryptocurrencies as a means of exchanging value or data, and really comes into its own for retailers when handling cross-border payments and micro-payments. Overstock was the first major online retailer to accept Bitcoin as payment in January 2014,18 and has since brought in a reported $5 million per annum in Bitcoin payments.19 However, barring a few other early adopters, such as Expedia, Dish, and Microsoft, uptake in the retail sector for cryptocurrency payments has been relatively slow.20
How blockchain will change the face of retail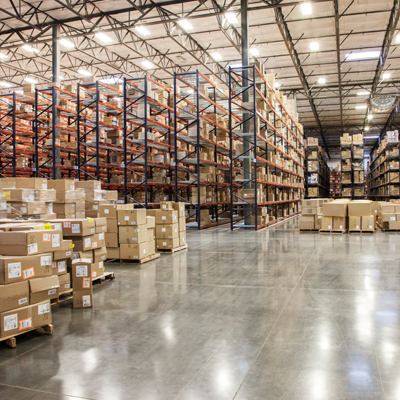 Thanks to online giants like Amazon changing the way consumers buy today, and their expectations around customer experience and delivery, many have predicted the oncoming death of brick-and-mortar retail. In truth, the online retail industry has driven substantial change thanks to the rapid advancement of technology, such as artificial intelligence and automated warehouses.21 And, quietly ticking away in the background, you'll find blockchain playing a crucial role in the future of retail.22
Tracking inventory
Steve Sarracino, founder of venture capital firm Activant Capital Group, explains: "In retail, the two biggest issues from a data perspective are understanding and knowing where your inventory is – whether it's in your supply chain or in the store or online – and then matching that with the right customer."23 With blockchain technology giving immutable visibility into every point on the supply chain, retailers can now track their shipments better, and perform stock takes with accuracy.24
Enforcing labour rights along supply chains worldwide
The International Labor Organization estimates that nearly 25 million people work in forced-labour conditions in and out of supply chains around the globe, with 47% in the Asia-Pacific region alone.25 In an effort to enforce labour rights along the supply chain, Coca-Cola together with the U.S. Department of State, has opted to use blockchain technology to ensure that labour conditions along their product supply chain are ethical.26
In KnowTheChain's recent forced labour benchmark, 38 food and beverage companies were assessed to capture the key areas most needed to remove forced labour from their supply chains:
Commitment and governance
Traceability and risk assessment
Purchasing practices
Recruitment
Worker voice
Monitoring and remedy
While most companies said that they have a corrective action process in place for their suppliers, only three companies – Unilever, Kellogg, and Coca-Cola – could comprehensively outline their corrective action process, including a means to verify the implementation of corrective actions.27
Automating back-office administration
Blockchain is helping alleviate the administrative burden in retailers' back offices, such as streamlining HR processes with the use of smart contracts. Plus, repetitive data-heavy admin tasks, such as payroll, can be digitised to allow teams to get faster, more accurate results, and freeing them up to get back to their core functions, such as customer services or sales.28
Payments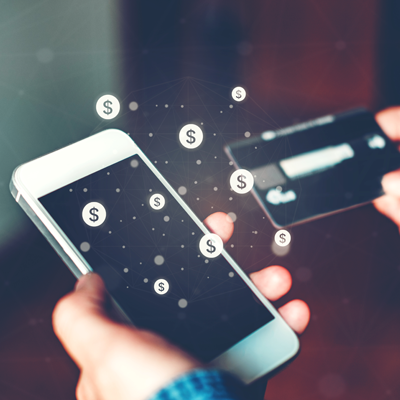 As the most common use case for blockchain, the ability for blockchain to facilitate payments by consumers in cryptocurrency to retailers is almost a given. However, the rate of acceptance of this technology among retailers is still relatively low, and digital-wallet security may need to improve more before retailers will trust it and use it on a wider scale.29
Staff time tracking
Time-stamped contracts can be created to track when store staff clock in for a shift. This provides the retailer with tamper-free tracking, accurate reporting, and efficient workforce planning – typically a highly time-intensive exercise, especially for retailers with multiple stores, but instantaneous with blockchain.30
Whether fostering greater customer trust and loyalty, or removing labour-intensive admin, blockchain's implications for the retail industry cannot be denied. It's bringing digital consensus, consistency and finally making available the resources to keep an accurate record to an industry that has tried, and failed, to do so with traditional technology in the past.31 As blockchain technology continues to mature, businesses of every size can benefit from the trust, transparency, and transaction efficiency it brings to the retail industry.