Five Pioneering Skills You'll Need By 2025
The world is evolving, and so too are the competencies required to work and thrive in it. According to the World Economic Forum's 2020 'The Future of Jobs Report', businesses expect 44 percent of the skills that employees need to perform effectively in their roles to change by 2025.1
There's no doubt that the Fourth Industrial Revolution (4IR) is central to this major shift in sought-after skills. Alongside several other key megatrends, the rapid rise of innovations like artificial intelligence (AI), robotics, 3D printing, the Internet of Things (IoT), and cloud computing is driving widespread change in the workplace. And in many ways, the COVID-19 pandemic has only accelerated this transformation.2 In a matter of years, certain jobs may cease to exist, many roles will be redefined, and several new occupations will surface and become the norm.
The question is: are you developing a skill set aligned with the trends of the emerging workforce and the jobs of the future?
A new focus on transferable soft skills
GetSmarter's 'The Future of Work Is Here' report shows that while technological advancements are powering much of the revolution, the skills that are rising most in prominence are of the softer variety – cognitive and interpersonal skills that are easily transferable from one role to another. As machines do what they're best suited to – optimize, automate, calculate, replicate – professionals are required to play more into their uniquely human proficiencies.
As ServiceNow CEO Bill McDermott is quoted as saying in the 2021 Deloitte 'Global Human Capital Trends' report:3
"We're in a world now that's all about people. We're in a truly human moment where any connection that doesn't absolutely lean into people will go nowhere."
In line with this, the GetSmarter Skills Hierarchy supports the notion that many of the pioneering skills of the future aren't strictly technical. Outlining areas in which employees and businesses need to focus their upskilling and reskilling efforts, it shows that although digital capabilities are fundamental, the proficiencies that actually set candidates apart are largely human-centric.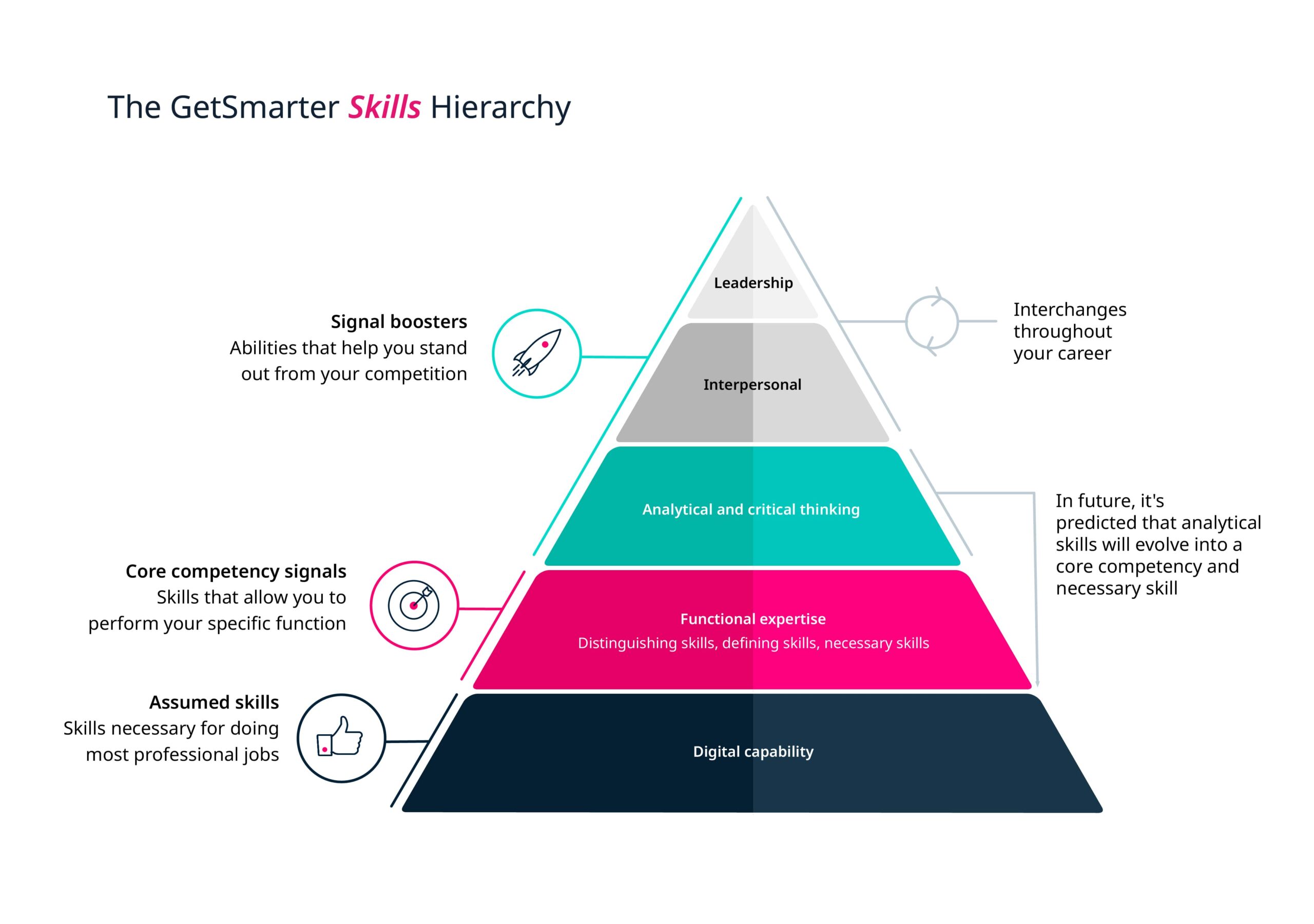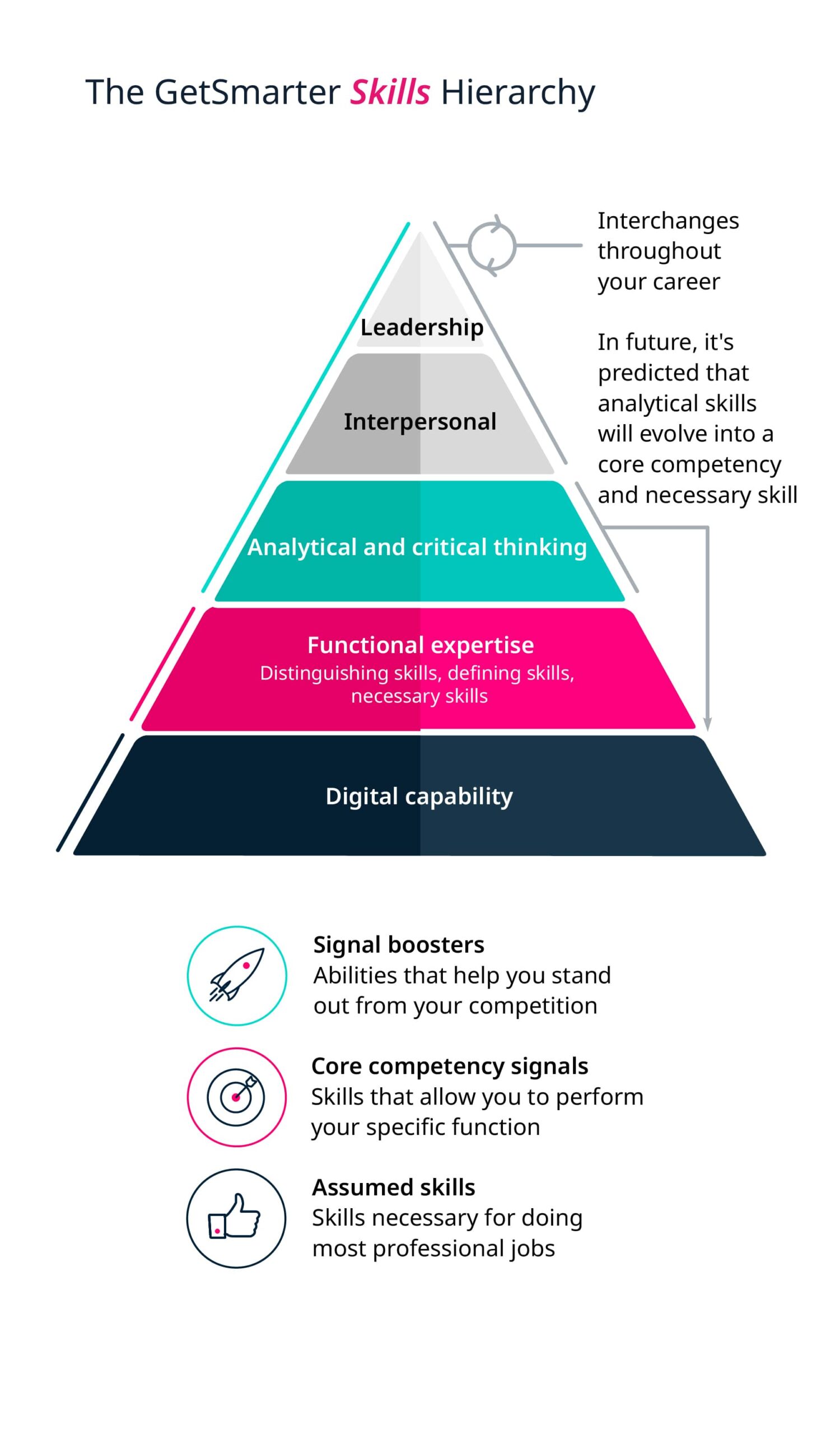 Guided by this hierarchy and global research, this overview outlines five of the most important skills you'll need to develop in order to not just survive, but thrive, in the workplace of the future.
1. Digital literacy
Up to 84 percent of employers plan to swiftly digitalize work processes in the near future, with a fair number intending to use digital tools to connect employees and bridge divides caused by COVID-19.4 Over time, we've also seen many once-futuristic technological concepts – such as AI, machine learning, and virtual reality – grow in adoption, or become mainstream, and the world is currently witnessing a rapid rise in the demand for cobots (collaborative robots), which will see humans increasingly working alongside smart machines.5
As a result, going forward, professionals across industries and functions will require some degree of digital and technological literacy.6 At the very least, workers of the future will need a basic understanding of the application potential of various disruptive technologies like blockchain and IoT, and a degree of comfort with data interpretation and everyday software, like the tools included in the Google Workspace suite.
Considering the current pace of digital transformation, it's key to develop such competencies now to lay the foundation for optimal performance in the wholly different world that we're likely to face in 2025.
Of all the digital proficiencies to master, virtual collaboration skills are perhaps the most important. Even pre-COVID-19, research revealed that over 70 percent of professionals felt that video meeting capabilities and real-time collaboration tools were the technologies that played the biggest role in improving job performance and success at work.7 Since the outbreak of the pandemic and the rise in work-from-home arrangements, the ability to engage effectively with teams across geographic boundaries and time zones has only become more critical.
It's fairly safe to assume that by 2025, it will have become the norm to communicate and connect with colleagues virtually. So it's worth familiarizing yourself with popular online collaboration tools, like Slack, Zoom, Asana, and Workplace from Facebook, now.
2. Analytical and critical thinking
GetSmarter's recent research revealed that many professionals consider analytical or critical thinking to be the most valuable skill, both now and for the future. In the same vein, Deloitte's 2019 Industry 4.0 readiness report showed that the most innovative technology, media, and telecom (TMT) companies value critical thinking skills over technical skills, and are focusing their efforts on developing this competency for success in the 4IR.8
The proliferation of algorithms and data science is, in part, responsible for this trend. We live in a world where we're inundated with information, and the most effective workers in the future will be those who can apply logic and reasoning to analyze it, interpret it, evaluate alternatives, weigh up the pros and cons of different solutions, and identify the best way forward.9 Machines may augment our work by delivering insights, but humans will be required – more and more so as we approach 2025 – to think critically about the information provided to inform decisions, solve complex problems, and develop new ideas.
3. Self-management
According to a recent Gartner survey, 82 percent of company leaders plan to allow employees to work remotely some of the time going forward, even after the COVID-19 pandemic.10 This development builds on an already growing trend towards outsourcing, freelancing, and telecommuting. As a result, more and more professionals will be either working for themselves or away from the office, outside of the structures typically implemented to manage and motivate workforces.
This means that it will be more important than ever for employees to be able to self-direct. This involves taking on more responsibility, being self-disciplined and accountable, making important decisions on your own, and keeping your cool under pressure.
Skills in self-management – including active learning, resilience, stress tolerance, and flexibility – emerged as key competencies to develop in the lead-up to 2025 in the World Economic Forum's 2020 'The Future of Jobs Report.'11 The research suggests that employers of the future will want employees who have a growth mindset and can take initiative, motivate themselves, manage their time effectively, handle stress and criticism, keep their emotions in check, and adapt easily to change.
Adaptability is a self-management skill that is likely to be highly valued going forward, given that the rate of change in the world is only accelerating.12 By 2025, workers will need to be adept at switching seamlessly between tasks, coping with variability, and reacting quickly and effectively to shifts in the workplace.
4. Social and emotional intelligence
As soft skills are becoming increasingly important, social and emotional intelligence will be key competencies to develop for future success. Professionals who are proficient in these areas can easily adapt their behavior to accommodate various styles of communication, diverse strengths and weaknesses, and different personalities. They're also aware of, and in control of, their own emotions, and sensitive to the needs, feelings, and mental states of others.13
These skills underpin the ability to connect, collaborate, communicate, empathize, negotiate, persuade, and resolve conflict – all deeply human competencies that can't be replicated by algorithms or machines. Social and emotional intelligence are also key to engaging effectively with colleagues from different age groups, which is becoming critical as changing demographics leave us with an increasingly diverse, truly multi-generational workforce.
5. Leadership
Data from GetSmarter's 'The Future of Work Is Here' report also shows that leadership skills will become increasingly sought after in the future. Strong leaders are needed to navigate disruption, steer teams through rapid transformation and extreme uncertainty, and capitalize on emerging technologies.
However, in the 4IR, it's no longer enough to simply be able to guide employees to achieve organizational goals. Modern professionals must embrace responsible, adaptive, entrepreneurial, and values-based leadership practices.14 They need to be proficient in leading dispersed, remote teams; inspiring staff with empathy; promoting diversity, equity, and inclusion in the workplace; fostering trust and transparency; driving sustainability; and prioritizing social responsibility.
The need for leadership capabilities doesn't only apply to senior and more experienced members of the workforce. Today, many junior workers are required to take on management roles from time to time – even if just on a short-term project basis. In addition, GetSmarter data indicates that the younger generations are moving into leadership positions fairly early in their careers – 43 percent of millennials and 27 percent of Generation Zs are reportedly already people managers. This finding suggests that all professionals, across generations, experience levels, and industries, should be focusing on developing their ability to lead.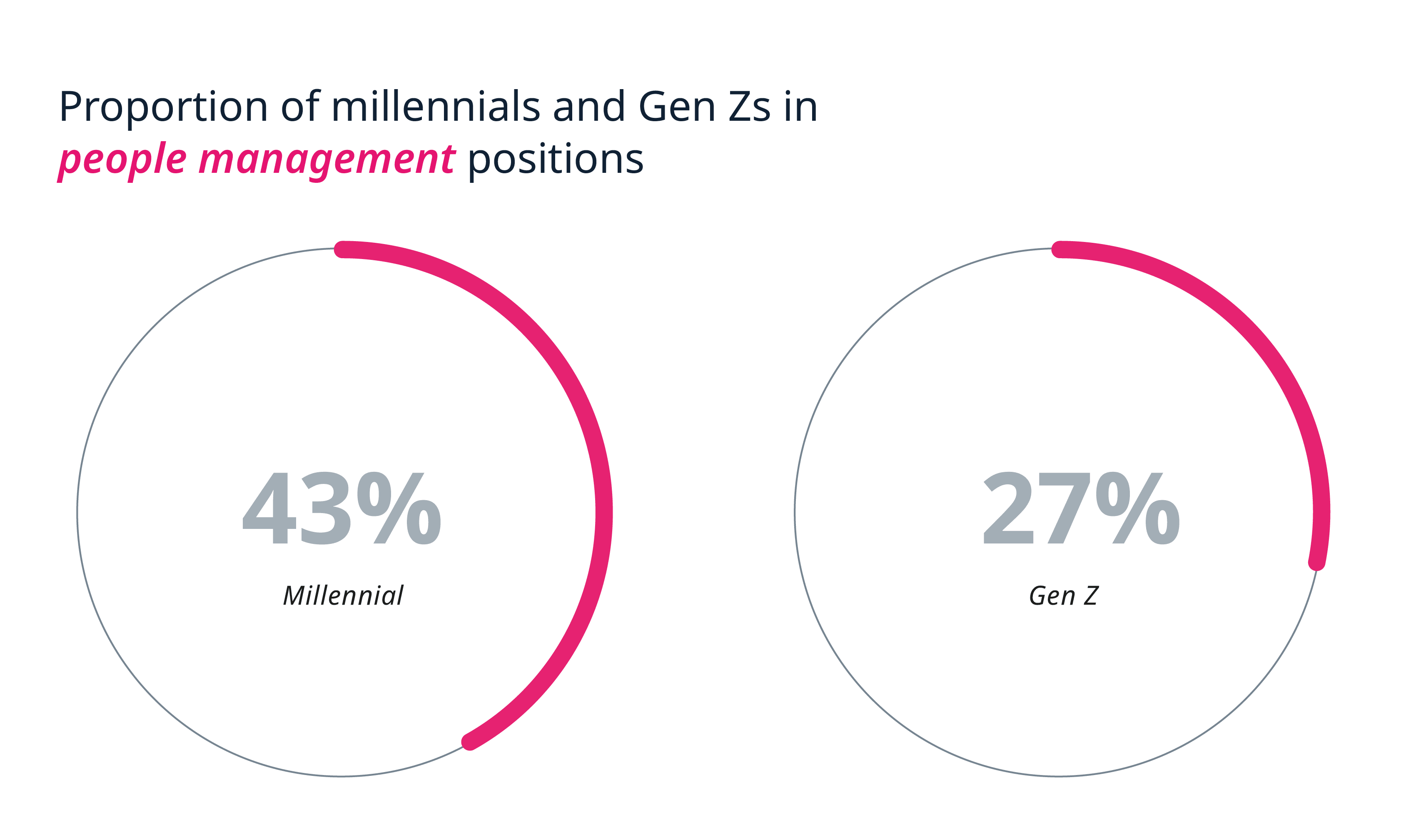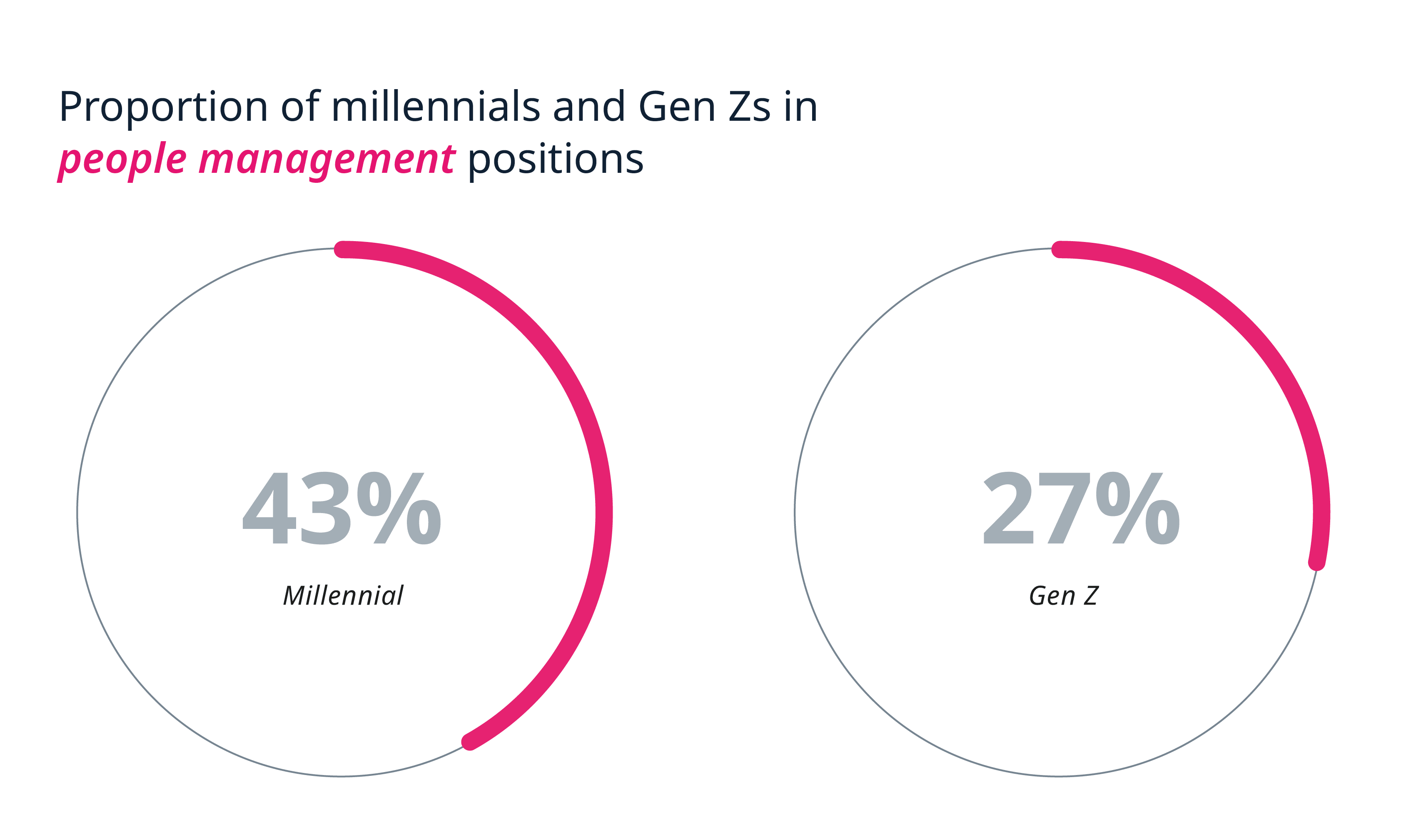 The next steps: Upskill today
The best way to ensure that you have the skills you need to perform optimally in 2025 (and beyond) is to commit to an approach of lifelong learning. Research for GetSmarter's 'The Future of Work Is Here' report indicated that employers consider evidence of continued learning on a CV highly desirable, and are starting to place greater value on online skills-based certificates. As HR professionals view continuous learning as a joint responsibility between companies and employees, it might be worthwhile starting a conversation with your employer about your upskilling options.
Online education and programs focused on continuing professional development also don't only deliver technical skills. GetSmarter discovered that a sizable portion of HR managers agree that professionals can effectively learn interpersonal skills online, and indeed, more and more online courses are now dedicated to the development of these competencies.
Ultimately, keeping up with the changes to come will require a willingness to constantly reinvent yourself, while regularly adapting your approach to work and people, and a commitment to cultivating your own uniquely human capabilities.
---
Evolve your skills with a course suited to your needs. Browse the portfolio.