How to Respond to the Future of Work: The Importance of Upskilling
How are you evolving your skills for the future of work? This is one of the most pertinent questions workers are asking themselves. However, the answer is constantly changing. With every new technology, innovation, regulation, and system, the most in-demand skills shift. The capabilities that employers are looking for today are no longer the capabilities of last year, and in many industries this has created a significant skills gap. Now, more than ever before, employees and leaders need to stay abreast – or better yet, ahead – of change.
Individuals are expected to live up to the age of 115,1 making the working lifespan that much longer. Yet these workplace changes also offer opportunities; with every new skill needed, you have the potential to reinvent yourself, your role, and your career.
'The Future of Work Is Here' report from GetSmarter details our human ability to adapt to new driving forces within the working world. To better understand the implications of globalization, megatrends, and emerging technologies, GetSmarter conducted research that reached over 8,000 respondents globally, allowing for significant insight into the current and future business impact of such forces.
The report discovered that although technology is one of the biggest catalysts for change, ultimately the impact of this change is human. As machines augment our workplace, we're left to explore the unique skills that set us apart as people. What this climate of change has shown is that lifelong learning and the need to upskill has become critical to individuals and organizations alike.
Do you have the skills needed for the future?
The Fourth Industrial Revolution (4IR) has paved the way for transformative change. Today, the lines between physical, digital, and biological worlds have blurred, as artificial intelligence, robotics, the Internet of Things, 3D printing, and other industry advances become increasingly embedded within society. These technologies are some of the biggest drivers of change in the workplace and they're shaping the future in various ways that are yet to be seen. What this means for the working world is still being understood, but in order to navigate the uncertainty, professionals will need to look beyond the skills of today, towards the demands of tomorrow.
In the Leadership in an Exponentially Changing World online short course from the MIT Sloan School of Management, you'll learn to leverage your unique leadership style and team strengths to drive your organization through change and towards success.
The GetSmarter Skills Hierarchy provides a guide to what professionals may need to upskill or reskill in the near future.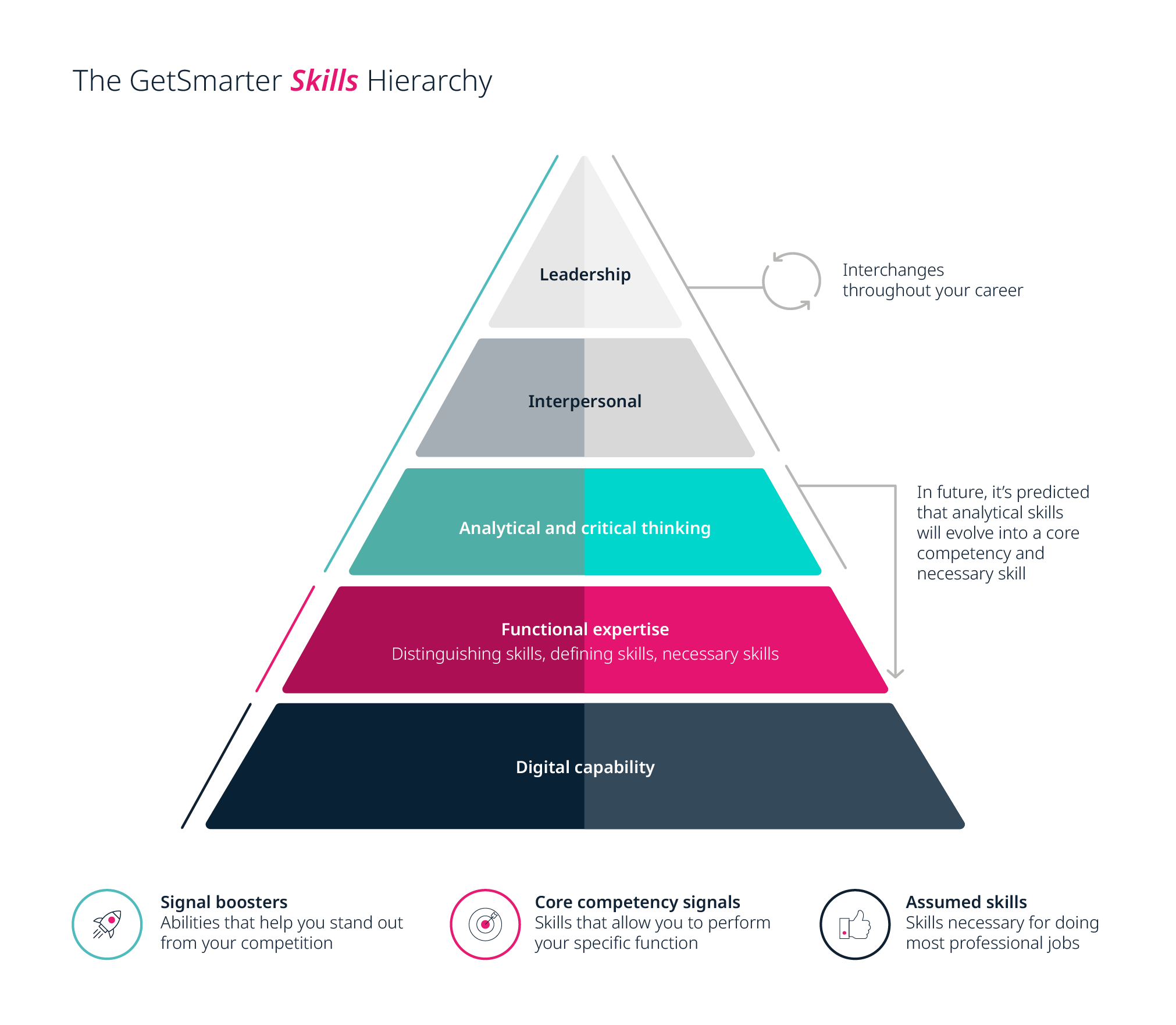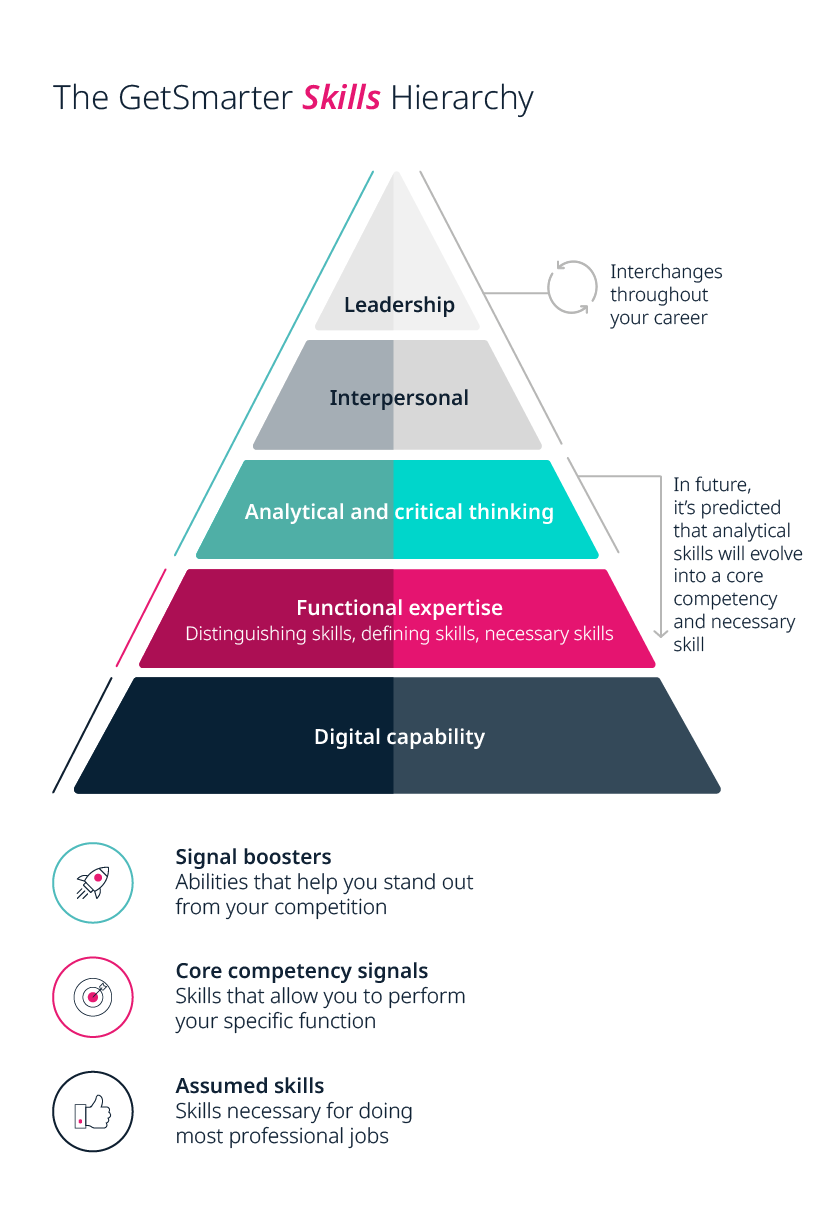 The expectation on digital capabilities has expanded over the years; they've also become assumed skills for every employee. What once only included Microsoft Office now includes Google's G-suite, Slack, and Zoom, acting as the digital skills foundation for every professional role.
The proliferation of data has driven the demand for analytical and critical-thinking skills. From finance and marketing to other less obvious business functions, the ability to interpret information and extract insights that inform decisions is quickly becoming one of the most profitable skills to learn.
As complexity within the business landscape has developed, leadership and interpersonal skills have become highly sought-after capabilities. Leaders will need to effectively drive teams through radical change and uncertainty, while ensuring their workforce is inclusive and diverse and that their business impact is transparent, conscious, and valuable.
Saïd Business School, University of Oxford recognizes the crucial need to prepare for leadership roles. The Oxford Women's Leadership Development Programme offers you a space to critically examine, acknowledge, and develop your leadership style and skills. Over six weeks online, you'll build the confidence to broaden your impact and realize your full potential as a leader.
How people are choosing to upskill
The 4IR has also brought about a skills shortage across industries, specifically within the realm of emerging technologies. With such rapid advances, the labor market has struggled to keep up with the rate of change. Research indicates that by 2022, "no less than 54% of all employees will require significant re- and upskilling."2 Organizations are realizing that bridging the gap between current and future skills goes beyond individual employee benefit – the business value of addressing the skills gap reveals major financial incentive. The WEF predicts that closing the gap could result in an additional $11.5 trillion to global GDP in 2028.3 Business leaders are now asking themselves, how will we address the skills shortage?
Globally, companies have begun to answer this question by upskilling their employees. But despite technology driving change, the emphasis on skills gain is not solely technical. Many disruptive technologies have moved beyond their initial hype towards actual business implementation and application. Yet, even though the hype is now being acted upon, only 11 percent of respondents from our report identified learning about disruptive technologies as a key development tool used to close the gap in their existing skills. Instead people are choosing to close the skills gaps in their current capabilities by adapting to dynamic work needs and changes.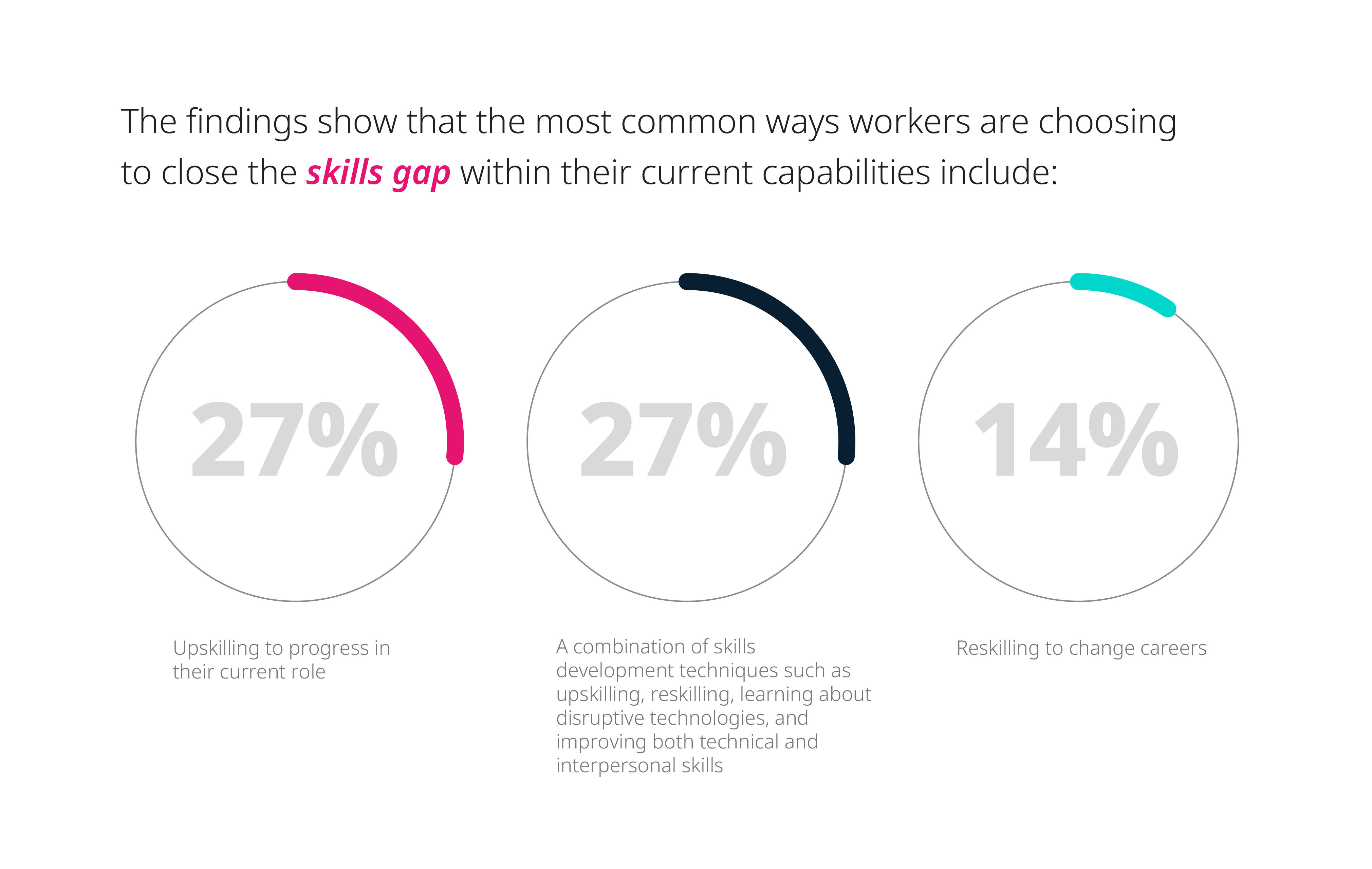 Despite what may seem like a technological takeover with advances in automation, humans are central to every technological design. With technology essentially becoming more human, it's less about using technology (gaining technical skills) and more about interacting with technology (harnessing interpersonal skills). According to GetSmarter's research, in the future, technical skills will serve as a means to compete, while interpersonal skills will hold the competitive advantage.
But in order to truly close the gaps that exist, companies will need to continuously invest in the current and future workforces.
Explore the power of the individual on the Communicating for Influence and Impact online short course from the University of Cambridge Institute for Sustainability Leadership (CISL). During the eight-week course, you'll develop the communication skills needed to future-proof your business and influence positive change.
How businesses can address the need for upskilling
When organizations foster a culture of learning, employees become empowered to confidently navigate change. What's more, employees understand that continuous learning is a joint responsibility that falls both on an individual as well as a business.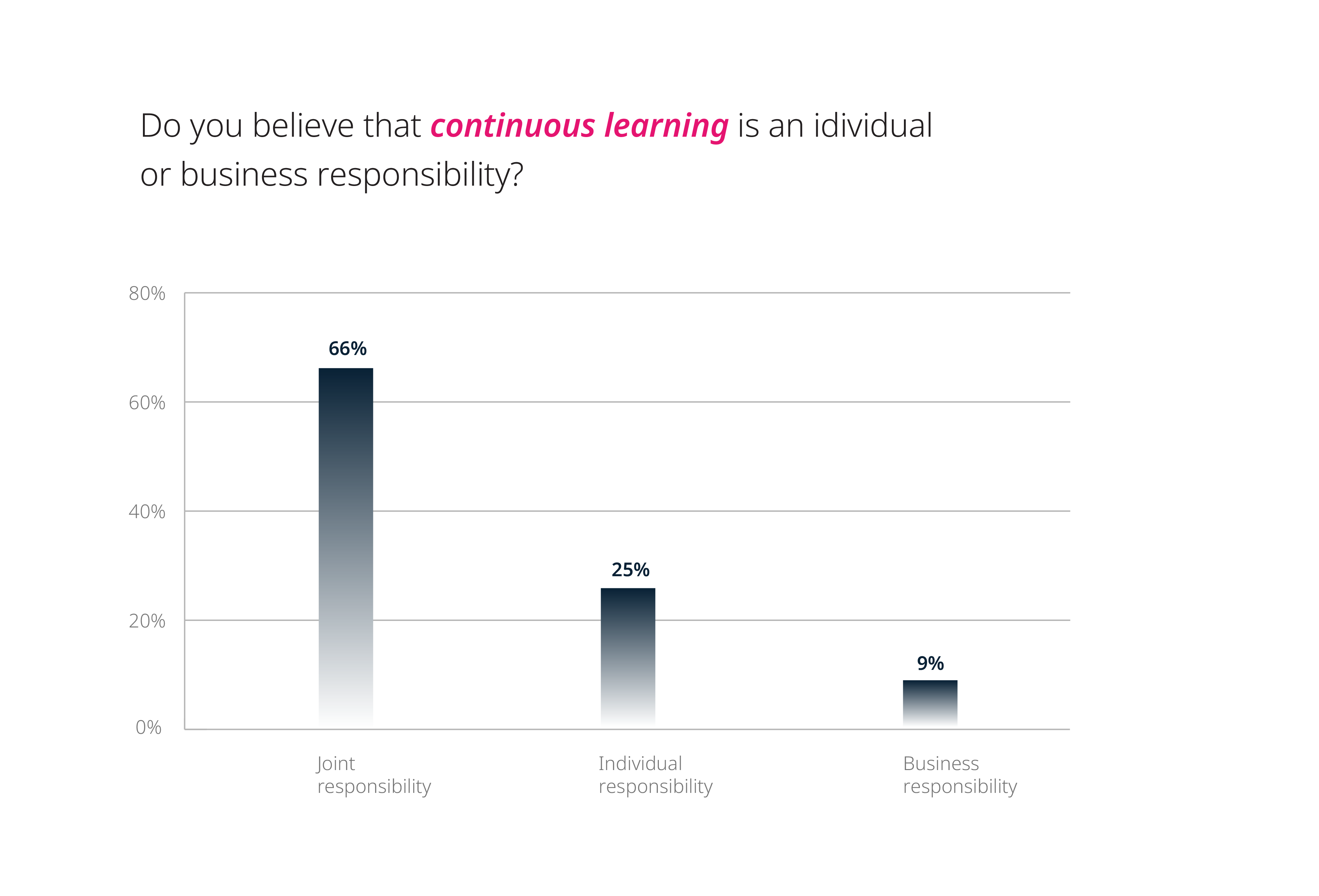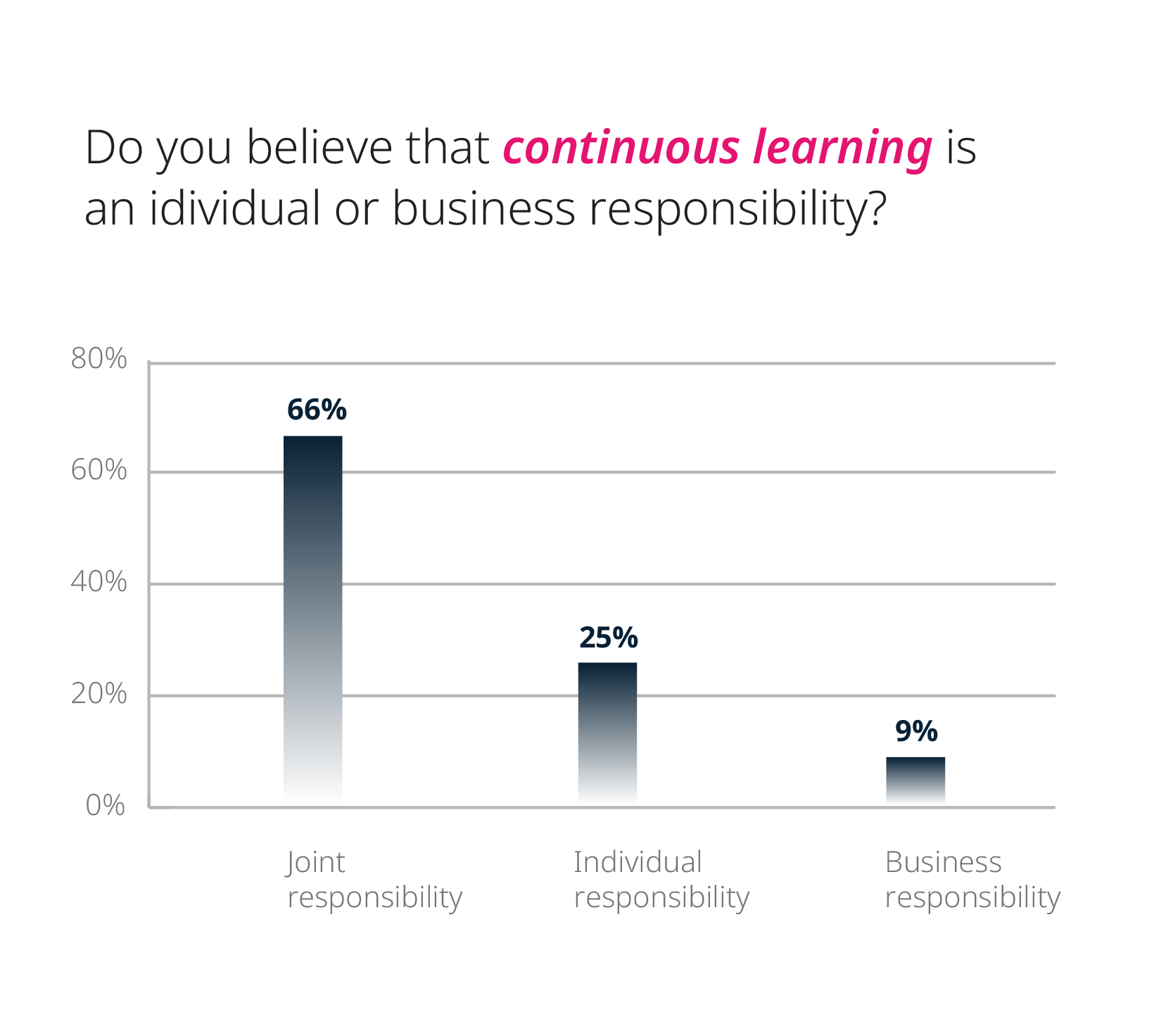 There is also a notable business benefit for businesses that learn. Companies that facilitate cultures of lifelong learning are:4
46% more likely to be first to market
37% more productive
92% more likely to innovate
This kind of culture requires leaders to go beyond just simply offering development programs. According to the Corporate Executive Board (CEB), "A learning culture supports an open mindset, an independent quest for knowledge, and shared learning directed toward the mission and goals of the organization."5
An organization's training, upskilling, or reskilling courses and systems will need to keep pace with the new demands of labor markets, technological disruption, demographic changes, shifting business models, and the evolving nature of work.6
What recruiters are looking for on CVs
From the GetSmarter report, it's clear that evidence of continued learning and skills-based certificates play an important role in setting professionals apart in the market – and in some hiring scenarios, skills-based certificates are ranked higher than formal degrees by HR and talent managers.
The focus on technology has resulted in a warped perception of what employers are looking for now, and in the future. Alongside the growing skills gap is a perception gap regarding the skills employees perceive to be valuable, versus what employers actually find valuable.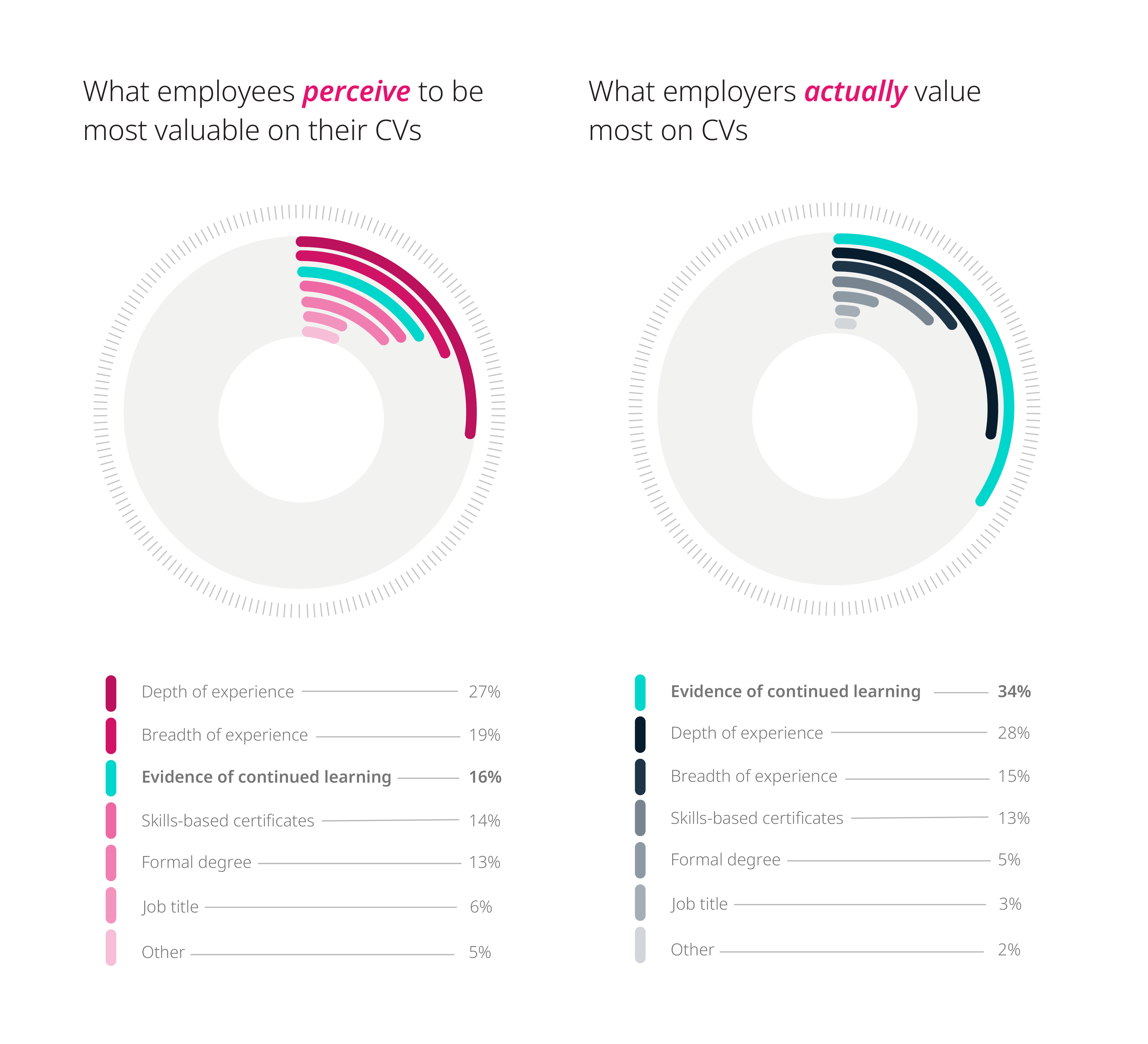 When it comes to getting hired, experience is important, but an individual's ability to learn and adapt is the true differentiator within applicants.
HR professionals will be looking towards a future where soft skills such as leadership outweigh technical skills. In the face of uncertainty, businesses will need to ensure their 'human' skills' are sufficient enough to drive a workforce.
The nature of jobs are changing
With each new or lost skill, jobs evolve. And with each new technological innovation, particularly within automation, business processes restructure. While technology is set to bring about significant changes in the job landscape, it's not expected to render humans irrelevant. Instead, automation is expected to bring about more than double the jobs that it could potentially displace.7 Of the 133 million new positions to emerge by 2022, these are the jobs that will be most in demand in the years to come:
People-centric roles
Technology-supported roles
Roles are en route to adapting to a new division of labor between humans, machines, and algorithms.8 As automation becomes more common in the workplace, people will have the capacity to be more creative and innovative. Essentially, humans will have the space to become better humans.
Today, with online education and short courses, professionals can gain the most in-demand skills in a matter of weeks. Both employers and employees now need to ask themselves: will our skills meet the needs of an evolving future? As change becomes constant, so will continuous learning. Beyond the competitive advantage that upskilling gives employees, is a growing awareness amongst businesses and recruiters that talent is a scarce resource. With the future of work becoming increasingly human, investing in new skills is a sure way to meet the demands of employers.
We're faced with some of the biggest challenges, changes, and disruptions of the last decade. In response, professionals will need to build and maintain a sustainable skill set that ensures they have a place in the future. Those who learn to evolve, adapt, and drive change, will be the ones leading the future of work.
How prepared are you for the future of work?
Explore the rest of this series of blog articles here
---
Stay competent, confident, and informed
Sign up to our monthly newsletter to receive the latest course information, expertise from renowned thought leaders, and a summary of our most recent blog articles.