Why It's Important to Drive Lifelong Learning in Your Business
As the business landscape continues to shift around us, companies need to think strategically about employee development and the role they play in it. Those that want to remain competitive and retain top talent should be meeting the rapid rate of change they face with a similar sense of urgency. To do this, it's critical for human resource (HR) and learning and development (L&D) professionals to prioritise a culture of continued learning in their organisations. This will not only allow them to remain agile in the face of disruption, but will also create a more engaged workforce that has the tools to drive innovation for the future.
GetSmarter, a 2U, Inc. brand, recently conducted research on the future of work, which surveyed over 8,000 professionals from 106 countries to gain insight into the fast rate of change and how they're tackling the need for skills development. According to the research, many employers (47 per cent) already recognise this need and are addressing upcoming challenges by upskilling their staff in some form or another, whether it be through online courses or internal training.
The business impact of change
Whether it's disruptive technology, an evolving workforce, consumer behaviour, or bigger sociopolitical shifts, the sheer speed and scope of change can challenge businesses in a fundamental way. Although some changes such as automation can offer many benefits to a company, they also create a lot of uncertainty around the growing skills gaps that are likely to emerge. In fact, over 70 per cent of businesses believe their employees aren't properly prepared for the future of work.1
To compound matters further, there are a number of human capital risks that pose a serious threat to organisational transformation: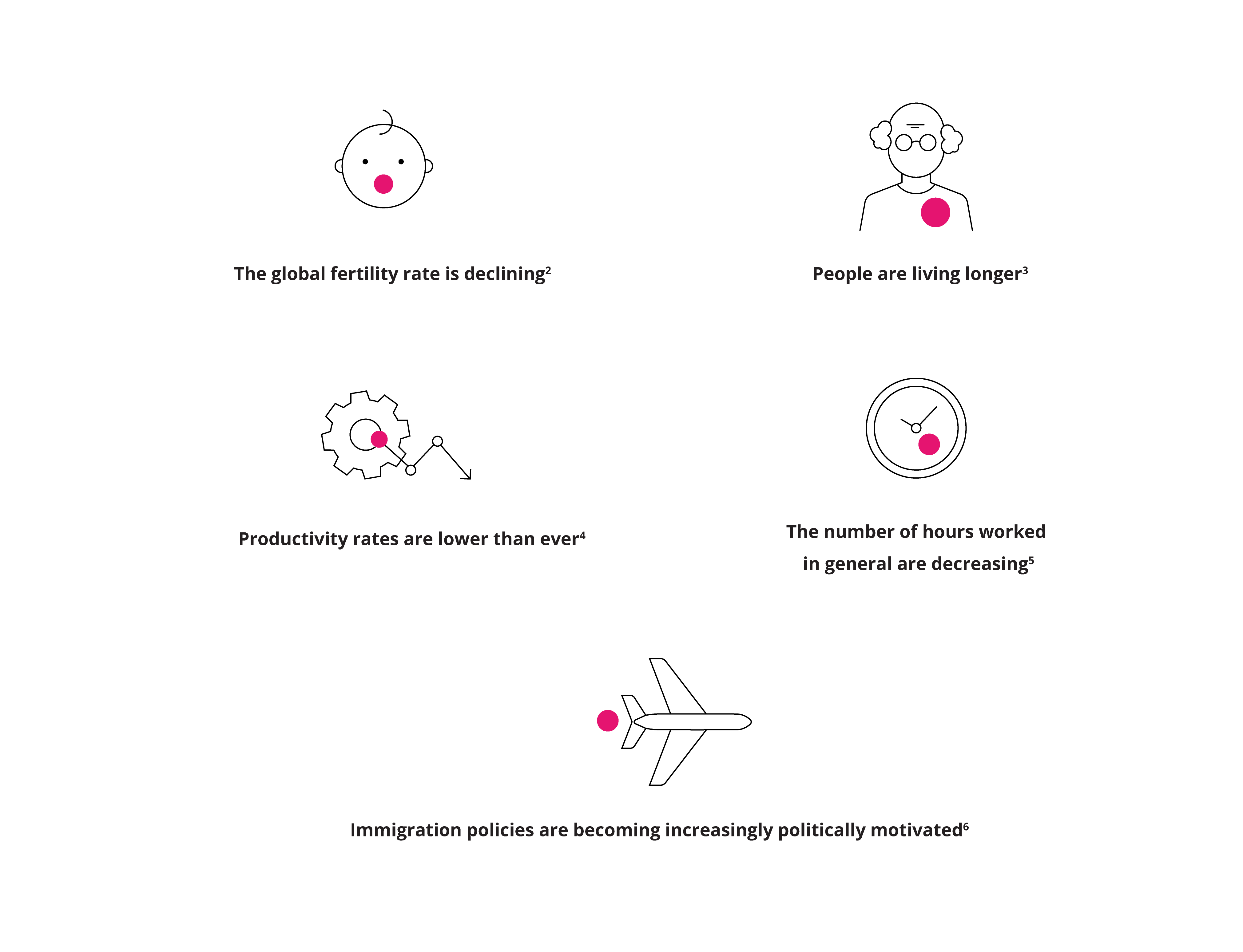 These changes all point towards a shrinking availability of suitably skilled workers. Already, millions of positions that require new skills are going unfilled around the globe as employers struggle to recruit.7 As a result, modern HR professionals are having to turn to people within their company to fill jobs. This sentiment is reflected in GetSmarter's research: 40 per cent of HR, L&D, and talent managers, as well as 47 per cent of people managers, are choosing to upskill their teams to close skills gaps rather than hiring outside talent.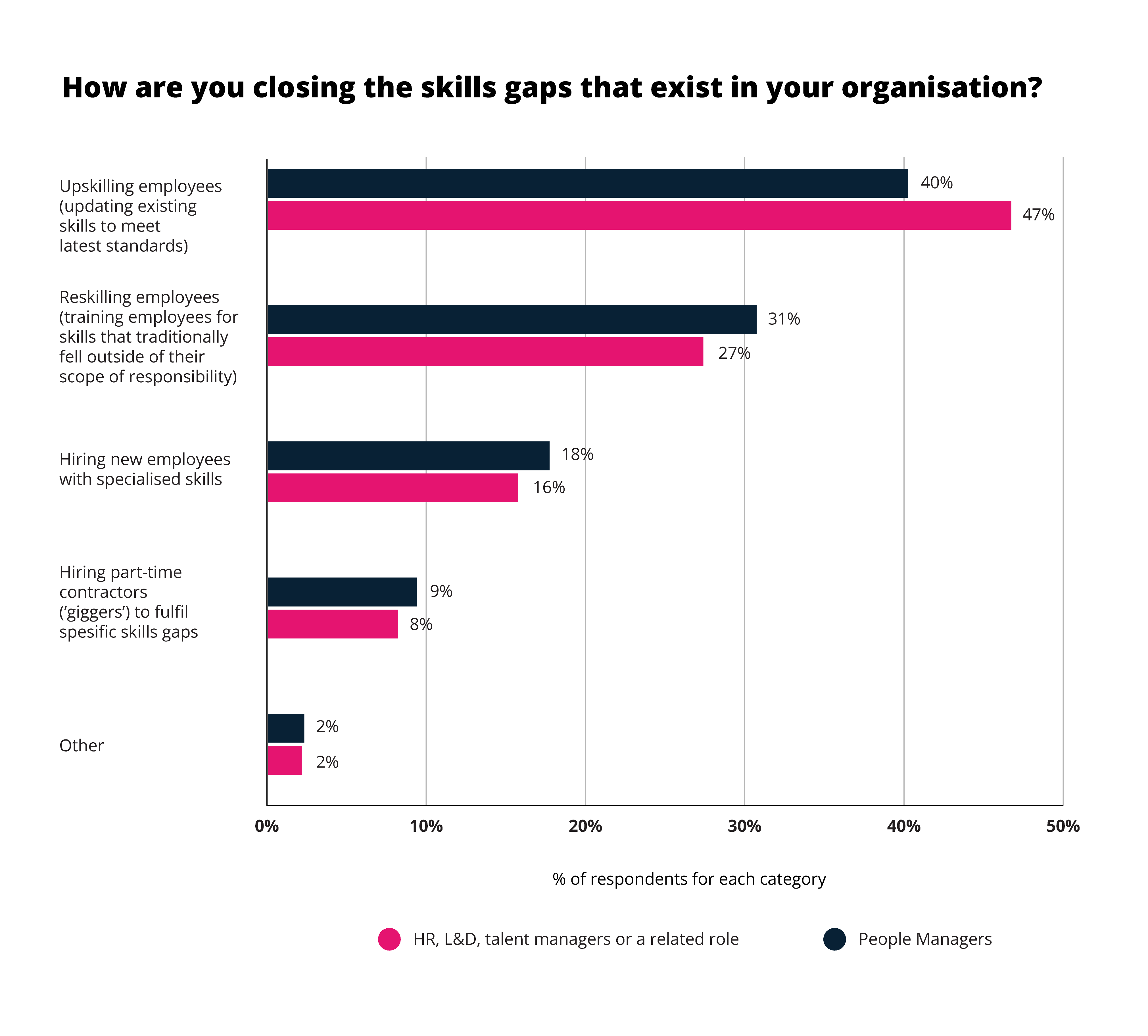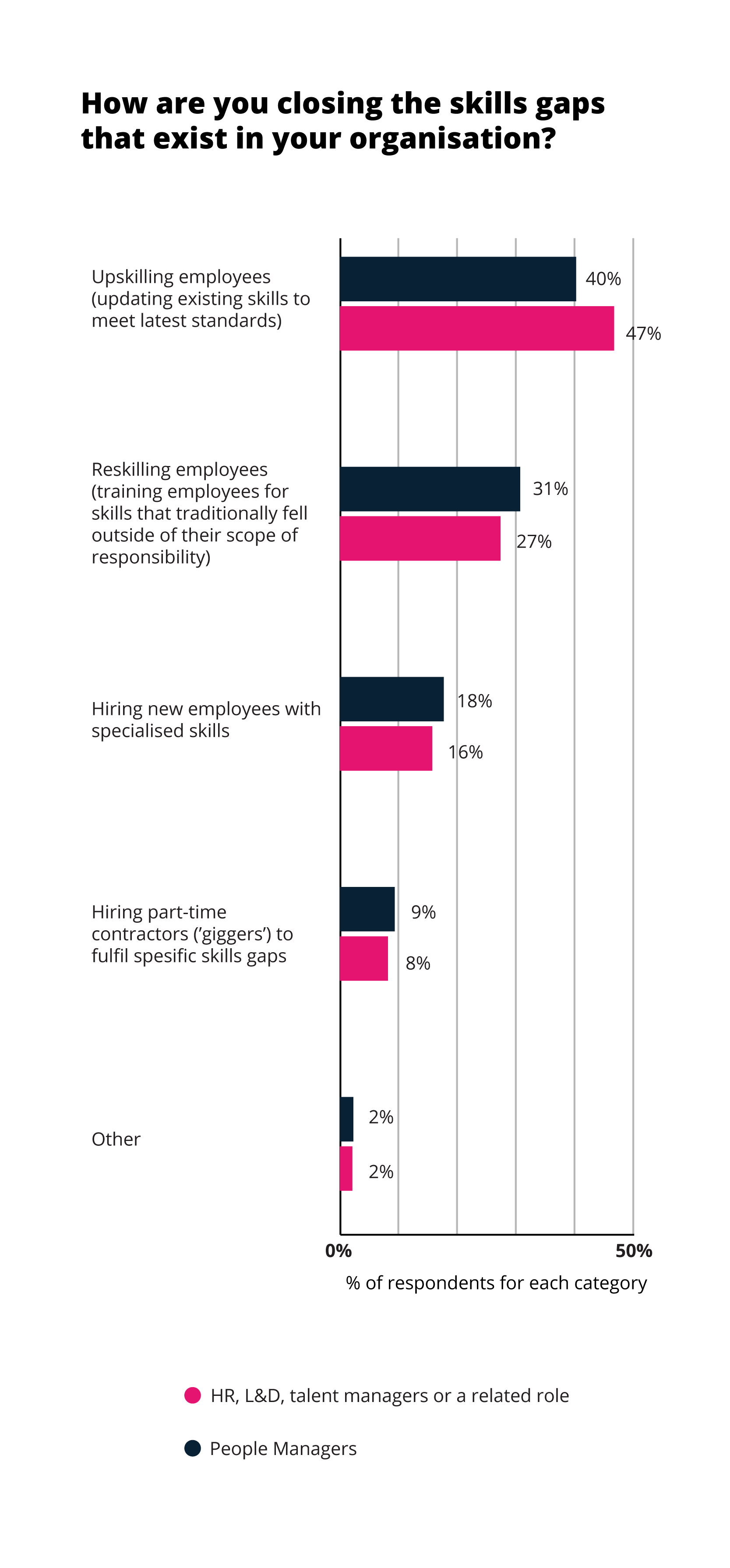 And while there are some changes that we can predict, like the impact of the Fourth Industrial Revolution, there are others that simply can't be anticipated such as the ramifications of COVID-19. This has cast a spotlight on the need for businesses to be prepared for change by investing in people's skills and building a culture of continued learning.
To remain resilient in the face of change – both expected and not – employers should focus on doing the following:
Empower and re-engage older workers: Employees over 50 are more productive than younger professionals, and generally willing to reskill and take on new roles in order to remain relevant8
Try untraditional sources and recruitment strategies: Some of the world's biggest companies are changing the way they hire, basing their choices on potential to learn rather than past education9
Collaborate to build internal skills development programmes: This will help attract and retain talent, and offers a way to grow much-needed skills within your company10
Place higher emphasis on interpersonal skills development: Soft skills are incredibly important in any position, but can also be difficult to grow and foster11
Globalise your talent pool: This will allow a company to develop an internal 'talent marketplace' around the world12
Focus on employee experience: The employee experience is more complex than traditional HR programmes account for. People don't come to work for free lunch or exercise facilities – the most engaged people find fulfilment in their jobs13
Have an alternative workforce and workplace strategy in place: As the future of work becomes increasingly remote, it's important to have structures and processes in place to account for this
Refocus energy on productivity: Leaders should be focusing on team structure, improved project management, and team rewards. The old model of 'individual performance' can get in the way of collaboration14
Reinvest in people as core assets in the future of work: The more a company invests in their employees, the more they'll be able to attract and retain top talent15
The skills required for a changing landscape
In addition to the need for various technical expertise, GetSmarter's research revealed a growing demand for people skills in the workplace. While some job responsibilities and requirements, such as sorting and filing, are disappearing due to the increasing use of automation, the new positions that are emerging require increased emotional intelligence, process-driven thinking, creativity, and collaboration. Based on the findings, these also represent some of the biggest skills gaps currently present in most companies.
According to GetSmarter's 2020 Career Guide, HR, L&D, and talent professionals ranked the following skills from highest to lowest in value for the future of work: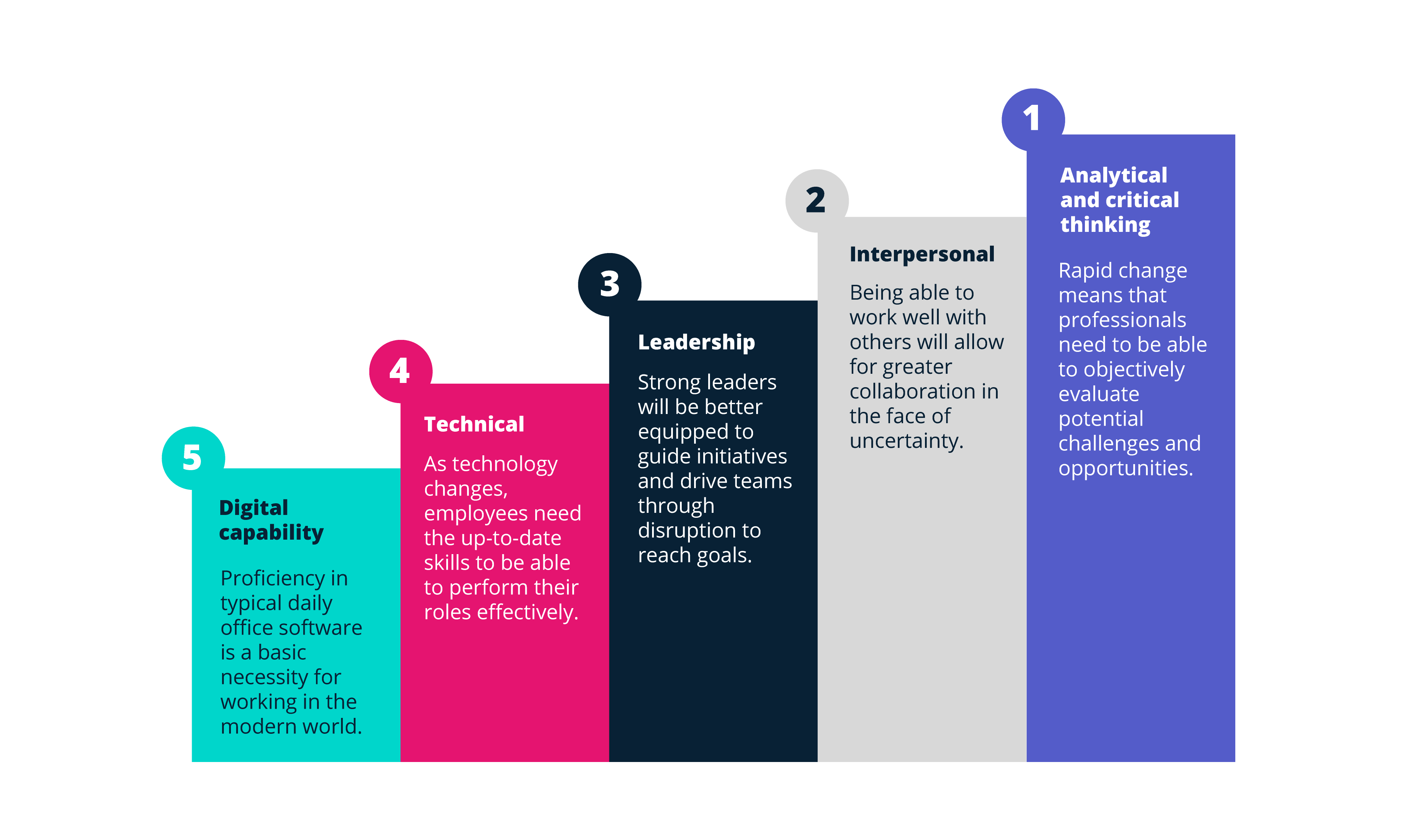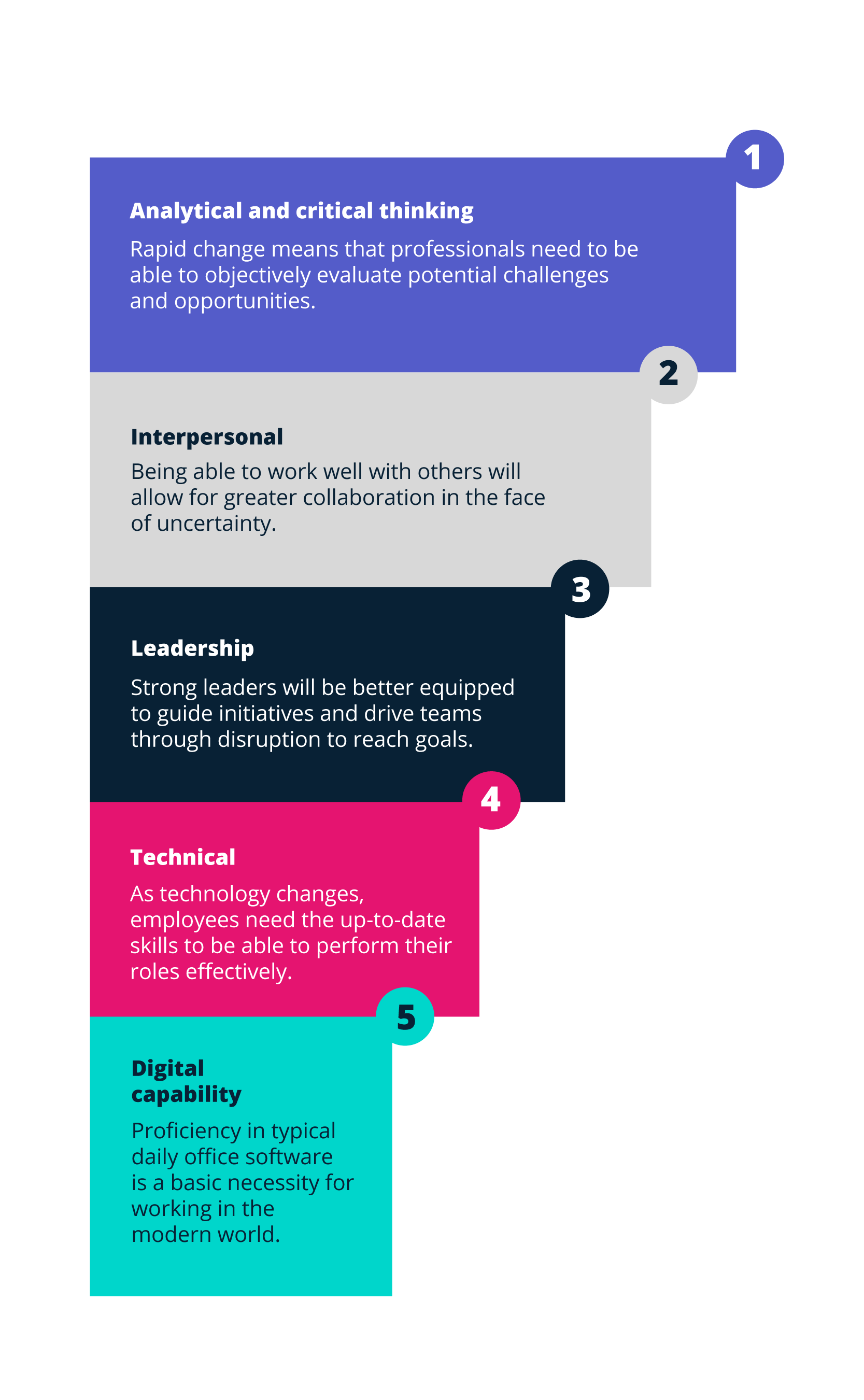 By ensuring staff are equipped with essential abilities, such as critical thinking, leadership, and interpersonal skills, companies can better prepare them to work together to navigate disruption. However, these skills don't simply appear in employees over time – they need to be taught. Whether this is through mentorship, peer-to-peer training, or external courses, fostering a learning culture in your company will help your employees grow these skills and remain adaptable as a team.
The benefits of building a learning culture
To manage the changes facing their industry, companies need to create and foster a culture of learning. Choosing to invest in your employees' skill sets is the most effective tool an organisation will have in navigating change. Companies with agile learners can react quickly, adapt to meet the evolving demands of the business landscape, and leverage new ideas for a competitive edge. In fact, companies with continuous learning cultures are:16
46 per cent more likely to be first to market
37 per cent more productive
92 per cent more likely to innovate
To truly create a culture of learning, though, leaders need to do more than simply offer development programmes for the sake of ticking a box. According to the Corporate Executive Board (CEB), "A [learning] culture supports an open mindset, an independent quest for knowledge, and shared learning directed toward the mission and goals of the organisation."17 Recent research found that companies who effectively do this are at least 30 per cent more likely to be market leaders in their industries over an extended period of time.18
One clear example of this is Google, which has been hailed as a leader in learning. Google has a hands-on approach to development that uses experiential learning as an effective tool to improve their employees' skills while building a culture of continued growth. Its policies push all employees to get involved in experiments that test new ideas in support of innovation and product development. This results in staff who are happier, more invested in the company, and are focused on out-of-the box thinking.19
This doesn't mean that the entire onus is on a company to upskill their staff though. From GetSmarter's research respondents, 66 per cent of HR, L&D, and talent managers believed that continuous learning should be a joint responsibility between the business and the individual. By fostering a culture of learning, employees will also be more encouraged to seek out tools for their own development alongside those offered by their company.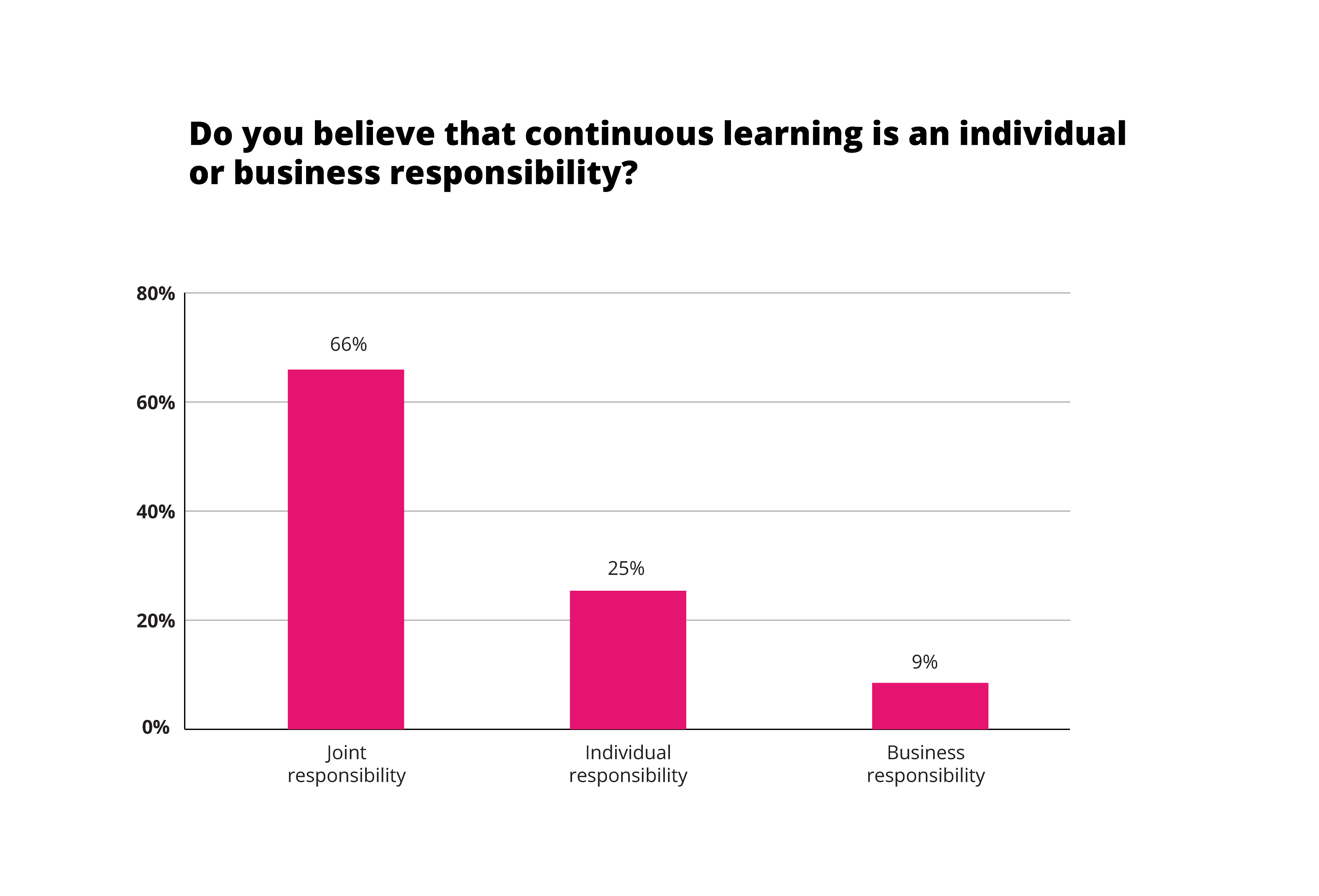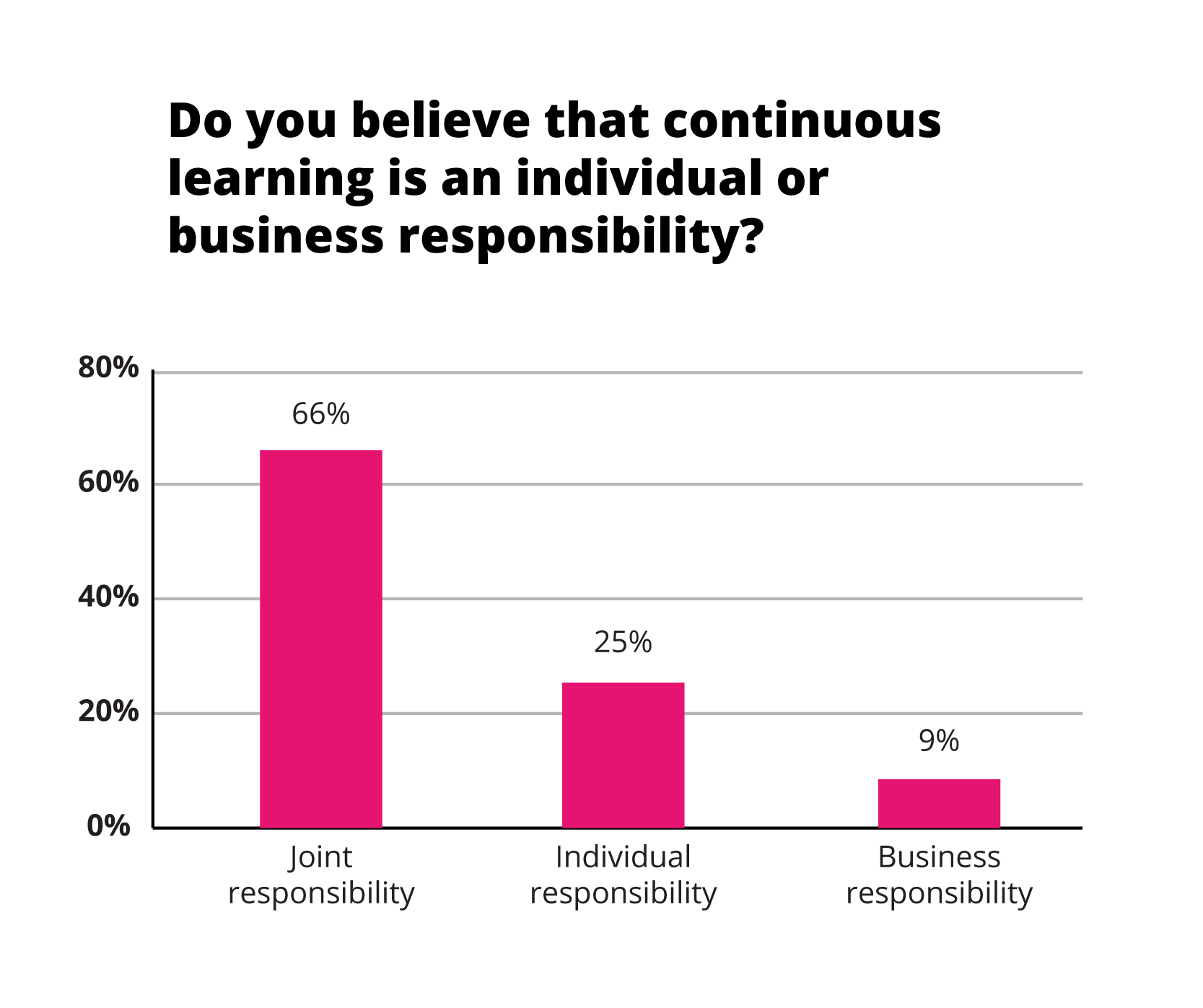 Aside from preparing for the future, building a learning culture has many other benefits for organisations. According to GetSmarter's research, more than 80 per cent of employees felt more engaged after being provided with L&D opportunities. This increased engagement can lead to improved productivity, lower turnover, and more meaningful contributions. By encouraging new ways of thinking, continued learning also challenges rigid opinions and behaviours, which can in turn improve team performance.
While some managers are reluctant to develop their staff in fear that they'll leave for a competitor once they've been upskilled, a more pressing concern should be having a workforce that's ill-prepared to meet the changing requirements of their business. The need for upskilling goes beyond simple employee retention. As talent expert Josh Bersin points out: "The single biggest driver of business impact is the strength of an organisation's learning culture."20
In fact, the majority of respondents in GetSmarter's research ranked 'business impact' as the most important indicator of success for learning and development, followed by 'reaching business goals'. By approaching L&D strategically, companies can ensure they're sending their employees on courses that will best serve both individuals' career goals and the business as a whole.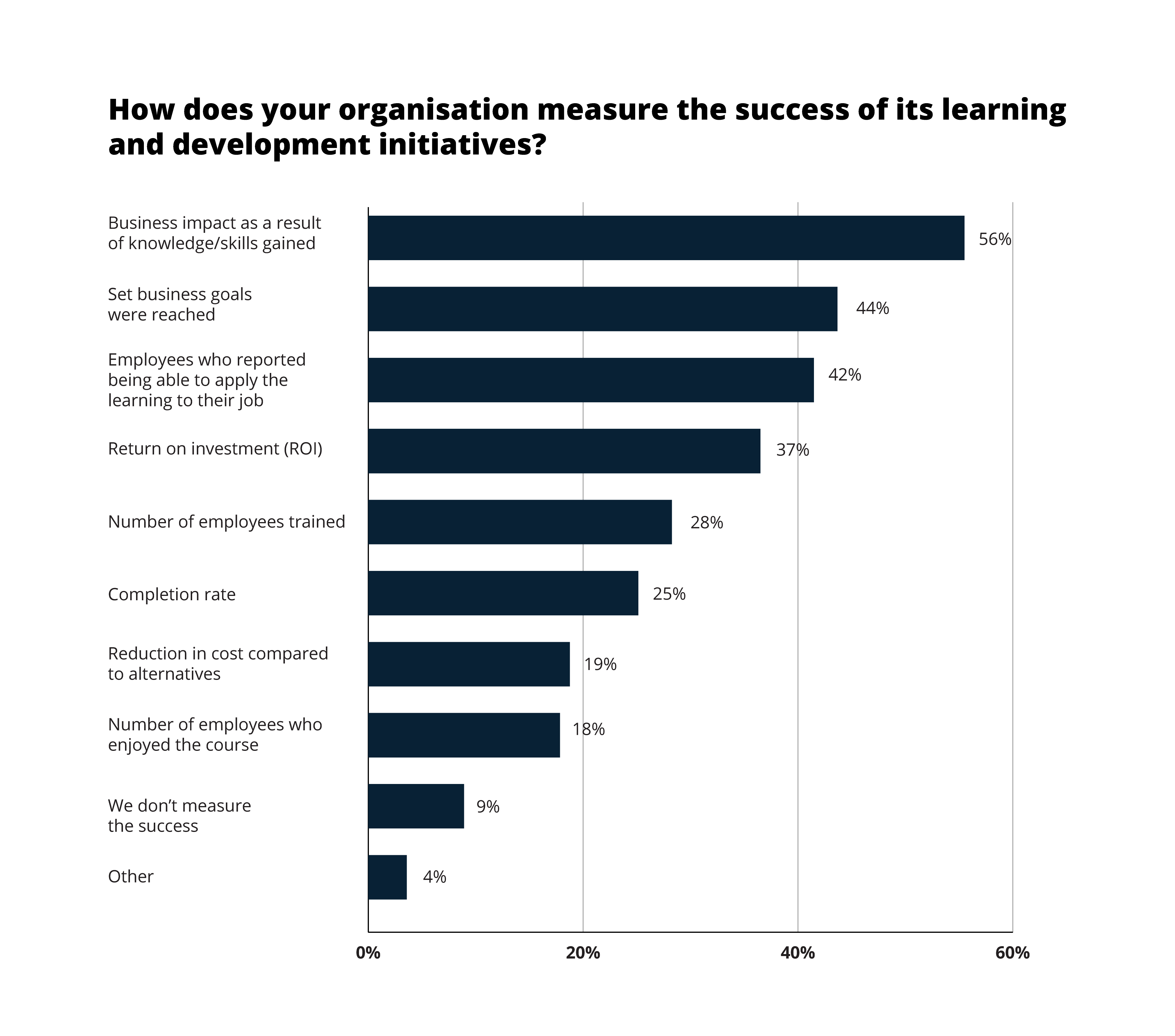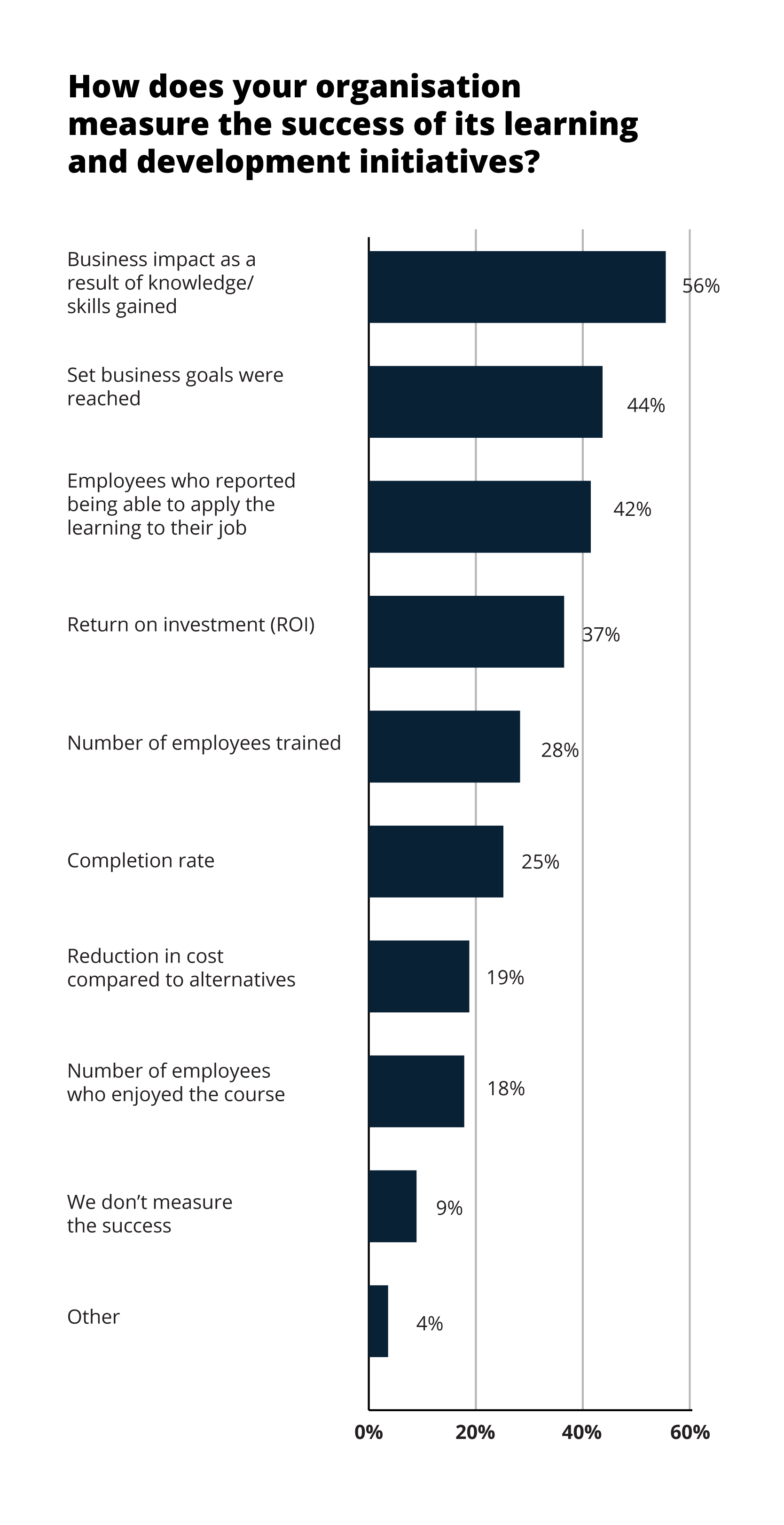 In the chaos of constant change, talent has become the most important asset there is. By building a learning culture within their organisation, HR and L&D professionals will not only create a workforce that's better equipped to handle the disruptions facing business, they'll also create the kind of company where top employees want to stay. And by focusing their efforts on developing key soft skills, they'll prepare their workers – and their business – to tackle the future of work head on.
For companies looking to benefit from a more engaged workforce that have the necessary skills to thrive through change, GetSmarter offers a variety of online learning and development options for businesses.