What Is a Learning Organisation?
A learning organisation isn't the latest trend in the business environment, but a vital process that's becoming more essential in our inventive and transformative world. It's an organisation that facilitates a learning culture by continuously evolving to keep up in a competitive market.1
With new languages being created by intelligent computers, artificial intelligence technology could be one of your colleagues in the near future.2 Companies need to foster a culture of lifelong learning, as more diverse cultures join together under one roof. When employees feel included in the wider business, their ability to innovate increases by 83 per cent3 – an aspect that lifelong learning embraces.4
What does this mean? Learning in its most basic form is about absorbing new information and knowledge. To become a learning organisation means more than acquiring knowledge: it's about reframing previous learnings from experience, encouraging healthy curiosity, and being agile and diligent in knowledge sharing.5
What is a learning organisation?
Peter Senge, renowned management thought leader, faculty member at MIT Sloan School of Management, and author of The Fifth Discipline: The Art and Practice of the Learning Organisation, popularised this term. He defined a learning organisation as: "a place where people continually expand their capacity to create the results they truly desire; new and expansive patterns of thinking are nurtured; collective aspiration is set free, and people are continually learning to see the whole (reality) together."6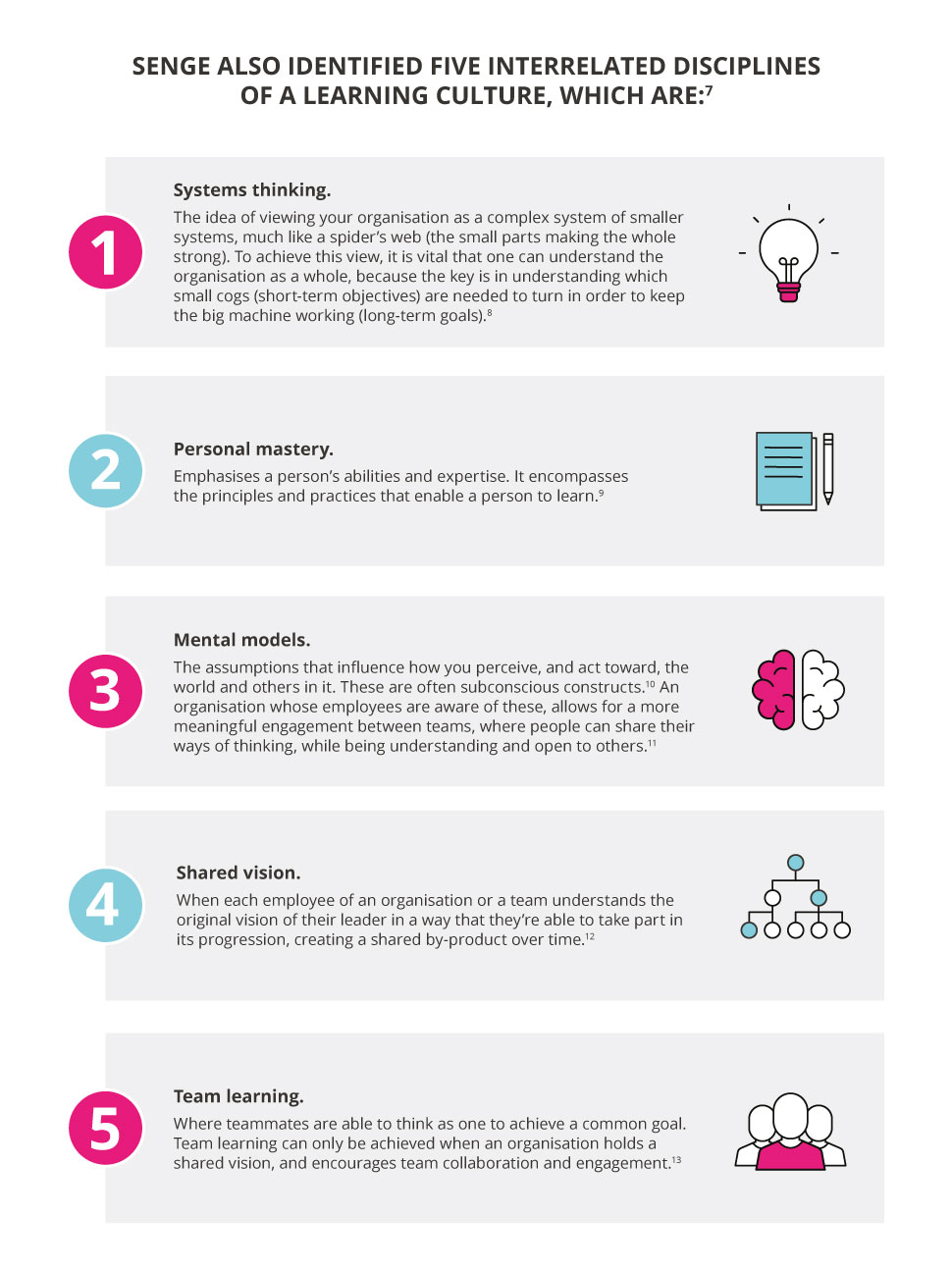 According to Senge, a learning organisation depends on prioritising and implementing these five factors into your business.14 It requires a constant reworking and learning from the stream of data all around you. It's an iterative process where there is no end goal, but must rather be seen as an ongoing process of reframing and pivoting.
What are the barriers to a learning organisation?
The main issue that many organisations have in adopting a learning culture: working in a silo mentality.15 A silo mentality, as explained by Will Kenton of Investopedia, occurs when several departments or groups within an organisation don't want to share information or knowledge with other individuals in the same organisation.16
If employees function purely as their role requires on paper, with no communication, it feeds into a task-oriented model that doesn't allow for flexibility or knowledge sharing.17 Open conversation between departments allows team members to gain a better understanding of the common business goals and will help promote teamwork.
The link between learning and continuous improvement is important to understand. Continuous improvement functions or programmes are becoming increasingly popular as organisations strive to better themselves, and gain a competitive edge within their industry.18 However, continuous improvement requires a commitment to learning.
How to create a learning organisation
Corporate training is often sporadic, making it ineffective in raising morale, skills and development. By integrating learning into a company culture, decision-making by hierarchy is replaced with open communication, transparency and a shared mission.19
Creating a learning culture has a direct impact on business success and growth.20 Part of the reason for this is because quantitative and qualitative information and feedback is essential to a learning organisation working well. Teams need to gain a more holistic understanding of their people and their systems, and this means analysing what went wrong and what went right with actual data.21
Embracing a learning culture allows for the opportunity to solve diverse organisational problems by tapping into your workforce's wider expertise. By creating a learning culture, you give people an opportunity to be a part of the business – not task-oriented but goal-invested.