How To Become A Chief Marketing Officer (CMO)
Become a CMO and you've reached the pinnacle of your marketing career, reporting to and working alongside the CEO of your business.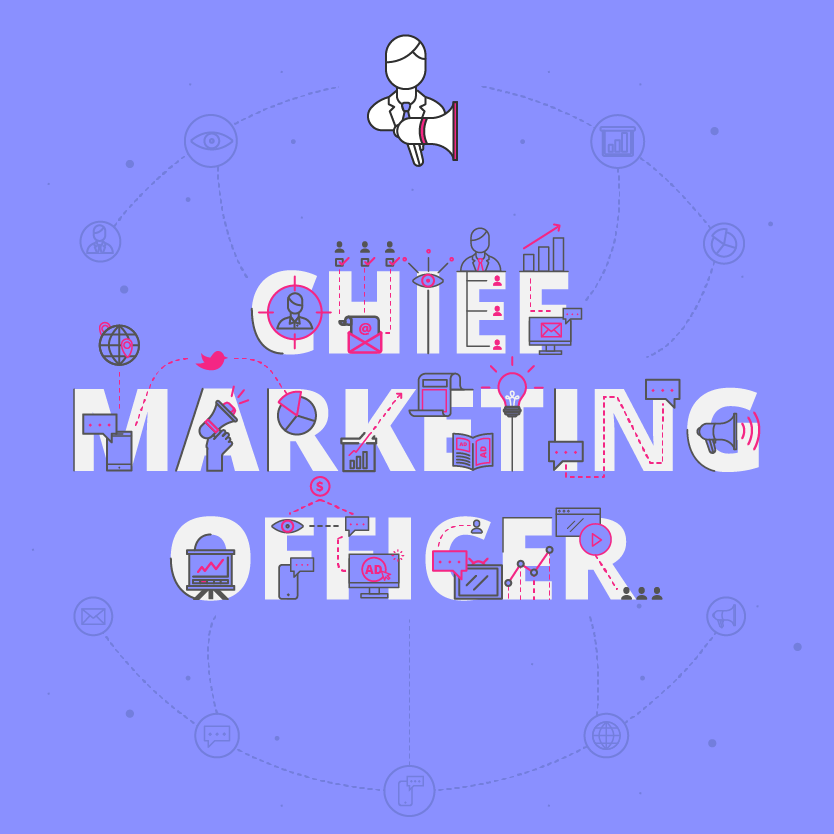 A CMO's primary responsibility is to manage the return on investment (ROI) of their company's marketing efforts. This involves planning, developing and overseeing the execution of all marketing initiatives, and leading and aligning a number of teams:
Marketing communications
Product development
Distribution channel management
Pricing
Customer service
As business strategy and success rely a great deal on effective marketing, a CMO is an invaluable member of any organisation. But the role is undergoing vast and continual transformation:
'Digitally enabled tools and processes have altered what and how a business sells, flipped the tables on the typical customer relationship, introduced a glut of new channels and competitors.'1
To get ahead of the competition, 'CMOs must deliver above-market growth'2 by facilitating exemplary customer experience and organisational alignment, making the CMO role more dynamic and exciting than ever before.
What are the key responsibilities of a CMO?
Marketing training, leadership and organisational alignment are only three of the many responsibilities undertaken by today's multi-talented CMOs. Other primary responsibilities include focus in these three key areas:
Strategic planning

Use SWOT analysis theory to define microeconomic factors that will affect your business management techniques and success
Preparing an overall marketing strategy that incorporates growth and sales strategies. Developing and informing overall business strategy
Develop market segmentation, competitive analysis, market intelligence, prospecting, lead generation and pricing strategies

Data analysis 

Predicting business trends and customer behaviour
Presenting technical reports based on the collection, analysis and interpretation of data
Contributing to important business decisions by constructing significant research questions

Understanding the company's product

Oversee the development of new products and create a product roadmap
Lead, organise, motivate and measure the performance of a sales team
Accurately forecast future sales and budget accordingly to ensure sales force effectiveness
---
Related content: Why Data Analysis Is The Most Lucrative Skill You Can Have

---
What is the career path for a CMO?
Until recently, CMO was considered the highest achievable point on the career path of a marketer. CMOs weren't seen as CEO material because they had never been directly accountable for the bottom line.
However, in this age of digital business, the customer drives everything. And because CMOs are closest to the customer, they're closer to business revenue and development.
53% of business executives polled by the Global Marketing Center said that their current CMO could one day become CEO.3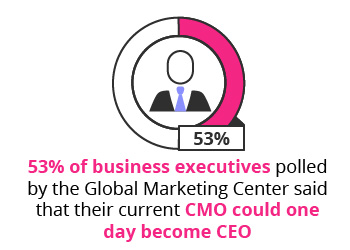 Many CMOs consider their role a final destination in its own right, but for others, making the transition to CEO requires:
Interaction with different departments and business units to acquire a big-picture perspective
Leadership in areas beyond marketing to help with strategic planning and bring the customer perspective into planning activities
A track record of success in moving the profit and reputation needles in a relatively short period of time
What is the potential salary for a CMO?
To be a top-earning CMO is less about the years you've spent in the field, and more about your performance with respect to the industry you work in.
"The highest paid CMOs are the ones that can demonstrate they have transformed their brand's digital marketing performance and have strategic alliances with other c-suite executives", according to the CMO Compensation Report survey.4
Click on a country to see what you can expect to get paid as a Chief Marketing Officer in either South Africa, the United Kingdom or the United States of America:
RSA

| | |
| --- | --- |
| Entry-Level | R504,918 |
| Mid-Career | R1,250,000 |
| 15 Years Experience | R2,000,000 |
UK

| | |
| --- | --- |
| Entry-Level | £54,552 |
| Mid-Career | £111,925 |
| 15 Years Experience | £206,009 |
USA

| | |
| --- | --- |
| Entry-Level | $87,050 |
| Mid-Career | $106, 745 |
| 15 Years Experience | $163, 668 |
What are the education and training requirements for a CMO?
The modern-day CMO doesn't have a generic, one-size-fits-all background, but there are some educational and training guidelines that may pave your way to the top.
---
Take Your Next Step in Becoming a CMO with a Featured Online MBA Program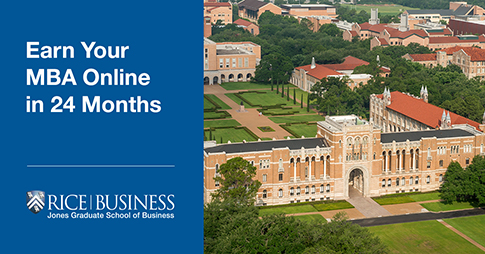 Sponsored Online MBA Program
---
Obtain a bachelor's degree:
A bachelor's degree in a business or marketing-related subject is usually required to begin your ascent up the ranks to CMO.
But once you've broken into marketing, your bachelor's degree becomes less relevant. Many companies believe that a well-rounded education, marked by any quality diploma from a respectable institution, is more important than what you studied ten years ago.
Obtain an MBA or advanced degree in marketing:
As a marketing or business professional wanting to move up to CMO, you can improve your prospects by enrolling in a Masters in Marketing, or better, an MBA program with a specialisation in Marketing.
"Today's CMO is expected to manage budgets, manage managers, be conversant in the many critical customer-related functions and have a more than passing understanding of strategy, accounting, corporate finance, project finance and leadership development.  

While one can gain quite a bit of insight and training in these areas without an undergraduate business degree through on-the-job exposure, I'm a firm believer that an MBA provides new tools, techniques and a vocabulary that are difficult to replicate in a piecemeal fashion."  

– Timothy Corcoran, Corcoran Consulting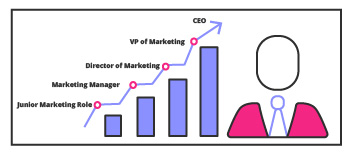 Get the right experience:
In the race to CMO, it's your work experience that counts most.
Most CMOs have approximately 10 years of well-rounded marketing or business development experience in positions of increasing responsibility, as well as three to five years of experience in a leadership role.5
Some experts recommend identifying a specific area in which you can excel. With deep domain expertise – understanding the target customer for a particular brand or product very well – you can make yourself a more attractive candidate.
However, according to a study by Forbes Insights, only 35% of current CMOs had a background in "entirely marketing".6 So if you've recognised this aspiration later on in the game, you still have time to develop your knowledge and expertise.
Consider a part-time and online marketing course from a top-tier university, to fit into your working schedule.
---
Which skills do you need next?  
Download a course prospectus to find out how one of these online short courses can help you become a Chief Marketing Officer.