Why data analysis is the most lucrative skill to have
In the next 5 years, 59% of organisations will increase the number of positions requiring data analysis skills.1
Norah Wulff, Data Architect and Head Tutor on the UCT Data Analysis online short course, highlights because Data Analysts' work has an organisation-wide effect, they need to take a holistic approach:
"It's important that Data Analysts have a good understanding of what the goals of the business are, as well as what data the business has at its disposal." 
In the US alone, nearly half of the occupations will be computerised and within the next ten years, one in three jobs will evolve into software, robots, and smart machines.2
This new era of data technology will bring with it the need for very specific types of workers, one of them being skilled data analysts. In the words of Robert Cohen, a Senior Fellow at the Economic Strategy Institute, "we're basically building the superhighway for data."3
72% of marketers consider data analysis skills vital to surviving today's data-centric marketing landscape.
The marketing industry supports this sentiment, with a report from BlueVenn revealing the biggest "marketing skills gap" to be data analytics. This report has now placed data analysis as the most important skill a person could learn within the next two years.4
The advent of the big data era means data analytics has become integrated into almost every application, software and platform.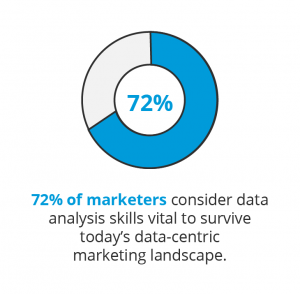 As businesses start to realise the power of information to inform their business decisions, customer behaviours and purchases, and the way they manage business productivity, they will make data a more integral part of their operations – whether that be marketing, systems and technology, sales, engineering, healthcare, or product development.
However, data is useless to a company without someone who has the skills to analyse it. Which means HR professionals are on the hunt for top talent who have strong data literacy skills, in other words – are competent in sourcing, manipulating, managing, and interpreting data – including numbers, text and images.
The skills shortage HR professionals face
Big data analysis is not the starting point though. There's an even bigger need for employees with basic data analysis skills and HR is struggling to find this talent too. In fact, of the organisations needing employees skilled in data analysis, more than 70% are having a difficult time finding people with the right skill set to fill those positions.5
Which means you have an opportunity right now to equip yourself with a skill that's going to have a huge impact on your hireability in the future.
Companies will seek talent for jobs such as data analyst, data scientist, statistician, market research analyst, financial analyst and research manager – any of which could be a future career opportunity for you. Even if you're currently in a senior position, 60% of organisations want senior leadership to have data analysis skills.6

Data analysis skills will impress future employers
The ability to analyse data and make informed recommendations to drive effective decision-making will turn you into an indispensable member of any team. You'll become the go-to person for contributing to strategic business decisions; predicting business trends; and improving business productivity.
If you were an employer given the option of hiring someone with managerial skills or someone with managerial and analytical skills, who would you pick?
It's obvious having this lucrative skill set on your CV – which positions you as a researcher, an avid problem-solver, a strategic thinker, and a key communicator – will position you above the competition.
Need proof? Take it from LinkedIn career expert, Catherine Fisher7:
"These skills are in such high demand because they're at the cutting edge of technology. Employers need employees with cloud and distributed computing, statistical analysis, and data mining skills to stay competitive."
This sentiment is centred around the fact globally, statistical data analysis and data mining are ranked the second most in-demand skills to have right now.8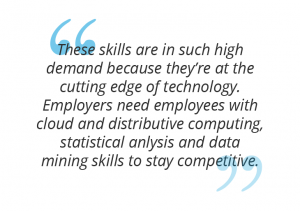 The earning potential of a data analyst isn't too bad either. According to PayScale9, an entry-level analyst earns an average of R207,705 per year; a mid-career analyst earns an average of R304,616 per year and an experienced analyst can make upwards of R644,857 a year.
Data analysts, or employees confident in interpreting, analysing and delivering data in meaningful ways, are in extremely high demand, making a skill set in data analysis one of the best career decisions you could make right now.
Bear in mind, it doesn't just come down to being good with numbers. You've also got to be a problem solver, out-of-the-box thinker and a strong communicator.
---
Interested in taking the first step to gain this lucrative set of skills?
Study the UCT Data Analysis online short course today
1 SHRM
2 Fortune
3 Fortune
4 BlueVenn
5 SHRM
6 Harvard Business Review
7 World Economic Forum
8 World Economic Forum
9 PayScale