A Chief Operations Officer (COO) is one of the highest ranking executives in a company, who works alongside and reports to the Chief Executive Officer (CEO).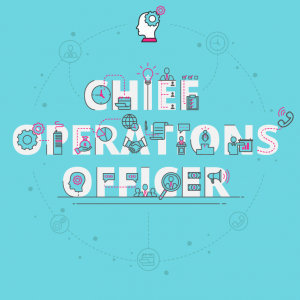 The role of COO can be defined as someone who is responsible for:
COOs, head of the operations management function, often hold the hefty responsibility of a business's transformation in terms of people, processes, and profit-making. In 2012, Nokia Siemens Networks created a new COO role, specifically to take responsibility for the "transformation of the company's mode of operations and business performance management," as the firm described it.1
"There isn't really a norm when it comes to being a COO due to the positions, nature and responsibilities changing drastically from company to company.

The triangle of effective leadership is all about setting direction, finding alignment and then getting commitment." – Dale Williams, COO, GetSmarter
What are the key responsibilities of a COO?
If you're wanting to fill the shoes of a COO, don't expect a one-size-fits-all job description. Your immediate response is to work in line with the needs and goals of the CEO, always being willing to adapt to a fast-changing corporate and external environment, and have a mission of helping the business to innovate and grow.
Key responsibilities the Chief of Operations would be expected to fulfill include:
Operations strategy
Assessing the alignment of an organisation's operational and corporate strategies to its generic, grand, and functional strategies
Measuring the effectiveness and efficiency of operational processes both internally and externally and finding ways to improve these processes
Human resource strategy
Motivating staff to meet or exceed organisational and sales goals and developing growth strategies and aggregate plans
Taking on HR roles and promoting communication between colleagues for the benefit of information flow and to curb any problems that arise
Business process design
Identifying the various elements of process design and review the principles of benchmarking and Total Quality Management (TQM)
Using structured problem solving and different forecasting techniques to understand how to design work for people to meet organisation goals
---
Related content: What are common operations management tools?

---
What are the career path prospects for a COO?
For aspiring COOs, this job role is extremely satisfying: not only do you have the ability to impact and have an input into corporate strategy, but the potential for career development is a huge appeal.
40% of current COOs see themselves in a CEO or managing director role in the future and 53% of C-suite employees believe the COO will take the top position within 5 years time.2
But not every COO is looking to move up to the position of CEO, with 30% of COOs surveyed viewing their current role as a destination in its own right.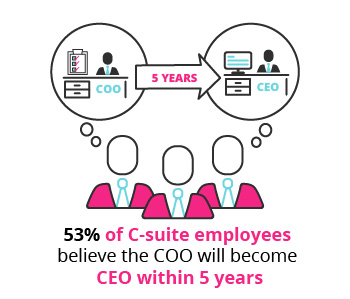 Regardless of what your final destination is, the key to moving ahead in this career path is to first understand how various parts of the organisation work together as a business, which may mean rotating through different job roles.
"Over the last 18 years I've worked my way up the career ladder from a call centre agent to Chief Operating Officer. I've been able to do this through building a wide range of business skills and experience in large corporate organisations, setting up and running my own business and now working in an exciting and agile SMB. Working across the board has helped me to see all different aspects of the business and understand how they can be improved."

– Emma Stone, Postcode Anywhere's Chief Operating Office
What is the potential salary for a COO?
If you want to make it to the top, your earning potential and job opportunities will be determined by your business strategy and advanced operations management skills, as well as your work experience, which is the biggest factor impacting pay for this position.3
Click on a country to see what you can expect to get paid as a COO in either South Africa, the United Kingdom or the United States of America:
What are the education and training requirements for a COO?
There isn't a single, direct path to becoming a COO, but there will be educational requirements and preferences expected of you.
Obtain a bachelor's degree
This degree should be in business or a related field but is recommended that aspiring COOs choose management-focused subjects. One of the best degree options is a Bachelor of Business Administration or BBA. This is a four-year degree designed to provide students with a strong foundation in business and management principles and their application in real-world work environments. Coursework would cover areas such as accounting, macroeconomics, information systems, business mathematics, and microeconomics.
Obtain a master's degree
It's possible to become a COO with only a bachelor's degree, but the majority of companies will be more impressed by candidates who hold a Master of Business Administration (MBA) degree. You could also gauge your appetite for a full MBA and set yourself apart as an MBA applicant by first completing an MBA Essentials online short course. Your coursework will focus on areas such as teamwork and managing coworkers, economics and statistical methods – all key learning areas for aspiring COOs.
Get operations management certification
If you've got five to fifteen years experience in the field, but no formal certifications behind your name, an online short course backed by a world-class University might offer you the operations management certification you need to step up to senior leadership within your organisation.
---
Which skills do you need next?
Download a course prospectus to find out how one of these online short courses can help you become a Chief Operations Officer.
---
Take Your Next Step in Becoming a COO with a Featured Online MBA Program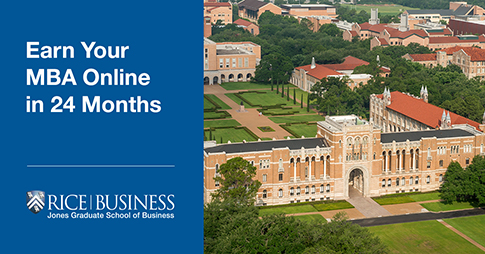 Sponsored Online MBA Program
---