An Operations Manager is any organisation's Jack of all trades.
They need to have the right skills, often obtained through an operations management course, as well as knowledge of multiple departments, in various functions, ensuring that each part seamlessly works together to produce a well-oiled machine in the form of operations management.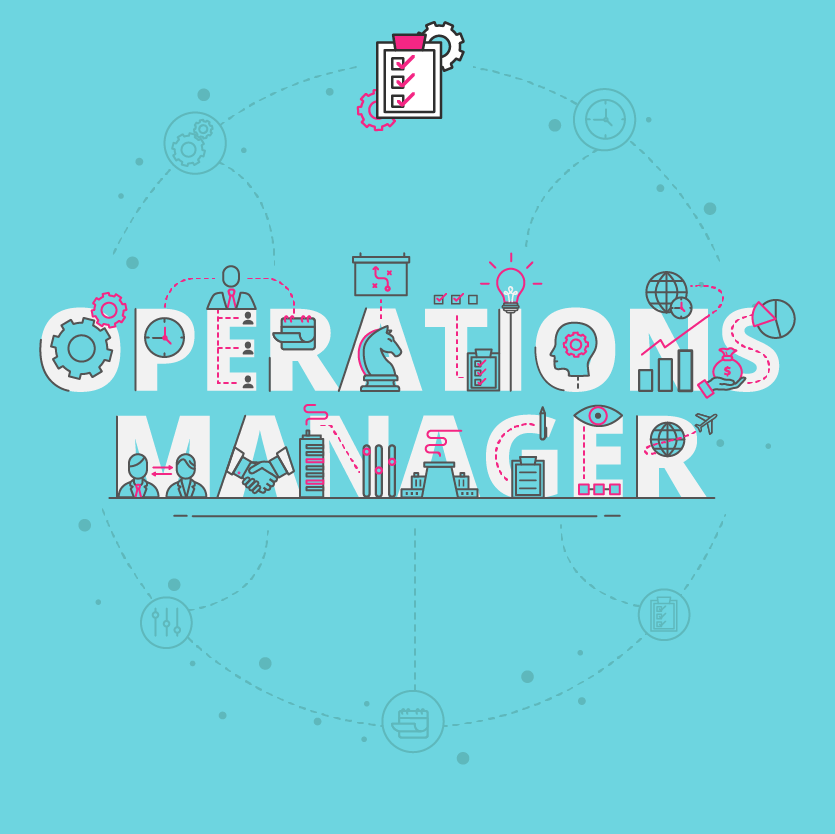 Consider a clothing manufacturer. The role of the Operations Manager would include everything from managing the manufacturing of the clothes, to the shipment into stores, to the tracking systems used, to the measurement of pricing, returns and customer complaints.
Successful Operations Managers make a recognisable impact on critical elements of business success, such as:
Performance
Productivity
Efficiency
Profitability
Megan Knapp, who worked as an Operations Management Trainee at Union Pacific, had this to say about the role:
"I have never had a job more stressful, crazy, ludicrous and exhilarating as operations management. When you're in it, you're in it, you're driving the train, so to speak. Not only are you a manager, you're a repairman, an IT guy, a delivery person, a taxi driver, and pretty much anything else you can imagine. To say the least, you wear a lot of hats. But with many hats come many rewards."
And with the world moving increasingly towards being globalised and automated, the need for control of business functions through operations management becomes more and more prominent.
This makes the future of those wanting to move into the operations management field look promising.
What are the key responsibilities of an Operations Manager?
As stated above, an Operations Manager carries a lot of varied responsibilities, that will differ depending on the company and the product or service they offer.
In saying that, all Operations Managers should expect to be responsible for mkaing an impact in the following three key areas:
Operations management
Identifying operational inputs, processes, outputs and feedback, and use this transformation process to improve the operational systems, processes, and policies in support of an organisation's mission
Ensuring quality operations management in an organisation by finding the perfect processes for the people who have to get the work done
Financial management
Overseeing overall financial management, planning, systems and controls, and organising fiscal documents with the COO
Manage the impact that working capital, budgeting, financial statements and cost-cutting has on the cash flow of an organisation
Resource management
Managing and increasing effectiveness and efficiency of the HR, IT and finance departments through improvements to each function as well as coordination and communication between support and business functions
Creating an empowering work environment to maximise and align workforce efforts and overall team productivity
What is the career path of an Operations Manager?
Business Insider lists operation managers as their second most in-demand professional field for 2024. Operations management jobs are on the rise and you can fill the gap.
One of the perks of the operations management field is there are jobs available in almost every industry. Whether it be retail or education, government institutions or manufacturing and service organisations, operations management is a sought-after skill set.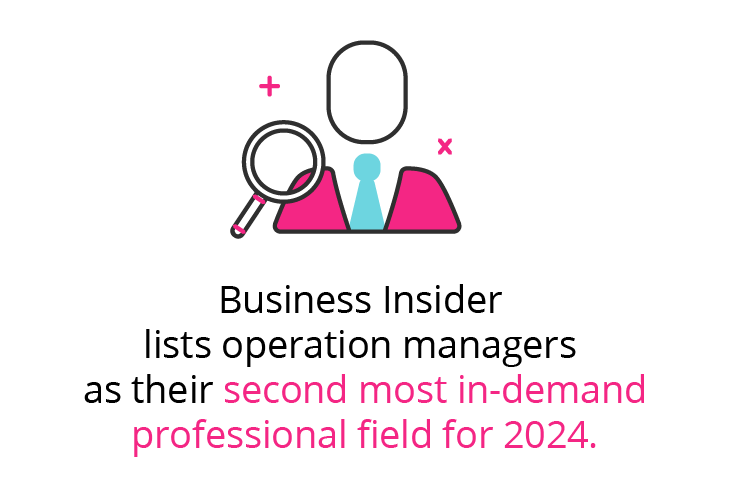 As more businesses expand globally, the demand for a strong operations management skill set will be highlighted in the following fields:
Facilities Coordinator
Purchasing Manager
Logistics Analyst
Process Engineer
Transportation Manager
Customer Service Manager
Operations Analyst
In short, the workplace of the future means this profession is going to rise in the fields of business. If you're aspiring for a career in this industry, you'll need to prove yourself by being a fast learner, online savvy, adaptable to the changing rules of the workplace, and highly motivated. You'll also have to show your commitment to improving your skill set by investigating operations management online courses.
After gaining experience as an Operations Manager, you'll be able to advance in your career, eventually moving into the sought-after position of a Chief of Operations (COO), one of the highest ranking executives in a company, who works alongside and reports to the Chief Executive Officer (CEO).
---
Related Content: Meet Rosebud Tsobane: Student Success Story

---
What is the potential salary for an Operations Manager?
Experience has a moderate effect on income for operations management jobs. Most people move on to higher level jobs if they have more than 20 years' experience in the field.
The skills you'll need to advance and increase your earning potential?
Budget management
Logistics
Production management
Project management
Click on a country to see what you can expect to get paid as an Operations Manager in either South Africa, the United Kingdom or the United States of America:
RSA

| | |
| --- | --- |
| Entry-Level | R234,667 |
| Mid-Career | R342,468 |
| 15 Years Experience | R405,203 |
UK

| | |
| --- | --- |
| Entry-Level | £27,251 |
| Mid-Career | £34,504 |
| 15 Years Experience | £38,443 |
USA

| | |
| --- | --- |
| Entry-Level | $52,000 |
| Mid-Career | $61,000 |
| 15 Years Experience | $67,969 |
What are the education and training requirements for an Operations Manager?
The majority of operations management positions require a four-year degree and, at the very least, some work experience.
You have the option of either getting an operations management degree or a business degree, dependant on whether you want to pursue a technical or business-focused career in operations. You can also investigate online operations management courses that ensure your skill set is kept up-to-date throughout your operations management career.
But if you're looking to climb the corporate ladder, most COOs have an MBA or a Ph.D. to their name. Lack of these degrees will make your rise to the top more difficult.
If you want to prove your worth and get a promotion, the following will be expected of you:
Excellent leadership skills
Consistently getting the job done right the first time
The ability to manage a project holistically, keeping it within budget
Paying attention to detail, having strong analytical skills, and thriving in a team environment
---
Which skills do you need next?
Download a course prospectus to find out how one of these online short courses can help you become a Operations Manager.
---
Take Your Next Step in Becoming an Operations Manager with a Featured Online MBA Program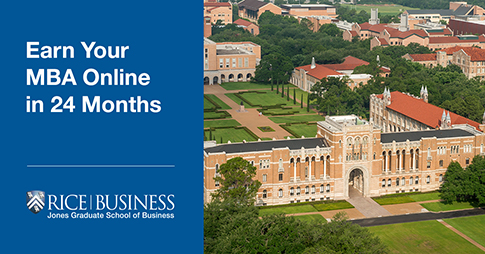 Sponsored Online MBA Program
---