How To Become A Training And Development Manager
More than 70% of companies list "capability gaps" as one of their top five problems, and as a result, global spend on corporate development and training has grown to more than $359 billion.1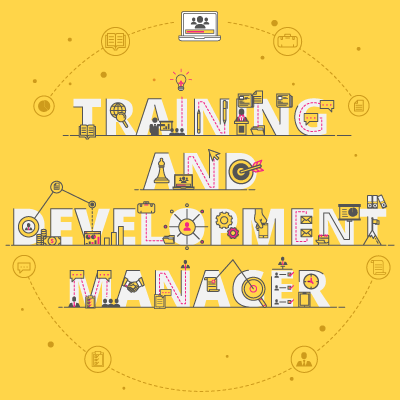 On the other hand, ineffective training and development costs a company on average $13.5 million per 1,000 employees per year.2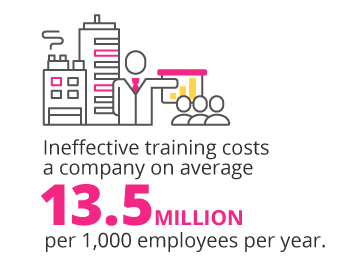 This lack of productive training management leaves companies in dire need of effective development and training coaching and opens up large opportunities for Training and Development Managers to step up to.
What is training and development?
The responsibility for skills development falls at the feet of the Training and Development Manager. They don't execute the training itself, but rather plan and coordinate the skills development courses and programs. They ensure every team member knows exactly what they need to know in order to own their responsibilities, no matter the role.
An invaluable Training and Development Manager is:
Idea-driven
Flexible
Adaptable
Extroverted
A strong leader
What are the key responsibilities of a Training and Development Manager?
All development and training of new and current employees are planned, administered, and overseen by Training and Development Managers.
More specifically, the daily responsibilities of a Training and Development Manager may include:
Training and development

Ensuring program or courses in training and development are aligned with the organisation's principles and goals
Managing training and development schedules and budgets, and sticking to them
Developing and implementing skills development courses that use resources efficiently

Coaching and corporate culture

Training other instructors and supervisors on effective training and development methods
Constantly evaluating and optimising ongoing leadership development training courses
Facilitate development of leadership skills and competencies

Talent management

Assist the HR team with developing the organisation's policies, culture, and documentation and then ensure employee compliance
Create an empowering professional work environment to maximise and align workforce efforts
Manage change, and maximise employee wellbeing and productivity
What are the career path prospects for a Training and Development Manager?
The demand for Training and Development Managers is forecast to grow by 7% year-on-year until 2024, in line with the average growth of the job market as a whole.3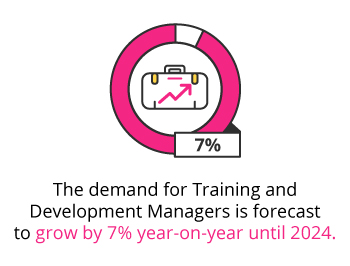 Companies continue to evolve and expand and the need for cost reduction rises, meaning training and development has to be done in the most efficient way possible.
This makes training and development management a necessity in most organisations, offering a degree of job security.
When considering options for upward mobility, Training and Development Managers have a multitude of choices, which follow a specific growth path:
Human Resources (HR) Manager: in this role, your main responsibilities become those of supervision and oversight. Your main concerns are those of policies, procedures and employee compliance management. This is a strong role to move into, as it opens up the paths into further leadership roles.
Senior HR Manager: this job further increases your responsibilities in HR management, and requires significant managerial experience. Professionalism becomes a must-have, as you start to deal with more high-level employees, important clients, and other firms.
HR Director: once enough experience in a senior HR position has been garnered, this is the inevitable next step. Company-wide responsibility would now fall with you in terms of ensuring policies, procedures and HR programs are consistently and properly administered.
---
Related content: The difference between HR Management and Talent Management

---
What is the potential salary for a Training and Development Manager?
While on-the-job experience is responsible for the initial growth of earnings in this job role, the majority of employees move on before reaching 20 years experience in the role.4
To improve your standing when negotiating your salary, ensure you've got the following added to your repertoire:
Communication abilities
Interpersonal skills
Creative thinking
Planning and attention to detail
Technological competencies
Click on a country to see what you can expect to get paid as a Training and Development Manager in either South Africa, the United Kingdom or the United States of America:
What are the education and training requirements for a Training and Development Manager?
The typical minimum qualification for entry-level jobs in training and development management is a Bachelor's degree, while some organisations may require you to have a Master's degree in a related field.
Bachelor's degree: most companies would be happy with a Bachelor's level degree coupled with a few years of experience. The desired fields of study are those related to human resources and business management.
Master's degree: while not a requirement set out by many companies, having a relevant Master's degree will always increase your chances of finding a job. The recommended fields are those of training and development, human resources management, organisational development, or business administration.
Certification: while usually not a requirement, certifications from the Association for Talent Development and the International Society for Performance Improvement improve your professional profile and boost your credibility.
Online short courses: further opportunities for growth are unlocked by completing online training courses related to the field, like the UCT Training and Development Management online short course.
---
Which skills do you need next?  
Download a course prospectus to find out how one of these online short courses can help you become a Training and Development Manager.
1 Training Industry
2 Grovo
3 BLS
4 PayScale