80% of leaders feel their company is good at crafting strategy but only 44% are able to implement on their execution.1
The pressure to follow-through on the lifecycle of a project is a challenge shared by many entrepreneurs, business owners and freelancers. In these position you'll often need to perform both the role of planner and executor, which can lead to poor completion rates if you fail to prioritise the right process at the right time.
Want to take the stress out of strategy execution and shrink the gap between ideation and inception?
You need to focus on managing your capacity and setting clear strategies to your processes to ensure you'll always execute with ease.
How to be strategic about time management
The Objective: To create a supportive work environment that champions efficient time management and communication
The Strategy: Innovate on the traditional business meeting structure
The Execution: Master and maintain a rhythmic meeting schedule
Your ability to hold yourself accountable for your plans and process is a direct result of effective time-management.
By maintaining a repeatable rhythm to your schedule you'll be able to tailor your week to suit your priorities, energy-cycles and work environment.
Start by defining the different types of meetings you typically encounter in a week. Divide them up in groupings of outcomes or agendas.
For example:
Admin and daily check-in meeting – A morning run through where the objective is to catch up on progress from the previous day, develop a plan for the day ahead and create a space to make any announcements or updates that could affect the process for the day.
Priority alignment and strategy meeting – A planning meeting where actionable outcomes are created based on an original strategy idea. Key Performance Indicators (KPI's), objectives and timelines will be created or adjusted to ensure the business is tracking towards annual and quarterly targets.
Brainstorming and productivity meeting – A planning meeting where specific business challenges are addressed. Discussions around specific problem-solving solutions are built into a process plans that will still require final strategic oversight before being implemented.
Project and performance meeting – A periodic meeting with an objective to track all current work in relation to overarching strategies that are being executed. Focus is given to where adjustments and tweaks can be made to ensure the implementation meets the original objectives of the particular project or campaign.
Once you have your meetings listed, take note of when the meetings would best be placed in a typical work week.
Look at the table below and note how you can prioritise your time to ensure your planning, as well as time spent on tasks and process is weighted in an efficient system.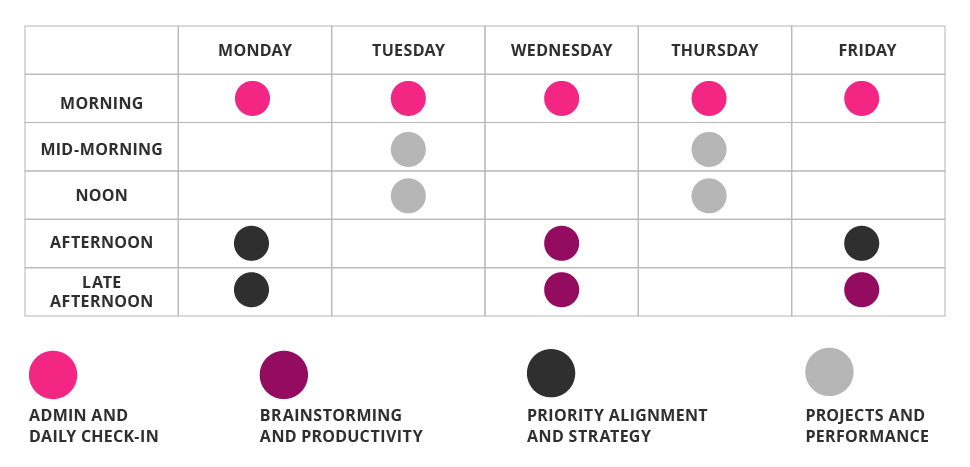 How to be strategic about priority setting and planning
The Objective: To create and pursue priorities that align with a clear business purpose.
The Strategy: Create an identity for your business or brand first, then pursue objectives that build into that image specifically.
The Execution: Create clarity around why, whether, and to whom your business matters.
Executive Education specialist, Cynthia A. Montgomery, says that being a leading strategist means confronting and living the following four questions:
What does my organisation bring to the world?
Does that difference matter?
Is something about it scarce and difficult to imitate?
Are we doing today what we need to do in order to matter tomorrow?
Once you have answered these questions you'll have a better indication of how to define your quarterly, annual and 5-year priorities.
You can then move onto creating a one-page strategic plan (OPSP) where all the essential elements of the business are visible in relation to one another.

Using this OPSP you'll be able to identify areas that need further planning and track your priority focus when executing to reach your goals.
How to incorporate strategy into your execution process
The Objective: To increase the repeatable ease of execution with improved results distribution.
The Strategy: To introduce efficient review processes for data collection and analysis.
The Execution: Develop unique key performance indicators (KPIs) that can be constantly tracked and measured.
All priorities and goals should be measurable before you start on execution. It's important that once a process or project has finished, you're able to understand where and what you could improve or replicate for future work.
KPIs can be based on a number of different variables, depending on your career or industry, for example:
% of organic traffic to website
# of units sold per day
Total pdf downloads
% of total weekly profit
# of views for a video
Results should be sourced from a range of performance indicators for the project so that you're able to develop a holistic overview of your process and measure data according to the timeline it maintained from start to finish.

Once you have collated your results you'll be able to know where adjustments can be made to ensure your execution on future projects is effortless and refined.
---
Would you like to read more about planning?
Take a look through our collection of advice on career strategy below.